aka The Beast
(El Paramo)
---
Crew
Director – David Casademunt, Screenplay – David Casademunt, Marti Lucas & Fran Menchon, Producer – Marina Padro, Photography – Isaac Vila, Music – Diego Navarro, Visual Effects Supervisors – Joseph Diaz & Daniel Lopez, Visual Effects – Deluxe Spain (Supervisor – Churro Munoz) & Hypnotic VFX, Special Effects – The Action Unit (Supervisor – Wesley Vonlee Barnard), Makeup Effects Supervisor – Nacho Diaz, Makeup Effects – ND Studio, Production Design – Balter Gallart. Production Company – Rodar y Rodar/La Bestia la Pelicula S.L./The Screen.
Cast
Asher Flores (Diego), Inma Cuesta (Lucia), Roberto Alamo (Salvador), Maria Llop (The Beast)
---
Plot
19th Century Spain. Husband and wife Salvador and Lucia and their young son Diego have retreated to a house on a great plain away from the turbulent wars that trouble the country. Diego hears hushed fragments of talk about monsters. One day, they find a badly wounded man in a boat, but as soon as he comes around the man shoots himself. Salvador departs to take the man's body back to his family. This leaves Lucia and Diego alone in the house. She believes there is a monster outside and shoots at it. She then barricades them in the house away from the monster where the problem may be as much her fraying sanity as whatever lurks outside.
---
The Wasteland/The Beast was a feature-length directorial debut for Catalan director David Casademunt, who had previously directed and written various short subjects.
This is a film that makes superb use out of wide open landscape. The film was shot in the Aragon region of Spain and takes place in a single home situated amid a bare plain. The furthest from the house that we ever venture is to the nearby river that runs through the area. I was immediately reminded of the US-made The Wind (2018), which was also took place in the 19th Century and focused on a woman on her own in a house in the midst of the American prairies where she was beset by demonic forces that may just as equally exist inside her fraying mental state and be due to her isolation. This adds a young boy as the point-of-view character but the two films are remarkably similar.
Both The Wasteland and The Wind draw on earlier models. There is an undeniable similarity to Roman Polanski's masterwork Repulsion (1965), which blurs in and out of the subjective landscape of Catherine Deneuve's fraying mental state such that there are no toeholds that show the difference between what is real and what is hallucination.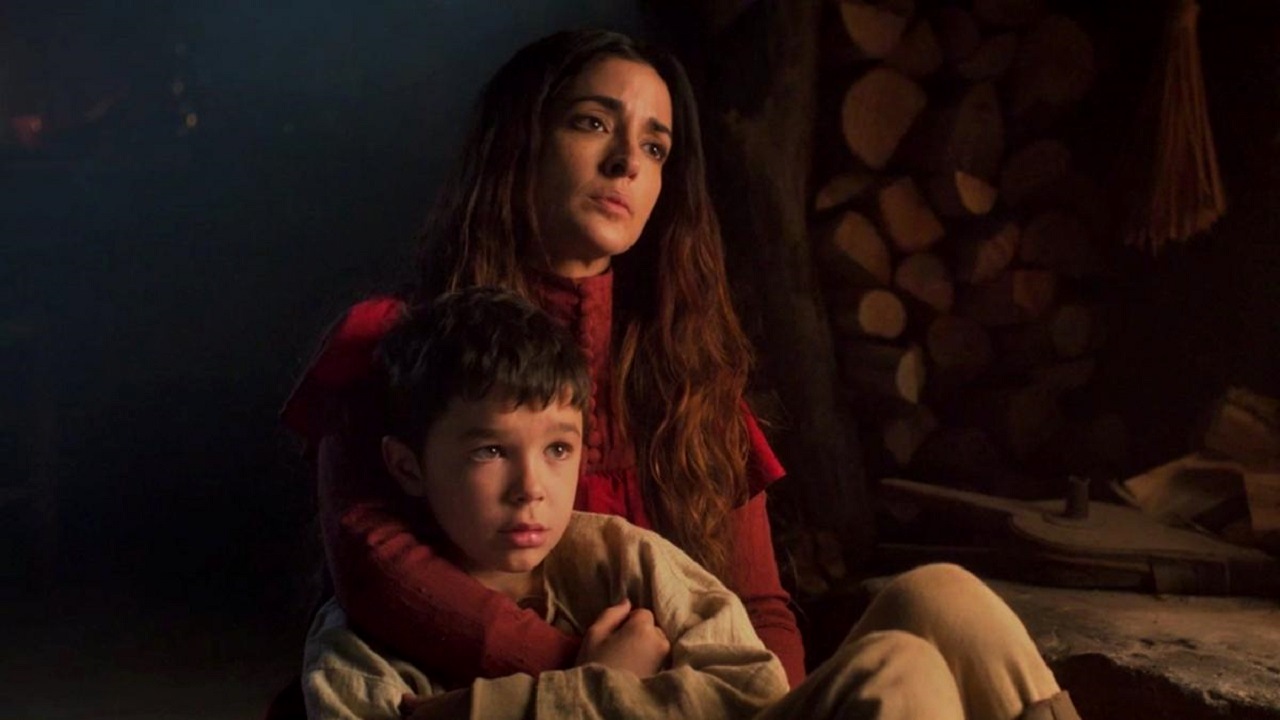 The Wasteland also harkens back to the Ambiguously Fantastic model established by producer Val Lewton with Cat People (1942) where you could never be sure whether the monster wasn't all in the minds of the protagonists. We do get a beast here eventually, although most of the film consists of scenes like Imma Cuesta shooting at things outside or insisting that young Asher Flores climb up the chimney without it being clear that there is actually anything there – certainly, there is nothing that we see in these scenes.
That said, there are also definitely eerie moments when David Casademunt does show the monster – a superb scene where Asher Flores is by the washing on the clothesline and sees something monstrous in between the flapping sheets; or momentary shots of something tall that looks sort of like The Slender Man seen at a distance. In these scenes, Casademunt draws on the Lewtonian model where the monster's appearances are ambiguous and so brief we cannot be sure what we see.
Just as much though, this is a film about a child dealing with a parent of crumbling sanity where he cannot know whether to trust what the mother insists on saying about the monster out there. It becomes a work of frequently grim survival – no more so than when young Asher Flores is pushed into the choice of having to kill one of his pet rabbits for them to eat.
---
English-dubbed trailer here
---