---
USA. 2011.
Crew
Director/Screenplay – Mike Flanagan, Producers – Morgan Peter Brown, Mike Flanagan, Justin Gordon & Joe Wicker, Photography – Rustin Cerveny, Music – Ryan David Leack, Visual Effects – Synergy in Motion, Makeup Effects – Amy Mills & Chris Mills, Production Design – Liz Bradley. Production Company – Fallback Plan Productions/Blue Dot Pictures.
Cast
Katie Parker (Callie Russel), Courtney Bell (Tricia Riley), Dave Levine (Detective Ryan Mallory), Justin Gordon (Detective Lonergan), Morgan Peter Brown (Daniel Riley), James Flanagan (Jamie Lambert), Doug Jones (Walter Lambert), Scott Graham (Psychiatrist)
---
Plot
Callie Russel comes to stay with her sister Tricia in Los Angeles. Tricia is mourning for her husband Daniel who disappeared without trace seven years ago. Tricia finally plucks up the courage to file the papers to have Daniel declared legally dead in absentia. At the same time, she begins to see ghostly visions of Daniel – but her psychiatrist convinces her that these are in her imagination due to the psychological stress of the changes she is making. Tricia is also several months pregnant and now takes the opportunity to openly pursue a relationship with the baby's father, the investigating detective Mallory. Just as they go out on their first date, Daniel reappears. He is in a state of severe malnutrition and is mentally shattered, unable to explain what happened. As they puzzle over this, Daniel vanishes again. A shocked Callie can only say that he was taken by creatures that she comes to increasingly believe emerge from a nearby walkway tunnel to snatch and enslave people.
---
Absentia is the fourth feature film from former editor Mike Flanagan. Flanagan had previously made two Coming of Age films with Makebelieve (2000) and Still Life (2001), and went onto the genre film Ghosts of Hamilton Street (2003) concerning a series of mysterious disappearances and ventures into alternate worlds. Flanagan raised the funding for Absentia via Kickstarter and produced the film independently. It did the rounds of a number of festivals and won several awards at these.
I really like what Mike Flanagan did with Absentia. It is a wonderfully subtle film whose effect comes less in big bangs and slams than it does in its quietude. This is no more clearly evidenced than in the early scenes where Courtney Bell is trying to sleep and we see what might be Morgan Peter Brown's shadow momentarily flitting through the background – so briefly that you are not sure if anything is there. There is the looming sense as the film kicks in of something bad about to happen. This is aided enormously by an extremely understated score – a low single note hum that runs through scenes.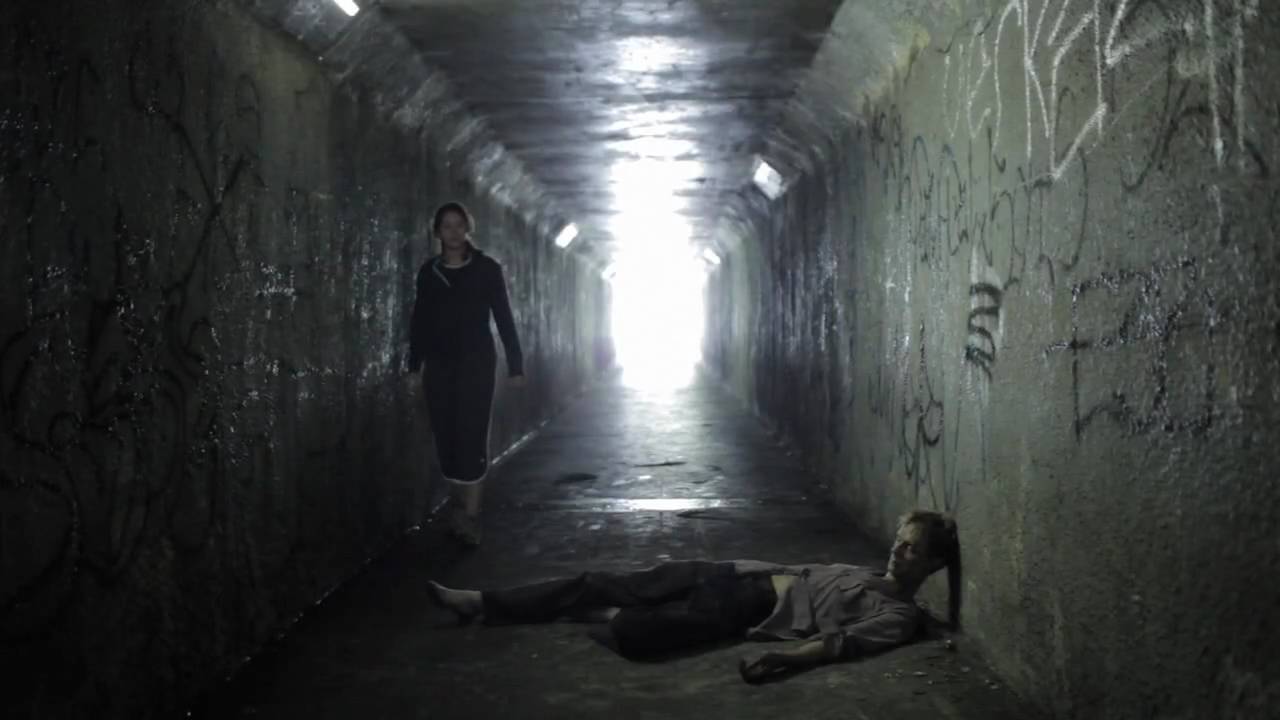 The screenplay has been contrived to provide a series of whiplash surprises. All of the scares emerge with the consummate assurance of a director who has been working in the genre for years. Particularly good is the scene where Morgan Peter Brown reappears – just as Courtney Bell takes the brave step to get on with her life and go out on a date with Dave Levine. We see Brown's bedraggled figure stumbling in the background as they walk out the door where we initially assume that it is her having another of her hallucinations until, with great effect, Levine turns and sees Brown as well. There is another great scene when Morgan Peter Brown comes and seeks shelter in Katie Parker's room, appearing very disturbed and claiming that something is in the walls, although she cannot hear anything, only for something large and black to then momentarily scuttle past in the hallway.
Part of the effect that Mike Flanagan obtains with Absentia is that the film sits in an ambiguous place where we are not sure how much of it is real or exists in the characters' imaginations – whether Courtney Bell is seeing figures because she is mentally haunted by the act of declaring her husband dead; whether Katie Parker is still using as a drug addict or not. Even the end leaves one uncertain as to whether it is a purely mundane explanation where the missing have vanished to go and live on the land or if the disappearances are the activities of the character the police peg as a potential serial killer.
The film confirms or denies little and gives us no easy answers about anything that is happening. It would eventually appear to come down on the side of the existence of the insect-like creatures that come up from the underground to enslave people, about whom Katie Parker theorises and digs up a number of newspaper articles as evidence to support – however, Mike Flanagan remains deliberately vague and gives us almost nothing about this other than her speculations. Indeed, we never even see any of the creatures properly.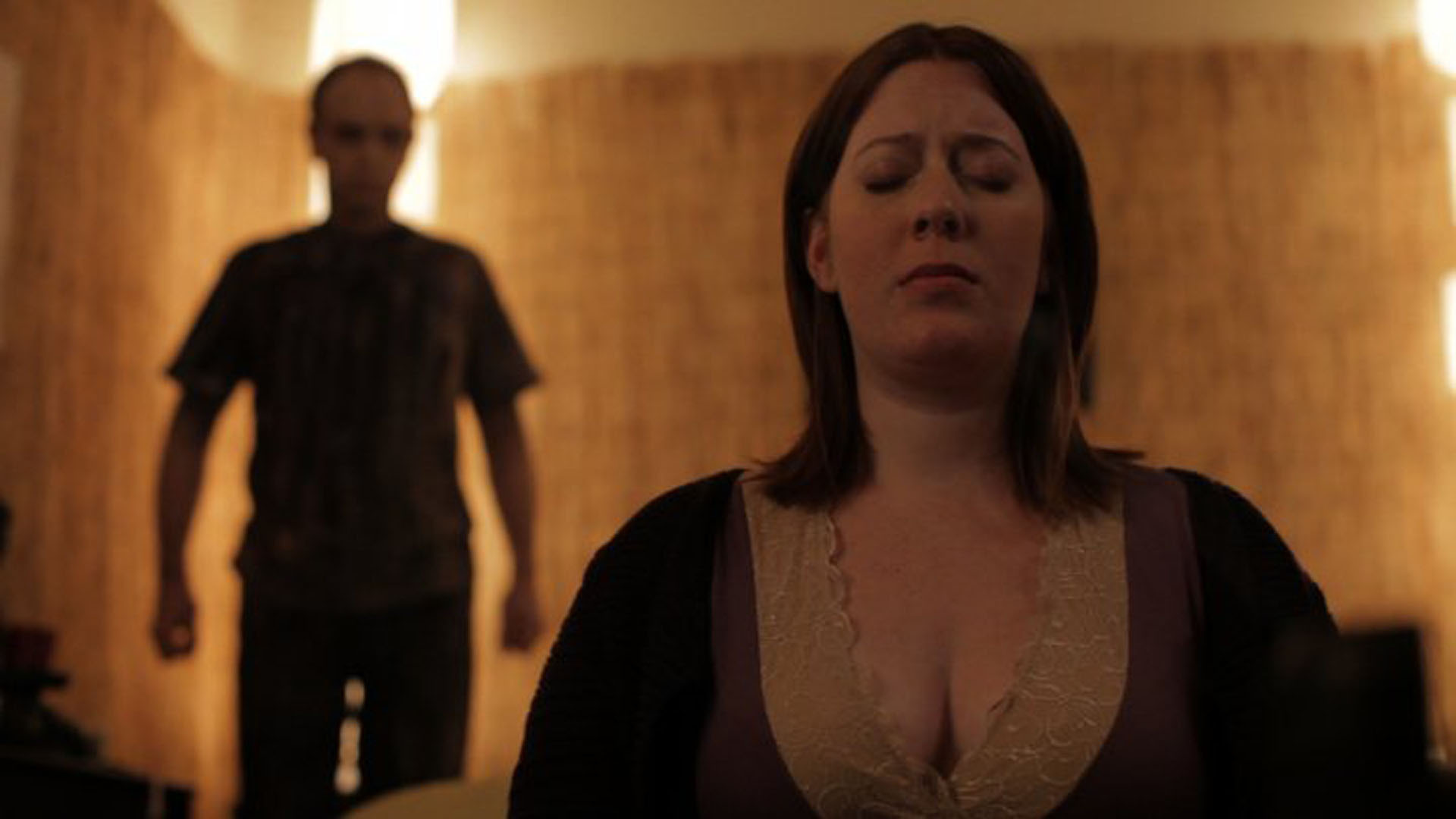 Mike Flanagan gets worthwhile performances from all of his cast. Especially good is Courtney Bell (Flanagan's girlfriend in real-life) as the distraught wife where Bell plays the role with fearful vulnerability and openness. This is someone I could see holding much promise as a future name. The only familiar name among the cast is that of Doug Jones, known for his creature feature roles on Guillermo Del Toro films such as Hellboy (2004) and Pan's Labyrinth (2006) or his appearance as The Silver Surfer in Fantastic Four: Rise of the Silver Surfer (2007), who here plays the small role of a missing neighbour who reappears in the tunnel.
Mike Flanagan next went on to make the horror films Oculus (2013) about an evil mirror, Before I Wake (2016) about a child whose dreams become reality, Hush (2016) about the stalking of a deaf woman, Ouija: Origin of Evil (2016), the Stephen King adaptation Gerald's Game (2017), the tv mini-series The Haunting of Hill House (2018), Doctor Sleep (2019) and the tv mini-series Midnight Mass (2021), while he also produced, created and directed some episodes of the tv mini-series The Haunting of Bly Manor (2020) and The Midnight Club (2022)
(Nominee for Best Director (Mike Flanagan) at this site's Best of 2011 Awards).
---
---