---
Crew
Director – Vincent Grashaw, Screenplay – Robert Alan Dilts, Producers – Angelia Adzic, Vincent Grashaw, Ran Namerode & Bernie Stern, Photography – Carlos Ritter, Music – Robert Pycior, Visual Effects – Brothers Ugly Productions (Supervisor – Carl Stern), Special Effects – Cord Newman, Makeup Effects – Jenna Green, Production Design – Stephanie Reese. Production Company – Randomix Productions.
Cast
Robert Patrick (Josiah Graham), Nick Stahl (Eli Graham), Scott Haze (Thomas Graham), Kelli Garner (Mary Milner), Jake Weber (Boone), Tony Hale (Ross Milner), Ronnie Gene Blevins (Billy), Dana Namerode (Gypsy Gina), Louanne Stephens (Mama Luna), Winston James Francis (Mr Miggs), Billy Blair (Marco), Troy Powell (Logan), Riley Khan (Little Girl), Ben Hall (Mr. Gentry), Daryl Cox (Shinberg), Richard L. Olsen (Sheriff Dowd), Karen Migirosky (Harley), Tommy Nash (Kirk), Farah White (Effie), Bruce Davis (Damon), Graham Thomas (Tanner)
---
Plot
Josiah Graham lives on his farm in rural Texas with his slow-witted son Thomas. Family secrets lurk around the farm. An oil company arrives in town, offering substantial money to buy up property, including the Graham farm. Josiah's other son Eli has been released from jail where he was charged with having sex with a minor. In an effort to clear his record and gambling debts, Eli makes an agreement with Boone to join a scheme to rob a traveling Gypsy circus that is believed to travel with a stash of gold hidden with them. However, once they arrive at the circus, the plan proceeds to go wrong. Josiah's daughter Mary is married and longs to have a baby. With news of the offer from the oil company, Eli persuades Mary to return to the farm but this means stirring up the ghosts of the past.
---
What Josiah Saw was the third directorial outing for Vincent Grashaw. Grashaw had previously directed Coldwater (2013) and And Then In Go (2017), which both centre around the struggles of troubled youth, along with an episode of the horror anthology Visions of Horror (2007). You can also spot Grashaw in a supporting role as the rival boyfriend in the awesome Bellflower (2011).
You are immediately taken by the tone of What Josiah Saw. The lighting is dusky and subdued to the point it almost borders on sepia tone in some scenes. The setting is backwoods Southern Gothic – not so much the world of The Texas Chain Saw Massacre (1974) but the small dead nowhere town atmospheres of films like Raggedy Man (1981), Red Rock West (1991) and Hell or High Water (2015). Your attention is drawn during the early scenes by Robert Patrick and his relationship with dim-witted son Scott Haze (who also executive produces the film) – Patrick gives a standout performance and you are attuned to the unusualness of the rural dialogue. Vincent Grashaw fills each scene with amazing tensions.
It becomes apparent part way in that what we have is almost an Anthology film, telling three different stories – each one about the three children and how they have been affected by the past. The overlap and connection between each story only becomes apparent right at the end. It is also a surprise watching a film like this the aired on the Shudder network – what we have seems more of a mundane backwater Texas drama and there is nothing for much of the runtime that pushes it into horror territory. Certainly, the structure with three overlapping stories is a very different one to your typical horror film.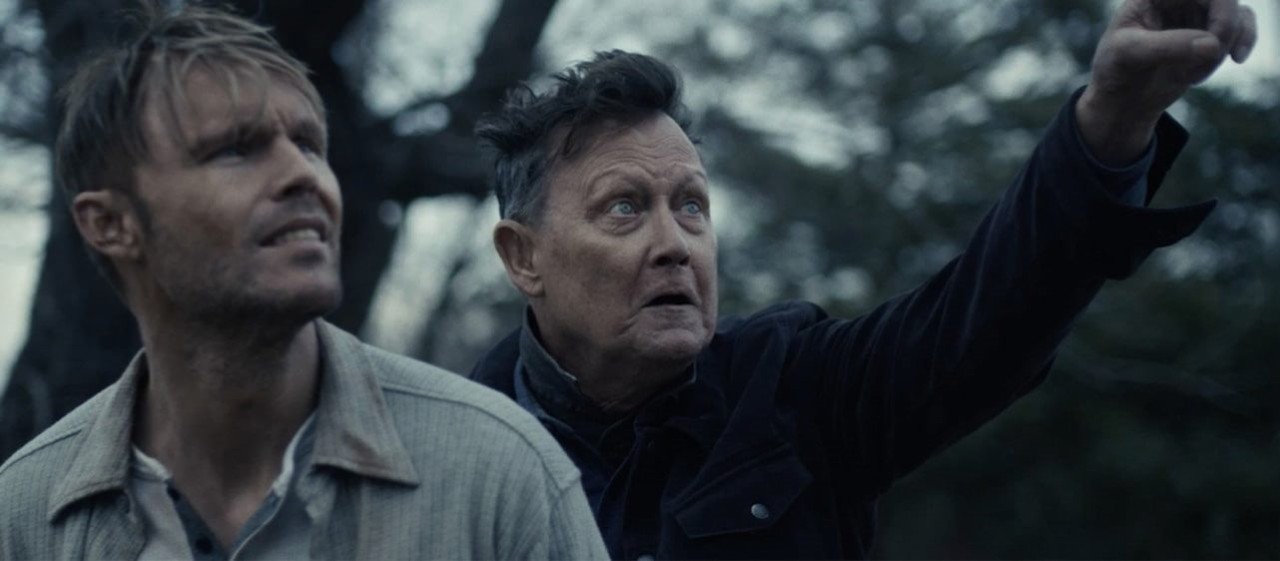 The second and best story involves Nick Stahl attempting to clear his name for a conviction. This involves him agreeing to be part of a scheme to steal rumoured gold from a travelling Gypsy carnival where things proceed to go wrong, winding in everything from fortune tellers to a missing child. This is a dark and compulsive episode, featuring some great performances – the always watchable Nick Stahl and an initially unrecognisable Jake Weber as a nightclub owner with underworld dealings.
The third story following Kelli Garner as the sister living with husband Tony Hale and her desire for a child is the weaker of the three. However, this segment gains its real effect once Kelli and Nick Stahl return to the family farm. Here the film pulls off its surprise twist [PLOT SPOILERS] – an M. Night Shyamalan-esque Conceptual Reversal Twist where the entire first section is placed in a whole other light as it becomes apparent that Robert Patrick has been dead for twenty plus years and only exists as an Imaginary Companion in Scott Haze's head. This is one of the better of these twists, one that Vincent Grashaw and writer Robert Alan Dilts layer throughout and bring together with some effect.
---
Trailer here
---