---
Crew
Directors – Jeremy Gardner & Christian Stella, Screenplay – Jeremy Gardner, Producers – Justin Benson, Arvind Harinath, David Lawson Jr. & Aaron Moorhead, Photography – Christian Stella, Music – Eric Krans & Jen O'Connor, Creature Effects & Design – MastersFX. Production Company – Kavya Films/Vested Interest.
Cast
Jeremy Gardner (Hank), Brea Grant (Abby), Henry Zebrowski (Wade), Justin Benson (Shane), Ashley Song (Jess), Nicola Masciotra (Pam), Taylor Zaudtke (Jane)
---
Plot
Hank and Abby have been living together in a town in rural Florida while running a bar. Abby abruptly leaves without telling Hank where she has gone. In her absence, Hank starts to fall apart. He is also certain that a creature is lurking about the house at night and trying to break in. He becomes more paranoid, barricading the house up and wielding a shotgun. The others around him are sceptical about the existence of the monster and think Hank is losing his mind.
---
Jeremy Gardner first appeared on everybody's radar as director, writer and star of The Battery (2012), a highly enjoyable variant on the zombie film told in terms of a bromance. That gained Gardner a reasonable profile and he has made acting appearance in films for other directors with the likes of The Mind's Eye (2015) and Bliss (2019) for Joe Begos, Mickey Keating's Psychopaths (2017), Fingers (2019) and Sadistic Intentions (2019). After The Battery, Gardner next went on to direct/write/star in Tex Montana will Survive (2015), a parody of wilderness survival reality tv shows, before returning to genre material here.
This time Gardner co-directs with Christian Stella who was cinematographer on The Battery and co-director/cinematographer on Tex Montana. The film is also produced by Justin Benson and Aaron Moorhead, the duo who co-directed Resolution (2016), Spring (2014) and The Endless (2017), while Benson plays the part of the local law enforcement, Gardner's friend Shane. Gardner had earlier played a supporting part in Spring.
As in The Battery, Jeremy Gardner has a directorial style that is very improvisational in nature. You are immediately drawn into the film in the opening scenes with Gardner and Brea Grant getting together and their romance amid talk of 'peanut noir' wine. It is directed and performed in a way that creates a sense of intimacy between the characters that seems totally natural and non-forced, quite different to regular scripted scenes in other such films. The scene-stealer of the show gets to be Henry Zebrowski as Gardner's best friend who has some hilarious scenes drinking the beer spill at the bar and delivering seemingly improvised monologues about escaped panthers and aliens.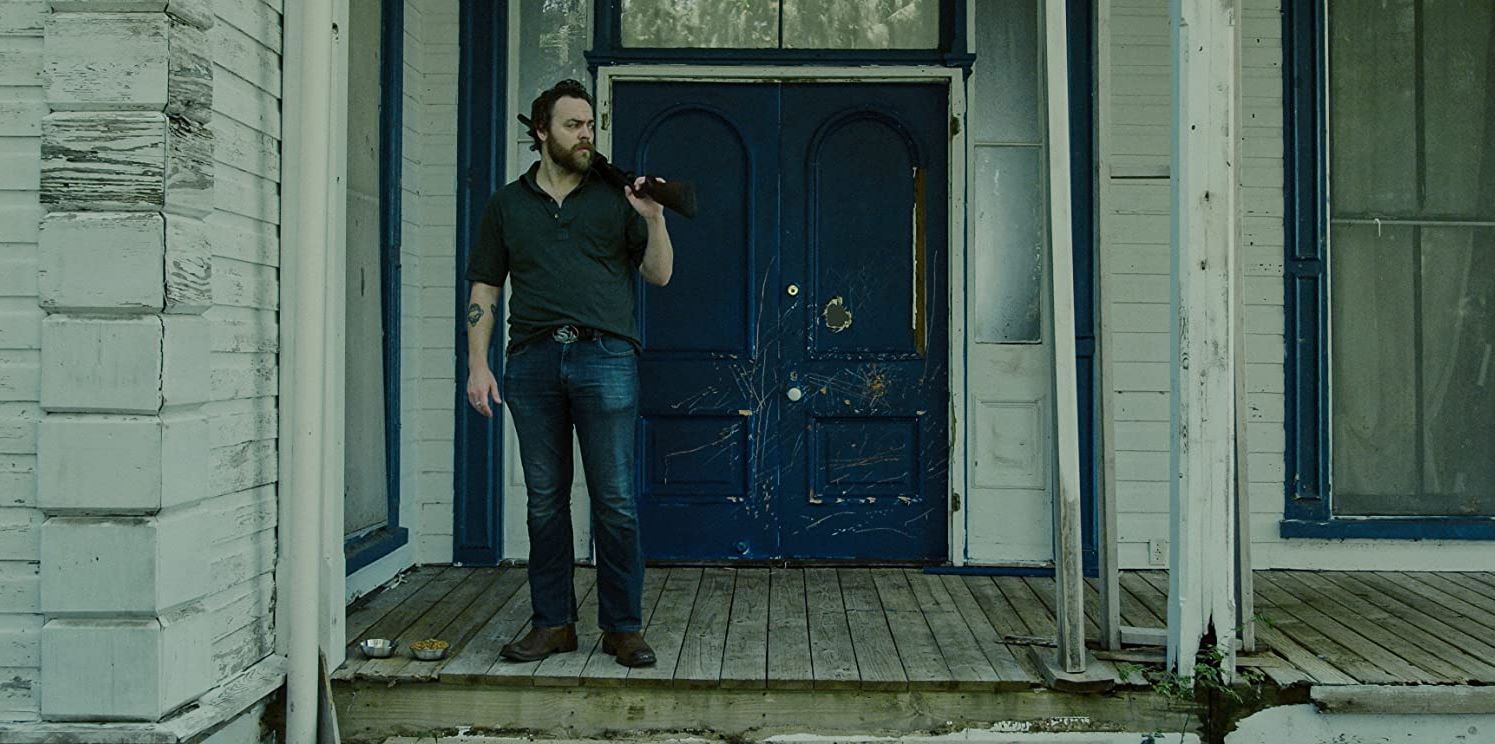 In between his improvisations, Jeremy Gardner directs some great scenes. Much of the film is set up to make us think that Gardner's character may be imagining things and that any notion of a monster is possibly all in his collapsing mental state after Brea Grant left. At most we see the hands of something trying to claw its way through a shotgun blast hole in the door. However, in mid-film there is a great scene where Gardner races off into the night shooting at what he thinks is the monster – and maybe killing the cat. It is pitch-black night outside where the only light comes in the momentary flashes as he fires the gun. Abruptly in one of these flashes, we see something non-human there. It is so brief that we are not entirely sure if we imagined it or not – the perfect example of creating something by suggestion and not putting everything upfront for an audience.
One of the best scenes in the film is the one that comes after Brea Grant returns. It has nothing to do with monsters. It is just a two-shot focused on Jeremy Gardner and Brea Grant sitting in the open doorway waiting for the monster – a single take that goes on for some 12 minutes that ranges between his jealousy and upset to her explanation for where she has been, which opens up into a penetrating analysis of their relationship. The writing and rawness of emotion and feelings of lost dreams that comes through is absolutely gripping.
And then of course there are the final scenes, which quite make the film. This is a film where you are better going into it knowing as little about what is in store as possible other than for me to urge you to see it. The ending it reaches is absolutely perfect and hilarious in its unexpectedness – a real jerk the carpet out surprise. And the final coda to the scene is like the cherry on top of the cake.
After Midnight should not be confused with the earlier modest horror anthology film After Midnight (1989).
---
---