(La Abuela)
---
Crew
Director – Paco Plaza, Screenplay – Carlos Vermut, Producer – Enrique Lopez Lavigne, Photography – Daniel Fernndez Abello, Music – Fatima Al Qadiri, Visual Effects – Ferran Piquer, Special Effects – Susana Contera & Raul Romanilles, Makeup Effects – Nacho Diaz, Production Design – Laia Ateca. Production Company – La Abuela Apache, A.I.E./Apache Films/Les Films du Worso/Atresmedia/Prime Video/Canal+/Cine+/Crea SGR/Sony Pictures International Productions/Scope Pictures/Wild Bunch/Eurimages/CNC.
Cast
Almudena Amor (Susana Lazaro), Vera Valdez (Pilar Novella Espinosa), Karina Kolokolchykova (Eva), Marina Gutierrez (Adela)
---
Plot
24 year-old Susana Lazaro is starting to have some success as a model in Paris. She then receives news that Pilar, the 85 year-old grandmother who raised her following the death of her parents, has fallen ill. She heads back to Madrid to tend Pilar, not wanting her to be placed in a rest home. As Susana settles in at Pilar's apartment, she starts to experience disturbing things.
---
Paco Plaza has emerged one of the most prominent forces in the modern Spanish horror film. Plaza first appeared with the horror film Second Name (2002) and then the English-language Romasanta: The Werewolf Hunt (2004). He subsequently gained a good deal of attention as co-director with Jaume Balaguero of the zombie Found Footage film [Rec] (2007) and its sequel [Rec] 2 (2009) and then on his own as director of [Rec]3: Genesis (2012). He followed this with Veronica (2017), a film based on a true-life supernatural manifestation.
It has been four years since Paco Plaza ventured into genre material with Veronica, which didn't quite come off as effectively as you expected it to. He has only made the non-genre Eye for an Eye (2019) in the interim. We should have had The Grandmother sooner but a large part of the problem was that Plaza shot the film in August of 2020 but then struggled to find a proper release following theatrical closures due to the Covid pandemic.
When he gets the opportunity to do so, Paco Plaza can do some great things in terms of creating atmosphere. Almost the entire film (I would estimate 80 percent of it) takes place in the apartment with occasional side ventures into the street outside and a couple of other scenes set in Paris, at the rest home and a cafe. This allows Plaza to do his thing with undeniable effect.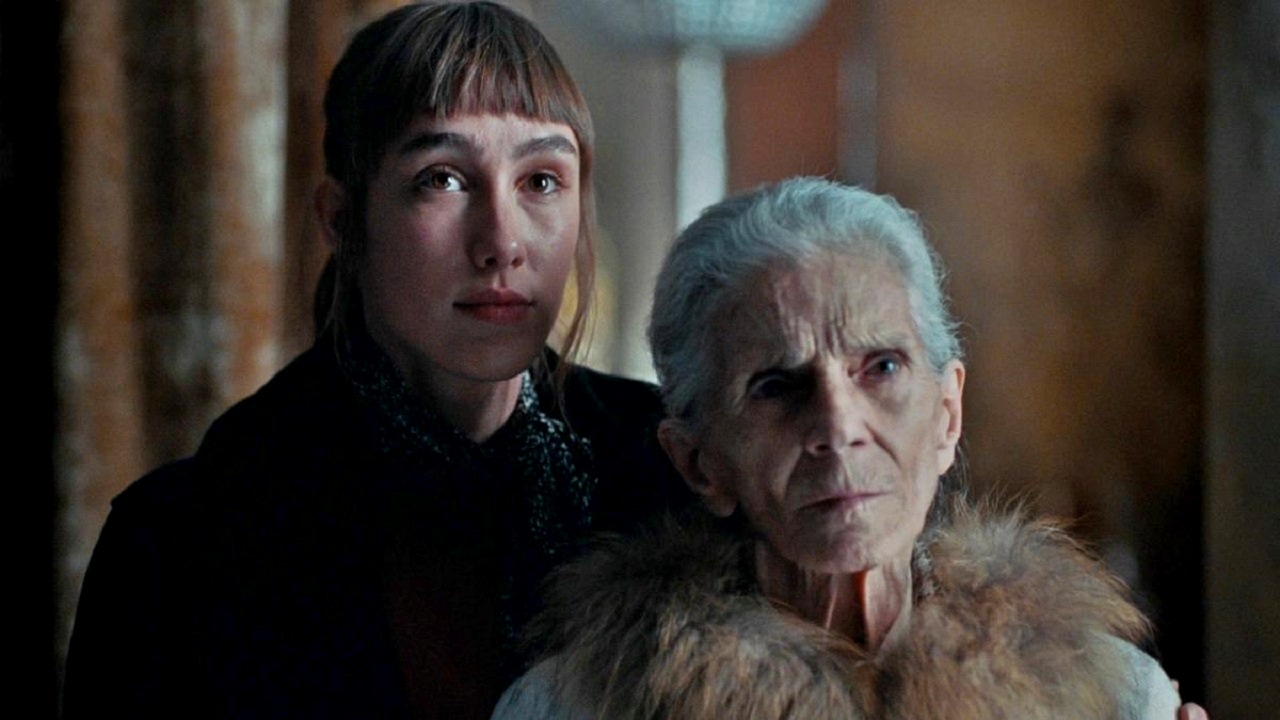 Plaza uses the contained apartment setting to create an uncannily creepy sense of something about to happen – scenes with doors and windows left open or shutting of their own accord; the old lady mysteriously disappearing from where she is meant to be and turning up again; clocks seemingly frozen in time; hints of secrets in the past. There is a very eerie scene where Almudena Amor picks up a candle only for the flame to stay suspended in mid-air independent of the candle. There is a particularly unsettling scene where Almudena Amor brings in Marina Gutierrez as a home care aid and then we see Vera Valdez standing by the window muttering and making hand movements as we hear a car crash outside and Almudena rushes out to find Marina hit in an accident.
This is a film about the horrors of aging, a topic that genre films rarely touch upon. A good deal of the film's success is due to 85 year-old Vera Valdez. Valdez gives an amazing performance where she has no dialogue, everything is conveyed by a vacant stare or the suggestion of a smile that seems to impart an intelligence and possible intent behind what is going on. I was successfully able to predict where the film was going to go in its ending – it is a fairly obvious surprise if you have seen a certain few films in the genre – but Paco Plaza makes the journey there is an undeniably effective one.
---
Trailer here
---