---
Crew
Director/Screenplay/Producer – Scott Jeffrey, Photography – Jon/Jonathan Constantinou, Music – Mike Ellaway, Visual Effects – Rhys Waterfield, Special Effects – Chelsea Murphy, Production Design – Leo Calder. Production Company – Jagged Edge Productions.
Cast
Nicola Wright (Wendy), Sian Altman (Liz), Antonia Whillans (Hazel), Danielle Scott (Beryl), Richard Harfst (Bill), Kate Milner-Evans (Judy "The Shopkeeper"), Antonia Johnstone (Police Officer)
---
Plot
Liz believes her aging mother Wendy is suffering from dementia. Liz and her sister Hazel take Wendy back to the old family home where she has not lived for years in the hope that this will help her. There Wendy begins to have memories that open up the secrets of the past. At the same time, the doll known as Humpty Dumpty, which may have been involved with devil worship ceremonies, come to life and starts killing people.
---
Curse of Humpty Dumpty was the eighteenth film from British director Scott Jeffrey. Jeffrey made his first film in 2018 and in the four years since 2017 has made more than fifty films as producer – which is averaging ten films a year – and four, sometimes more, per year as director. This is a production schedule that rivals something like that of the world's most prolific directors like Jess Franco and Sam Newfield in their heyday. (See below for Scott Jeffrey's other genre films as director).
Humpty Dumpty is a children's nursery rhyme that goes back to the 18th Century in its earliest recorded version, although probably originates earlier than that. In the nursery rhyme, the title character sits on a wall and falls where all the king's men and horses come but cannot put him back together again. In the original texts, there is no specific connotation that Humpty is an egg, although that is the interpretation taken by all modern tellings. There has been some attempts to pinpoint historical antecedents of the term – that Humpty Dumpty was a nickname for a short, rotund individual or for a mediaeval cannon that fell after the king's army were trying to raise it up a castle wall.
There have been a number of films over the years that give us malevolent versions of characters from Fairytales. Indeed, around the same time, Scott Jeffrey also produced several other horror takes on nursery rhymes and children's stories with the likes of Toof (2019) about the Tooth Fairy, The Legend of Jack and Jill (2021) and Curse of Jack Frost (2022), most of which have produced sequels, and then had quite a reasonable success with Winnie-the-Pooh: Blood and Honey (2023).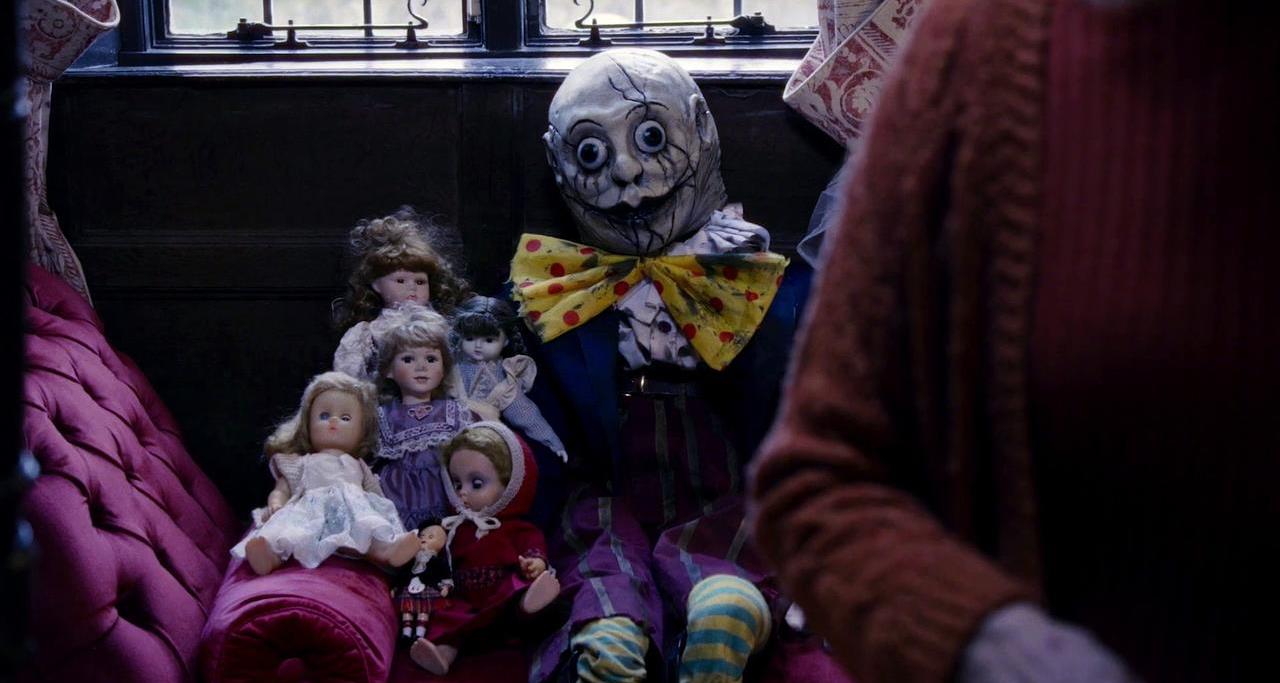 Surprisingly enough, there has never been a film devoted to Humpty Dumpty before. The title Curse of Humpty Dumpty creates intriguing suggestions of a malevolent egg-shaped character running around. However, this is something that the film raises in its title and then cheats on the moment you watch the film where Humpty Dumpty proves to no more than a name given to a malevolent doll.
In actuality, Curse of Humpty Dumpty falls into a spate of low-budget films about evil Dolls and Puppets that have emerged since There have been assorted others from Magic (1978), Black Devil Doll from Hell (1984), Dolls (1987), Demonic Toys (1992), Dead Silence (2007), Robert the Doll (2015) and sequels and, of course, the successes of. Child's Play (1988) and Annabelle (2014) and sequels to either.
To its credit, Curse of Humpty Dumpty produces a malevolent-looking doll, which looks particularly evil once it starts advancing on people with its mouthful of razor sharp teeth open. The main problem is that, aside from one or two deaths, the film never ends up doing much. The problem is also the screenplay's conceptual point-of-view that seems to shift around between ideas about evil dolls, Devil Worship and something that what happened in the past with Nicola Wright's husband. Certainly, Scott Jeffrey makes a film that has an undeniable polish – it doesn't look like a B movie – but it never quite moves as tightly as you want it to.
Curse of Humpty Dumpty 2 (2022) was a sequel.
Scott Jeffrey's other genre films as director are:- The Bad Nun (2018), Clowndoll (2019), The Final Scream (2019), The Watch 2 (2019), Cupid (2020), Don't Speak (2020), Bats: The Awakening (2021), Cam Girls (2021), Cannibal Troll (2021), Devil Djinn (2021), Dragon Fury (2021), Hatched (2021), HellKat (2021), The Mutation (2021), Spider from the Attic (2021), Beneath the Surface (2022), Exorcist Vengeance (2022), Kingdom of the Dinosaurs (2022) and Firenado (2022).
---
Trailer here
---