---
Crew
Director/Screenplay – Adam Green, Producers – Derek Curl, Sarah Elbert & Cory Neal, Photography – Will Barratt, Music – Andy Garfield, Special Effects Supervisor – Tom Ceglia, Creature/Makeup Effects – Aunt Dolly's Garage (Supervisor – Robert Prendergraft), Production Design – Bryan A. McBrien. Production Company – Dark Sky Films/ArieScope Pictures.
Cast
Danielle Harris (Marybeth Dunstan), Tony Todd (Reverend Zombie), Kane Hodder (Victor Crowley/Thomas Crowley), Tom Holland (Uncle Bob), Parry Shen (Justin), AJ Bowen (Layton), Alexis Peters (Avery), R.A. Mihailoff (Trent), Colton Dunn (Vernon), Ed Ackerman (Cleatus), David Foy (Chad), Rick McCallum (John), John Carl Buechler (Jack Cracker), Kathryn Fiore (Shyann Crowley), Erika Hamilton (Lena)
---
Plot
Marybeth Dunstan makes an escape from the lair of Victor Crowley, she the sole survivor of the massacre in Honey Island Swamp. The old timer Jack Cracker drives her out when he learns her last name, telling her to seek Reverend Zombie in New Orleans. Zombie tells Marybeth the story of Victor Crowley – how Victor's father strayed with his infirm wife's nurse who then became pregnant and how the dying wife placed a curse on the child, causing Victor to be born deformed. Marybeth learns that her father was one of the teenagers responsible for the prank that burned Victor. She demands that Zombie help her return to the swamp so she can retrieve the bodies of her family and kill Victor. Zombie agrees to organise a party of hunters, each being offered $500 reward money, and insists that Marybeth bring her Uncle Bob. In the swamp, the group are soon massacred by Victor who has been resurrected by a voodoo curse. At the same time, Marybeth comes to realise that Reverend Zombie has led them into a trap.
---
Adam Green is a genre director who has been rising to prominence over the last few years. Green gained reasonable acclaim with his first film Hatchet (2006), a slasher film that paid a good deal of homage to 1980s models like Friday the 13th (1980), came packed to the edges with genre cameos and much in the way of genre in-reference. Green went on to make Spiral (2007) and several other efforts, most notably the rather effective survival film Frozen (2010) and the Found Footage film Digging Up the Marrow (2014), while he was one of the directors/principal creative forces behind the comedy horror anthology Chillerama (2011). Green also produced the excellent pregnancy horror film Grace (2009) and created/produced the tv series Holliston (2012-8).
With Hatchet II, Green clearly made the commercially safe choice and returned to continue the saga he started in Hatchet. While Hatchet seemed like no more than another slasher movie filled with genre in-references, the impression you get is that the series has developed a loyal fanbase somewhere. Green clearly makes a play to this. In fact, his desire to play to this as much as possible ended Hatchet II in some controversy – the film was initially released to theatres in an uncut version, only for this to be pulled after a few days, while some dvd distributors demanded a cut version, which Green then proceeded to disown.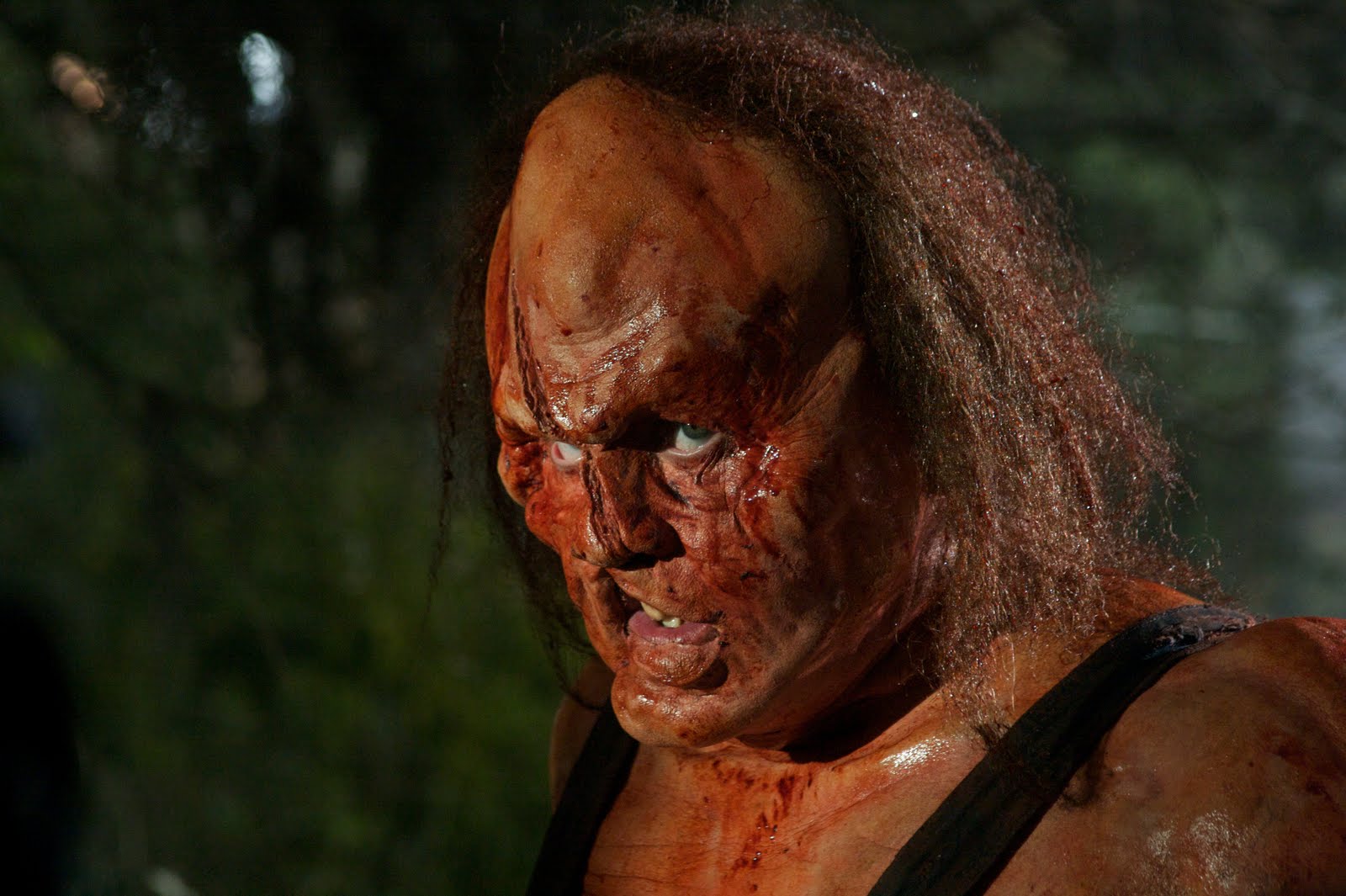 As he did before, Green has packed the film with cameos and appearances from actors with a genre history. Aside from return appearances from Kane Hodder and Tony Todd, both of whom had their most famous roles in respectively the Friday the 13th and Candyman series and makeup effects man/occasional director John Carl Buechler as a crazy old timer, Green introduces a whole bunch of new faces.
Replacing Tamara Feldman who played Marybeth in the first film is Danielle Harris who played Jamie Lee Curtis's daughter in Halloween 4: The Return of Michael Myers (1988) and Halloween 5 (1989) and then returned as an adult in Rob Zombie's Halloween (2007) and Halloween II (2009), while it should be noted that her character gains the surname Dunstan after Marcus Dunstan, one of the writers of several Saw sequels, the Feast films and director of The Collector (2009).
Also introduced to the mix is Tom Holland, better known as a screenwriter and director of 1980s films like Fright Night (1985) and Child's Play (1988), among others; R.A. Mihailoff who was Leatherface in Leatherface: Texas Chainsaw Massacre III (1990); AJ Bowen who appeared in The Signal (2007) and has become a regular in the films of Ti West and Adam Wingard; and small cameos from Troma founder Lloyd Kaufman, Joe Lynch, director of Wrong Turn 2: Dead End (2007) and Knights of Badassdom (2013), Shawn Ashmore, and Mike Mendez, director of The Convent (2000) and Big Ass Spider! (2013), as hunters. There is also an amusing in-universe reference to the great meta-fictional slasher Behind the Mask: The Rise of Leslie Vernon (2006). Adam Green can also be seen as the man vomiting on the pavement in New Orleans immediately after the opening credits finish.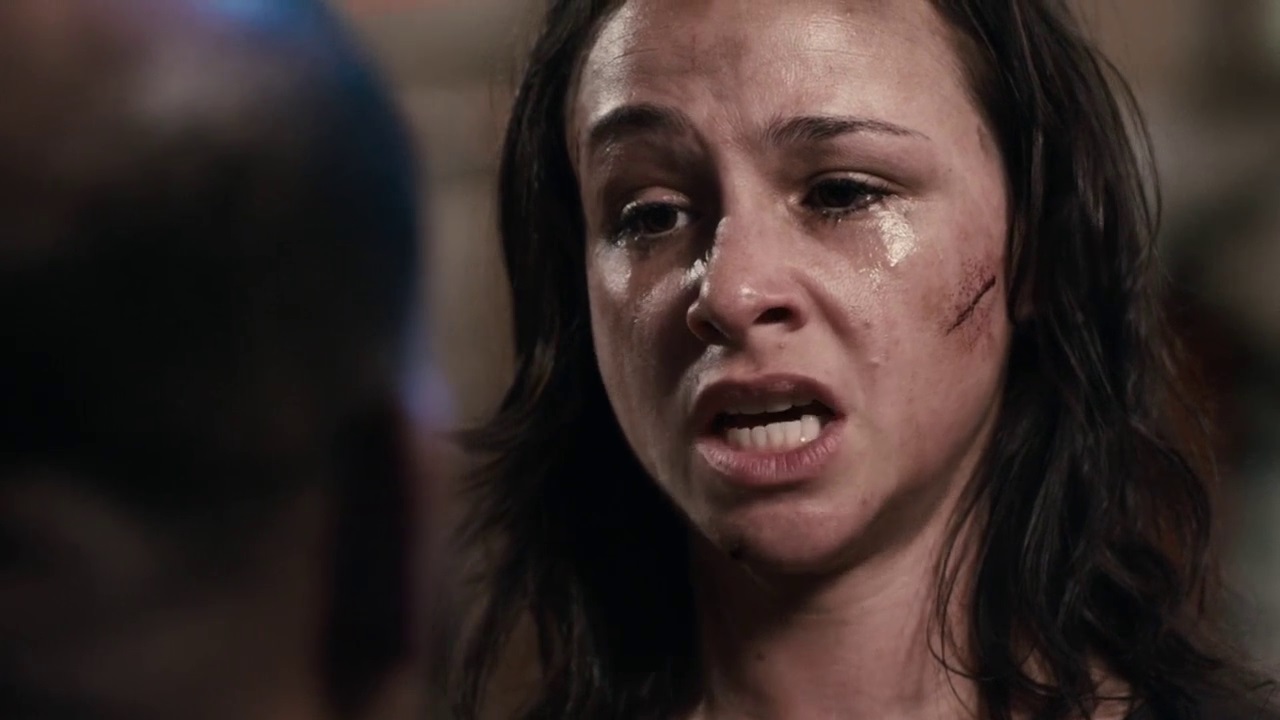 Hatchet II has largely been conceived with the purpose of serving up gore effects. These get fairly enthusiastic and extreme. In the pre-credits scene, John Carl Buechler has his intestines torn out and is then strangled with them; there are flashbacks to the slaughter of a group of fishermen in the swamps where we see faces sliced off, heads cleaved in two and jaws ripped off; David Foy gets his head bashed in with a rifle butt; Ed Ackerman's head is torn open with a boat propeller; Rick McCallum and Colton Dunn are carved apart two at once after being lifted up with a chainsaw between their mutual crotches; Parry Shen gets a grinder shoved against his head until it tears open his brain. The most spectacularly tacky of these is when AJ Bowen finally gets it on with his ex Alexis Peters where he is taking her doggy-style only for his head to be hacked off while his body keeps pumping before he is dragged off and she gets an axe in the crotch from behind.
I found Hatchet a film of slight amusement. Adam Green has simply upped the two most prominent features of the first film – the actors with the genre history and the gore-drenched splatter effects. All of these prove mildly interesting. Eventually though, the over-the-top gore effects start to become somewhat repetitive. What seems to be missing from Hatchet II is the sense of humour and series of amusingly sarcastic one-liners that drove the first film. That at least made the first Hatchet into something more than what Hatchet II offers.
The series continued with Hatchet III (2013) also featuring Danielle Harris and Kane Hodder. Adam Green scripted but did not direct but returned for a further sequel Victor Crowley (2017).
---
---