---
Crew
Director – Will Gould, Screenplay – Charles Lambert & Matthew Reed, Based on the Play by Charles Lambert, Producer – Charles Lambert, Photography – Laura Remacha, Music – Basil Moore-Asfouri, Special Effects/Prosthetics – Jonathan Jordin, Screen Design – Mark Larkin. Production Company – Discodog.
Cast
Lee Williams (Seth), James Layton (Gabriel), Rita Davies (Fanny), Margaret Towner (Doreen), Kevin Moore (Father David), Matthew Dean (Kester Drax), Angharad Rees (Mary Drax), Leila Lloyd-Evelyn (Polly Drax), David Prescott (Mark Drax), Rosemarie Dunham (Mrs Drax), Alistair Cumming (Michael)
---
Plot
In the woods near the English village of Kromer, two werewolves, Gabriel and Seth, meet and are attracted to one another. Meanwhile, in the village, two old ladies, Fanny and Doreen, conspire to poison off their mistress Mrs Drax and blame it on the wolves. This becomes the impetus for the local vicar to drum up a lynch mob to kill the wolves. Meanwhile, Seth has found that Gabriel has been unfaithful to him and has been dallying with Mrs Drax's granddaughter Polly. This has left Gabriel questioning whether he wants to be wolf or human.
---
For more than a century now, the vampire has been a metaphor for repressed sexuality. Finally, the werewolf genre catches up here. In The Wolves of Kromer, lycanthropy becomes an intriguing metaphor for homosexuality. Here being a werewolf is equated with being a young gay man – The Wolves of Kromer is at heart a Coming Out metaphor where all the angst about being a werewolf is told in the language of a gay man coming out of the closet. The newly arrived werewolf Seth has doubts wavering between whether he wants to be a werewolf and love Gabriel or go with human ways when he meets a girl. There is also the priest who inflames a crusade of religious hatred and bigotry against the wolves. The werewolves even have a cruising zone on the outskirts of town. Furthermore, the wolves (all male) have been sexualised – the two lead actors have been chosen for their incredibly handsome looks – the actors playing the parts were previously fashion models.
Substitute at any point the term gay for werewolf and you see just what a clever little metaphor The Wolves of Kromer has set up. The film never takes itself too seriously though and at times conducts its metaphor with an eccentric sense of humour, like the scene where Seth talks about his childhood with his mother telling him tuck his tail into his jeans and of being caught with a copy of Wolf Monthly.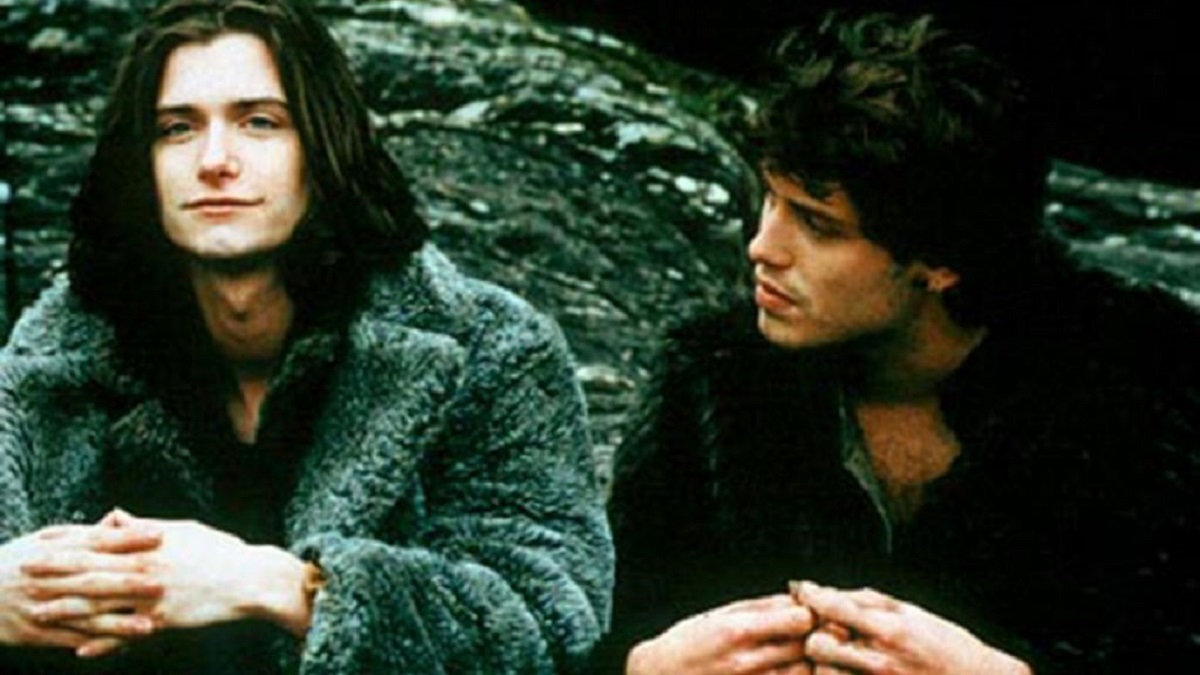 Like several other modern werewolf films – The Company of Wolves (1984), Jin-Roh: The Wolf Brigade (1998), Trick 'R Treat (2008), Red Riding Hood (2011) and Howl (2021) – The Wolves of Kromer connects up with Little Red Riding Hood – and then promptly (in the very first scene) satirically skewers it. In The Wolves of Kromer's take, the werewolves are the nice guys and prove somewhat ineffectual when it comes to attacking people in the woods, while the grannies are seen to be evil, old shrews who are busy poisoning their patron. When the equivalent of Little Red Riding Hood does turn up, she ends up seducing one of the wolves. In an intriguing turnabout, Little Red Riding Hood's litany – "My what big hands you have … my what big eyes you have …" – becomes a seductive tease as she undresses. There are various other fairytale in-jokes littered throughout – "Who's been sitting in my seat?" growls Granny at one point and later we see ten green bottles lined up on a wall as target practice.
The Wolves of Kromer is also refreshing for being one of the first werewolf films in a decade or more, with the exception of Wolf (1994), to eschew makeup effects altogether. The wolves are made up extremely low-key – represented only by fur coats and fur tails. One fine aspect of the film is also the Llanyblodwel, Wales locations, which provide some often breathtaking views of the local woods, tarns and aqueducts.
This was the only film ever directed by Will Gould but he has subsequently worked as a producer in British tv, including on shows such as Ripper Street (2012-6) and Peaky Blinders (2014- ).
---
Trailer here
---
---