---
Crew
Director/Screenplay – Scott Schirmer, Producers – Scott Schirmer & Brian K. Williams, Photography – Brian K. Williams, Music – Adam Robl & Shawn Sutta, Visual Effects – Dustin Wayde Mills, Special Effects/Makeup Effects – The Clockwerk Creature Company (Supervisor – Arthur Cullipher). Production Company – Forbidden Films/Mostly Harmless Productions.
Cast
Dan Nye (Ben), Ellie Church (Jennifer), Tristan Risk (Cat), Jason Crowe (Josh), Kevin Roach (Mark), Lucretia Lynn (Woman), Derek Sturgeon (Man)
---
Plot
Cat and her boyfriend Josh, accompanied by her friend Jennifer and their gay friend Ben, go up to cabin in the woods for Josh's birthday. Jennifer also invites along Mark, a hot guy she has just met, but he instead prefers to hook up with Ben. While up at the lake, they are affected by the plants in the woods, which cause them to become erotically aroused. Some of them wake the next morning to discover that the plants have taken over others in the group and are intent on claiming them too.
---
Harvest Lake was the fourth film for the Indiana-based director-writer Scott Schirmer. Schirmer first appeared with the non-genre Off the Beaten Path (2005) and then discovered horror with House of Hope (2010) and remained there with Found (2012), Plank Face (2016) and The Bad Man (2018). For other directors, Schirmer has also produced Headless (2015), The Legend of Wasco (2015) and Space Babes from Outer Space (2017).
Harvest Lake opens on an unusual prologue with a man (Derek Sturgeon) pursuing a woman (Lucretia Lynn) through the woods, which is directed in a way where you can never be certain if it is a horror scene and he is pursuing her with malice, or is a seduction and she is enticing him, and ends with them nude (both proving to be very well inked) having sex and then drinking the liquids from the plants in the area, followed by their blankly walking into the lake.
The film proper then begins where it starts out along the lines of any of several dozen backwoods horrors. The character complement could easily be one for a slasher film or else a work like The Evil Dead (1981). (You could almost argue that the film has taken The Evil Dead's infamous tree rape as inspiration and spun the basic idea out into a work of softcore erotica). That said, the characters here are sharply ironic and modern in attitude and the film does a far better job of writing them than the usual one-dimensional victims that turn up in any slasher/backwoods horror.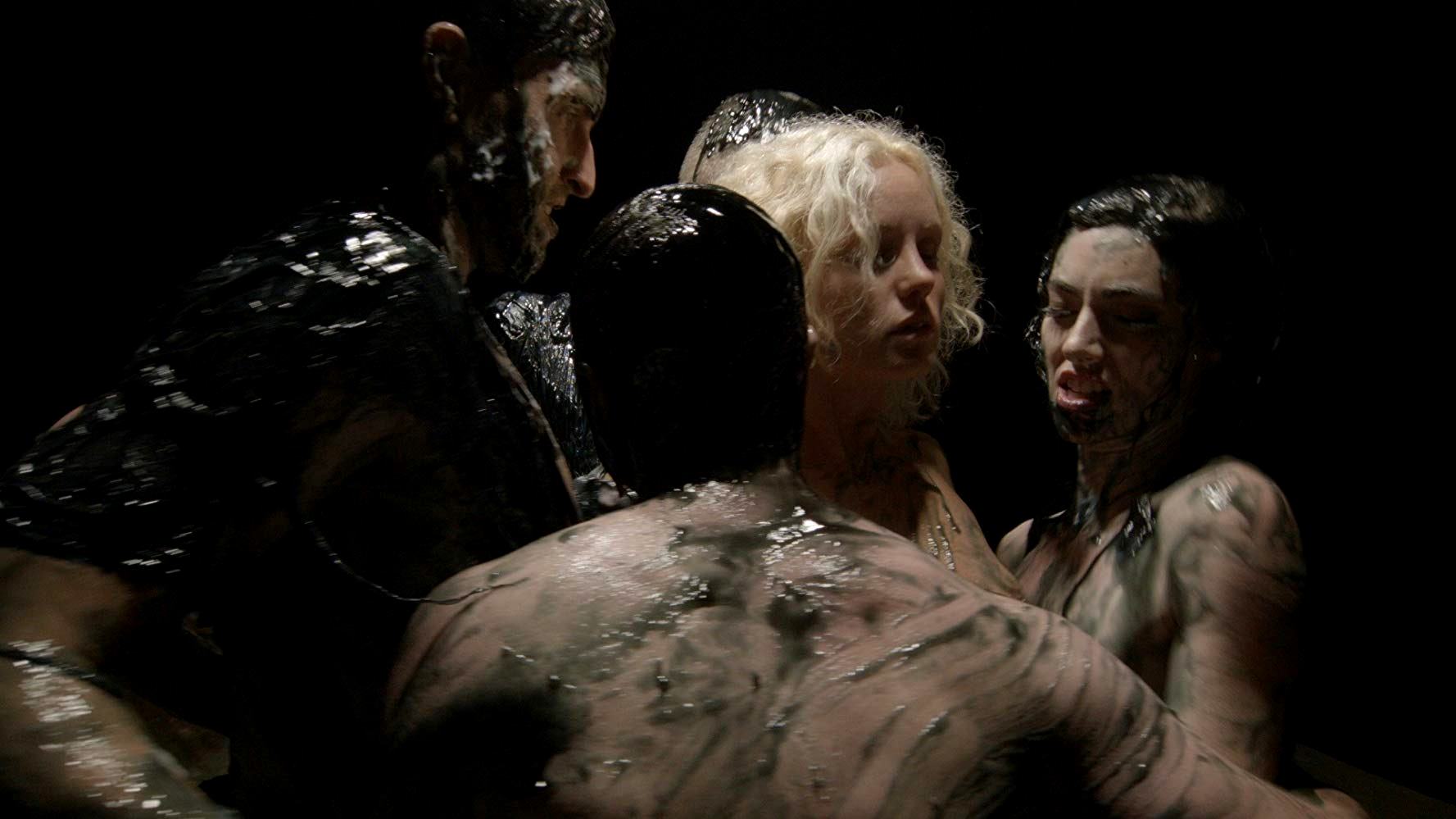 The film also comes with a substantial degree of gay content – much is made out of the scene where Kevin Roach is introduced during the campfire game of Truth or Dare and the turning of expectation on its head when he chooses to kiss Dan Nye instead of Ellie Church. I don't feel the film is particularly a work of Queer Horror as there has been some effort to label it – two of the characters engage in a same sex relationship, but elsewhere we see five of the others engaged in standard straight relationships (although at least the two girls kiss as part of a threeway).
Where the film gets interesting is when it gets to the plant sex scenes. The four friends journey to the lake where something in the waters seems to influence them and they are next seen behaving in an erotic way with the plants – Jason Crowe is about to tongue a plant that looks suspiciously like a vagina; a pod inflates and looks like a dick where Tristan Risk gives the impression she is about to fellate it; Ellie Church is in the water and slips a hand into her bikini bottoms to touch herself as a tentacle slithers up around her leg. Everywhere throughout there are scenes with plant pods oozing semen-like fluid. There is the threeway scene where the two girls sharing a kiss seems to transfer a purple internally-glowing pod between their mouths at the same time as plant tentacles creep up Jason Crowe's body.
Eventually it appears that what we have is some kind of body snatchers film, although nothing at all is made clear or explained about what the agency behind this. The film closes on the sensational image of all the characters having an orgy with the giant pod organism behind all of this.
(Screening at the Shivers Cinemafantastique Film Festival)
---
---