---
Crew
Director/Screenplay – Michele Martin, Producer/Photography – Charles Huddleston, Music – Andrea Possee, Makeup Effects – Madge Castillo. Production Company – Dark Butterfly Pictures.
Cast
Michele Martin (Dulcina), Scott Hamm (Ulf), Kenny Johnson (Levi), Angelica Scarlet Johnson (Young Dulcina), Poppie Harris (Mother), Laura James (Young Mother), Nija Okoro (Dr Kaylsa Daphne)
---
Plot
Dulcina has been in therapy because of a traumatic incident when she was a child. She decides to head up to her grandmother's cabin in the woods despite warnings from a ranger that she may end up trapped for the winter and people have been found killed in the area. At the cabin, she is visited by Ulf who says he was sent by her grandmother. He may be the boy from Dulcina's forgotten childhood memories. The two become lovers, although Ulf may also be a wolf that is prowling the area. At the same time, Dulcina seeks to understand the changes occurring within herself.
---
Howl – which should not to be confused with the witty werewolf spoof The Howling (1981) and its long line of sequels, the werewolf on a train film Howl (2015) or even the Allen Ginsberg biopic Howl (2010) – is a modernisation of the Little Red Riding Hood Fairytale. There have been a number of films that reinterpret Little Red Riding Hood with Werewolves from The Company of Wolves (1984) through Jin-Roh: The Wolf Brigade (1998), Trick 'R Treat (2008) and Red Riding Hood (2011), while such was spoofed in the gay werewolf film The Wolves of Kromer (1998).
Howl is a directorial debut for Michele Martin who has appeared as an actress in several films since the mid-2000s. One of the amusements is reading Martin's bio, where the IMDb lists two entirely contradictory birth years – 1984 and 1992, which would make her either between 29 and 37 years old (despite which she comes out as looking all of about eighteen on screen). She has appeared as an actress in Assisting Venus (2010), Dadgum, Texas (2011) and Blue (2015), all of which she wrote and produced along with director Charles Huddleston who also produces and photographs Howl. She has appeared in several films by other directors with Coffin 2 (2017), Last Rampage: The Escape of Gary Tyson (2017) and The Stay (2021).
One is so used to seeing Little Red Riding Hood in a mythic 18th-19th Century European setting that it becomes a jolt to see it being retold in modern day terms – where Michele Martin's Dulcina, the equivalent of Little Red Riding Hood, is in therapy, drives an SUV to get to grandma's cottage, while being warned by a ranger that if she goes into the woods she might end up being trapped over the winter before he leaves her his cellphone number to call if she has any problems.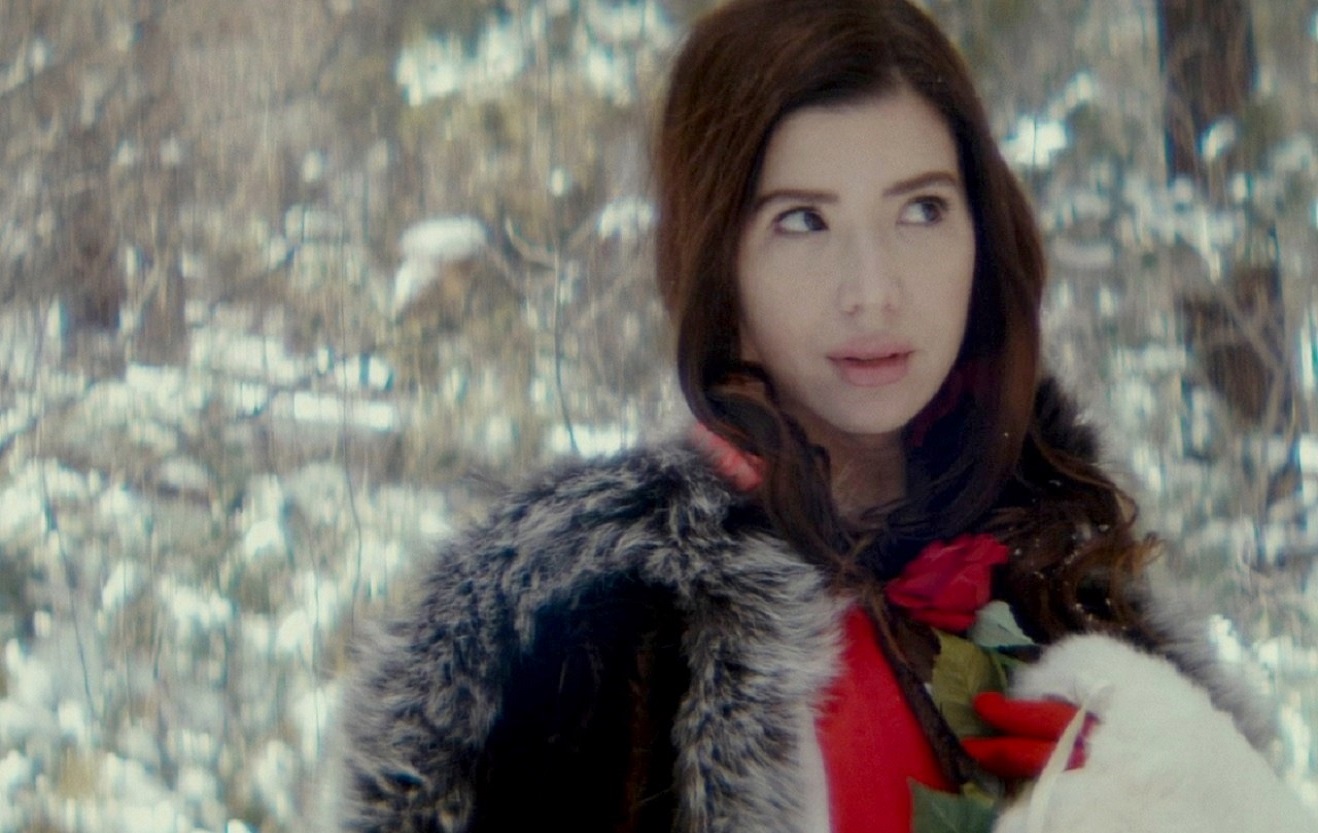 Howl sounds a much better film in description than it does in reality. In practice, it often feels like a student film that has pumped a great deal into atmosphere and mood but little that actually advances the plot in any direction. Indeed, once Dulcina arrives at the cabin, the film seems to come to a standstill and centre around a great many scenes of her in the snow, with Scott Hamm or drifting through the woods, all interspersed with flashbacks to the past. The film even drifts off into corny romantic fantasy as Michele Martin stands at the window and Scott Hamm comes up behind to kiss her neck as red rose petals are overlaid on the screen.
For all that, Howl is a film that seems less interested in the wolf than in Dulcina's issues. It begins in therapy and there are a number of flashbacks to her childhood, which we are led to believe are significant in terms of what is going to happen. These take up as much screen time as the wolf does – and yet for all that, we never clearly find out what Dulcina's issues are right up until the end. The film does take the interesting step of having Little Red Riding Hood become a werewolf too and the story be about her coming to a reconciliation with the repressed side of her nature.
---
Trailer here
---