(El Vientre)
---
Crew
Director – Daniel Rodriguez Risco, Screenplay – Daniel Rodriguez Risco & Gonzalo Rodriguez Risco, Producer – Marco Moscoso, Photography – Julian Estrada, Music – Omar Garaycochea, Makeup Effects – Gina Ciolo, Production Design – Guillermo Isa. Production Company – Explora Films/Vitamin C
Cast
Mayella Lloclla (Mercedes), Vanessa Saba (Silvia), Manuel Gold (Jaime), Gianfranco Brero (Uncle Miguel), Cristhian Esquivel (Police Major)
---
Plot
Mercedes, a young orphan working in the slaughterhouse, is selected to come and work as live-in maid for the widow Silvia. Silvia proves generous and friendly. She also seems to be promoting a romance between Mercedes and Jaime, a young guy who works as her handyman. Mercedes finds it strange after eavesdropping on Silvia singing to an empty baby crib. After she gets together with Jaime, Mercedes duly becomes pregnant. When they make the decision to go and stay in Lima with Jaime's uncle, Silvia first tries to bribe Jaime to leave and then knocks him unconscious when he refuses. The next morning she tells Mercedes that he stole the silverware and fled. Silvia announces that she is going to do everything to help her with the baby. However, Mercedes finds that Silvia has locked her into the house and made her prisoner.
---
The Womb is what must count as a first in my book – a horror film from Peru. (For that matter, I do not believe I have had the occasion to review any other types of Peruvian films for this site before). It is the second feature film for Daniel Rodriguez Risco who had previously made The Watercolourist (2008), which does not appear to have any play outside of Peru. He subsequenly went on to make the horror film We Are Not Alone (2016) and the non-genre Seven Seeds (2016).
I may be reaching a point that probably says something about how I have watched too many genre films. I went into The Womb expecting one type of film from the capsule description – another copy of Rosemary's Baby (1968) about a woman being forced to bear the Devil's child. In this respect, I ended up being disappointed (perhaps surprised) by the lack of any Satanic conspiracies anywhere in the film and the fact that what we have is a purely mundane thriller.
None of which should be laid as a complaint against The Womb. It works well as an Imprisonment Thrillers in the vein of works such as The Fanatic/Die, Die, My Darling (1965), Misery (1990), Boxing Helena (1993) and Paranoid (2000). Daniel Rodriguez Risco has clearly studied the genre and appropriates various set-ups and tropes – the heroine's various attempts to get free and the due crushing of her hopes, her eventual escape only for her appeal to the authorities to fall on deaf ears and she be returned to her captor, the unexpected visitor and so on.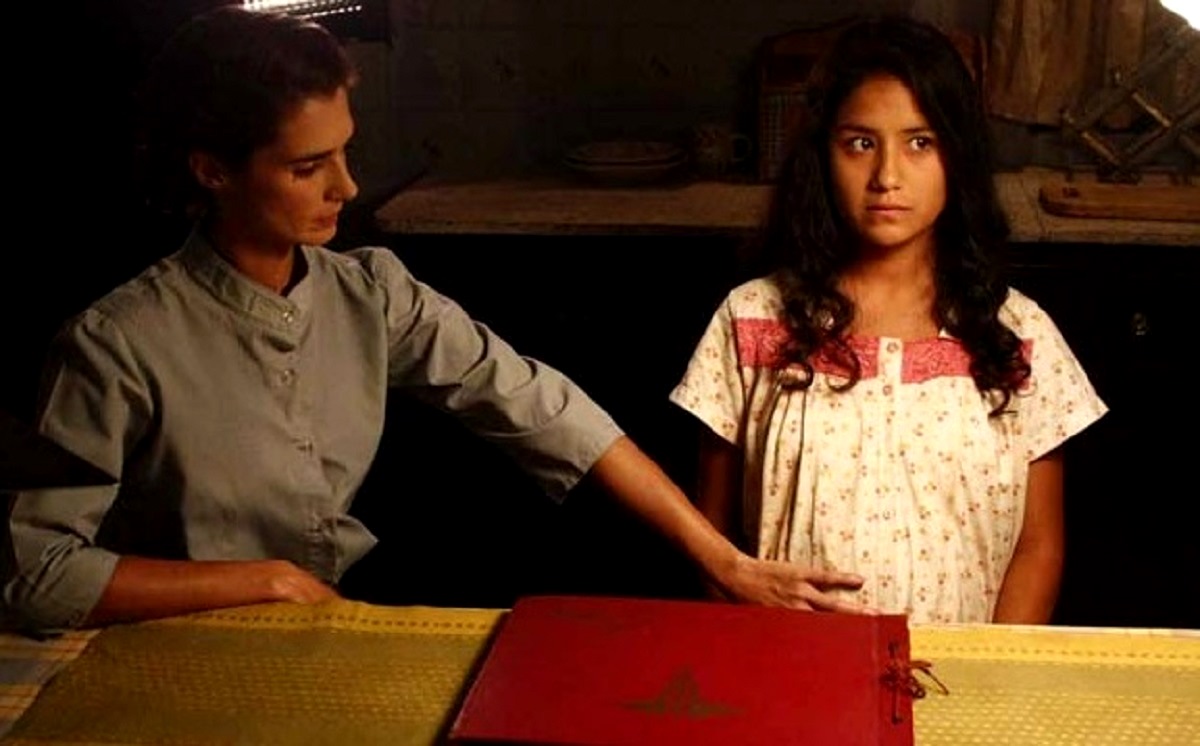 Risco never particularly reinvents the wheel but generates sufficient tension and a number of surprises with his set-pieces. It is also a beautifully lit film with much of it having been shot for the way that light plays out on character's faces or in the rooms. Perhaps the only complaint here might be that the film is given a score that feels like it is composed of cliche samples from classic thriller movies.
It would be hard to find an actress who seems the embodiment of sweetly fresh-faced and youthful innocence than Mayella Lloca. Up against her is the formidable Vanessa Saba who does the fiercely controlling matriarch with undeniably chill regard – she has a particularly unnerving speech where she insinuates that she could keep Mayella Lloca prisoner there as a Cat in a Jar ie. with limbs removed and two holes through which to eat and excrete.
---
---