---
Crew
Director/Screenplay – Gerald Johnstone, Producer – Luke Sharpe, Photography – Simon Riera, Music – Mahuia Bridgman-Cooper, Visual Effects Supervisor – Matthew Westbrooke, Makeup & Effects – Jacinta Driver, Production Design – Jane Bucknell & Anya Whitlock. Production Company – Semi-Professional/The New Zealand Film Commission.
Cast
Morgana O'Reilly (Kylie Bucknell), Rima Te Wiata (Miriam Bucknell), Glen-Paul Waru (Amos), Cameron Rhodes (Dennis McRandle), Ross Harper (Graeme), Mick Innes (Mads Kraglund), Millen Baird (Officer Grayson), Bruce Hopkins (Office Carson), Wallace Chapman (Hollis)
---
Plot
After being arrested for an attempted burglary of an ATM, Kylie Bucknell is sentenced to eighteen months home detention at her mother's house in the tiny New Zealand town of Bulford. Driven crazy by the boredom and having to deal with her mother, Kylie begins to hear things. She starts to believe in her mother's stories of there being a ghost in the house. Aided by her case officer Amos, who doubles as a ghost hunter, she thinks that the spirit of Lizzie Chalmers, who was murdered when the house was a psychiatric institution, is trying to reach out and find her killer.
---
The New Zealand-made ghost story has not had a particularly happy history on film. Not that there is a vast representative body of films to select from, however the universal disappointments we have include the almost entirely forgotten likes of Mr Wrong (1985) and The Returning (1991), Peter Jackson's miscalculated comedy The Frighteners (1996) and David Blyth's anaemic Ghost Bride (2013), while the following year NZ also produced the quickly forgettable The Dead Room (2015). Housebound seems to be one effort that is changing that and generated some extremely favourable press in its tour of major international genre film festivals. The film represents a directorial debut for Gerald Johnstone.
It is probably the result of the film's own hype but I ended up feeling disappointed with Housebound. I want to say this with a great deal of caution – being a former New Zealander, I feel under some obligation to be an ambassador for the country and push its local product as it attempts to punch above its weight in the international arena and feel a bit of a fink in letting the home team down. Even more so when people among the production cast are personal friends.
Housebound is amusing – it is probably even the film that Peter Jackson should have been making with the misguided The Frighteners – but it feels long way from the new genre classic that much of the hype is pushing it as. The basic premise is a riff on Disturbia (2007) – the youth imprisoned on home detention only to find something amiss in the neighbourhood – a serial killer next door in Disturbia, that they are living in a haunted house here. Indeed, the entire premise of the woman on home detention finding the house she is in to be haunted was done before in Eric Red's more serious, non-comedic 100 Feet (2008) starring Famke Janssen and was subsequently reissued in Dark Summer (2015).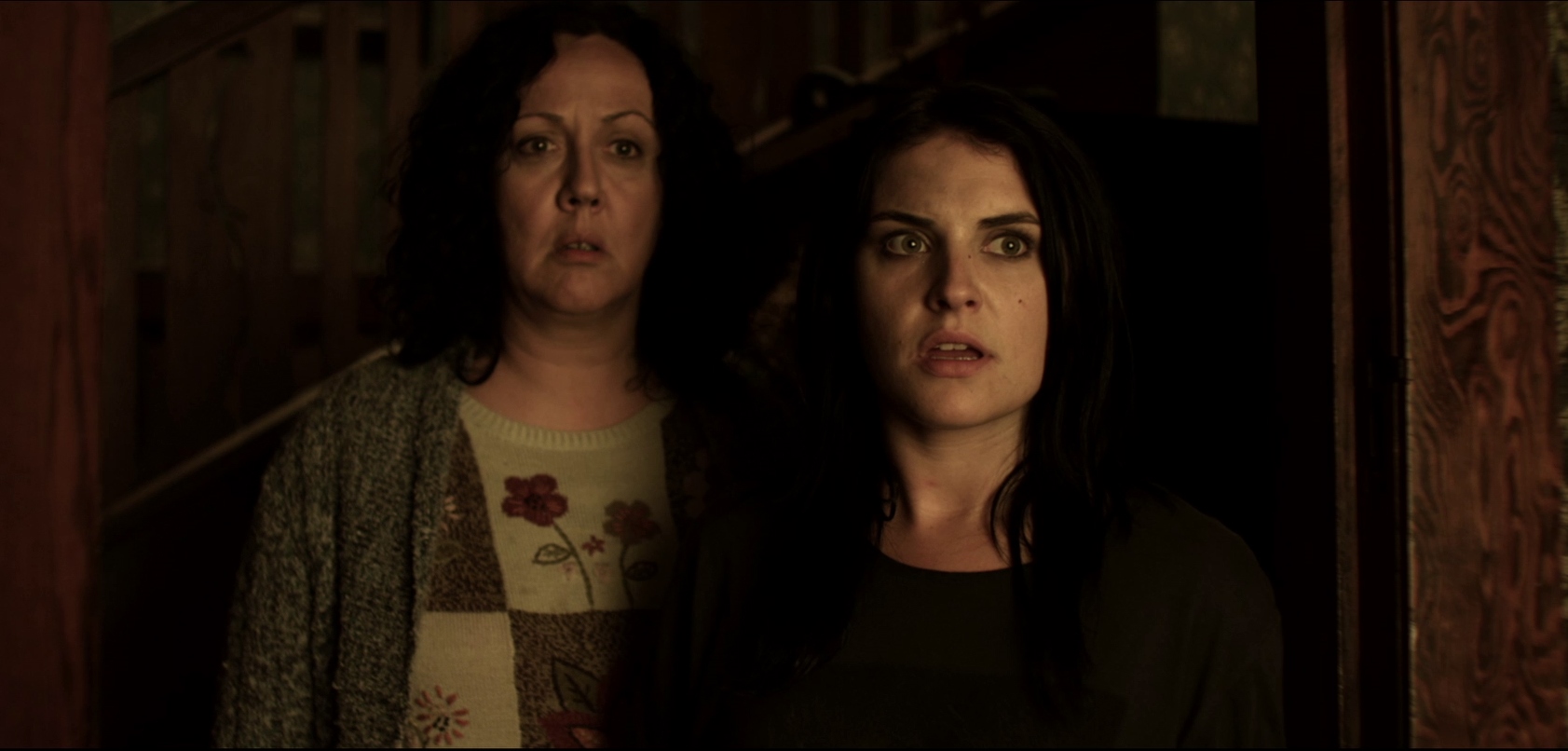 It took me a long time to engage in Housebound. Much of it is clearly played for comedy but this falls into the mumsy and easy laughs that often passes for comedy on New Zealand screens. Aside from the local work of art Rima Te Wiata's fine playing of Morgana O'Reilly's dully middle-of-the-road mother, this amiably courses along feeling like it is getting worked up about something that should make you laugh but never hits its stride. Similarly, when it comes to the horror angle, Gerald Johnstone produces a couple of minor jolts but there is never the sense that you are riveted to your seat and being made to jump out of it as you go in expecting.
During the first two-thirds, the plot winds its way through a good many familiar genre tropes – the discovery of the house with the past; the dead girl wanting someone to expiate her crimes in the present; the heroine being disbelieved or frustrated from getting help because of her dubious past; the evidence pointing at the sinister recluse next door; as well as substantial appropriation of the hoary old Mad Relative in the Cellar plot. Everything here feels overly familiar if you have spent your time in the trenches watching enough horror movies.
It is only in the last third that Housebound emerges out of its easy safe humour and tepid jumps into what we have been expecting it to be. The plot goes into hyperkinetic overdrive with a series of twists and turns that manage to unearth all manner of suspects, alternate explanations and people hiding in the house. These turns are entertaining as they are increasingly improbable. (The end of the film, for instance, left me confused as to whether there actually was any ghost of the dead Lizzie in the house or not).
Rather amusing are the climactic scenes with Morgana O'Reilly and Rima Te Wiata fighting off the villain of the show with everything from cheese graters to laundry hampers and xylophones, which finally hit the wacky humour stride you wanted the film to an hour ago. This does redeem Housebound somewhat. However, I look back at the astonishing breakout success on the New Zealand scene of Peter Jackson's Bad Taste (1988) twenty-six years ago and in comparison Housebound seems lacking.
---
---