---
Crew
Director/Screenplay – Joe Maggio, Producers – Larry Fessenden, Brent Kunkle & Peter Phok, Photography – Michael McDonough, Music – Jeff Grace, Visual Effects Supervisor – Neal Jonas, Makeup Effects – Brian Spears, Production Design – Beck Underwood. Production Company – Glass Eye Pix.
Cast
James Le Gros (Peter Grey), Joshua Leonard (JT Franks), Amy Seimetz (Katherine Franks), Larry Fessenden (William Coley), Megan Hilty (Peg), John Speredakos (Phil), Mario Batali (Gordon)
---
Plot
All of a sudden, celebrity chef Peter Grey learns that his tv cooking show has been cancelled. At the same time, following a biting review of his restaurant by food blogger JT Franks, he is replaced at his own restaurant. Grey blames all his misfortunes on Franks, whose own relationship with his wife is faltering due to his own causticism and negativity. Grey then abducts Franks and makes him a prisoner in the basement at his home in the countryside. There he tortures Franks by reading his own reviews back to him and making him cook a decent meal or else starve and receive tortures.
---
Glass Eye Pix is a company that was set up by Larry Fessenden, the director of Habit (1997), Wendigo (2001), The Last Winter (2006), Beneath (2013) and Depraved (2019). Glass Eye Pix has become an increasingly underrated presence in the horror field since the mid-2000s with films such as Zombie Honeymoon (2004), The Roost (2005), Trigger Man (2007), I Can See You (2008), I Sell the Dead (2008), The House of the Devil (2009), Stake Land (2010), Hypothermia (2011), The Innkeepers (2011), Late Phases (2014), Darling (2015), Most Beautiful Island (2017), Psychopaths (2017) and The Ranger (2018). Glass Eye head Larry Fessenden always a plays a role or makes a cameo in each of his films – he turns up here as the private detective looking for the missing Joshua Leonard.
Bitter Feast was the fourth film of Joe Maggio who the rest of the time works in the industry as a sound recordist. Maggio had previously directed and written Virgil Bliss (2001), Milk & Honey (2003) and Paper Covers Rock (2008) and subsequently went on to The Last Rites of Joe May (2010) and Supermoto (2016), all non-genre vehicles.
There haven't been many films about the horrors of eating before. The best in the field that comes to mind is Peter Greenaway's The Cook, The Thief, His Wife & Her Lover (1989), followed by the extraordinarily perverse Feed (2005) about feeder fetishism. There has also been individual episodes of anthologies like Taxidermia (2006), The Theatre Bizarre (2011) and Late Night Double Feature (2016). Although the film that Bitter Feast reminds of the most is the scene in Theater of Blood (1973) where Vincent Price forces critic Robert Morley to eat his own cooked poodle and even more so to the subsequent The Menu (2022), one of the best of these epicurean horror films.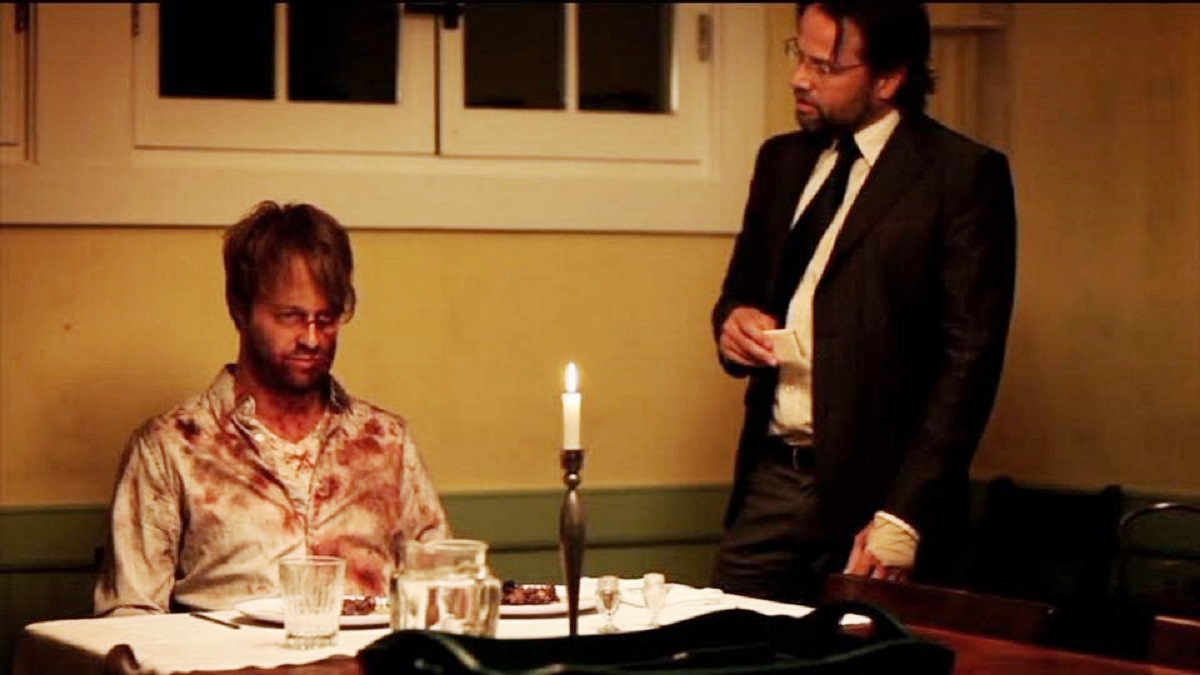 Bitter Feast is essentially an Imprisonment Thriller. This is usually a genre in which an individual is imprisoned and/or tortured by another – see my essay Imprisonment Thrillers for a more detailed overview. There's an appealingly nasty bite to the idea of a chef imprisoning the bitchy, overly negative critic who slammed his restaurant. In one scene, we see a chained-up Joshua Leonard being forced to cook eggs over easy on a barbecue and then having to starve when he fails to do so to perfection. The best scene – one that digs into a pleasing nastiness – is where James Le Gros serves two identical dishes of ragout up to Leonard but informs him that one is cooked with belladonna and that Leonard must choose the right one to eat as a test of his supposedly refined palate.
The role of the chef is played by James Le Gros who has been working as an actor ever since the 1980s with roles in films like Solarbabies (1986) and Phantasm II (1988) and more recently in Fessenden's The Last Winter, among other films. Here he does the assured celebrity chef and coldly seething revenge well. Joshua Leonard is another name that may not stand out but was one of the trio lost in the woods in The Blair Witch Project (1999) and has since then maintained a solid career playing genre roles (in fact the only of the Blair Witch actors to go on to do much else). He is great in one early scene where he confronts wife Amy Seimetz – a scene that has a blisteringly bleak piece of emotional nihilism that quite takes you aback.
---
Trailer here
---