---
Crew
Director – Michael Polish, Screenplay – Amy Kolquist & Mike Le, Producers – Richard Halpern, Lucas Jarach & Jason Price, Photography – Jayson Crothers, Music – Aleks de Carvalho, Production Design – Adam Henderson. Production Company – Infra-Red Films/Defiant Pictures/Jeff Rice Films/No Mystery Media/Rich Hippie Productions/ETA Films.
Cast
Wes Bentley (Man), Kate Bosworth (Woman), Shashawnee Hall (Detective), Olivia Rose Keegan (Girl), Richard Riehl (Postman), Mia Barron (Officer), Patrick Bauchau (Doctor)
---
Plot
A man wakes up following a car crash with no memory of anything, even his own name. A woman tends him and tells him that she is his wife. They settle back into life together. The man then begins to find disturbing things, including a dead body in the basement, which the woman calmly says is her ex. As the man tries to escape, the woman imprisons and drugs him, telling him that she needs him in order to give her a baby.
---
Michael Polish, along with his twin brother Mark, first appeared with Twin Falls, Idaho (1999), a striking film where the two also playing conjoined (Siamese) twins, while also writing and directing the film. With Michael directing, Mark in acting appearance and both writing the script and producing, the brothers went onto a series of original works that include Jackpot (2001), Northfork (2003), The Astronaut Farmer (2006), Stay Cool (2009), For Lovers Only (2011) and Hot Bot (2016). During the 2010s, Michael has more often worked as a solo director without Mark (as is the case in Amnesiac) making Manure (2009), Big Sur (2013), 90 Minutes in Heaven (2015) and Terror on the Prairie (2022) ), Michael Polish has dabbled in a different genre seemingly with every film he makes – from drama, relationship film to surrealism, the Western and science-fiction, even the Christian afterlife film.
Amnesiac is Michael Polish's venture into the psycho-thriller – in fact, the first time he has touched horror material at all. The plot in which Wes Bentley is imprisoned, tied up and tortured by wife Kate Bosworth feels reminiscent of one of the psycho-thrillers of the 1960s – in particular of Hammer's Hysteria (1965), which had a near-identical plot involving an amnesiac man.
The film has been stripped to a minimum. It is only Wes Bentley and Kate Bosworth on stage for much of the running time with occasional cutaways to detective Shashawnee Hall and one or two other minor characters who turn up at the door – a postman (Richard Riehl), a beat cop (Mia Barron) looking for a missing person. Even the rooms in which Wes Bentley is imprisoned are bare – a bed in a large empty room – or else kept with the shades partially drawn and the light diffuse.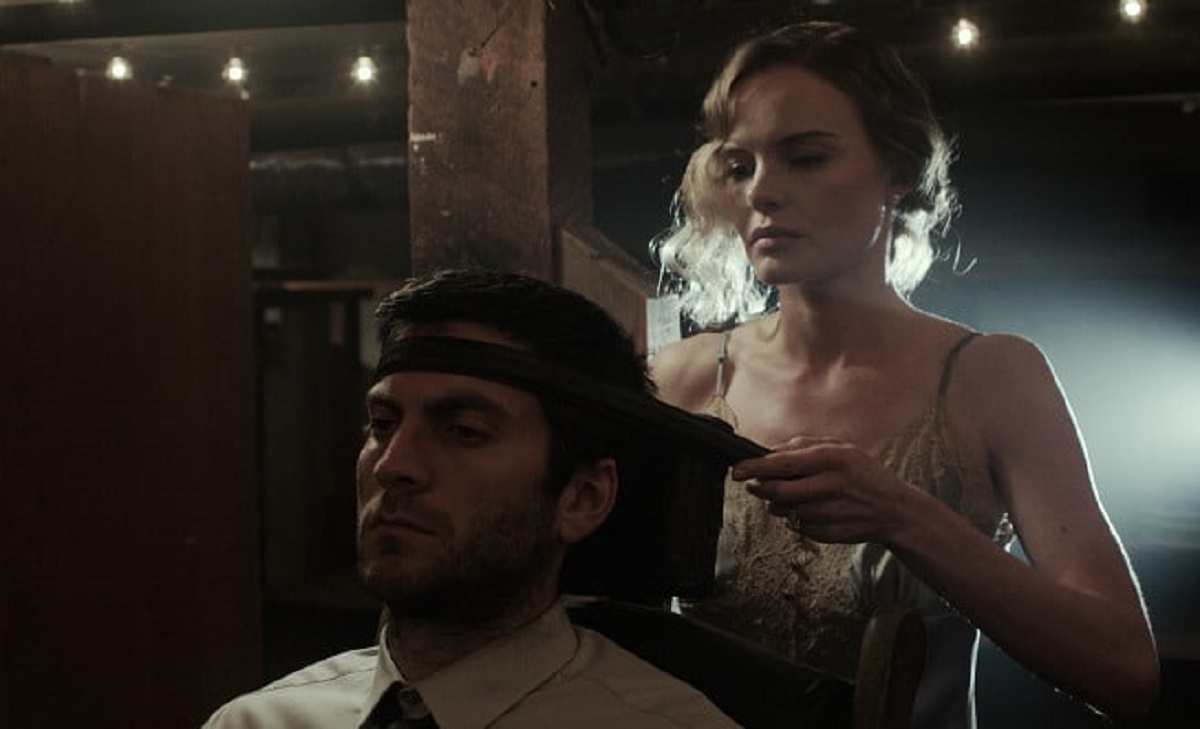 One of the best parts of the film is Kate Bosworth (who married Michael Polish in 2013 after appearing in his previous film Big Sur). I have never much cared for Bosworth as an actress – none of her performances anywhere else have done much to make me pay attention. However, that changes here. The coldness of her performance and the way in which she presents everything with perfect calm, even a peculiar habit of reciting random interesting facts, has quite chill effect.
Polish maintains the film with a mannered quietude that by its very calm suggests something is not quite right. The scenes where this abruptly slides over into something horrific – like where Kate Bosworth uses an ECT machine to torture Wes Bentley – are all the more effective for his maintaining the same mannered and cool distance. The most brutal to watch scene is the one where Kate Bosworth prepares to hammer an ice pick into Wes Bentley's brain through his eyeball, bringing the pick right up close to his eye all the while calmly reciting the facts about what will happen.
For me the only part of the film that felt a letdown was the ending. [PLOT SPOILERS] It may well be that one has watched too many post-M. Night Shyamalan films and expects every horror, SF film and thriller – especially one dealing with memory and a script that deliberately hides clues about what is really going on – to arrive with a jaw-dropping left field ending that turns everything on its head. Amnesiac does have a twist ending but it is nothing terribly jaw-dropping or that turns everything we have come to assume on its head in a big way. It is a thriller twist that might well have been perfectly suited for one of the old school psycho-thrillers but here seems slighter than you feel it should be.
(Winner for Best Actress (Kate Bosworth) at this site's Best of 2014 Awards)
---
---