aka U.F.O.
---
Crew
Director/Screenplay – Dominic Burns, Producers – Dominic Burns, Tim Major, Andy Thompson & Alain Wildberger, Photography – Luke Bryant, Music – Si Begg, Visual Effects – Melancholy Star (Supervisor – Konstantinos Koutsoliotas), Special Effects – Graham Aikman, Production Design – Felix Coles. Production Company – Hawthorn Productions/Incentive Media
Cast
Sean Brosnan (Michael Galloway), Maya Grant (Dana Williams), Simon Philips (Robin), Bianca Bree (Carrie), Jazz Lintott (Vincent), Jean-Claude Van Damme (George), Andrew Shim (Sam), Peter Barrett (Manny), Joey Ansah (Police Officer), Amelia Linney (Young Girl), Raj James (Mr Peterson), Sean Pertwee (Tramp), Dominic Burns (Peter), Julian Glover (John Jones)
---
Plot
A group of friends are out clubbing. Over the course of the night, Robin proposes to his girlfriend Dana, while his best army friend Michael picks up and brings home a hot-looking American girl Carrie. They wake in the morning to find that the power and phones are out everywhere. As alien ships appear overhead in the skies, the population descends into anarchy and looting. Amidst this, the group tries to stay alive and survive.
---
Alien Uprising was the third film from rising British director/writer Dominic Burns. Burns had first appeared with Cut (2010), a slasher film that had the distinction of being filmed all in one take. He then went onto make the non-genre How to Stop Being a Loser (2011), the airplane horror Airborne (2012) and subsequently the war film Allies (2014), while also producing the non-genre Jack Falls (2011) and the horror film Devil's Tower (2013). Burns also makes acting appearances in his and other's films – he can be seen here as the dreadlocked store owner the party encounter.
I had no preconceived ideas about Alien Uprising before sitting to watch. However, Burns' editing style quickly began to annoy me before I even had the opportunity to work out what was happening. The opening scenes at the disco are shot so hyperkinetically – not to mention filled with random cuts to entirely unrelated scenes from later in the film – as to be distracting. More than anything, they seem there to try and give the film a fake energy and disguise the fact that it is being made on a low-budget. (It does neither). None of this particularly improves when the film settles down somewhat in the next few scenes – Burns does little to make its quintet of central characters terribly likeable.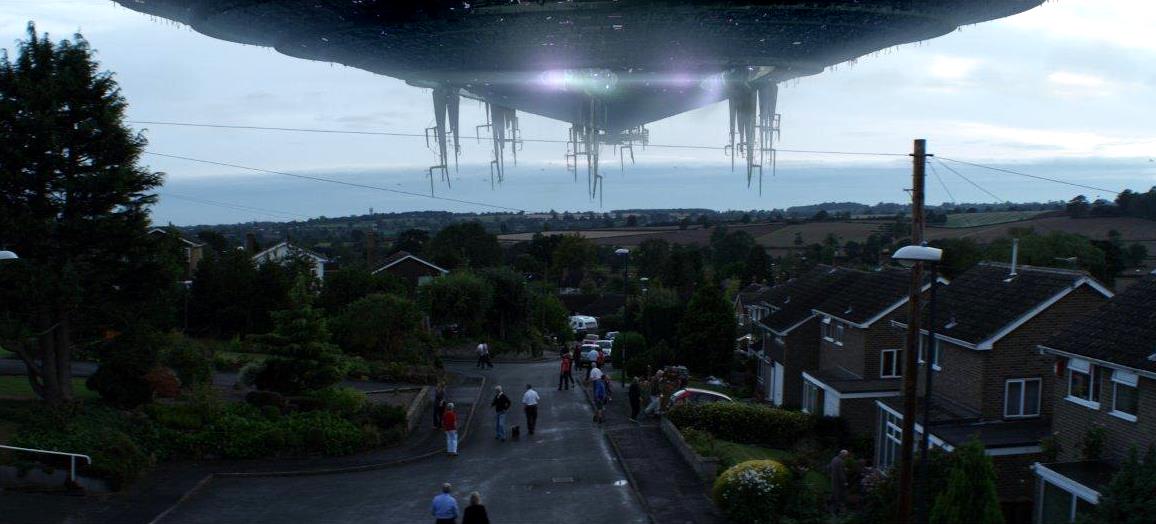 Alien Uprising feels less like a film with a pre-planned story than it feels like Dominic Burns sitting down and thinking "what scene can we lift from another social collapse/alien invasion film next?" The whole film feels arranged around such appropriated scenes – scenes of people looting stores, protecting their turf, trying to obtain emergency supplies and so on – even a scene with Maya Grant and others trapped in the house as an alien probe searches it that has been directly taken from the cellar scene from The War of the Worlds (1898). Burns does nothing to lift any of this out of a hackneyed regurgitation. About the one scene that does work is a fight scene with Sean Brosnan engaged with a fight with police officer Joey Ansah in a pharmacy that has an undeniable brutality and physicality to it.
When it eventually pulls together to explain what is happening, Alien Uprising seems even more random verging on totally out there. Dominic Burns appears to have corralled both Jean-Claude Van Damme and Sean Pertwee – the only recognisable names he has – into coming in for about a day's shooting and from the looks of it neither were given a script. Pertwee plays a lunatically bugged-out homeless man. Van Damme is cast as a former soldier but the explanations he delivers that involve military communications (that are somehow able to be monitored on an old radio), stopped clocks, Bible verses, Area 51 and body snatchers end up being completely nonsensical.
After Van Damme's explanations, the film jumps into being an alien body snatchers film as one of the party is revealed to have been an alien all along, which is greeted with the prize line "Fuck – the bitch is E.T." The film becomes even more random as the aliens assault the farmhouse where, for reasons there are never made clear, Jazz Lintott seems to choose the moment they are running for their lives to have a meltdown over Maya Grant not wanting him and to then try and rape her.
---
---