---
Crew
Director – Akiva Schaffer, Screenplay – Evan Goldberg, Seth Rogen & Jared Stern, Producers – Shawn Levy & Tom McNulty, Photography – Barry Peterson, Music – Christophe Beck, Visual Effects Supervisor – Kelly Port, Visual Effects – Digital Domain, Additional Visual Effects – [Hy*drau*lx] & Prana Studios, Special Effects Supervisor – Steve Riley, Makeup Effects – Tony Gardner, Creature Effects – Legacy Effects (Supervisors – Shane Mahan & Justin Marshall), Production Design – Doug J. Meerdink. Production Company – 21 Laps Entertainment/Ingenious Media/Down Pictures/Big Screen Productions.
Cast
Ben Stiller (Evan Trautwig), Vince Vaughn (Bob McAllister), Jonah Hill (Franklin), Richard Ayoade (Jamarcus), Rosemarie DeWitt (Abby Trautwig), Will Forte (Sergeant Bressman), Billy Crudup (Paul), Erin Moriarty (Chelsea McAllister), Nicholas Braun (Jason), Mel Rodriguez (Chucho), Doug Jones (Hero Alien), R. Lee Ermey (Manfred Salisbury), Joe Nunez (Antonio Guzman), Johnny Pemberton (Skater Kid)
---
Plot
Evan Trautwig is a Costco manager in idyllic Glenview, Ohio. He is distraught when the store's night watchman Antonio Guzman is brutally killed and skinned while on duty. This inspires Evan to stand up at a football game and invite people to form a neighbourhood watch. Those that apply are Bob McAllister who is looking for a fun time with the guys, police recruit reject Franklin and the British Jamarcus, a recent divorcee looking for social contact. The initial few nights out searching for Antonio's killer prove problematic as Evan tries to keep the group's focus on the job. They then run something down and find it has left behind a tentacle and a metal sphere that emits a deadly blast of energy when activated. This leads them to believe they are dealing with aliens, which is proven correct when they manage to capture one of them. They realise that they are in the midst of an alien invasion and that aliens are hiding in the neighbourhood wearing stolen human bodies.
---
I had difficulty finding much enthusiasm for The Watch before going into to see it. American mainstream comedy – and the films of the so called Frat Pack – is a genre that largely leaves me cold (with exceptions).
The Watch was a film that I knew I had to write about from seeing one of the early trailers. Not that one would know that it is an alien invasion comedy from the subsequent promotion and tv spots, which tried to play down any science-fiction content. You get the feeling that 20th Century Fox were caught with a white elephant. They were forced to change the title from the original intended Neighborhood Watch after the controversial shooting of unarmed Black teenager Trayvon Martin in Florida in February of 2012 by a neighbourhood watch group. Although you would think that this would make the publicity department want to play down the neighbourhood watch elements and emphasise the alien invasion story whereas in fact they ended up doing the complete opposite. The Watch opened to a weak $12 million box-office in its first week.
I admit to being turned off by The Watch from about the point of reading that the film was about the hijinks of a neighbourhood watch group. My limited experience with neighbourhood watch groups has put them in my avoid category – they seem run by people obsessed with driving out any force that might threaten property prices, while others seemed obsessed with a perceived threat of crime that is way out of proportion to actual reported crime statistics in the area, and the groups seem to share a preponderance for instant racial profiling that would be not out of place amid white law enforcement officials of the deep south before the Civil Rights era. As the Trayvon Martin case demonstrates, the insanity of arming such groups amounts to sanctioned vigilante squads of untrained law enforcement officials.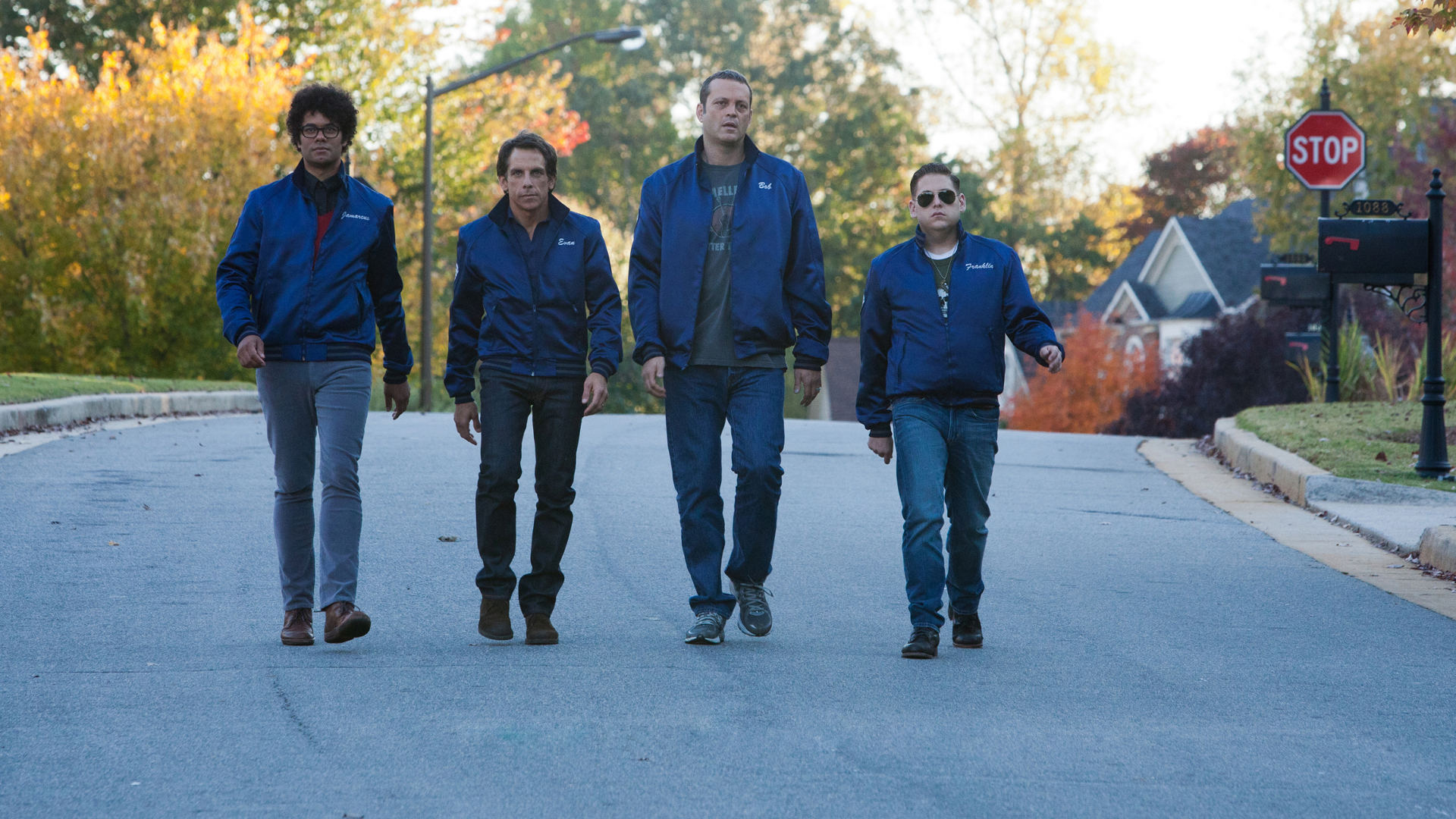 The Watch comes from the pen of Seth Rogen (and his regular co-writer Evan Goldberg). While Rogen has charted out an amiable presence as an actor, his ability as a scriptwriter is a divided proposition. He did deliver scripts for comedy hits like Superbad (2007) and Pineapple Express (2008), as well as was writer for the Da Ali G Show (2000-4); on the other hand, he also has to do a good deal to earn forgiveness for turning The Green Hornet (2011) into a bad frat boy joke. Certainly, he and collaborative partner Evan Goldberg did exceptionally well subsequently with their directorial debut This is The End (2013) followed by the animated Sausage Party (2016).
Director Akiva Schaffer inherited the script from others and comes to it from a background as a writer/director on Saturday Night Live (1975– ) and one previous film with Hot Rod (2007). The film is produced by Shawn Levy, director of Cheaper By the Dozen (2003), Night at the Museum (2006) and sequels, The Pink Panther (2006), Real Steel (2011) and Free Guy (2021).
The Watch emerges along the lines of a Ghostbusters (1984) crossbred with The 'Burbs (1989) and with a few Men in Black (1997) pop-up aliens added to the mix. It is maybe what you would expect if an American studio attempted a remake of Attack the Block (2011) – the gangbanger kids would go instantly and the rest of the show would be whitewashed but for some token African-American faces, while the politics would swing from petty criminals as heroes in the hood to middle-class vigilantes defending their homes as soon as the focus group results got in.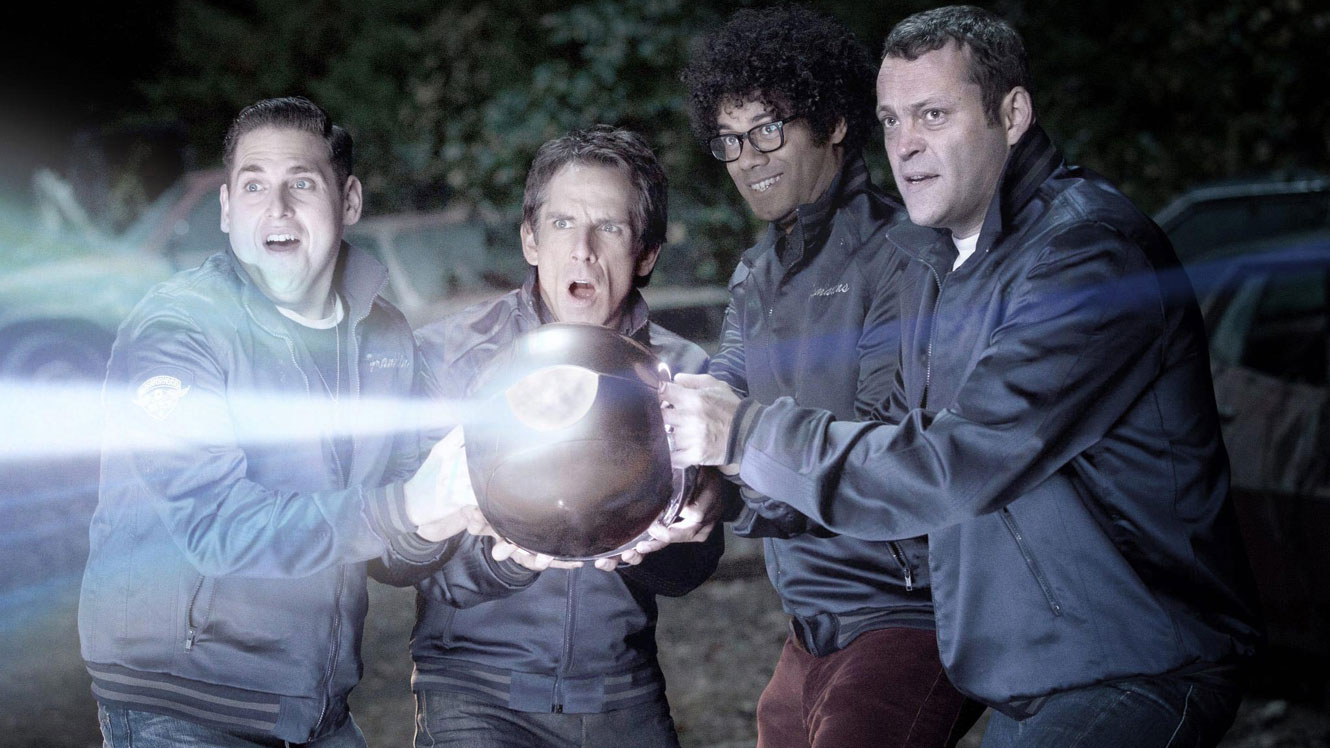 Given the the lightweight premise, The Watch emerges as somewhat better than what I was expecting it to. With Seth Rogen and Evan Goldberg on script, the humour is frequently adult and frat boy in nature – a typical joke is that the means of defeating the aliens is by shooting their dicks because that is where their brains are. There is a belaboured and entirely predictable gag about their suspecting neighbour Billy Crudup is an alien – only to find that he is hosting a neighbourhood swingers group in his house (where director Akiva Schaffer can be spotted as one of the guys engaged in a circle jerk).
As science-fiction, the comedic run of body snatchers themes barely registers and little thought has gone into it – the surprise twist regarding one of the characters and their subsequent reversal of sympathies comes astonishingly casually. Not to mention the film is often an opportunity for some blatant product placements – for Tide, a major plug for the Costco chain being wound in as part of the plot, even a pitch for Alvin the Chipmunks: Chipwrecked (2011), which comes out on dvd just as The Watch is released.
The virtue of the film is its cast – Frat Packers Ben Stiller and Vince Vaughn, along with the younger Jonah Hill and rising British name Richard Ayoade, known for his appearances in tv series like The Mighty Boosh (2003-7) and The IT Crowd (2006-10) and as director of the indie hit Submarine (2010) and the subsequent doppelganger film The Double (2013). Akiva Schaffer's good sense is to forget about following the rather slight script and to simply allow the foursome maximum opportunity to freely improvise. Stiller does his usual tightly wound thing, leaving the film to in large part be owned by Vince Vaughn and a very weird Jonah Hill who both have fun whenever they open up, while Richard Ayoade stands on the sideline to deliver dry lines in an impeccable British accent. The film also gets some good mileage out of Will Forte as a gimlet-eyed law enforcement official. The results emerge with some undeniably engaging moments of humour and occasionally witty off the cuff one-liners.
---
---