---
Crew
Director – J. Blakeson, Screenplay – Akiva Goldsman, Susannah Grant & Jeff Pinkner, Based on the Novel by Rick Yancey, Producers – Lynn Harris, Graham King, Tobey Maguire & Matthew Plouffe, Photography – Enrique Chediak, Music – Henry Jackman, Visual Effects – Clearcut FX, The Embassy, Mammal Studios (Supervisor – Gregory D. Liegy), Method Studios (Supervisor – Sue Rowe), Pixomondo, Scanline VFX (Supervisor – Darren Poe), Shade VFX & Spin (Supervisor – Jeff Campbell), Special Effects Supervisor – David Waine, Production Design – Jon Billington. Production Company – Material Pictures/GK Films/Lstar Capital.
Cast
Chloe Grace Moretz (Cassie Sullivan), Alex Roe (Evan Walker), Nick Robinson (Ben 'Zombie' Parish), Liev Schreiber (Colonel Vosch), Ron Livingston (Oliver Sullivan), Zackary Arthur (Sam Sullivan), Maika Monroe (Ringer), Maria Bello (Sergeant Reznick), Tony Revolon (Dumbo), Nadji Jeter (Poundcake), Alex MacNicholl (Flintstone), Flynn McHugh (Tank), Talitha Bateman (Teacup), Cade Cannon Ball (Oompa), Maggie Siff (Lisa Sullivan), Gabriela Lopez (Lizbeth), Matthew Zuk (Wounded Man with Crucifix)
---
Plot
It is an ordinary day for sixteen-year-old Ohio schoolgirl Cassie Sullivan as alien spaceships appear and hover over the major cities. The Others, as they are named, then send an EMP pulse that stops all electrical devices. This is followed by their generating tsunamis and releasing a modified Bird Flu virus that eliminates much of humanity. Cassie, her father and younger brother Sam gather with survivors at a refugee camp. They are interrupted by a military convoy led by Colonel Vosch who wants to move them all to safety at Wright-Patterson Air Force Base because The Others are using mind-controlled humans to kill survivors. Cassie is separated from the bus transporting the children when she goes back to get Sam's teddy bear only to watch as the remaining adults are shot when one of them pulls a gun. At the base, Sam in inducted into the unit of children led by Ben Parish, the guy Cassie had a crush on in school, and given military training so that they can be sent to hunt the adults that have been taken over by The Others' mind control parasite. Meanwhile, passing through the woods, Cassie is saved by Evan Walker. During their journey to the base, he trains her in survival and the two discover an attraction. Both groups however begin to discover that everything is not as they are being led to believe.
---
The Young Adult film has been on the rise ever since the success of the Harry Potter and Twilight films. From the success of The Hunger Games and Divergent franchises onwards, it has readily ventured into science-fictional scenarios. These take settings that are well and tried throughout science-fiction literature and rewrite them as simplistic romances with teenage characters at the forefront. What is also noted about this is how bloated every series has become. Ever since Twilight took the step of splitting the final book into two parts with Breaking Dawn Part 1 (2011) and Breaking Dawn Part Two (2012), every other series has followed suit for no other reason than that everybody else is doing it and oh it also means that people will spend an extra half-billion dollars at the box-office. This offers up a proposed Young Adult series based on The 5th Wave (2013) by Rick Yancey who has intended to spin it out as a trilogy, with The Infinite Sea (2014) and The Last Star (2016).
J. Blakeson had previously directed The Disappearance of Alice Creed (2009) and co-written the screenplay for The Descent Part 2 (2009). The script has some high-power names, including Akiva Goldsman whose perpetual dabbling in the genre has always ended in a trail of atrocities every time he has either written or produced something that has ended up being written about here. See his scripts for the likes of Batman Forever (1995), Batman & Robin (1997), Practical Magic (1998), I, Robot (2004), I Am Legend (2007), Insurgent (2015), The Dark Tower (2017) and Rings (2017), his producing Jonah Hex (2010), Childhood's End (2015) and the remake of Firestarter (2022), as well as directing Winter's Tale (2014). Goldsman co-writes with Susannah Grant who has delivered screenplays for Pocahontas (1995), EverAfter (1998) and Erin Brockovich (2000), among others.
The downside of this wave of Young Adult films is that the ambition of tackling a trilogy or series of books often does not come off as the filmmakers intend and the genre is littered with a host of series that went nowhere – see the likes of I Am Number Four (2011), Beautiful Creatures (2013), The Mortal Instruments: City of Bones (2013), The Giver (2014), Vampire Academy (2014), Fallen (2016), Maximum Ride (2016), The Darkest Minds (2018), Mortal Engines (2018),d Artemis Fowl (2020) and Chaos Walking (2021). The 5th Wave was another of these – it was dumped by the studio in the midst of the January dead season at the box-office and opened only in sixth place that weekend, earning a pitiful $10 million in US release. From this you get the clear indication that we won't be seeing any of the sequels up on screen anytime soon.
The 5th Wave is an alien invasion drama. In the first twenty minutes of the story, Rick Yancey throws in a host of catastrophes – everything from EMP blackouts of technology to tsunamis and a super Bird Flu virus. It feels as though a writer sat down and tried to create an epic story by upping the scale of the disaster and rather absurdly tossing together as many scenarios as possible. Thereafter the film settles in as a variant on the body snatchers film – one is constantly reminded of The Puppet Masters (1994). Even then, the story comes with the improbable mid-film twist that reveals that the children have been recruited as soldiers and are being fooled to believe that the surviving humans they are eliminating are body snatchers.
The other downside is that J. Blakeson does extremely little to engage you in the drama taking place on the screen. It is not that the Young Adult drama is not capable of tackling the alien invasion story – if anyone tried to adapt/remake The Tripods (1984-5) as a big screen YA trilogy, I would bet money they would have a surefire winner on their hands. That said, The 5th Wave is more along the lines of a homeland invasion story like Red Dawn (1984), Tomorrow When the War Began (2010) and How I Live Now (2013) than anything approaching an alien invasion film like Independence Day (1996).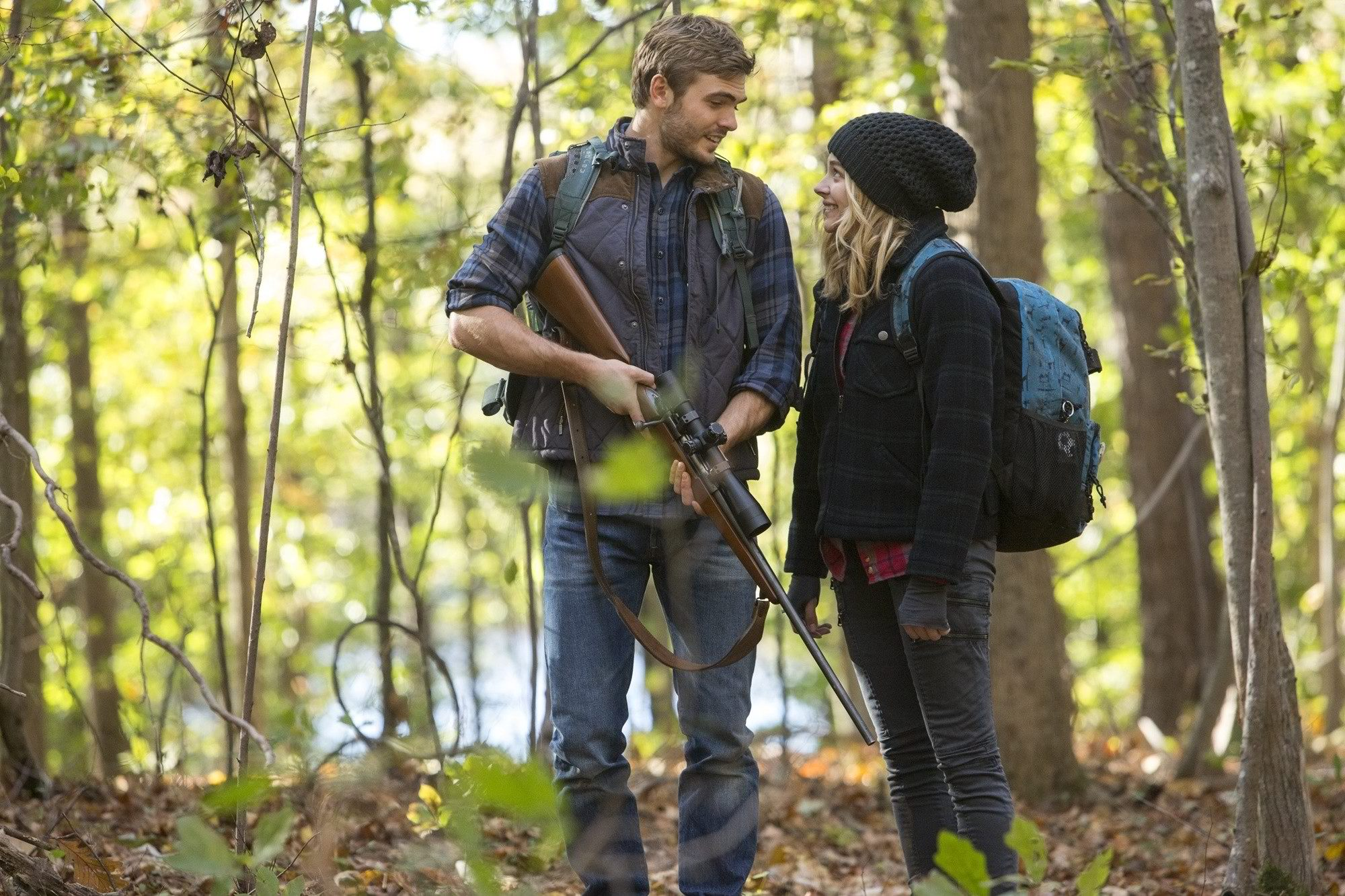 Everything that happens in The 5th Wave feels like it is dull and without affect. There are some very mild action scenes and one or two big effects scenes at the start but all of it feels exceedingly routine. There is nothing in the film that leaves you feeling engaged in terms of drama, caring about the urgency of the things the characters are fighting for or feel the tragedies they are going through. Indeed, the film seems more invested in setting up a love triangle between Chloe Grace Moretz, Alex Roe and Nick Robinson, something that seems de rigeur for almost any YA series – see Twilight, The Hunger Games, The Host (2013) – than tackling the alien threat.
The most laughable of all are the military training scenes, which have a wimpiness that feel written and directed by someone who has never even visited a boot camp. The whole point of a grunts in training piece is to show the initially greenhorn characters going through something that turns them into tough and mature fighting machines.
We have Chloe Grace Moretz as Rick Yancey's heroine. I have greatly admired Moretz's performance in films like Kick-Ass (2010) and sequel and Let Me In (2010); it is just that she feels swallowed up here. What the role needed is someone who projects the determined intensity and moral drive of a Jennifer Lawrence in The Hunger Games or of Shailene Woodley in the Divergent series; here Moretz is just someone filling the part and leaves no imprint on it at all. The most interesting and alive character in the show is actually Maika Monroe's Ringer who gets to make a fantastic entrance only to be quickly watered down to become just another member of the group by the end of the show.
---
---