---
Crew
Director – Kate Robbins, Screenplay – Jill Garson & Kate Robbins, Producers – Suzanne Lyons & Kate Robbins, Photography – Geoff Schaaf, Music – Vincent Gillioz, Visual Effects Supervisor – David Troy Smith, Special Effects – Monster FX (Supervisors – Ron Karkoska & Mark Villalobos), Makeup Effects – Andrew Baier, Production Design – Margaret Megumi Miles. Production Company – WindChill Films/Candy Stripers LLC.
Cast
Brian Lloyd (Matt), Tori White (Cheri), Nicole Rayburn (Krystal), William Edwards, Jr. (Joey), Kevin Thomas Fee (Brian), Deanna Brooks (Janine), Serria Tawan (Laurie), Eliza Swenson (Sally), Andrew Welsh (Dr Bradley), Barry J. Ratcliffe (Dr Dixon), Gerald Smith (Repairman), Sarah Ball (Tammy), Monique Cooper (Sue)
---
Plot
Two girl friends are rushed to Wucaipa General Hospital, having been attacked by something after they stopped by a crash scene on the roadside. There one of the injured girls asks the candy striper nurse to come and kiss her before she dies. In so doing, she transfers a green parasite into the candy striper's mouth. Meanwhile, Matt, the captain of the local basketball team, is rushed to the hospital with a broken leg, along with several of his injured teammates, after a game erupts into a brawl. Matt and his good friend Joey notice the candy stripers are all acting sexually provocative. They discover that the candy stripers have become infected by alien parasites and are killing and then placing men into cocoons. As the candy stripers take over the hospital, authorities declare a quarantine. Trapped inside, Matt and his friends try to find a way to fight back against the candy stripers before they too are taken over.
---
Candy Stripers advertises itself is the sort of film we don't see any more – the cheesy B-budget science-fiction movie that makes a virtue of bimbos getting undressed. In the 1980s, directors like Fred Olen Ray and Jim Wynorski made a career out of these types of films, something that became known as the Scream Queen fad. The better of these efforts came served up with tongues cheerfully planted in cheek. One of the more interesting things about Candy Stripers is that all the major production personnel – director, screenwriters and producers – are women, intriguingly suggesting a Scream Queen film that has been reclaimed from a woman's perspective.
Alas, none of this proves to be the case. The women's perspective proves to be no different from the usual B movie that men used to turn out. In terms of being the bimbo B movie that it promises to be, Candy Stripers is a resounding disappointment. The main problem is that director Kate Robbins seems to have no idea of what makes an effective B movie. A film like this needs a tongue-in-cheek cynicism, it needs to ply its sex scenes and splatter effects with an eye for the mind-bogglingly outrageous and outfit the heroes and villains with quotable one-liners.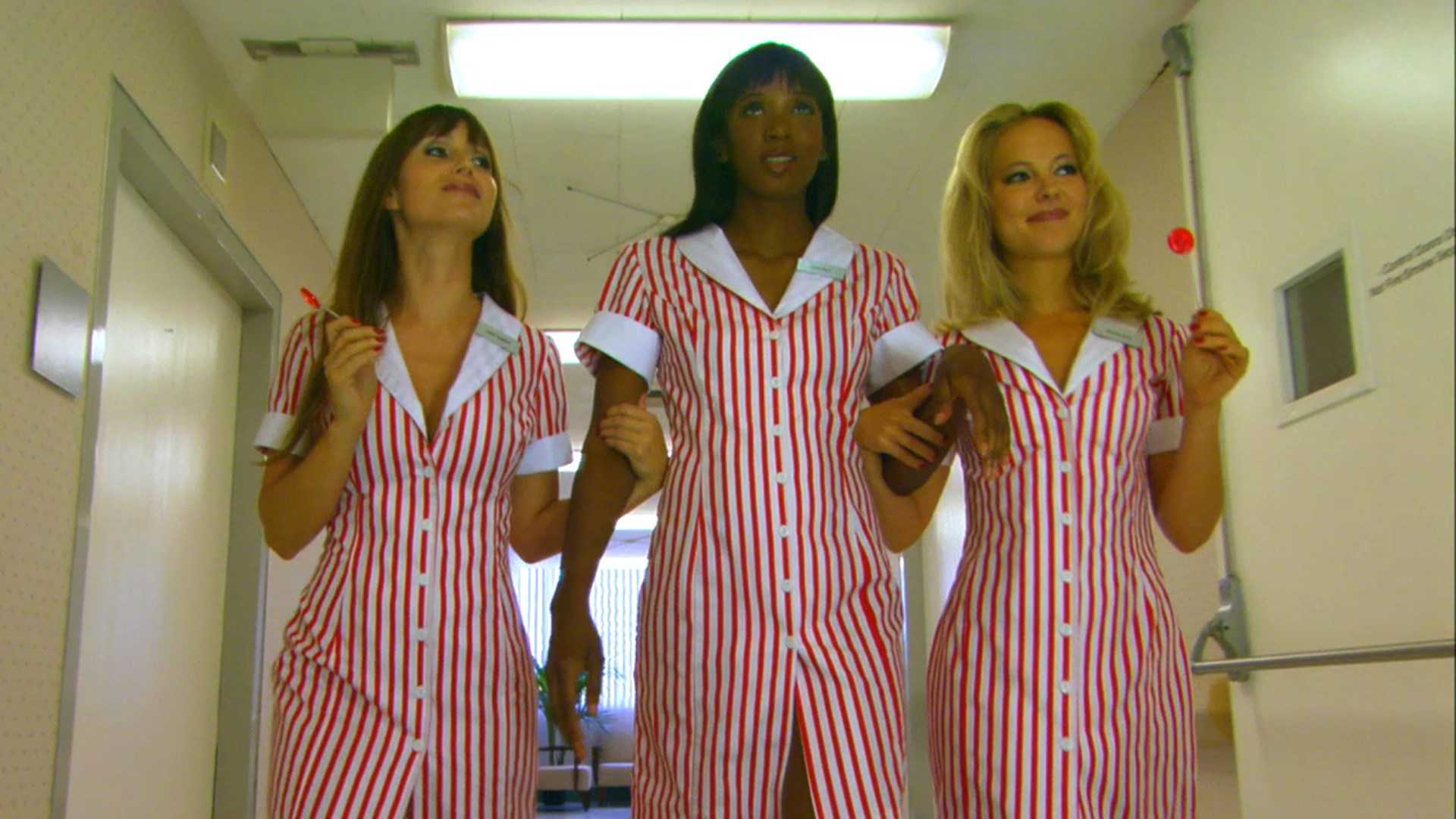 Contrarily, the gore is cheap and repetitive. The sex scenes that the dvd cover prominently advertises consists of less than 20 seconds worth of toplessness. The action is formulaic and without any level of irony that the material needs. As most we get lame one-liners like one candy striper reaching in to tear out the janitor's heart and commenting "Men can be so heartless" as she throws it at a sign promoting cardiac health.
All that we have is a gore movie with a bunch of campy uber-bitches strutting about the hospital. There is not even any decent rationale to what is happening – the candy stripers are just generic alien body snatchers that for no discernible reason take over women's bodies and package human men up in cocoons.
---
---