---
Crew
Director/Producer – Michael Shumway, Screenplay – Rick Hansberry, Photography – Brent Rowland, Music – James Schafer & Michael Shumway, Visual Effects Supervisor – Todd Sheridan Perry, Special Effects Supervisor – Clark Edmunds, Creature Design – Chris Hanson, Makeup Effects – Chris Hanson & Darren Uram. Production Company – Altitude/Film Base/Shumway .Studios/Weaponblender.com
Cast
Blake Webb (David Madison), Tatum Langton (Amy Madison), Jaclyn Hales (Samantha Hayes), Jack Diamond (Ryan), Brandyn Cross (Farmer), Cuyle Carbin (Brad Klick), Marlys Miller-Fladeland (Lori Mitchell), Keith Hottinger (Sam Mitchell), Caitlin E.J. Meyer (Caitlin)
---
Plot
David Madison has had to travel to Denver on business. He and his wife Amy had been having problems and she is not happy about him going. Once in Denver, there are abrupt announcements all over the news about planes falling out of the sky. With the airports closed off, David sets out to drive back to Amy in Salt Lake City, although finds once he sets out that many of the roads are closed. He gradually realises that they are in the midst of an alien invasion. Craft are in the skies and alien creatures are on the ground, shooting everyone they encounter. Joined by another girl Samantha, David sets out to make his way through the devastation and back home.
---
Alienate was a directorial debut for Michael Shumway who had previously worked as a film composer and was a member of the band Madisonsomething.
Alienate is an alien invasion film. It is also an alien invasion film made on a low budget. Thus Michael Shumway concentrates not on the catastrophe and sense of social collapse that is happening but rather on the parallel characters of husband and wife Blake Webb and Tatum Langton as they are separated across some 500 miles in different US states, in particular Webb's journey as he struggles to get back to her through the chaos. The nature of the alien invasion is pushed to the periphery and we only get to see occasional glimpses of the aliens as shadowy creatures firing blasts at survivors or of UFOs passing overhead.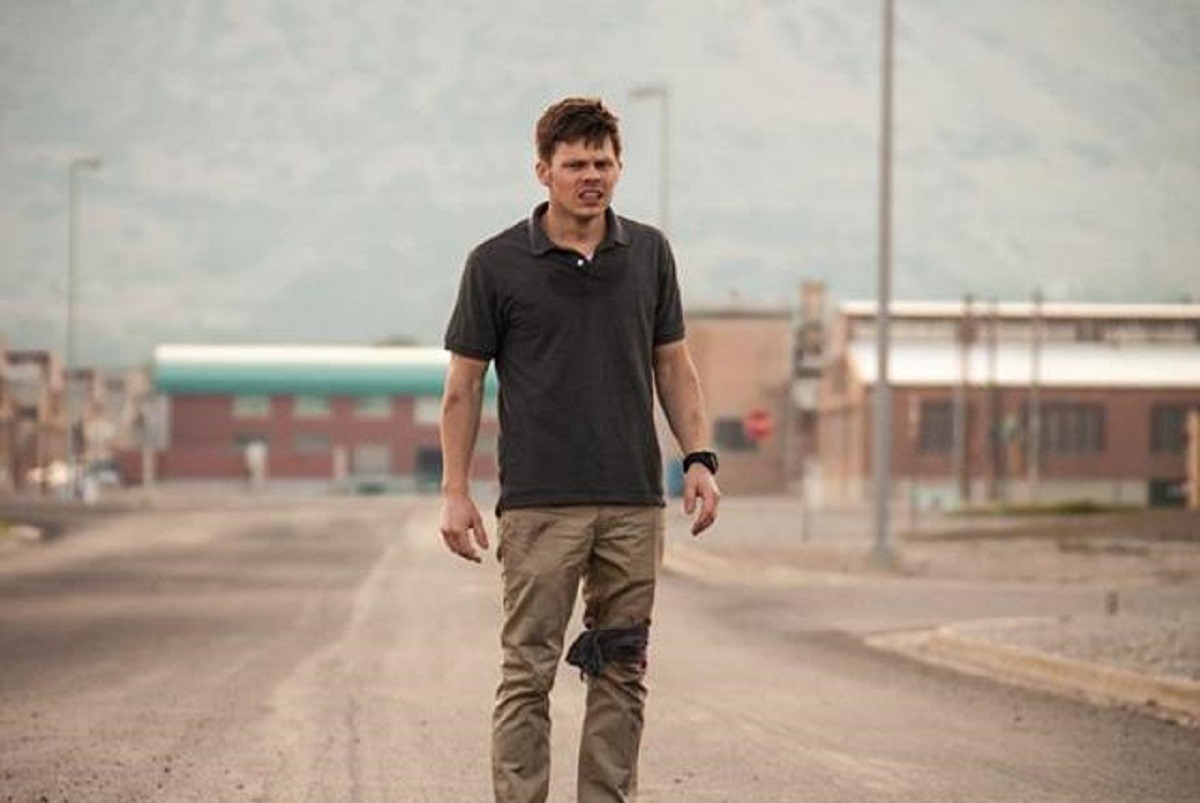 What we get to see of the aliens and the invasion is generic and nothing particularly original. The choices made in telling the drama, in placing the weight on the characters, does give an interesting emphasis, something we see too rarely in low-budget films. Shumway also chooses an ambitious non-linear structure. The film begins at mid-point in the journey and we get a series of flashbacks from principally Blake Webb to the events that led up to his being there. One would also have to say, especially given that we are in the arena of the low-budget film, that these character-driven scenes are well played and given a conviction by the actors.
The film also comes with a great opening hook – one that is surprisingly unrelated to the rest of anything that happens throughout – where a couple are reunited in a house and he takes her away from the others who are begging her to stay in safety, which he refuses to do with heroic certainty whereupon the others join him as he walks out onto a suburban street as the camera pulls back and we see it is filled with dead bodies.
---
---