---
Crew
Director/Music – Harry Bromley Davenport, Screenplay – Iain Cassey & Robert Smith, From an Original Screenplay by Harry Bromley Davenport & Michel Parry, Additional Dialogue – Jo Ann Kaplan, Producer – Mark Forstater, Photography – John Metcalfe, Additional Photography – John Simmons, Special Effects Supervisor – Tom Harris, Creature Effects – Francis Coates, Makeup Effects Supervisor – Robin Grantham, Additional Makeup Effects – John Webber, Art Direction – Andrew Mollo. Production Company – Amalgamated Films Enterprises/Ashley Productions/New Line Cinema.
Cast
Philip Sayer (Sam Phillips), Bernice Stegers (Rachel Phillips), Simon Nash (Tony Phillips), Danny Brainin (Joe Daniels), Maryam d'Abo (Analise Mercier), Anna Wing (Miss Goodman)
---
Plot
Sam Phillips is abducted by a UFO. Three years later, the UFO returns and an alien creature emerges. It proceeds to impregnate a woman and overnight she gives birth to a fully matured Sam. He returns to live with his wife Rachel who has now moved in with another man – but they both find Sam's behaviour strange and alien. After Sam kisses his son Tony on the neck, Tony starts to develop the ability to mentally enlarge his toys and use them to kill others.
---
This ultra-low budget Alien (1979) knockoff is an oddly interesting film. It seems like it has almost been constructed as a horror version of E.T – The Extra-Terrestrial (1982). As in E.T., the plot concerns an alien entering the lives of a family, in particular coming to touch the life of a lonely boy who is missing his absent father. On the other hand, where E.T. had a unifying emotional strength, Xtro is never more than the sum of a series of occasionally striking, more often absurd, images.
The film makes no real sense – it has only been constructed to throw together a series of bizarre images – the title Xtro, for instance, is a nonsense word and never once used in the film. Director Harry Bromley-Davenport achieves his best with a series of bizarrely incongruous behaviours on the part of Philip Sayer – melting a telephone receiver in his hand, eating snake eggs, driving off in a car with a dead body sitting unnoticed in the passenger seat.
Other parts though seem campily laughable – like the sequence where a woman is attacked by the alien and wakes up in the morning to find her stomach pregnant and swollen to about the size of a beanbag before it explodes and gives birth to a fully matured Philip Sayer. The sequences with the psychically enlarged Action Man and gleefully prancing clown are daft even on a conceptual level. Other parts are downright bizarre – at one point during the manifestations, a panther starts prowling about the house for no discernible reason.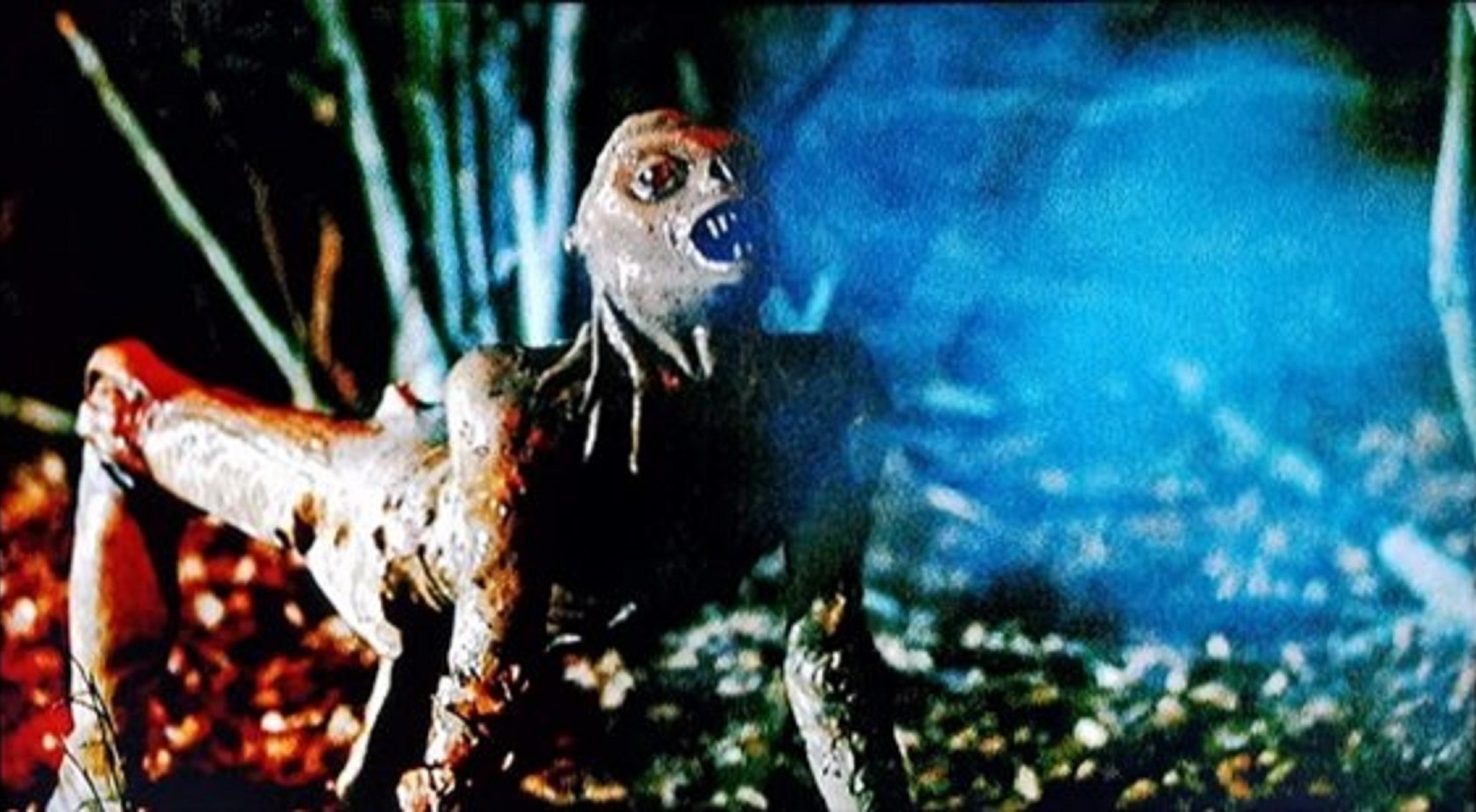 The film's low budget is obvious when it comes to the cheap UFO light effects but the makeup jobs for the bizarre alien transmogrifications and the weirdly contorted creature that appears at the beginning are good.
Director/producer Harry Bromley Davenport has gone on to direct a series of Xtro sequels – Xtro II: The Second Encounter (1991) and Xtro 3: Watch the Skies (1993). However, none of these have anything to do with the first film (or even one another for that matter).
Harry Bromley Davenport has made a handful of other films, including the black comedy Life Among the Cannibals (1996), the children's film Waking Up Horton/The Adventures of Young Brave (1998) about the returned spirit of an Indian medicine man, Mockingbird Don't Sing (2001), the true story of an adult woman who was treated like an animal, and the ghost story Darkness Visible/Haunted Echoes (2008).
---
Trailer here
---