---
Crew
Director – Jon Favreau, Screenplay – Mark Fergus, Alex Kurtzman, Damon Lindelof, Roberto Orci & Hawk Ostby, Screen Story – Mark Fergus, Steve Oedekerk & Hawk Ostby, Based on the Comic-Book Created by Scott Mitchell Rosenberg, Producers – Brian Grazer, Ron Howard, Alex Kurtzman, Damon Lindelof, Roberto Orci & Scott Mitchell Rosenberg, Photography – Matthew Libatique, Music – Harry Gregson-Williams, Visual Effects Supervisor – Roger Guyett, Visual Effects – Fuel VFX, The Garage VFX, Ghost VFX, Industrial Light and Magic, Shade FX (Supervisor – Bryan Godwin) & The Embassy Visual Effects, Special Effects Supervisor – Dan Sudick, Makeup Effects/Animatronics Supervisor – Shane Mahan, Makeup Effects/Animatronics – Legacy Effects, Production Design – Scott Chambliss. Production Company – Universal/DreamWorks/Reliance Entertainment/Relativity Media/Imagine Entertainment/K-O Paper Products/Fairview Entertainment/Platinum Studios.
Cast
Daniel Craig (Jake Lonergan), Harrison Ford (Colonel Woodrow Dolarhyde), Olivia Wilde (Ella Swenson), Sam Rockwell (Doc), Clancy Brown (Reverend Frank Meachem), Paul Dano (Percy Dolarhyde), Keith Carradine (Sheriff John Taggart), Noah Ringer (Emmett Taggart), Adam Beach (Nat Colorado), Walton Goggins (Hunt), David O'Hara (Pat Dolan), Raoul Trujillo (Chief Blacknife), Ana de la Reguera (Maria), Abigail Spencer (Alice Mills), Buck Taylor (Wes Claiborne), Matthew Taylor (Luke Claiborne), Cooper Taylor (Mose Claiborne)
---
Plot
Arizona, the late 1800s. A man wakes up in the desert with no memory of who he is, nothing except the clothes he is wearing and a mysterious bracelet around his wrist. He makes his way into the nearby town where the poor townspeople are suffering under the iron control of landowner Colonel Woodrow Dolarhyde. When Dolarhyde's son Percy goes on a drunken shooting spree through the town, the man intervenes to stop him when everybody else is too afraid to. The man is arrested after the sheriff discovers that he is wanted outlaw Jake Lonergan. Just as he and Percy are about to be taken away for trial, the town is attacked by alien vessels that snatch up a number of people. Jake is startled when the proximity of the alien craft causes his bracelet to come to life and he is able to use it to shoot one of them down. Jake joins Dolarhyde and a party of others as they set out to get back the abducted townspeople. Throughout the course of their journey, Jake begins to discover his own past as an outlaw and the nature of the aliens who have invaded Earth to plunder its supplies of gold. Tackling the aliens means bringing together a diverse group of people to fight.
---
The Western was in its heyday on screens between the 1930s and the early 1960s. It was one of the most popular genres of its day where it seemed to fulfil the equivalent of modern action films – providing a series of thrills, spills and morality tales about men defining their destiny and winning out through the use of their own two fists and guns – and many populist science-fiction/fantasy films do today – creating an abstract realm that bore little resemblance to historical reality, a simpler world of American nostalgia for these myths to play out against with easily defined black and white heroes and villains. The Western started to die out towards the end of the 1960s/70s at a point most of its basic themes seemed played out. Successive attempts to revise it beginning with The Wild Bunch (1969) stripped the genre of its heroic values to reveal something dark and violent at its core, while Alejandro Jodorwosky turned the Western seriously weird with El Topo (1970) and not long after Mel Brooks parodied it in Blazing Saddles (1974), before the massive financial flop of Heaven's Gate (1980) spelt the death knell for the genre. Westerns were never the same after that and by the 1980s had almost entirely died away as a genre, apart from a brief flourish of revisionist Westerns in the early 1990s beginning with Dances With Wolves (1990) on cinema screens and the tv series Deadwood (2004-6).
After their principal themes seem exhausted, a funny thing starts to happen to genres – people stop taking them seriously or else start coming up with gonzo genre hybrids. In recent years, we have seen the zombie film in particular finding its feet through numerous parodies, wacky title collusions and mash-ups with other genres. The same happened to the Western, which started to engage in various horror combinations with the likes of Curse of the Undead (1959), Billy the Kid Versus Dracula (1966), Jesse James Meets Frankenstein's Daughter (1966), House II: The Second Story (1987), Sundown: The Vampire in Retreat (1989), Uninvited (1993) and Tremors 4: The Legend Begins (2004); avenging ghost/revenant stories such as High Plains Drifter (1973), Shadow of Chikara (1977), Ghostriders (1987), Ghost Town (1988) and Jonah Hex (2010); two zombie Westerns with The Quick and the Undead (2006) and The Dead and the Damned (2010); cowboys vs troglodytes in The Burrowers (2008) and Bone Tomahawk (2015); even two horror Western anthologies with Grim Prairie Tales (1990) and Into the Badlands (1991). There have also been various science-fiction Westerns – involving time travel in Timerider: The Legend of Lyle Swann (1982), Back to the Future Part III (1990), the Doctor Who episodes The Gunfighters (1966) and A Town Called Mercy (2012) and the Star Trek: The Next Generation two-parter Time's Arrow (1992); with the basics transposed into outer space in Outland (1981), Oblivion (1994), tv's Firefly (2002-3) and the Star Trek episode Spectre of the Gun (1968), or post-holocaust settings in Steel Dawn (1987) and Omega Doom (1996); various virtual Western scenarios in Westworld (1973) and Welcome to Blood City (1977); and works such as tv's The Wild, Wild West (1965-9), The Adventures of Brisco County, Jr. (1993-4) and Legend (1995) that throw in Steampunk elements and technologically advanced gadgets. Indeed, the cowboys and aliens concept is not new and was previously attempted in the modestly effective High Plains Invaders (2009), which has more than a passing few similarities to Cowboys & Aliens, while a more benevolent alien visitor also turned up in the low-budget The Aurora Encounter (1985). There have even been animated attempts to play Westerns out with talking animals in An American Tail: Fievel Goes West (1991) and Rango (2011).
You had to applaud the line-up of talent that Cowboys & Aliens has managed to assemble. The film is produced by several different companies – including being a co-production between big hitters like Universal, DreamWorks and Imagine Entertainment – and includes no less than Steven Spielberg and Ron Howard listed as producers. In the director's seat is former actor Jon Favreau who entered genre territory with his second directorial film Elf (2003), the family comedy that made Will Ferrell a name, and has remained there since with Zathura: A Space Adventure (2005) and the big fanboy hits of Iron Man (2008) and Iron Man 2 (2010), as well as executive producing the post-catastrophic tv series Revolution (2012-4) and The Avengers films.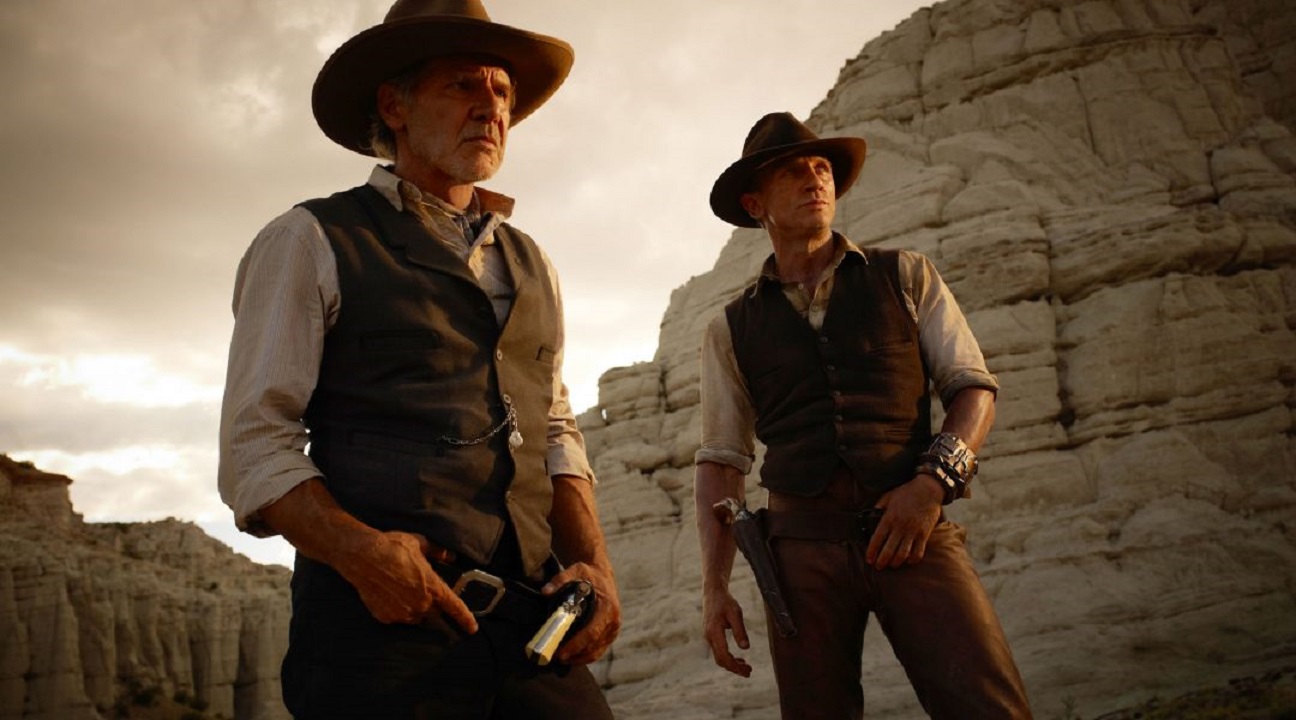 The script comes from a host of names, including the duo of Roberto Orci and Alex Kurtzman who have been busy boys in the last few years with the scripts for The Island (2005), Mission: Impossible III (2006), Transformers (2007), Star Trek (2009), Transformers: Revenge of the Fallen (2009), Star Trek: Into Darkness (2013), The Amazing Spider-Man 2 (2014), Star Trek: Beyond (2016) and The Mummy (2017), and as producers/writers on Alias (2001-6) and as creators/producers of tv's Fringe (2008-13) and Sleepy Hollow (2013-7) and producers of the films Ender's Game (2013) and Now You See Me (2013); Damon Lindelof, who gained a cult name as co-creator, principal producer and writer on tv's Lost (2004-10) and later of Prometheus (2012), Star Trek: Into Darkness, World War Z (2013) and The Hunt (2020); Mark Fergus and Hawk Ostby, the writing duo behind Children of Men (2006) and the first Iron Man film, as well as the key driving forces behind the sf tv series The Expanse (tv series, 2015-22); and even Steve Oedekerk, the comedy writer who has turned out scripts such as The Nutty Professor (1996), Patch Adams (1998), Bruce Almighty (2003), Evan Almighty (2007) and directed the inane Kung Pow: Enter the Fist (2002) and the animated Barnyard (2006).
Cowboys & Aliens had a long genesis. Steve Oedekerk was set to develop it around 1997-9 but this never came off. Film producer Scott Mitchell Rosenberg, who wrote the original script, was also the president of Malibu Comics (the publishers of Men in Black), went away and developed it as a 100-page graphic novel that appeared in 2006. The comic-book was then brought up as a filmic property and went through development under numerous hands before ending up as the film we have here. It should be pointed that there is almost no resemblance between the comic-book and the film beyond the title and the basic concept of cowboys and various familiar types of Western characters battling alien invaders.
The very title Cowboys & Aliens has been intended to give us one of these gonzo genre mash-ups as a high concept film. The idea seemed appealing and I was interested to see what the film did with it – certainly, the film seemed to be taking the idea seriously (far more than the comic-book did, in fact). The film has a great set-up – opening with an amnesiac Daniel Craig wakening in the desert and puzzling over the device clamped to his wrist that he is unable to remove. We are then introduced to the town where the decent but honest citizens are forced to live in grinding poverty by Colonel Dolarhyde – the scenes with a drunken Paul Dano going wild with his gun and being brought down by Daniel Craig more than effectively demonstrate the sense of absolute privilege he lives by and the state of fear the townspeople exist in. Then comes the kicker – after the fearful talk of the ruthlessly corrupt land baron Colonel Dolarhyde, we first see him talking with his back to the camera before he turns around and is revealed as no less than Harrison Ford. This comes as a considerable shock, you know that Harrison Ford is in the film but expect that he is a leading man – only to find that the role is what you would expect to be the villain of the show in any other Western. While we are still reeling from this, the town is attacked by UFOs, which snatch townspeople up with sky hooks – the surprise has been spoiled by the trailer but the outre abruptness of what is happening still seems wild.
All of this seems a highly promising set-up. Only what transpires is that there is nothing more to Cowboys & Aliens than that. Maybe it is simply that there have been so many hands involved in the broth or that the project's lengthy development process has watered everything down to a formulaic script with no distinction, but I felt disappointed with what Cowboys & Aliens promised to be and what is eventually delivered. The set-up creates an excellent mystery – but all of this is forward heavy build-up that only eventuates weakly once the party sets out. [PLOT SPOILERS] Daniel Craig's amnesia is revealed to have been caused by his abduction but there is little sense that you get – a film like Memento (2000) would be a perfect comparison – of him trying to piece together clues from his past to understand who he is. The bracelet around his wrist turns out to be nothing more than a vague all-purpose device that aids the party at various points and does whatever the scriptwriters magically need it to.
Especially disappointing is how after introducing Dolarhyde as the ruthless landowner who holds the town in an iron fist, this aspect of the character evaporates the moment Harrison Ford is introduced – the film seems conceptually unable to deal with the idea of Harrison Ford as a bad guy in any way (something I thought would have had great potential). We never even get any scene where Harrison Ford and Daniel Craig are pitted against one another, which could also have been full of possibilities.
Even the aliens are disappointingly generic – they have no more purpose than they do in other recent works such as Skyline (2010) and Battle Los Angeles (2011) as being there to blow things up and for people to shoot at – we never even learn why they are determined to mine gold. Even Olivia Wilde has a frustrating vagueness as a character – you get the idea that the writers could never figure out what to do with her (there is astonishingly little development to the idea of her as an alien), but were stuck with the character because the film needed a female lead and needed someone to deliver exposition about what the aliens are.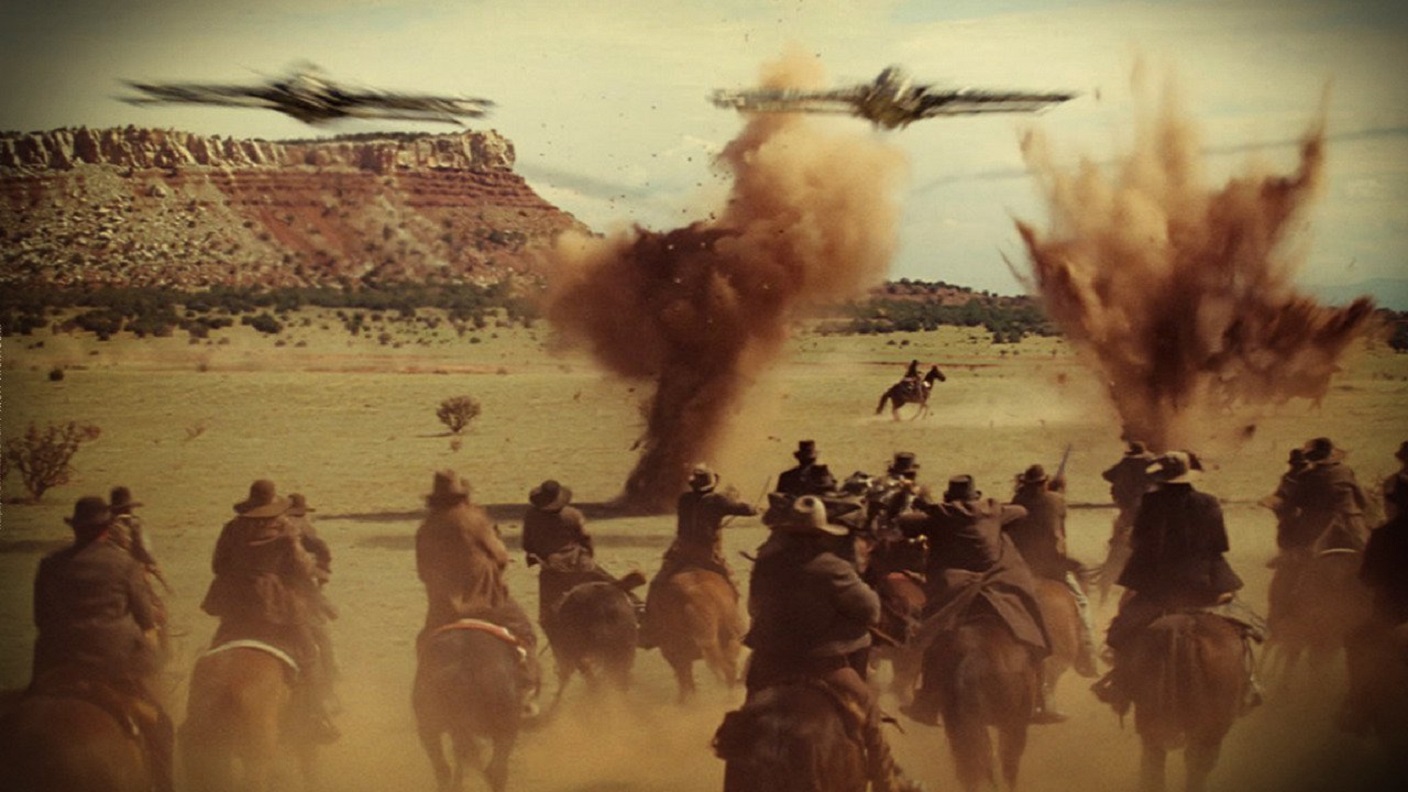 The entire second half of the film consists of little more than the party wandering through the desert and encounters with different groups, interspersed with scenes of the aliens attacking and abducting people, before all parties are united for the big finale where an offensive is mounted on the alien base. For me, the disappointment of Cowboys & Aliens is that beyond the conceptual collusion and what we have seen in the trailer, that that is it as a film. It never takes the idea anywhere beyond that, all that happens is action and special effects with little done to delve into the nature of the aliens or to conduct a Western beyond mimicking cinematic cliches. That makes Cowboys & Aliens far too light as the high concept film it clearly wants to be.
The one thing that Cowboys & Aliens does well is to assemble some great star power. Daniel Craig perfected the ice cold, tight-lipped implacability thing during his various outings as James Bond. Clearly cast as a Clint Eastwood-ian Man With No Name (or Memory), Craig brings the same thing to bear here but also manages to be an Eastwood character who has more of an acting range. Harrison Ford holds his own with characteristic crusty strength. Sam Rockwell provides understated amusement in the wry way only he can and there is solid support from reliables such as Clancy Brown and Keith Carradine. The only weak name in the deck is Olivia Wilde who showed great promise on tv's House M.D. (2004-12) but in her touted big screen outings so far has disappeared into anonymity.
Perhaps the oddest thing about Cowboys & Aliens is how it reads as a coded critique of The Recession (at least from a conservative standpoint). The evil aliens (read bankers) have come to steal all the gold – ie. all the money – we even see it being siphoned off in streams to their spaceship that looks like a high-rise office building that has been converted into an armoured fortress. Harrison Ford is the initially evil seeming landowner who holds the town under his thumb and is seen as directly responsible for the good, innocent townspeople's impoverishment – he is even not very subtly named Dolarhyde. He is then shown to not be a bad guy after all and undergoes the character arc of learning to grudgingly open up and be kind to poor children and immigrants. The solution is for everybody else to come together and work in united purpose under his guidance – where everybody from the poor, the downtrodden, criminals and racial minorities has learned to recognise that the captains of business are compassionate and know what is best for us (as opposed to being out to line their own and shareholders' pockets). The problem is seen as being solved when the gold is finally released from the evil aliens/bankers, allowing the town to be united together in the utopian harmony of new economic prosperity at the fadeout.
Jon Favreau next went on to make the non-genre Chef (2014), the live-action The Jungle Book (2016) and the live-action The Lion King (2019). He also acts as executive producer on the post-catastrophic tv series Revolution (2012-4), Avengers: Age of Ultron (2015), Avengers: Infinity War (2018) and Avengers: Endgame (2019).
---
---