aka Tape 407
---
Crew
Directors/Additional Writing – Dale Fabrigar & Everette Wallin, Screenplay – Robert Shepyer, Story – Suzanne DeLaurentiis, Dale Fabrigar, Stephen Fiske, Jude Tucker & Everette Wallin, Producers – Suzanne DeLaurentiis, Stephen Fiske, Ivan Kavalsky & Jude Tucker, Photography – Bryan Olinger, Music – Matt Dahan, Visual Effects Supervisor – Davey Jones, Visual Effects – Tiny Juggernaut, Creature Creation – 1313fx, Production Design – Gershom Hyldreth. Production Company – Cloud Nine Pictures/Entertainment Factory.
Cast
Samantha Lester (Jess), Abigail Schrader (Trish), Ken Garcia (Tom), Brendan Patrick Connor (Charlie), Melanie Lyons (Jimmy), Samantha Sloyan (Lois), Everette Wallin (Greg), Jude Gerard Prest (The Cleaner)
---
Plot
Thirteen year-old Trish joins her older sister Jess on a flight from New York to L.A., filming everything along the way with a video camera. There is then a mid-air accident and the plane crashes. Seated in the tail section, Jess, Trish and a handful of others are the only survivors. They find themselves in a desert area in the middle of nowhere. As they try to get help, they are attacked by a vicious, briefly glimpsed creature that may be a dinosaur.
---
Area 407, known in some releases as Tape 407, is another Found Footage film. The similarity of titles and secret US military base setting makes one immediately think of Oren Peli's more conceptually challenging Area 51 (2015), which was still in its lengthy post-production at the time this came out.
Watching enough Found Footage films, as one has to do with this site, they fall into a tedious much of a muchness after awhile. The good news about Area 407 is that it holds your attention and seems to doing something different for a time. In the lead-up scenes, directors Dale Fabrigar and Everette Wallin achieve a good naturalistic feel between the characters – with precociously bright thirteen year-old Abigail Schrader taking her video camera on board the plane with her and wryly commenting on the other passengers, and in the snappiness of the banter between her, Samantha Lester and Ken Garcia as the war correspondent in the seat behind them.
With ingenious economy, the film avoids depiction of the crash with the usual air hostess insistence that electronic equipment be turned off during takeoff. After that, the film does a fine job of depicting the panic, confusion and chaos among the survivors. All of this seems to be achieving a very authentic-seeming set of reactions and makes Area 407 feel less like yet another run around of the Found Footage cliches than a group of real people trying to deal with a situation.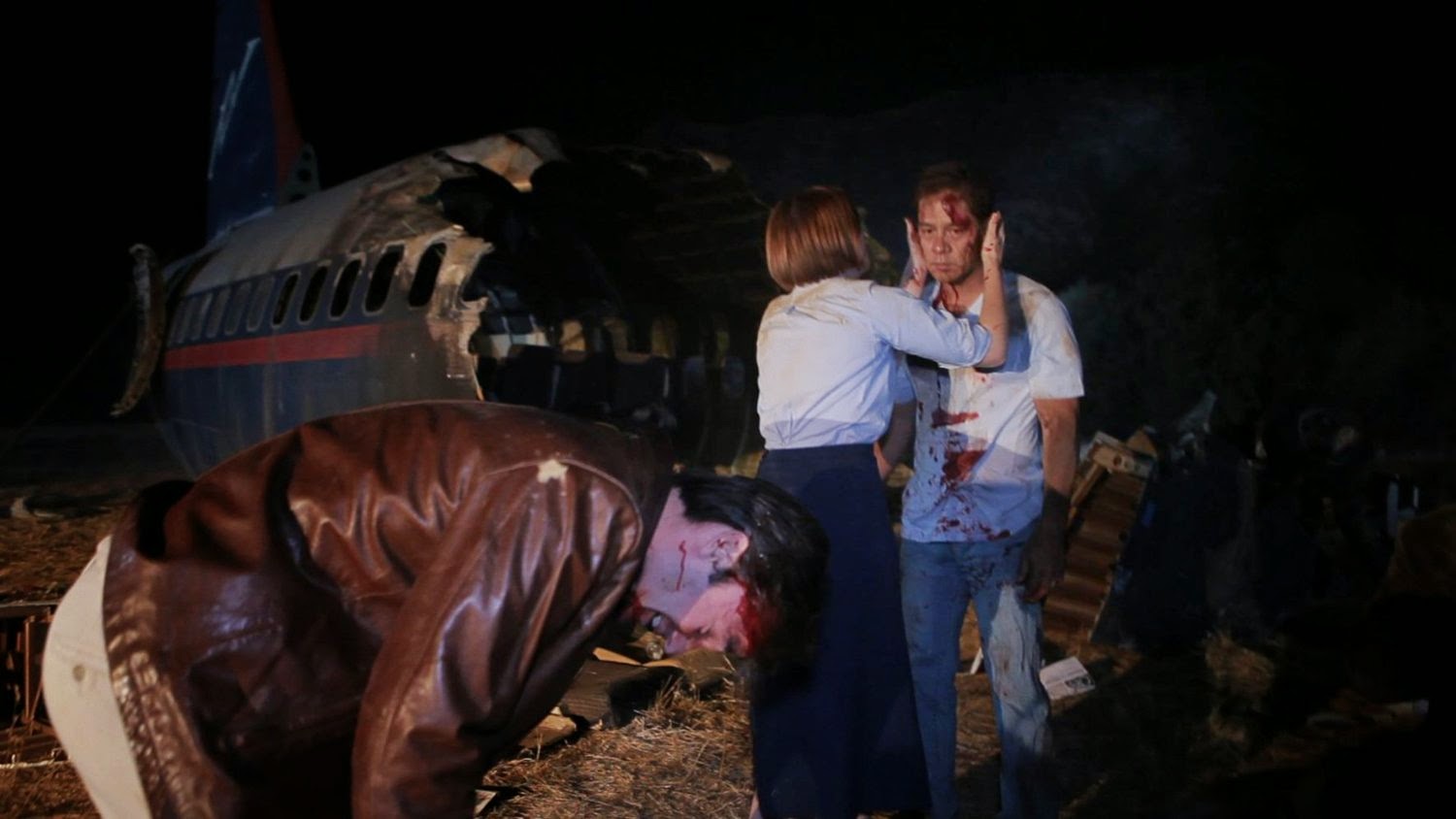 On the other hand, as soon as Area 407 leaves the plane crash and has the cast hunted by the mysterious creatures, it becomes far less interesting. The film opts for the old Lewtonian approach of people being attacked and dragged away by something unseen or giving us glimpses of the creatures that are at best subliminal flashes. Unfortunately, where the first section convincingly showed us people trying to deal with a crisis, the latter section feels as though the filmmakers have merely placed a bunch of actors in a nowhere desert setting and got them to played panicked and/or done the old The Blair Witch Project (1999) trick of unexpectedly making the actors jump. These scenes become of increasing frustration because they have been incredibly thinly plotted and just consist of the cast running from place to place, yelling at each other interspersed with shadowy attacks.
What you keep wanting is some clue about where we are, what the creatures are and what is going on. These are not answered until the very downbeat final scene – although the title of the film and dvd cover with a dinosaur plastered on it will have given this away to most people. Even then, this comes with a bare minimum of explanation – like leaving you wondering why the US government would be breeding dinosaurs and letting them roam uncontrolled on a high security base.
---
Trailer here
Full film available online here:-
---