---
Crew
Director – Barry Sonnenfeld, Screenplay – Etan Coen, Based on the Comic Book Created by Lowell Cunningham, Producers – Walter F. Parkes & Laurie McDonald, Photography – Bill Pope, Music – Danny Elfman, Visual Effects Supervisors – Ken Ralston & Jay Redd, Visual Effects – Sony Pictures Imageworks (Animation Supervisor – Spencer Cook), Additional Visual Effects – Cantina Creative, Clearcut FX, Method Studios, Perception & Prime Focus, Special Effects Supervisors – Jeff Binns & Mark Hawker, Makeup Effects Supervisor – Rick Baker, Makeup Effects – Cinovation Studios, Production Design – Bo Welch. Production Company – Amblin Entertainment/P&M Productions.
Cast
Will Smith (Agent J), Josh Brolin (Young Agent K), Tommy Lee Jones (Agent K), Jemaine Clement (Boris the Animal), Michael Stuhlbarg (Griffin), Emma Thompson (Agent O), Michael Chernus (Jeffrey Price), Mike Colter (Colonel), Nicole Sherzinger (Boris's Girlfriend), Alice Eve (Young Agent O), Keone Young (Mr Wu), Bill Hader (Andy Warhol), David Rasche (Agent X)
---
Plot
The alien criminal Boris the Animal makes an escape from a prison on The Moon. He comes to Earth determined to settle a score with Agent K, who caused him to lose his arm in an incident back in 1969. After they clash with Boris, Agent J tries to find what happened but discovers his access to what happened back in 1969 has been restricted. J then wakes up the next morning to find that nobody else at Men in Black Headquarters can remember K. He realises that Boris the Animal has gone back in time to 1969 and killed K, erasing his existence from the timeline. J concludes the only option is for him to travel back in time to 1969. There he teams up with the younger version of Agent K to stop Boris's future and present-day selves before they eliminate K's existence.
---
The first Men in Black (1997), adapted from a six-issue Malibu comic-book, was an enormous hit back in 1997. It was not a great film but had occasional amusements and a clever script. Its' offering of a comic flipside to the alien conspiracy paranoia of the then big hit of tv's The X Files (1993-2002, 2016-8) clearly hit a chord with audiences and brought Men in Black in second only to Titanic (1997) at that year's box-office. A few years later, director Barry Sonnenfeld and stars Will Smith and Tommy Lee Jones returned for a sequel with Men in Black II (2002), although this was a dismally unfunny film that substituted all the clever jokes in the first film's script for bludgeoning pop-up effects – despite this, it still ranked among the year's Top 10 box-office hits. This was a third entry in the series.
Here Men in Black becomes another franchise that studios suddenly decided to drag back out of mothballs after about a decade or more's silence as has happened with various other popular series in recent years – see the likes of Terminator 3: Rise of the Machines (2003) and Terminator Salvation (2009), Rocky Balboa (2006), Live Free or Die Hard (2007) and A Good Day to Die Hard (2013), Rambo (2008), Indiana Jones and the Kingdom of the Crystal Skull (2008), Conan the Barbarian (2011), Ghostbusters (2016), Bill & Ted Face the Music (2020) and most notably the Star Wars prequels.
Former cinematographer Barry Sonnenfeld was at the pinnacle of his highly uneven directorial career at the point of the first Men in Black. He had started well with The Addams Family (1991) and its sequel Addams Family Values (1993), which successfully revived the classic tv series and comic-strip with a droll mock kinky archness. Sonnenfeld then hit his peak with Get Shorty (1995), which contains John Travolta's second-best ever performance. In retrospect, Sonnenfeld's decline started to become apparent in Men in Black where the cleverness of the script was constantly being disrupted by excessive physical comedy routines. This hit its nadir with Sonnenfeld's next few films – Wild Wild West (1999), Big Trouble (2002), Men in Black II and RV (2006) – which all seemed founded on loud and numbingly unfunny comedy set-pieces.
Sonnenfeld gave all appearance of having retired as a director after that point. It is noted that while Sonnenfeld was delivering around one film every two years as a director in the decade up to 2002, that Men in Black 3 comes after a six year absence from the director's chair (apart from occasional tv episodes) – although he has been active as a producer on a number of films and tv series. (See below for Sonnenfeld's other genre entries).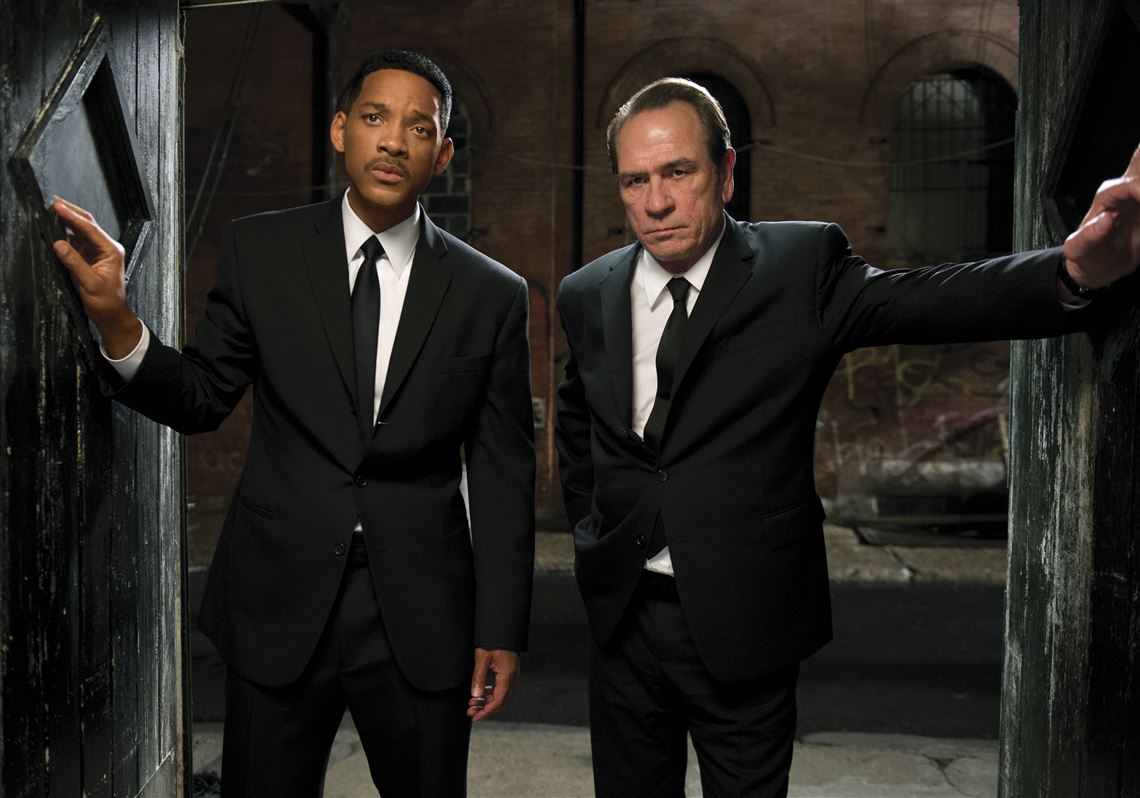 Among the various film forum and press corps chatter, there seemed a singular lack of enthusiasm for Men in Black 3. It felt like a franchise that had hit its stride in 1997, while everybody hated Men in Black II, which had by general consensus killed off interest in any further entries. I went in with low expectations based on Barry Sonnenfeld's string of misfires from since around 1999. Although there was promise in that the script was initially announced as from David Koepp, one of the smartest of contemporary Hollywood screenwriters with the screenplays for Jurassic Park (1993), Mission: Impossible (1996), Spider-Man (2002) and War of the Worlds (2005) to his name and sometimes a director with the fine likes of The Trigger Effect (1996), Stir of Echoes (1999) and Secret Window (2004). This seemed to bode well with the promise that Men in Black 3 might return to the cleverness of the first film.
However, by the time of the finished film, Koepp's name is nowhere to be found and Writer's Guild arbitration gives sole credit to Etan Coen, the writer of Idiocracy (2006) and Tropic Thunder (2008). As one sets into Men in Black 3, it seems to be heading in the same direction as Men in Black II – all comedy routines based around normal-seeming people suddenly having their clothing torn off to reveal they have strange heads, multiple arms or tentacles inside; scenes with Will Smith being devoured by a giant alien fish, people being shot and exploding into goo and so on. About the first half-hour of the film seems to be little more than a tired rehash of pop-up alien tentacles and neuralizer gags from the first two films.
The film's one touch of novelty during this time seems to be going back in time to conduct a quasi-prequel/origin story and show the characters in their younger years. Even this is a tired idea and is something that a number of multi-sequel series have done around their third or fourth chapter as a means of introducing some freshness and depth to their mythology – see the likes of Indiana Jones and the Last Crusade (1989), the Star Wars prequels, Star Trek: Enterprise (2001-5) and Star Trek (2009), Exorcist: The Beginning (2004), Batman Begins (2005), The Texas Chainsaw Massacre: The Beginning (2006), Hannibal Rising (2007), Terminator Salvation, Underworld: Rise of the Lycans (2009), X: First Class (2011) and Prometheus (2012).
In this regard, the Men in Black franchise doesn't have much to work with and so settles for going back to Agent K's early days. To this extent, it has to cheat and introduce some new characters and aspects – Agent O and the vaguest of suggestions of an attraction to K, emphasis on K's lack of personal life, and an ending that one can easily see coming about Will Smith's past. Much of the amusement the film gets in these sections is in showing less evolved versions of the technology used by the Men in Black – battery powered neuralizers on cords or ones that are like giant CAT scanners, giant bulky rocket backpacks and 1960s vehicles that convert into advanced technology.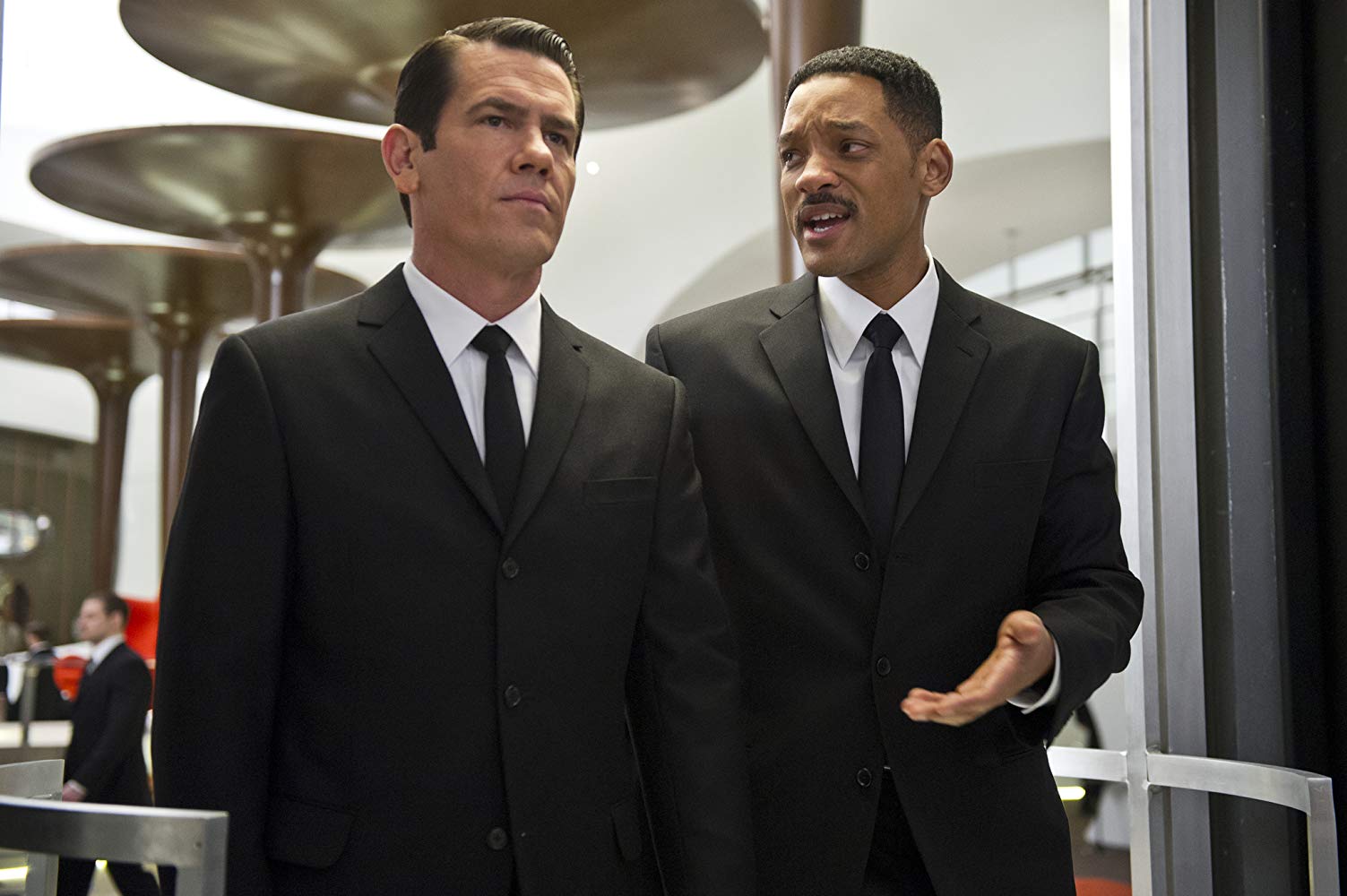 Even as such, Men in Black 3 still feels like a belaboured joke – the gag entering into Andy Warhol's Factory and finding everybody is an alien goes on far longer than it needed. Josh Brolin at least does a reasonable approximation of Tommy Lee Jones's brusque manner as the younger Agent K. (For his No 2 billing on the cast list, Tommy Lee Jones's appearances are surprisingly relegated to only a handful of scenes at the start and end).
Just when you dismiss Men in Black 3 as a tired franchise entry that is only getting by on worn-out gags and pop culture familiarity, it surprises one. The most appealing touch is the character of Griffin, played by Michael Stuhlbarg. Griffin is a fascinatingly original character – the idea of an alien who is capable of seeing multiple futures and choose the best possible paths of outcome. The nearest we have seen to this on screen before is Samantha Morton in Minority Report (2002) or perhaps the spice-driven messianic visions of Paul Atreides in Dune (1965), although this was not that well portrayed in either filmed version Dune (1984) or Dune (tv mini-series, 2000). The character is a fascinating one, even when it is played for comedy as here, and the scenes involving the cuddly inept Stuhlbarg – who seems to be channelling Robin Williams in children's movie mode – are the best parts of the film.
The rest of the elements that take place in the second half seem generic – effects scenes chasing around on hooped motorcycles, a climactic fight around the launch of the Apollo 11. At least here, the emphasis on constant pop-up creature effects gags is downplayed. The villain of the show – an unrecognisable Jemaine Clement of Flight of the Conchords (2007-9) fame outfitted in biker gear, with built-in goggles instead of eyes and affecting a deep-voiced British accent – does a lot of snarling and looking tough but never amounts to much as a threat.
The plot never particularly contorts with any cleverness. The film fails to even do much in terms of exploiting its setting – the backdrop of Andy Warhol and the Factory or the Apollo 11 launch – in any smart or funny way. Even the film's conversion to 3D fails to produce anything interesting – apart from successfully conveying the vertiginousness of a scene where Will Smith is hanging from a gargoyle on the tip of the Chrysler Building. Perhaps the most generous compliment you can pay Men in Black 3 is to say that it is better than Men in Black II. It still feels like it is trying to squeeze blood out of a long dead box-office franchise.
This was followed by Men in Black: International (2019), a continuation with a new cast
Barry Sonnenfeld's other genre films as director include The Addams Family (1991) and Addams Family Values (1993), Men in Black (1997), Wild Wild West (1999), the nuclear weapon comedy Big Trouble (2002), Men in Black II (2002) and Nine Lives (2016). Sonnenfeld also produced the spoof James Bond tv series Secret Agent Man (2000), the live-action superhero spoof The Tick (2001-2), the tv series Pushing Daisies (2007-9) about a man with resurrection powers, the Lemony Snicket tv series A Series of Unfortunate Events (2017-9), the revival of The Tick (2017-9) and Schmigadoon! (2021- ) about a magic town that operates like a musical, and on cinema screens the Gothic children's film Lemony Snicket's A Series of Unfortunate Events (2004), the Disney animation spoof Enchanted (2007) and its sequel Disenchanted (2022), the animated Space Chimps (2008) and Men in Black: International (2019).
---
---