---
Crew
Director – David Giancola, Screenplay – Mike Ford & David Giancola, Producers – C. Alec Kozlowski & Joey Polumbo, Photography – Georgia Pantazopoulos, Music – David Stal, Visual Effects Supervisor – Pete Perry. Production Company – Ammo Content/Artist View Entertainment/Edgewood Studios.
Cast
Ryan Wesen (Dane Halloway), Laura James (Kate Dalton), Sam J. Jones (Brink), John James (Sy), Woody Keppel (Tomas Hawks), Sean Young (Amanda Graham), David Johnson (McGuire), Maxwell Caulfield (Moritz), John Romeo (Louie Moretti)
---
Plot
In Miami, Dane Halloway conducts a carjacking just as the scientist Tomas Hawks comes and forces him to drive at gunpoint. They are pursued by heavily armed men in a furious car chase. Tomas gives Dane the object the pursuers want, the Axcellerator, which is capable of teleportation. He asks Dane to touch it and visualise his apartment whereupon Dane is teleported back to New York City. In experimenting with the device, Dane accidentally teleports into the lap of Kate Dalton, a store employee in Tucson, and snatches her up as he returns to his apartment. The two of them then find themselves the subject of a massive hunt by government agents led by Sy. Sy frees the ultra-tough Special Forces killer Brink from jail and sets him loose against Dane, eliminating everything in the way.
---
Axcellerator is a film set around a gimmick idea – someone with a device that allows them to teleport. It's a magical McGuffin film – one where somebody gets a device that gives them abilities and the rest of the film is spent running around trying to avoid the resident bad guys amid various novelty deployments of the device. This is something that usually gets played out as a kid's film – see the likes of Alien Arsenal (1999), Clockstoppers (2002), Time Toys (2016) or A-X-L (2018).
In fact, you keep having to jolt yourself and remember that Axcellerator isn't a kid's film. What is resembles if anything is Jumper (2008), albeit having been pitched down at the simplistic level of something like Clockstoppers. It has the bland superficiality and canned action that easily slots into the formula of the children's film. It is passable as entertainment as long as one has no greater requirements or intellectual depth of your entertainment than say the average live-action children's tv show. Given that he has spent most of his career doing so, David Giancola directs some reasonable action sequences, especially the big car chase at the start of the show.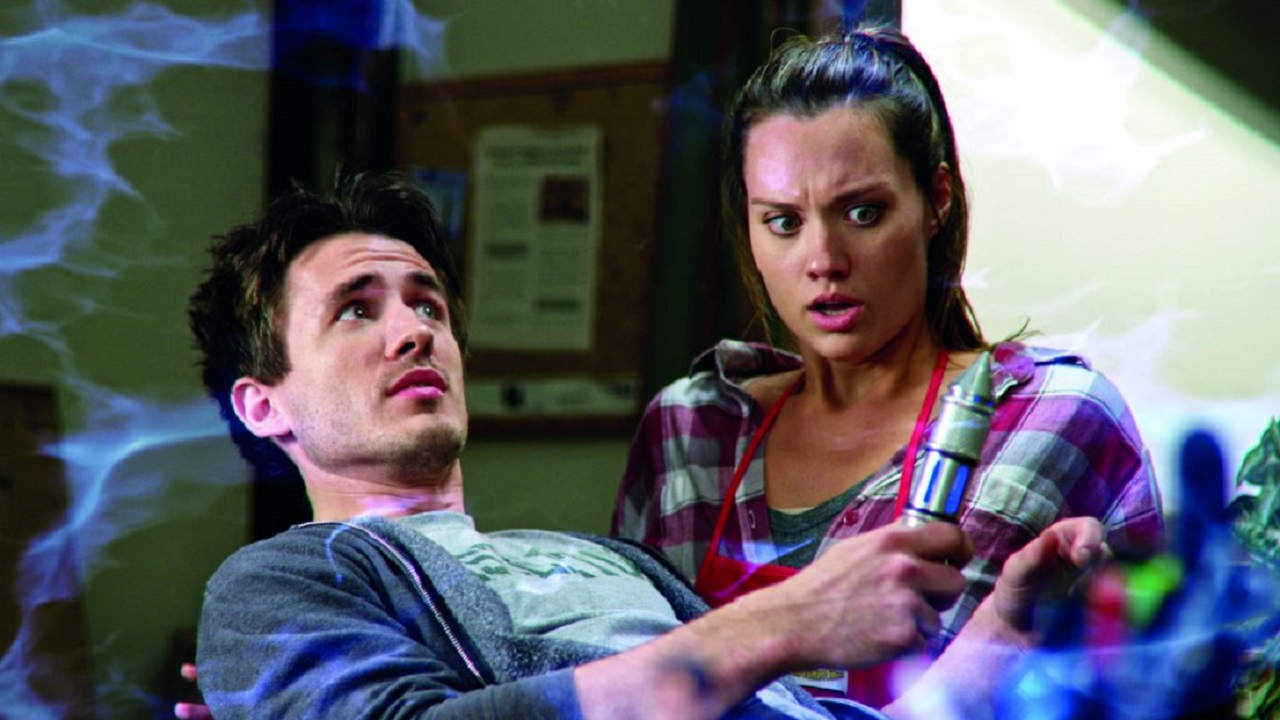 Ryan Wesen and Laura James are okay leads. There seems no real reason to have her in the show other than setting up a cliche boy-girl on the run dynamic. The plot contorts itself out of shape in order to have him teleport to Tucson, land in her lap and 'abduct' her by bringing her back with him. Her objections over this are quickly forgotten and she joins in the action with a hint of romance at the end. (She is also the daughter of John James who plays the pursuing bad guy government agent).
The one who seems to be having the time of his life is Sam J. Jones once famous as Flash Gordon (1980). Now 66 years-old, he steps into the role of the bad guy heavy looking for all the world like a cartoon thug (he almost resembles Bebop and Rocksteady from the Teenage Mutant Ninja Turtles) and planting considerably tongue in cheek.
David Giancola had previously made the genre likes of Time Chasers (1994), Lightning: Fire from the Sky (2001) and Illegal Aliens (2007), as well as various action films and thrillers, all via his Edgewood Studios production company. Edgewood and Giancola have also produced Psyclops (2002), Arachnia (2003), Ice Queen (2005) and Zombie Town (2007).
---
Trailer here
---