---
Crew
Director/Screenplay – Yuichi Fukuda, Based on the Manga Created by Hideaki Sorachi, Producers – Susumu Haeda & Shinzo Matsuhashi, Photography – Tetsuya Kudo & Yasuyuki Suzuki, Music – Eishi Segawa, Visual Effects Director – Hideaki Abo. Production Company – Shueisha/Aniplex/BNP/Bandai/Dentsu/GyaO/Marui/Plus D/TV Tokyo/Top Coat/Tristone Entertainment Inc/Warner Bros. Pictures Japan.
Cast
Shun Oguri (Gintoki Sakata), Masaki Suda (Shinpachi Shimura), Kanna Hashimoto (Kagura), Hirofumi Arai (Nizo Okada/Nizo the Butcher), Akari Hayami (Tetsuko Murata), Tsuyoshi Domoto (Lord Shinsuke Takasugi), Ken Yasuda (Tetsuya Murata), Masaki Okada (Kotaro Katsura), Yuya Yagira (Toshiro Hijikata), Masami Nagasawa (Tae Shimura), Nakamura Kankura VI (Isao Kondo), Tsuyoshi Muro (Gengai Hiraga)
---
Plot
Edo Japan has been invaded by the alien Amanto. They have introduced technological changes, raising the world to present-day levels. They have also insisted on disbanding the samurai and have declared sword-making illegal. Gintoki Sakata is a former ronin who now operates the Odd Jobs R Us agency with Shinpachi Shimura and Kagura. Someone wielding a glowing pink sword is killing ex-samurai. Gintoki becomes involved after his friend Katsura is killed by the pink sword-wielder. They find they are up against the blind swordsman Nezo the Butcher who has become possessed by Benizakura, a sword that has been built with artificially intelligent capabilities.
---
From the 1990s onwards, there have even been a number of Western-made adaptations of anime tv series and films – see the likes of The Guyver (1991), Crying Freeman (1995), Fist of the North Star (1995), Speed Racer (2008), Dragonball: Evolution (2009), Kite (2014), Ghost in the Shell (2017) and Cowboy Bebop (2021). The Japanese then started to make a number of these themselves with live-action remakes of Casshern (2004), Cutie Honey (2004), Devilman (2004), YatterMan (2009), Space Battleship Yamato (2010), Kiki's Delivery Service (2014), Lupin III (2014), Parasyte Part 1 (2014), Attack on Titan (2015), Fullmetal Alchemist (2017), JoJo's Bizarre Adventure: Diamond is Unbreakable – Chapter 1 (2017), Tokyo Ghoul (2017) and Bleach (2018). In Japan, this will usually take more of a multi-media approach with a manga or anime tv series appearing and one spinning off from the other as it gains popularity, usually culminating in a live-action film. (For more detail see Animation in Live-Action).
Gintama is a Japanese media franchise. Initially called Gin Tama, it began as a manga created by Hideaki Sorachi that appeared in Weekly Shonen Jump in 2003, changing magazines and being published electronically in a run that lasted until 2019. As with the plot description above, the manga takes place in an alternate world Japan where aliens invaded and the shogun surrendered, agreeing to place a ban on samurai and sword-making. The series follows the ex-samurai Gintoki Sakata who starts an odd jobs agency and follows the various adventures of he and his colleagues. The manga was adapted into Gintama (2011-3), an anime tv series that ran for 65 episodes. There were three animated films Gintama: The Movie (2010), Gintama The Movie: The Final Chapter: Be Young Forever (2013) and Gintama: The Final (2021). In addition, there was a series of seven light novels published between 2006 and 2013, as well as several videogames.
There is a madcap anything goes lunacy when it comes to this live-action version of Gintama. Not a lot that goes on on screen made any sense to me. The film comes with no easy explanations to the newcomer (like this author) without reference to the prior existing characters and universe – you need to be a dedicated follower of the anime/manga to get who the characters are and understand their relationships to one another.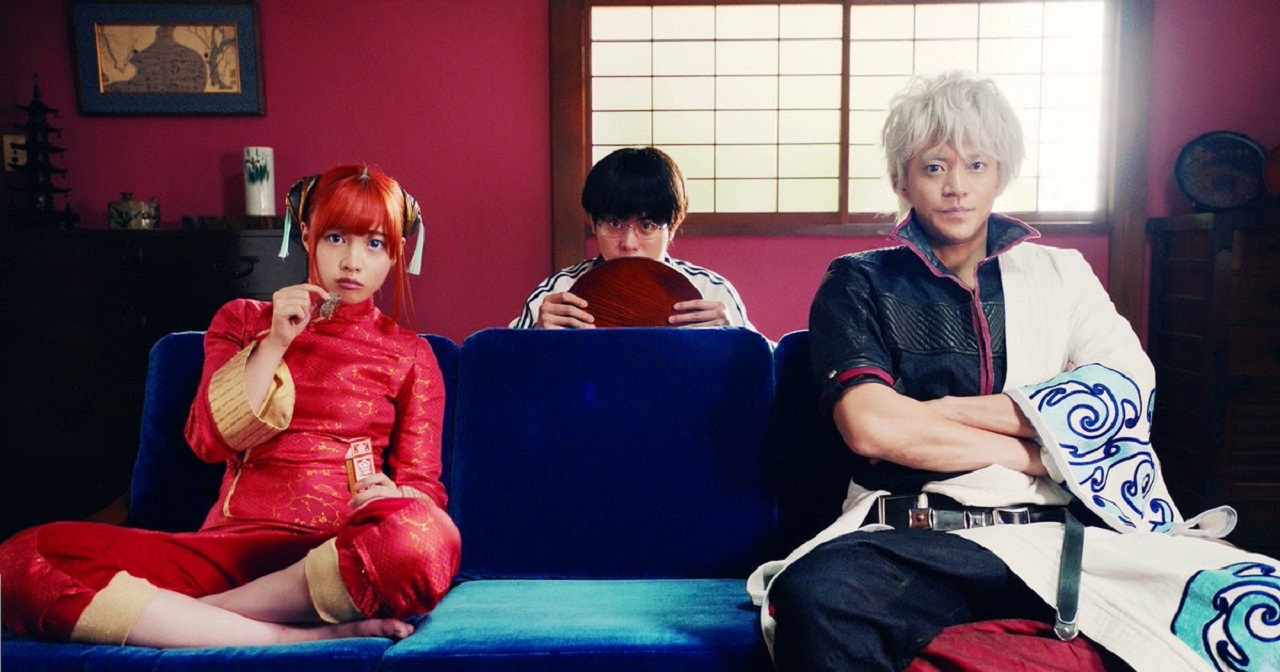 Even then, there is no real plot to anything. Just a series of comic character interactions and fight scenes that happen. I spent most of the time wondering why particular characters (of which there were far too many on screen) would meet and fight or seem to be lifelong rivals. Not even flashbacks to several of them as children make much of what is going on clear. There are some okay action and swordfight scenes and the film picks up somewhat in its latter third with the blind Hirofumi Arai possessed by the artificially intelligent sword Benizakura.
Into the bargain, Gintama is a madcap adaptation. There is a low-res animated opening credits sequence with the characters making snide in-jokes about live-action adaptations. At one point when the Jennifer character turns up – like a cartoon penguin in a giant inflatable balloon suit – the characters break the fourth wall and comment "It's not weird when he's an anime or manga character but in real-life I just see a guy in a suit." There are also lots of jokes aimed at other manga/anime media franchises.
The film would seem to see in an interesting-seeming Alternate History timeline – one where Edo Japan has been invaded by aliens. However, the Alternate History angle ends about there and the divergence equals no more than a world where there are still samurai but they live in a world that looks identical to today – in other words, the production going out and shooting in the streets. If the film had been more conceptually challenging in this regard, we might have had a fascinating work that resembled something akin to one of Harry Turtledove's World at War books (which are long overdue a film adaptation).
---
Trailer here
---