(Yattaman)
---
Japan. 2009.
Crew
Director – Takashi Miike, Screenplay – Masashi Sogo, Based on the Anime Created by Tatsuo Yoshida, Producers – Yoshinori Chiba, Naoki Sato, Takahiro Sato & Akira Yamamoto, Photography – Hideo Yamamoto, Music – Ikuro Fujiwara & Masaaki Jinbo, Production Design – Yuji Hayashida. Production Company – Shochiku/Nikkatsu.
Cast
Sho Sakurai (Gan Takada/Yatterman #1), Kyoko Fukada (Mistress Doronjo), Saki Fukuda (Ai Kaminari/Yatterman#2), Katsuhisa Namase (Boyacky), Kenda Kobayashi (Tonzra), Anri Okamoto (Shoko Kaieda), Sadao Abe (Dr Kaieda), Chiaki Takahashi (Voice of Omotchama), Junpei Takaguchi (Voice of Dokurobe), Koichi Yamadera (Voice of Yatterwan/Yatter-King/The Narrator)
---
Plot
Teenager Gan Takada, the son of a Tokyoko toy shop owner, operates as the team of Yatterman, along with his girlfriend Ai Kaminari and a giant mecha dog they call Yatterwan. Their constant nemeses as Mistress Doronjo and her two bumbling associates Boyacky and Tonzra. After their latest battle with Doronjo, they are visited by Shoko Kaieda, the teenager daughter of an archaeologist who went missing after he discovered one of the four Skull Stones. Shoko brings the stone with her. Doronjo and her assistants are ordered by Dokurobe, the fearsome god of thieves, to find the remaining three Skull Stones. They conduct various confidence schemes to raise the funds to build a range of powerful mecha and then head to the various locations. Gan and Ai set out to stop them aboard Yatterwan. However, as each of the stones is gathered, they open up portals through time and cause things around the world to start disappearing.
---
Yatterman (1977-9) was an anime tv series from Tatsunoko Productions, the most popular of several animated series they produced that were spun off from the series Time Bokan (1975-6). Yatterman concerned thirteen year-old Gan Takada, the son of a toy designer, who has built Yatterwan, a giant dog-shaped robot, and went into action with his girlfriend Ai Kaminari where they called themselves Yatterman 1 and Yatterman 2. Their nemeses throughout the 108 episodes were the Dorombo Gang, led by Lady Doronjo and her bumbling associates who were determined to obtain the Skull Stones of great power but ended up being defeated by Yatterman each week. The series never took itself too seriously, as evidenced by the wacky inventions the heroes and villains used, including mecha robots built in the form of elephants, pelicans and pandas. The series was revived as Yatterman (2008-9), which lasted for one season, as well as an anime film released a few months after this live-action remake.
The 1990s onwards, in particular the technical leaps brought by the CGI revolution, have created a trend of classic anime films and tv series being remade in live-action. It was actually the Americans rather than the Japanese that started this off with the likes of The Guyver (1991), Crying Freeman (1995) and Fist of the North Star (1995), as well as the more recent likes of Transformers (2007), Speed Racer (2008), Blood: The Last Vampire (2009), Dragonball Evolution (2009), Kite (2014), Ghost in the Shell (2017) and a planned live-action version of Akira. In the 00s, the Japanese started to catch up conducting elaborate live-action remakes of Casshern (2004), Cutie Honey (2004), Devilman (2004), Space Battleship Yamato (2010), Kiki's Delivery Service (2014), Lupin III (2014), Attack on Titan (2015), Fullmetal Alchemist (2017), Gintama (2017) and Tokyo Ghoul (2017).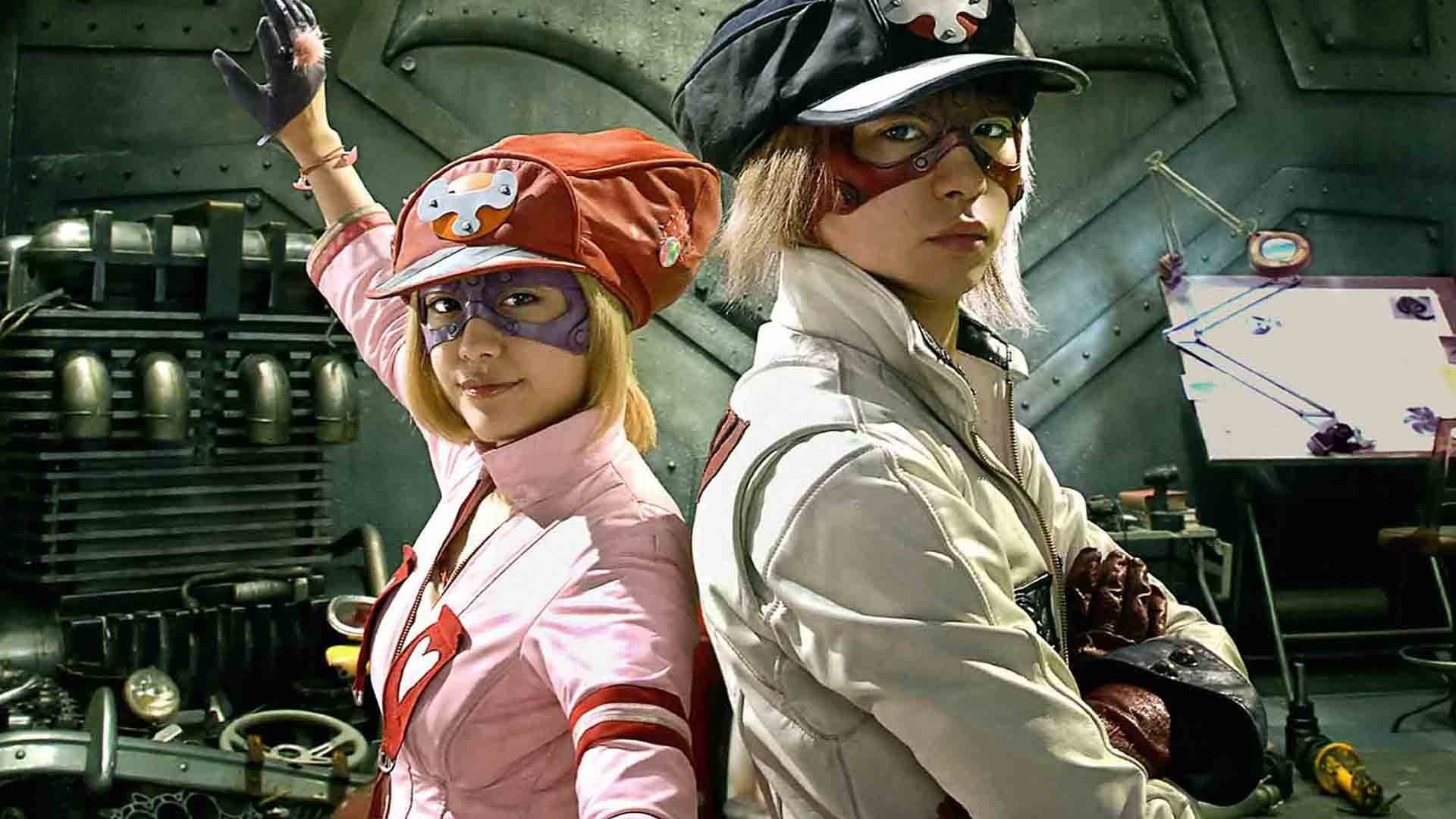 The live-action remake of Yatterman has been placed in the hands of one of cinema's reigning madman Takashi Miike. Takashi Miike developed a cult following during the early 00s with extreme and ultra-violent works such as Audition (1999), Ichi the Killer (2001) and Visitor Q (2001). Takashi Miike is an extraordinarily prolific director, having made nearly 80 films in the 2000s alone. He has covered almost every genre from his preferred work in the Yakuza genre to documentary, children's films, science-fiction, Westerns, samurai cinema, troubled youth stories and genteel road movies. In the last few years, he has slowed down somewhat and started venturing into elaborate gonzo fantasies with the likes of Zebraman (2004) and The Great Yokai War (2005). (See below for Takashi Miike's other genre films).
YatterMan may be one of Takashi Miike's most madcap films to date. Imagine an episode of tv's Mighty Morphin Power Rangers (1993-6), albeit with a much better effects budget, combined with a Japanese cosplay convention where everybody seems to be on drugs. Not to mention where everything is taking place amid sets that are built like giant clockwork machine parts painted in day-glo tones that seem to employ every colour of the rainbow at once. Miike throws in everything from song-and-dance numbers, cuts away to animation, even one scene where Katsuhisa Namase has a daydream in which he is painting Kyoko Fukada's toenails atop a pyramid of Japanese schoolgirls. Takashi Miike is certainly in his element coming up with wacky creations and nonsense visuals – the effect is akin to drowning in multi-coloured candyfloss flavoured with LSD.
Most of all, Takashi Miike loves coming up with gonzo effects and action sequences. The opening scenes have Yatterman fighting the Dorombo Gang in combat that involves the various parties wielding giant spoons or large staffs that have hands on the end, while Sho Sakurai's hero brandishes a magical yoyo device amid much slapstick violence including people being kicked up into the clouds and Katsuhisa Namase being thrown through the air and coming down grasping onto Kyoko Fukada's breasts with considerable glee. The Yatterwan is downed before Sho Sakurai throws it a mecha-bone, which the Dorombo Gang's robot foils by catching the bone in a giant frying pan and crushing it, only to activate their own self-destruct button in the midst of their celebration at winning for once.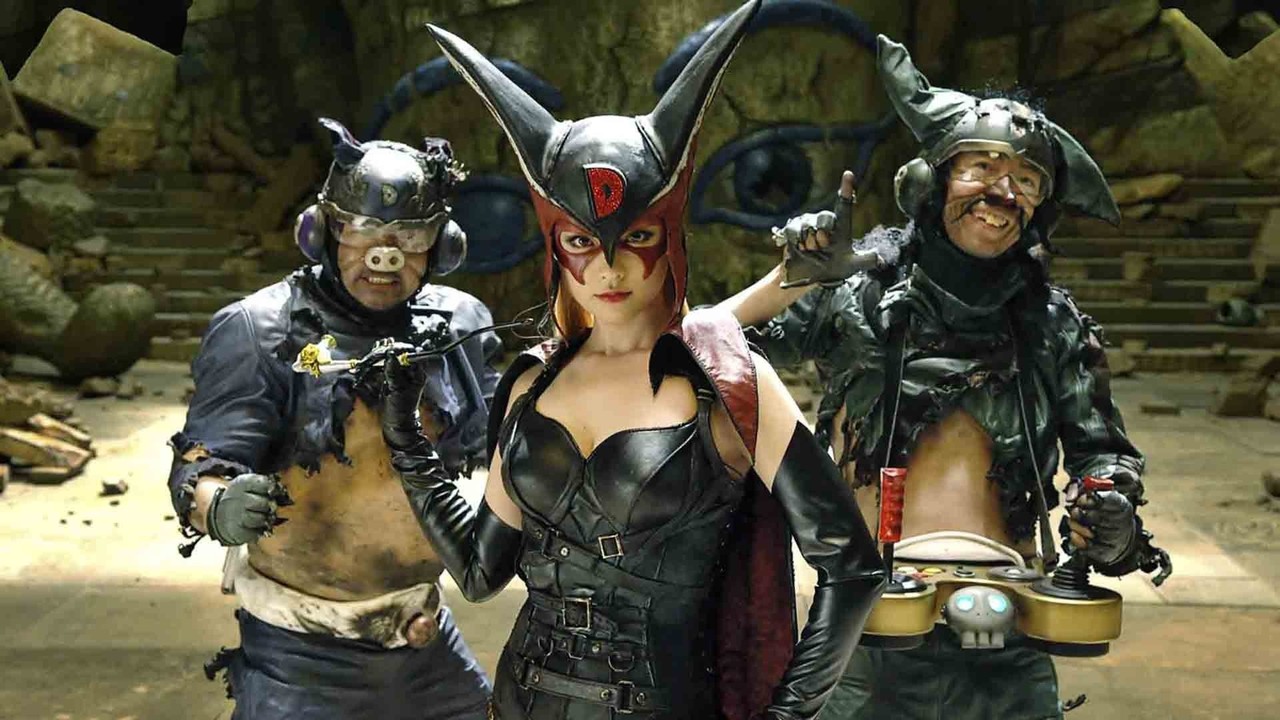 Elsewhere the Dorombo Gang wield such weapons as a giant hand on a spring or vases of flowers that act as a bomb. In one sequence, the Domboro Gang create a robot called a Virgin Roader, designed as a robot in a bridal dress that fires guns and missiles out of its breasts. It proceeds to down the Yatterwan, which is revived by another mecha-bone that causes it to spew forth an army of robotic ants that devour the Virgin Roader, before the dying Yatterwan crawls over to the Virgin Roader in a clearly sexually aroused state and slavers all over it before crying out "I'm coming" in English.
In another sequence, the Domboro Gang build a giant robotic squid, the mecha-bone causes the downed Yatterwan to spawn an army of robotic flying fish that march out on their wing tips, while the squid gives birth to a similar army of robot salmon that then 'evolve' and become giant-sized only to become so advanced that they refuse to take orders and turn on the squid.
Takashi Miike often breaks the fourth wall. In the opening scene, the Yatterman duo stand in a pose and then complain "You're in our shot" as the Omotchama robot pops up in front of them. The villains complain "We lose every week" and when they push the button that activates the weapon encourage the audience to join them "everyone say it with me." Even after the credits, there is a promo for another adventure that tells people to 'come back next week" and ends with a threat of punishment if one does not.
Takashi Miike's other genre films are:– Full Metal Yakuza (1997), a yakuza/cyborg film; the teen film Andromedia (1998) about a schoolgirl resurrected as a computer program; The Bird People in China (1998) about the discovery of a lost culture; Audition (1999); the Yakuza film Dead or Alive (1999), which comes with a totally gonzo sf ending; the surreal Dead or Alive 2 – Birds (2000); the six-hour tv mini-series MPD Psycho (2000) about a split-personalitied cop tracking body-hopping terrorists; the surreal black comedy The Happiness of the Katakuris (2001); Ichi the Killer (2001), a Yakuza film with some extreme torture scenes; the controversial taboo-defying Visitor Q (2001); the outrightly science-fictional, future-set Dead or Alive: Final (2002); the surreal Yakuza film Gozu (2003); One Missed Call (2003) about ghostly cellphone calls; the ultra-violent Izo (2004) about a cursed, immortal samurai; an episode of the horror anthology Three … Extremes (2004); the superhero film Zebraman (2004); the fairytale Demon Pond (2005); the supernatural fantasy epic The Great Yokai War (2005); Big Bang Love, Juvenile A (2006), a prison murder mystery with SF elements; the SF film God's Puzzle (2008); Zebraman 2: Attack on Zebra City (2010); the videogame adaptation Ace Attorney (2012); Lesson of the Evil (2012) about a murderous high school teacher; As the Gods Will (2014) with high school students being slaughtered by a doll; Over Your Dead Body (2014) wherein the roles in a ghost story play come to replay themselves in the lives of the actors; the gonzo horror film Yakuza Apocalypse (2015); Terra Formars (2016) about giant mutated cockroaches on Mars; Blade of the Immortal (2017) about an immortal samurai; JoJo's Bizarre Adventure: Diamond is Unbreakable – Chapter 1 (2017); Laplace's Witch (2018); and The Great Yokai War: Guardians (2021); Laplace's Witch (2018); and The Great Yokai War: Guardians (2021).
---
---