---
Crew
Director – Jean-Pierre Jeunet, Screenplay – Jean-Pierre Jeunet & Guillaume Laurant, Dialogues – Guillaume Laurant, Producers – Richard Grandpierre & Jean-Pierre Jeunet, Photography – Thomas Hardemeier, Music – Raphael Beau, Visual Effects Supervisor – Alain Carsoux, Visual Effects – La Compagnie des Effets Visuels (Supervisor – Severine De Wever), Production Design – Aline Bonetto, Design Einstein & Decker – Pascal Molina, Design Yonyx & Tom – Jean-Christophe Spadaccini, Production Company – Eskwad/Tapioca Films.
Cast
Elsa Zylberstein (Alice Barelli), Stephane De Groodt (Max), Youssef Hajdi (Victor Barelli), Isabelle Nanty (Francoise), Claire Chust (Jennifer), Claude Perron (Monique), Helie Thonnat (Leo), Marysole Fertard (Nina Barelli), Francois Levantal (Yonyx 7389XAB2), Alban Lenoir (Greg), Juliette Wiatr (Galaxy Presenter), Andre Dussolier (Voice of Einstein)
---
Plot
The year 2045. Alice Barelli is relaxing at home with her boyfriend Max when she is visited by her ex Victor and his fiancée/secretary Jennifer. At the same time, there is a massive traffic jam in the city as the computerised A.I. Yonyx creates chaos. In response to the chaos outside, the house's robots lock the doors and refuse to let Alice, Victor or any of the children or the visiting Francoise out. The group contrive various means of trying to fool the robots into opening the doors and getting free. They are then visited by one of the Yonyx security robots who decides that it will arrest Alice as a subversive and the others as accessories.
---
BigBug was the seventh film from Jean-Pierre Jeunet. Jeunet first appeared, with Marc Caro as co-director, with the arthouse hits of Delicatessen (1991) and The City of Lost Children (1995), which are exquisitely designed films set around eccentrically comic set-pieces and are almost unclassifiable in their weirdness. Subsequent to these, Jeunet and Caro parted ways and Jeunet went to the US to solo direct Alien: Resurrection (1997). He then returned to France to make the international arthouse hit of Amelie/Amelie of Montmartre (2001), followed by the Wartime film A Very Long Engagement (2004), the slapstick caper film Micmacs (2009) about a wounded man taking revenge on weapons manufacturers and The Young and Prodigious T.S. Spivet (2013) about a bright boy's journey across a hyper-real US.
With BigBug, Jean-Pierre Jeunet tackles the Artificial Intelligence film. Films about A.I,, Robots and Androids have become their own genre throughout the 2010s with the likes of such as Spike Jonze's Her (2013) and Alex Garland's Ex Machina (2015), as well as a host of other offerings that include The Machine (2013), Automata (2014), Chappie (2015), Uncanny/Android (2015), Morgan (2016), tv's Westworld (2016- ), A.I. Rising (2018), Tau (2018), Zoe (2018), Archive (2020) and Finch (2021).. Amid this there have been some comedy treatments such as Jexi (2019) about an annoyingly intrusive artificially intelligent mobile app and Superintelligence (2000) where a vastly powerful A.I. develops a fixation with Melissa McCarthy, as well as a handful such as Life Like (2019), Automation (2019) and Outside the Wire (2021) that you feel would have been better off as comedies.
As with all of Jean-Pierre Jeunet's films, this is an amazing blend of colour and production design and visuals. Indeed, Jeunet creates less films than entire worlds that his characters inhabit. The world here is a madcap synthesis of elements familiar from assorted science-fiction Futures – home robots, A.I.'s running the system, the machine revolution, flying cars, cloned pets. All of which gets spun on its head in appealingly wacky ways – where the flying cars are versions of classic Citroen 2CVs and DSs, where an annoying advertising hologram appears in the sky to prompt people to buy something every time a person does something from catching a zip to potentially breaking up.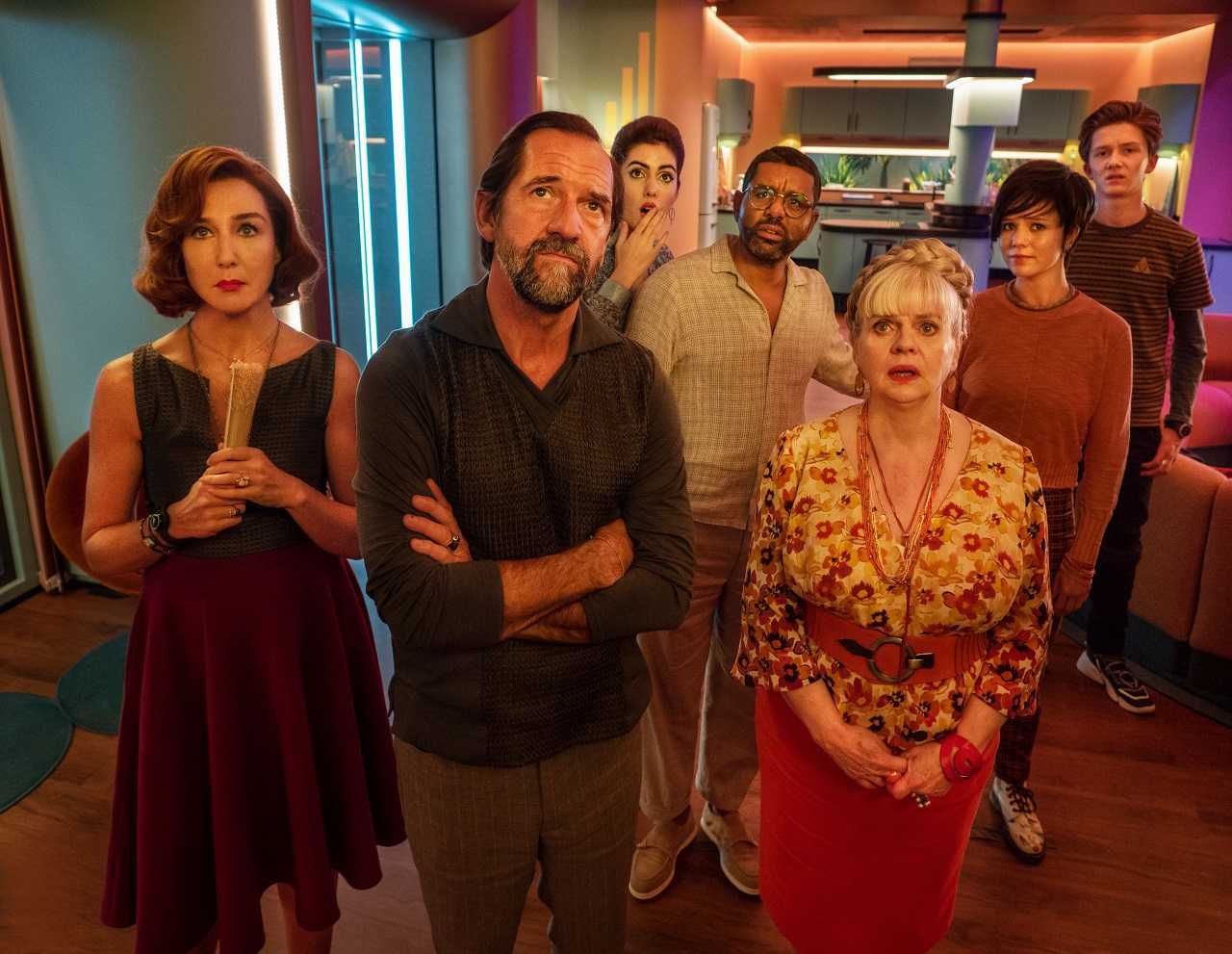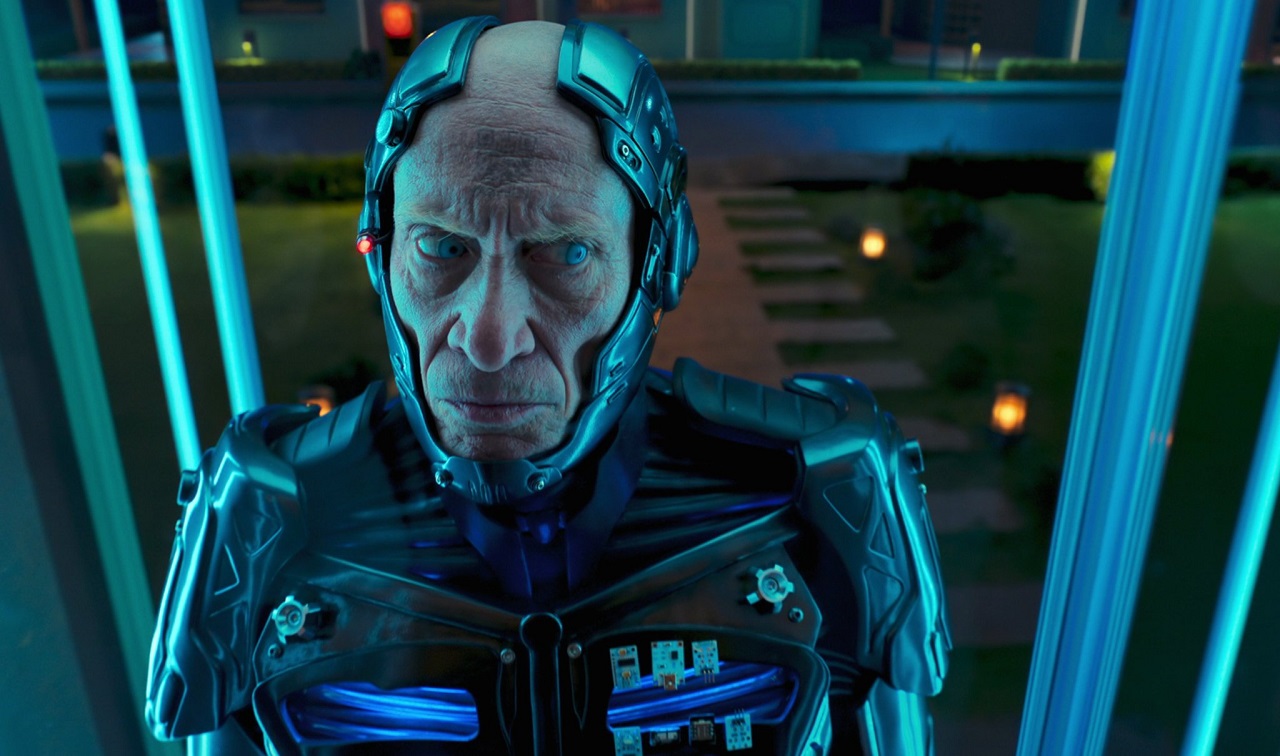 The house, where the entirety of the show is located, is an amazing marvel of production design – I particularly liked the modular furniture of slatted wood pieces that turns to form a bed or a seat depending on the need, or the opening tour through the automated kitchen, and Marysole Fertard who has a giant letter I on her wall that pulls out to reveal it is a shelf.
In some of his more recent films, around the point of Amelie through A Very Long Engagement, Jean-Pierre Jeunet abandoned the visual comedy that made earlier works like Delicatessen and The City of Lost Children and opted for making something more serious (not that these films were by any means uninteresting). Here though he returns to that same surreal visual comedy. The film has an incredibly snappy pace. I, for instance, usually have zero problem reading subtitles but these were whipping by so fast that I was having difficulty keeping up.
Jeunet sets up some deliriously madcap gags. There's the sequence with the group trying to get the dog to pull the emergency cord that will open the door and the later sequence trying to crash the car through the door that gets thrown amok by the dog getting in the way that are all the sort of madcap visual comedy sequences that are Jeunet in his element. Or the nutty image of the hypnotised Marysole Fertard walking over to the keypad to enter the door codes with everybody being dragged along behind in a chain as they try to stop her. Not to mention the satirical tv clips that keep popping up with robots forcing humans to act as animals – in cages, as bulls in a bullfighting ring, being walked as dogs by robots, even commercials for human fois gras, all masterminded by head robot Francois Levant whose severe toothy features could not be more intended to instil fear into the face of the robot revolution.
(Nominee for Best Production Design at this site's Best of 2022 Awards).
---
Trailer here
---