---
Crew
Directors/Producers – Fred Barzyk & David Loxton, Teleplay – Diane English & Roger E. Swaybill, Based on the Novel by Ursula K. Le Guin, Photography – Robbie Greenberg, Music – Michael Small, Visual Effects – Edmond S. Alexander & Gordon Blocker, Computer Animation – Lillian Schwartz, Special Effects Supervisor – Jack Bennett, Alien Construction – Richard Tautkus, Art Direction – John Wright Stevens. Production Company – The Television Laboratory/Taurus-Film.
Cast
Bruce Davison (George Orr), Kevin Conway (Dr William Haber), Margaret Avery (Heather Lelache), Niki Flacks (Penny Crouch)
---
Plot
Portland, Oregon, in the near future. Facing prosecution for overusing his medications, George Orr voluntarily places himself into the care of Dr William Haber, an oneirologist (someone who specialises in dreams). George explains that he took the drugs in an effort to stop himself dreaming. Haber at first dismisses George's claims that his dreams can change reality, that when he wakes everything has changed and only he can remember otherwise. He places George under hypnosis and is startled after suggesting that George dream of it no longer perpetually raining that the pollution outside clears and the sun is shining again. Excited about the possibilities, Haber ignores George's warnings and places him under again while suggesting other things. He tells George to dream of a world that is less crowded – only for George to wake and find that six billion people, three-quarters of the population, have died in a plague. Next, when Haber tells George to dream of a world where people stop making war and come together in peace, he wakes to find that an alien invasion has united the population of the world.
---
The Lathe of Heaven (1971) is a novel from the celebrated science-fiction and fantasy writer Ursula K. Le Guin (1929-2018). Le Guin has won a number of Hugo and Nebula Awards for works like The Left Hand of Darkness (1969) set on a planet where the inhabitants change sex; the novella The Word for World is Forest (1972, expanded to a novel 1976) about colonists encountering an alien society whose entire world consists of a forest; and The Dispossessed (1974), which offered a depiction of a society based on anarchist principles.
Le Guin's works have only sporadically attracted film attention. Her most famous fantasy series was the Earthsea books, consisting of the trilogy A Wizard of Earthsea (1968), The Tombs of Atuan (1971), The Farthest Shore (1972) and later follow-ups, which told the story of an apprentice wizard attending wizarding school way, written back when J.K. Rowling was still in diapers. The first two books of the trilogy were badly adapted into the tv mini-series Earthsea (2004) and others subsequently into the much better anime Tales from Earthsea (2006). The Word for World is Forest was also substantially (uncreditedly) borrowed by James Cameron for Avatar (2009). Le Guin also wrote an episode for the Canadian science-fiction tv series Starlost (1973).
This film adaptation of The Lathe of Heaven was made for the PBS network, which deals with arts programming in the US. It was produced on a slim budget, nevertheless treats Ursula Le Guin's book with a great deal of faithfulness. The book has an ingenuity of concept – the protagonist who dreams dreams that change the world every time he wakes up – that writes itself as a film rather than it being a film that is based on the creation of vistas of the imagination (alien worlds, future societies etc). This is probably why The Lathe of Heaven, rather than any other of Ursula Le Guin's books, which are more dependent on settings, has undergone two film adaptations so far, while her other works have struggled to get to even one.
The film has a creepy fascination every time Bruce Davison wakes up from one of his dreams. The first dream when the painting of the mountain is changed to that of a horse is effective, although the effect is ruined somewhat by the placement of the painting in such an obvious and dominating place inside the office. However, there is a terrifying chill that comes not long after when Davison wakes up and it is suddenly announced that six billion people have been wiped out. During the subsequent twists – where Bruce Davison solves the problem of stopping war by creating an alien invasion to unite humanity and especially where he brings an end to racial prejudice by making everyone's skin grey (a creepy effect let down by the pasty makeup on the actors) – The Lathe of Heaven hums along with a genuine conceptual dazzle.
There is an exceedingly spooky scene near the end where Bruce Davison tells how he has dim memories of the world ending in nuclear war and thinks that he managed to dream this entire reality into existence in those moments. The only negative point is a confusing ending [PLOT SPOILERS], which involves much now cliched laser and mist effect, where Dr Haber is reduced to a mental vegetable, the city is left in partial ruins and there is the charming final image of the aliens still around, one in the background tending an ice cream stand. It is clearly an ending where both the film's writer and Ursula Le Guin were unsure how to bring the story to a conclusion.
The film is set in a standard plastic Utopia of the sort that was popular in 1960s and 70s science-fiction. This is cheaply produced but effectively augmented by the use of shooting in futuristic-looking locations in Dallas and Fort Worth. On the other hand, the film's very slim budget prevents the depiction of a much wider future – the reality where it never stops raining is talked about more than it is ever shown, meaning that there is no real contrast when the clouds clear and it is sunny again.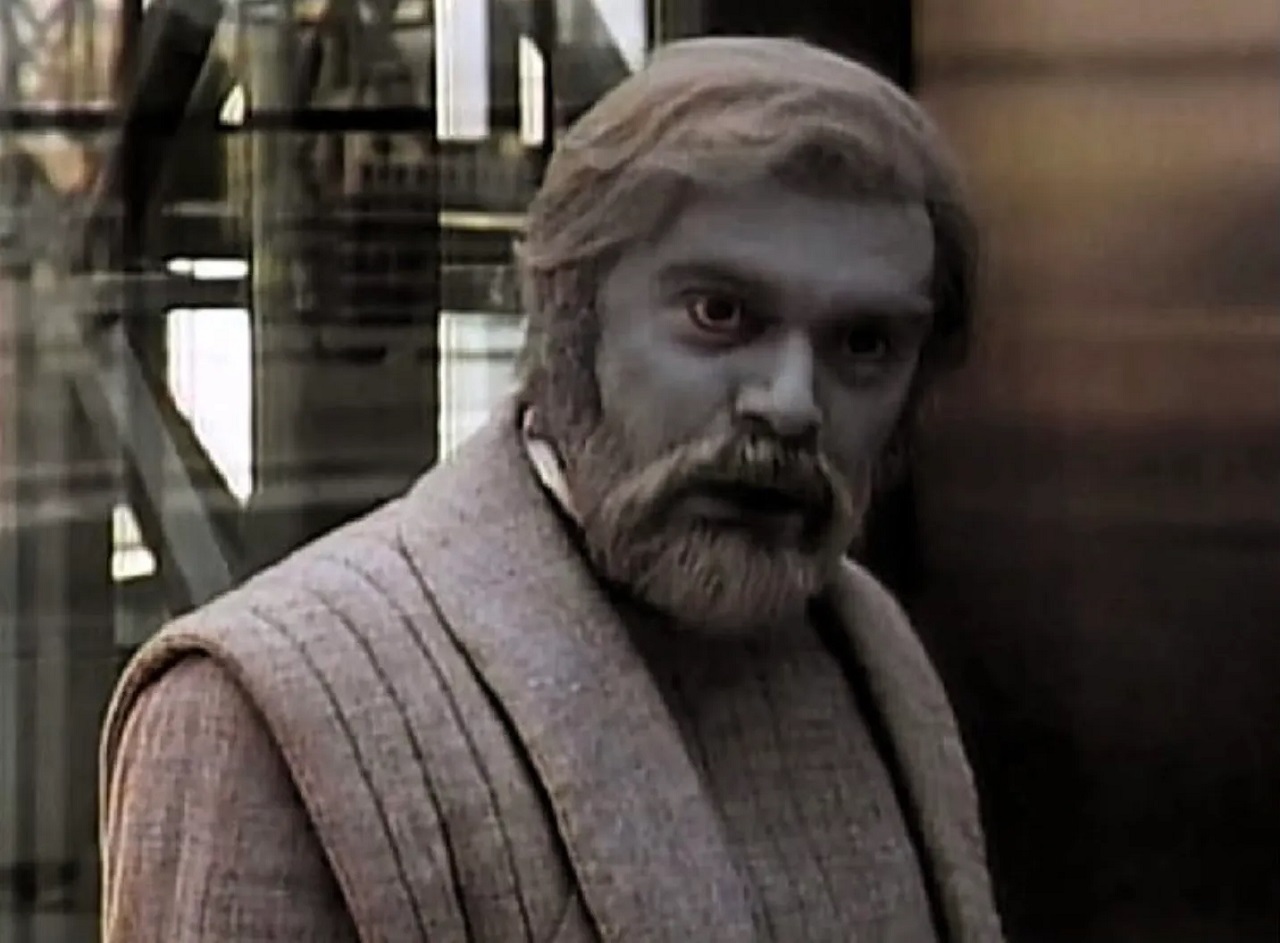 Nor for that matter do we see any depiction of the overcrowded future (or for that matter the suddenly underpopulated one) to make the disappearance of billions of people so tragic. The one effect that works well is the depiction of the aliens – humanoid beings with tortoise shells and glowing lights instead of heads. On the other hand, the UFOs representing the invasion looks like cheaply glowing hamburgers or the effects out of an early 1980s videogame.
In the lead role as George Orr is Bruce Davison, back when he was a youthful lead rather than the middle-aged actor he has become far better known as today. Kevin Connor's Dr Haber is a fascinatingly ambiguous character – any lesser piece of writing would have made him into much more of a mad scientist.
The book was later remade as Lathe of Heaven (2002) starring James Caan as Dr Haber and with Lukas Haas in the Bruce Davison role, although this is far less effective and mangles the story's conceptual ingenuity.
---
Trailer here
Full film available online here:-
---