---
Crew
Director – Peter Markle, Teleplay – Michael Vickerman, Producer – Lee Rafner, Photography – Levie Isaacks, Music – Peter Bernstein, Visual Effects – View Studio, Special Effects Supervisor – Lorenzo Hall, Production Design – Vincent J. Cresciman. Production Company – Symphony Pictures.
Cast
Christopher Meloni (Detective Sam Adams), John C. McGinley (Agent Vincent Naples), Marcia Cross (Karen Mackaphie), Courtney Allen Crumpler (Tammy Mackaphie), Dabney Coleman (Senator Ben Arnold), Traci Dimwiddie (Madeline Chandler), Chad Lowe (Commander Fauk), Janell McLeod (Darlene Darlington), John Monahan (Emmett), Eric Paskel (Chip Harley), Tim Parati (Raymond Boyd), Barry Bill (Mason)
---
Plot
In the small town of Springfield, Illinois, police detective Sam Adams is asked to assist FBI agent Vincent Naples on a case involving a wanted felon who has abducted local girl Tammy Mackaphie. Joining the search, Adams finds that Tammy has been left on his farm. After reuniting Tammy with her mother, Adams discovers that Tammy has been altered by her experience and keeps uttering cryptic phrases and drawing strange pictures. Adams becomes suspicious of Naples and is able to prevent Tammy and her mother from being eliminated by him. Fleeing with them, Sam begins to discover the incredible truth – that he has stumbled onto plans for an alien invasion, one that manipulates ordinary people using control chips planted in their minds. Hope lies with a resistance movement that has left key information about the whereabouts of the aliens' teleport arrival pad in Tammy's mind.
---
Target Earth is a dreary tv movie. It appears to have been intended as a pilot for a potential tv series – for which we should be glad that it never made it any further.
The film does little more than circle around clichés of alien invasion, mind control, eerie super-children and sinister government agencies as copied directly from the film's immediate source of inspiration – the immense success of tv's The X Files (1993-2002, 2016-8).
None of these clichés are assembled into a particularly intelligent plot. Indeed, as a film, Target Earth lacks any dramatic impetus. In Peter Markle's direction, there is a critical lack of paranoid mood or suspense to any of the conspiracy. The action and effects are utterly routine.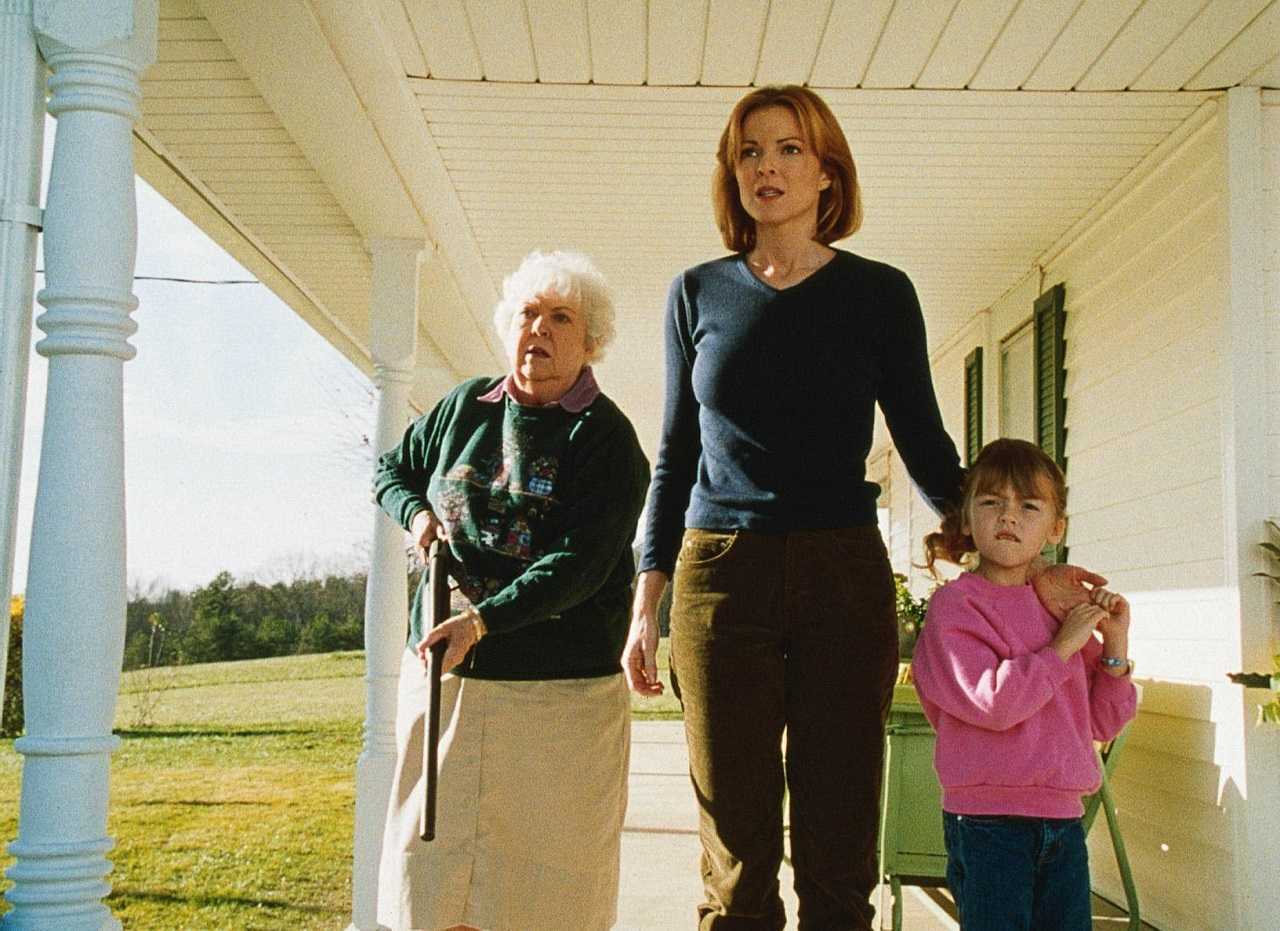 A prize over-actor like John C. McGinley makes for a good sinister evil alien agent with his head shaved like an egg and eyes bugged out. Chad Lowe on the other hand is badly miscast as the head alien invader, which he plays like a slightly weird surfer. In the role of the little girl's mother, one can also note a then unknown Marcia Cross several years before fame as Bree Van De Kamp on tv's Desperate Housewives (2004-12).
Target Earth is unrelated to the 1950s alien invader B movie Target Earth (1954) or for that matter the UFO film UFO: Target Earth (1974).
---
---