aka Deadly Game
---
USA. 1986.
Crew
Director – Marshall Brickman, Screenplay – Marshall Brickman & Thomas Baum, Producers – Marshall Brickman & Jennifer Ogden, Photography – Billy Williams, Music – Philippe Sarde, Special Effects – Bran Ferren, Production Design – Philip Rosenberg. Production Company – Gladden Entertainment Corp.
Cast
Christopher Collett (Paul Stevens), John Lithgow (Dr John Matthewson), Cynthia Nixon (Jenny Anderman), Jill Eikenberry (Elizabeth Stevens), John Mahoney (Lieutenant-Colonel Conroy)
---
Plot
Teenager Paul Stevens meets his mother's new boyfriend Dr John Matthewson. When Matthewson realises that Paul has an interest in science, he invites him to visit the laboratory where he works. There Paul works out that Matthewson's laboratory is engaged in breeding weapons-grade plutonium. Paul engineers an ingenious break-in and steals a flask of plutonium, leaving an identical container of dishwashing liquid in its place. With the plutonium, Paul then builds his own atomic bomb, with which he intends to win the prize at a state science fair. However, when the military get wind of the theft, Paul instead becomes target of a statewide manhunt.
---
With Woody Allen's former scriptwriter Marshall Brickman in the director's chair, one would expect a premise like the one that The Manhattan Project has – in which a teenager builds an atomic bomb as a high-school science fair exhibit – to have been a potential goldmine of black humour. Brickman had after all co-written fine Allen comedies such as Sleeper (1973), the all-time classic Annie Hall (1977) and Manhattan (1979), as well as Allen's later Manhattan Murder Mystery (1993).
The success of Annie Hall had allowed Brickman the opportunity to make his directorial debut with the occasionally amusing fake alien visitor comedy Simon (1980). After that, Brickman went onto make the flop psychotherapy romantic-comedy Lovesick (1983) and then The Manhattan Project. None of these films was successful and Brickman retired his tentative directorial career after The Manhattan Project. [In more recent years, Brickman's name rose to prominence again as co-writer of the hit musical Jersey Boys (2005)].
The sad irony about Marshall Brickman's solo outings is that when they tried to be comedies they failed. One might pertinently observe that when Brickman does try to make a serious film with The Manhattan Project, you cannot help but think that the premise he chooses – teenager builds an atomic bomb as a high-school project – might have been better off as a comedy.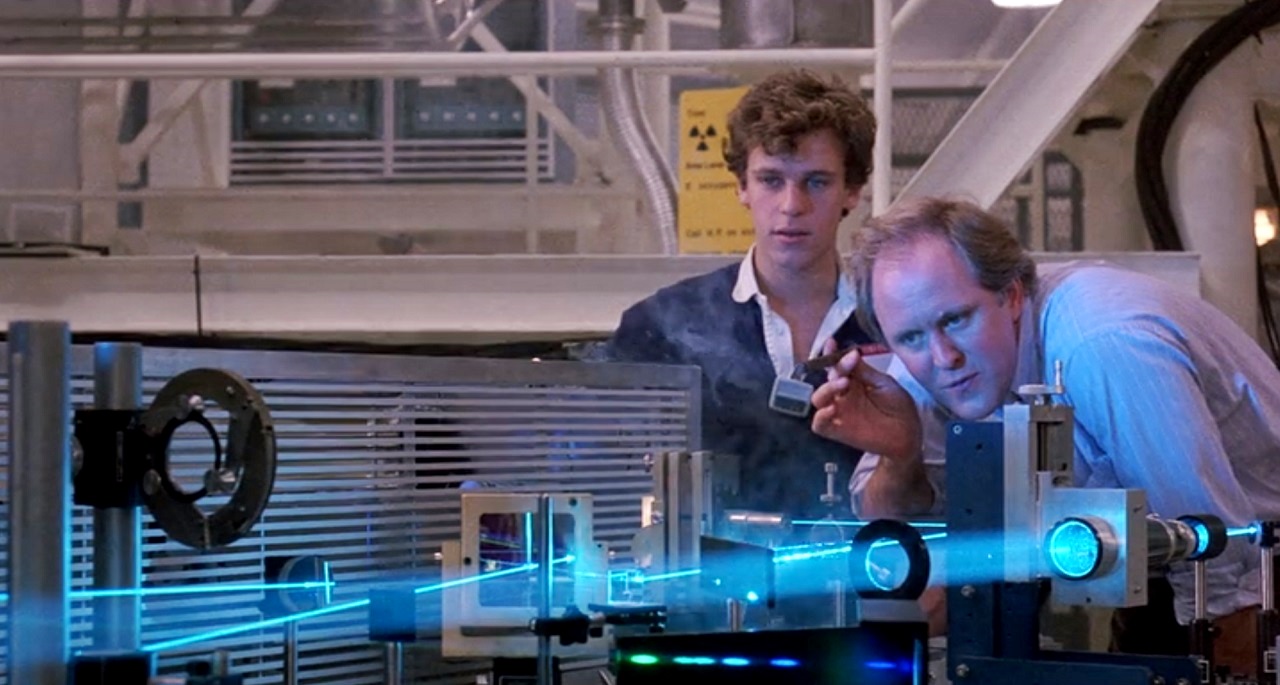 The Manhattan Project was a clear attempt to copy the then recent success of WarGames (1983) wherein a techno-savvy teen outsmarts the US military. It is a film where it feels that Marshall Brickman is straining to get morally outraged about the nuclear arms race. However, he is lost too deep in teen territory to ever succeed – it is morally phoney to have a first half about Christopher Collett wanting to win a Science Fair with the atomic bomb he has built and then in the second half to turn around and develop humanitarian concern about the Bomb.
The film never questions the moral irresponsibility of a teen wanting to build an atomic bomb to win a science fair, rather it turns all its moral outrage around onto the one-dimensional military figures for building the bombs in the first place. The climactic scenes where the day is won by the teens being allowed into the lab and letting the truth of what is happening out seems false. I would love to see someone attempt a modern remake of this and just how they would get around the probable reality in the post-9/11 American police state where the kid would be arrested, accused of terrorism charges and helf in indefinite detention.
Technically, The Manhattan Project is competent – the scene where John Lithgow demonstrates the laser to Christopher Collett has a certain magic – but it is all subjunct to 'gee whiz' MacGyver (1985-92)-ish displays of teen ingenuity – there is no need for Collett to have to separately smuggle the plutonium out of the lab, for instance, but he does anyway with a series of resourcefully clever adaptations of lab equipment and children's toys that Brickman can't prevent himself getting carried away with.
---
Trailer here
---