---
Crew
Director – Daniel Myrick, Screenplay – Wesley Clark, Jr., Daniel Myrick & Mark A. Patton, Story – Daniel Myrick & Mark A. Patton, Producers – Zev Guber & Jeremy Wall, Photography – Stephanie Martin, Music – Kays Al-Atrakchi, Special Effects Supervisor – Conor Coughlan, Production Design – Frank Bollinger. Production Company – Jaz Films/Darclight Films/Sherezade Development/Jaz Films/Gearhead Pictures/Kasbah Films.
Cast
Jonas Ball (Ben Keynes), Matt Anderson (Wally 'Chief' Hamer), Jeff Prewett (Sergeant Sadler) Jon Huertas (Sergeant Vince DeGeteau), Michael C. Williams (Sergeant Trinoski), Sam Hunter (Sergeant Tim Cole), Kenny Taylor (Master-Sergeant Tanner), Chems-Eddine Zinoune (Abdul), P. David Miller (Hermit), Vanessa Johansson (Stacy Keynes)
---
Plot
In 2001, CIA agent Ben Keynes is sent on a mission to the Ghazni Province in Afghanistan. Satellites have detected a radiation source and his objective is to determine what it is. He is placed in charge of squad of Special Forces. The ostensible cover he gives them is the goal of finding a Mohammed Aban and getting him to write a statement supporting the US military's presence in the area. With the use of a local guide, their search takes them to a mountain that is regarded as forbidden by the locals. As they approach the mountain, their vehicle breaks down. Forced to continue on foot, they begin to experience strange things, including lights in the sky.
---
Daniel Myrick will always have a place in film history as co-director of The Blair Witch Project (1999). The surprise about such an influential film is that both Myrick and his co-director Eduardo Sanchez both took the better part of a decade before following up on such a success. Myrick eventually returned as producer of genre vehicles like Rest Stop (2006), Sublime (2007), Alien Raiders (2008), Otis (2008), The Presence (2010) and then as director of the little-seen non-genre The Strand (2007) and the genre likes of Believers (2007), Solstice (2008), Under the Bed (2017) and Skyman (2020). Eduardo Sanchez eventually returned to direct Altered (2006), Seventh Moon (2008), ParaAbnormal (2009), Lovely Molly (2011), the A Ride in the Park episode of V/H/S/2 (2013), Exists (2014), the Call Center episode of the anthology Portals (2019) and the El Vampiro episode of Satanic Hispanics (2021).
The Objective starts promisingly. There's a mysterious something and a military sortie despatched in search of it. Myrick has made a strong effort to credibly ground the film. He has clearly sought to make the military scenes look believable to the extent of casting military veterans (Matt Anderson and Jon Huertas) as the soldiers and co-writing with Wesley Clark, Jr., the son of retired US Army general and 2004 Democratic presidential contender Wesley Clark. Myrick has gone to shoot in Morocco rather than Afghanistan but it still gives the film a feel of the landscape and Islamic culture of the region. Moreover, Myrick is not subverted by making a film about the pumped heroics of soldiers in action – thinking about you and your ridiculous flag-waving Peter Berg – just a credible portrait of people reacting to something anomalous.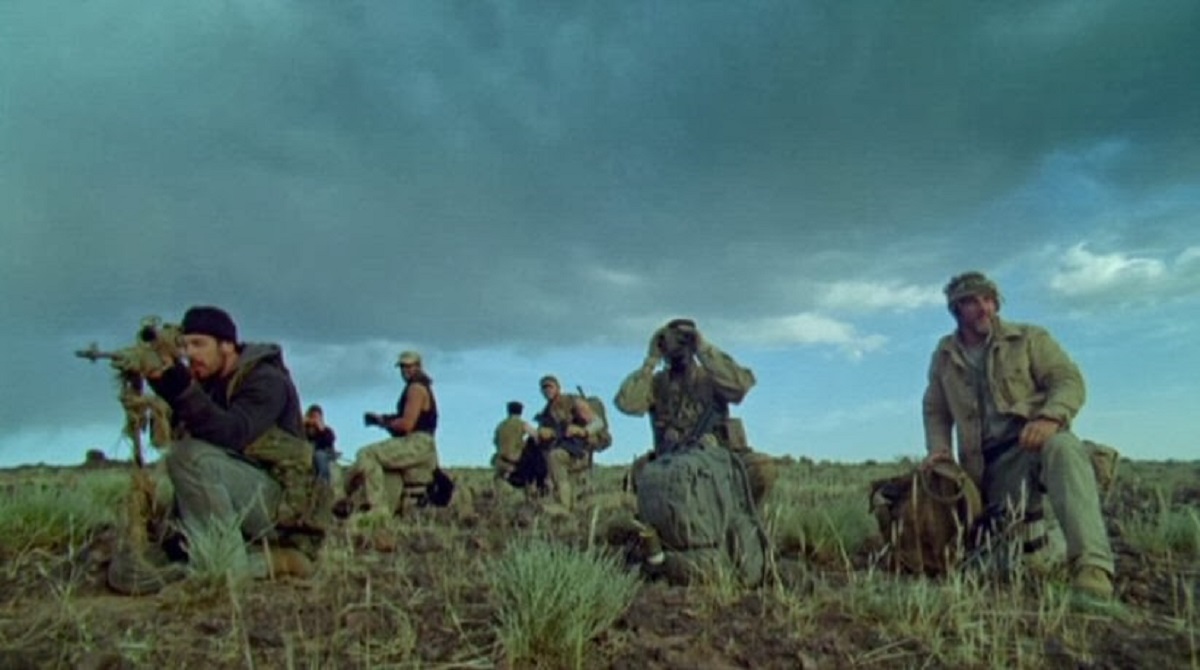 It soon becomes apparent that Daniel Myrick is essentially making another variant on The Blair Witch Project – instead of a group of students with video-cameras lost in the woods, he gives us a squad of soldiers armed with rifles lost in the desert of Afghanistan; instead of mysterious supernatural happenings, we have mysterious lights in the sky that or may not be UFOs or supernatural entities from local mythology. The other main difference between the two films is that The Objective is not shot as Found Footage.
Myrick creates quite a sense of the uncanny in the build-up with the men seeing lights in the sky and encountering strange locals. On the other hand, as soon as you realise this is a variant on The Blair Witch Project, it becomes apparent that it is going to be one of those open-ended films that is all build-up without any real answers. This proves to be the case with the film arriving at an end that never even leaves us sure whether the menace encountered is supernatural or extra-terrestrial in nature. As such, the film is okay but it never produces anything that makes you jump in your seat or unsettles you in any way. Gradually, the build-up tapers off into a lack of overall event.
---
---