---
Crew
Director – Dan Myrick, Screenplay – Ethan Erwin, Marty Musatov & Dan Myrick, Based on the Film Midsommer by Rasmus Heisterberg & Carsten Myllerup, Producers – Adam Del Deo & James D. Stern, Photography – M. David Mullen, Music – Jane Antonia Cornish, Visual Effects Supervisor – Cedric Nicolas, Visual Effects – Method Studios (Supervisor – Gill Baron), Special Effects Supervisor – Joe Pancake, Production Design – Bruton Jones. Production Company – Endgame Entertainment Company/Key Creatives.
Cast
Elisabeth Harnois (Megan Thomas/Sophie Thomas), Shawn Ashmore (Christian), Matthew O'Leary (Mark), Amanda Seyfried (Zoe), Hilarie Burton (Alicia), Tyler Hoechlin (Nick), R. Lee Ermey (Leonard)
---
Plot
Megan Thomas and four of her friends drive from Louisiana up to her family home in the backwoods near Nowell Lake to celebrate St John's Eve, the summer solstice. Six months earlier, at the same house, Megan's twin sister Sophie killed herself with an overdose. As a result, going back proves distressing for Megan. As the group settle in and begin partying, Megan believes that she is being haunted by Sophie's restless spirit.
---
Daniel Myrick (listed here as Dan Myrick) will always have his footnote in history as co-director of The Blair Witch Project (1999). The surprise about such an influential film is that both Myrick and his co-director Eduardo Sanchez took the better part of a decade before following it up. Myrick eventually returned as producer of genre vehicles like Rest Stop (2006), Sublime (2007), Alien Raiders (2008), Otis (2008), The Presence (2010) and as director of the little-seen non-genre The Strand (2007) and the genre likes of Believers (2007), Solstice, The Objective (2008), Under the Bed (2017) and Skyman (2020). Eduardo Sanchez eventually returned to direct the alien abduction film Altered (2006) and the horror films Seventh Moon (2008), ParaAbnormal (2009), Lovely Molly (2011), the A Ride in the Park episode of V/H/S/2 (2013), Exists (2014) and Satanic Hispanics (2021).
Solstice is an English-language remake of the earlier Danish-Swedish film Midsommer (2003). I am in the position of not having seen Midsommer to compare it but as far as I can ascertain, Myrick follows the original fairly closely. The major difference is that in that film Christian appears to be the central character and while Sophie/Sofie commits suicide, there is no equivalent in the original of her twin sister Megan, who becomes the central character here.
The other major difference between the two films is that Daniel (or Dan) Myrick makes a point of locating his version in Louisiana and environs (in fact, shooting there in the aftermath of Hurricane Katrina). I am not sure the particular reason for the choice of the locale (perhaps other than tax breaks that were offered to filmmakers to encourage business to return). However, it is something that allows Myrick to trick the film out in a whole parcel of antebellum Gothic – we get all the sinister hick locals (even accompanied by Deliverance (1972) in-jokes), the big old mansion by the lake where there are lots of mysterious shadows and possibly supernatural happenings, black ichor flowing when people turn on the taps, an ominous dead zone where the SUV cuts out while crossing the rickety wooden bridge that is he only access to the house and so on.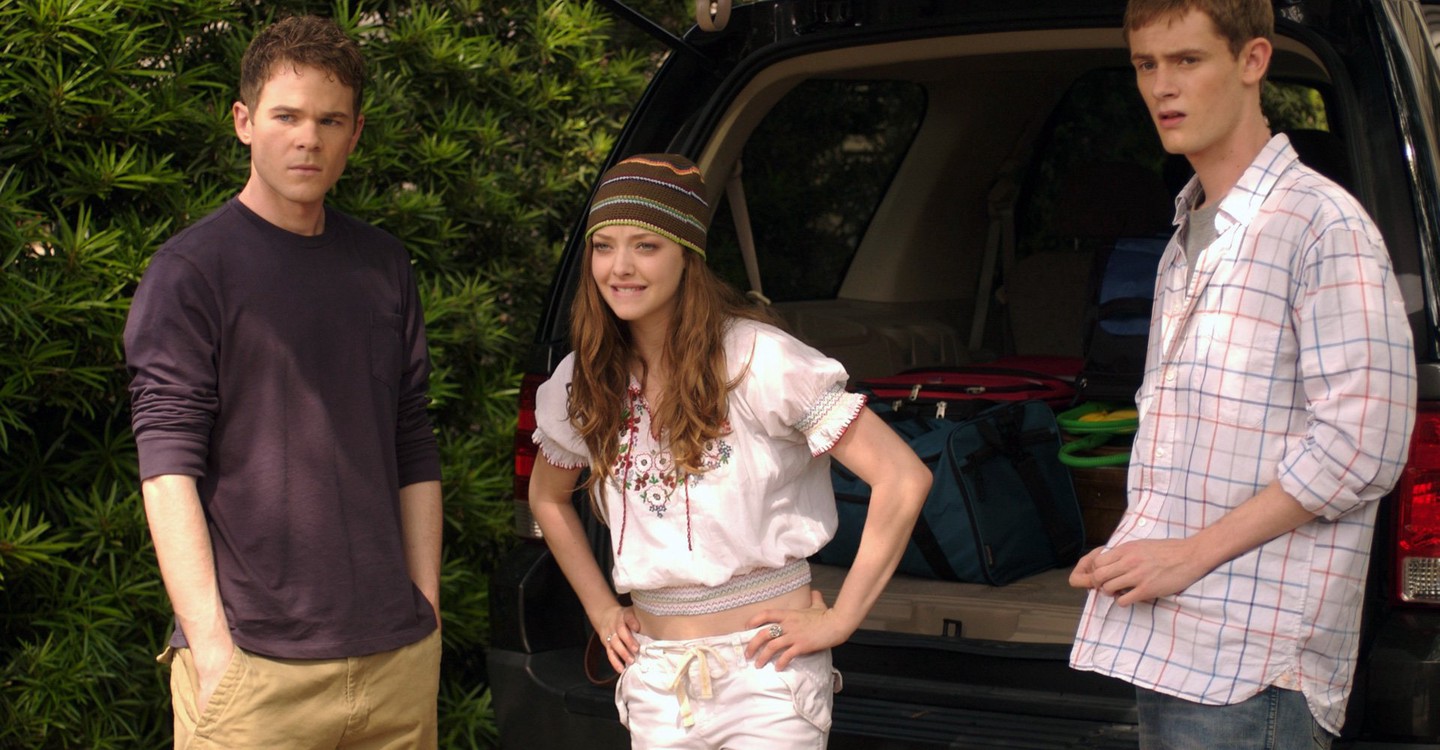 The disappointment of Solstice is that Dan Myrick does nothing more than make a generic film. The stock Southern Gothic tropes that he appropriates are tried and true and he fails to do anything original with them. To Myrick's credit, he does get a couple of decent jumps off with the appearance of the figure all in black with glowing eyes. On the other hand, a big suspense scene where Elisabeth Harnois ventures into the house only for R. Lee Ermey to come back at a crucial moment is yawn-inducingly predictable.
The biggest letdown is the twist ending [PLOT SPOILERS]. The entire thrust of the plot has been in building up the belief that Elisabeth Harnois is being haunted by her twin sister who committed suicide. The twist ending reveals that this is not the case at all and what has been haunting her is the spirit of young girl who was accidentally killed, while another figure (who up until that point had given no indication that they might be feeling uncomfortable about returning to the scene of the crime) suddenly emerges out of left field to become the guilty party.
If Daniel Myrick produces a generic and unremarkable film, the thing you do have to commend him for is some remarkable casting choices. This includes Elisabeth Harnois, a child actor since One Magic Christmas (1985) and subsequently a regular on CSI: Crime Scene Investigation (2000-15), who is an okay lead. Filling out the rest of the cast is Shawn Ashmore, who was riding on the success of casting in the first X-Men films; Amanda Seyfried whose name went stellar soon after this with high-profile roles in Mamma Mia (2008) Jennifer's Body (2009), Red Riding Hood (2011) and a bunch of other A-list films; and Tyler Hoechlin, then a regular on 7th Heaven (1995-2007) and subsequently on Teen Wolf (2011-7), Superman to tv's Supergirl (2015-21) and a regular in the Fifty Shades sequels.
---
Trailer here
---