---
Crew
Director – Rob Bowman, Screenplay – Gregg Chabot, Matt Greenberg & Kevin Peterka, Story – Gregg Chabot & Kevin Peterka, Producers – Gary Barber, Roger Birnbaum, Richard D. Zanuck & Lili Fini Zanuck, Photography – Adrian Biddle, Music – Edward Shearmur, Visual Effects Supervisor – Richard R. Hoover, Visual Effects/Animation – The Secret Lab, Special Effects – Dave Gauthier, Production Design – Wolf Kroeger. Production Company – The Zanuck Company/Barber-Birnbaum/World 2000/Reign of Fire Ltd.
Cast
Christian Bale (Quinn Abercromby), Matthew McConaughey (Van Zan), Izabella Scorupco (Alexandra Jensen), Gerard Butler (Creedy), Scott Moutter (Jared), Alexander Siddig (Ajay), Ben Thornton (Young Quinn), Alice Krige (Karen Abercromby)
---
Plot
In 2002, young Quinn Abercromby is visiting his mother in the London underground construction job she supervises, when workers uncover a cave. Quinn ventures in, seeing a creature that then crisps his mother and the other workers with flame. Hundreds of dragons emerge all over the world and decimate the cities, killing millions. In 2020, Quinn leads a motley group of survivors gathered in a castle in Northumberland. There is little hope for the future and their numbers are constantly being whittled down by dragon attacks. They are interrupted by the arrival of American soldiers led by the half-crazed Van Zan. Rather than settling for merely eking out survival, Van Zan instead promotes a strategy of taking the dragons on using helicopters, tanks and skydivers. Quinn's protective concern for the survival of his people comes into conflict with Van Zan who desires to recruit Quinn's people as soldiers in his depleted troupe to mount an assault on the nest of the father dragon in London.
---
Though dragons enjoy an extraordinary popularity as the subject of endless multi-volume fantasy series and collectible ceramic, even jewelled, figures, that popularity never seems to have been transferred over onto film. Outside of various supporting characters in fantasy adventures like The 7th Voyage of Sinbad (1958) and children's films such as Pufnstuf (1970) and Pete's Dragon (1977), full-blooded dragon films like Dragonslayer (1981), Dragonworld (1994), DragonHeart (1996), Dungeons & Dragons (2000) and Eragon (2006) have failed to enjoy any major popularity, even though some – Dragonslayer in particular – are fine films in their own right.
Reign of Fire comes from Rob Bowman, a veteran director who has worked on tv series such as MacGyver, Baywatch, 21 Jump Street, Star Trek: The Next Generation and The X Files. Bowman previously emerged onto the big screen with the rollerblading film Airborne (1993), the big-screen version of The X Files (1998) and would subsequently go onto make the Marvel comic-book adaptation Elektra (2005) and two episodes of the mini-series Nightmares & Dreamscapes: From the Stories of Stephen King (2006).
With Reign of Fire, Bowman endeavours to harness CGI technology to present the dragons. DragonHeart tried to do the same but only made its Sean Connery-voiced dragon look like a big cartoon character. Rob Bowman's innovation is to strip the dragon story of classic fantasy arcs and remount it as an action movie. He cannily avoids much of the problems of previous dragon movies by giving only brief glimpses of the dragons and keeping the film perpetually on the move.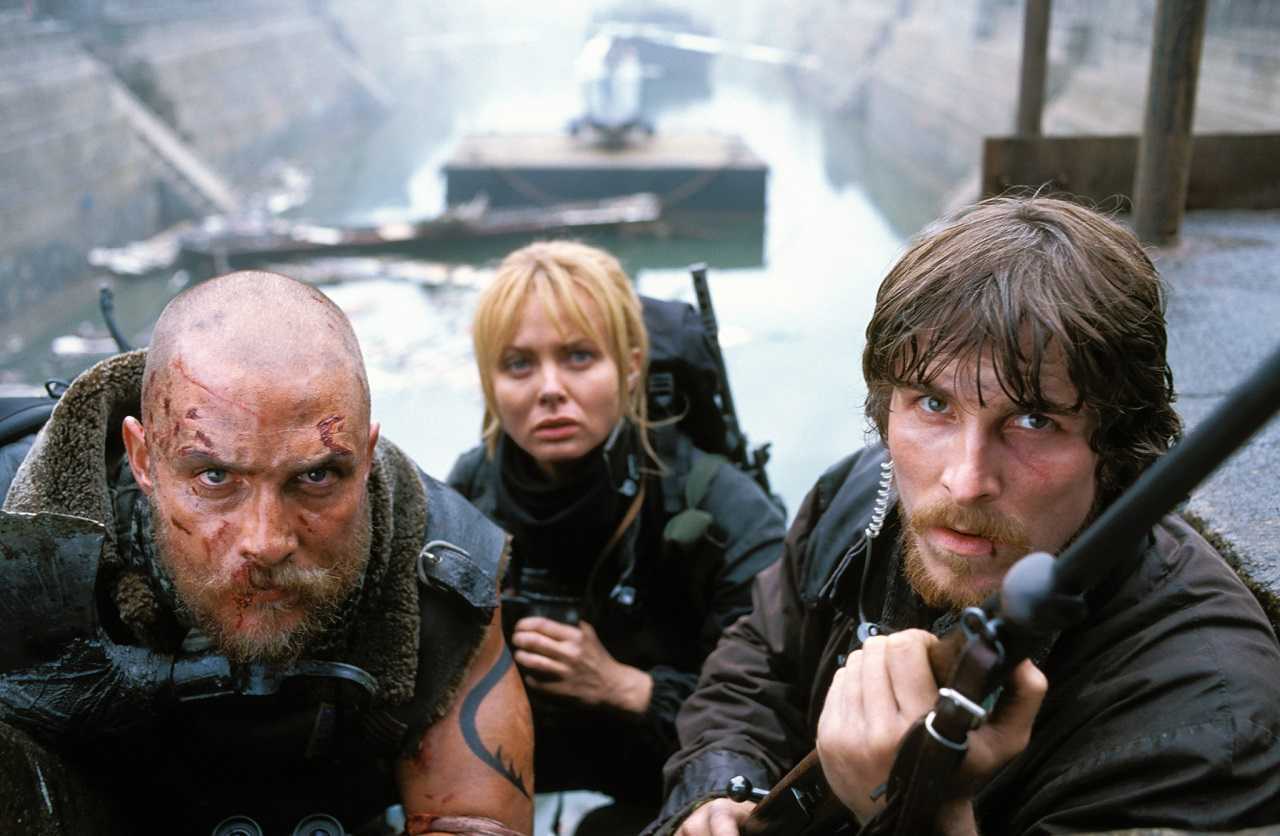 Reign of Fire certainly offers an ingenious new twist on previous dragon tales. Rather than telling dragonslayer or endangered species tales (as most dragon tales tend to fall into), it postulates a modern revival of dragons and a future with humanity under attack and eking out a precarious survival on a scorched earth. It is an epic and original idea that you are sure would have made a great multi-volume fantasy series. The script even offers up an ingenious pseudo-science-fiction rationale for dragons and cannily explains their evolutionary emergence as being what killed the dinosaurs off.
More so, Reign of Fire is a film driven by the exhilarating images of seeing humans tackling dragons with helicopters, harpoons, asbestos suits and the sheer wild poetry of seeing skydivers leaping into combat after dragons with steel nets. It is these set-pieces that make up the film. It is only at the climax that the film falters somewhat. Despite some tense running around, the climax is all over and the dragon vanquished briefly without much of a fight. Matthew McConaughey makes a spectacular leap of several hundred feet onto a dragon with an axe but his fight with it is never seen and his subsequent end takes place off-screen.
The film's cutest scene is where Christian Bale is putting on a play for the children with duelling black and white knights, which then turns into a "I am your father" scene from The Empire Strikes Back (1980), a scene that cannily shows the way in which mythology evolves and grows in the retelling.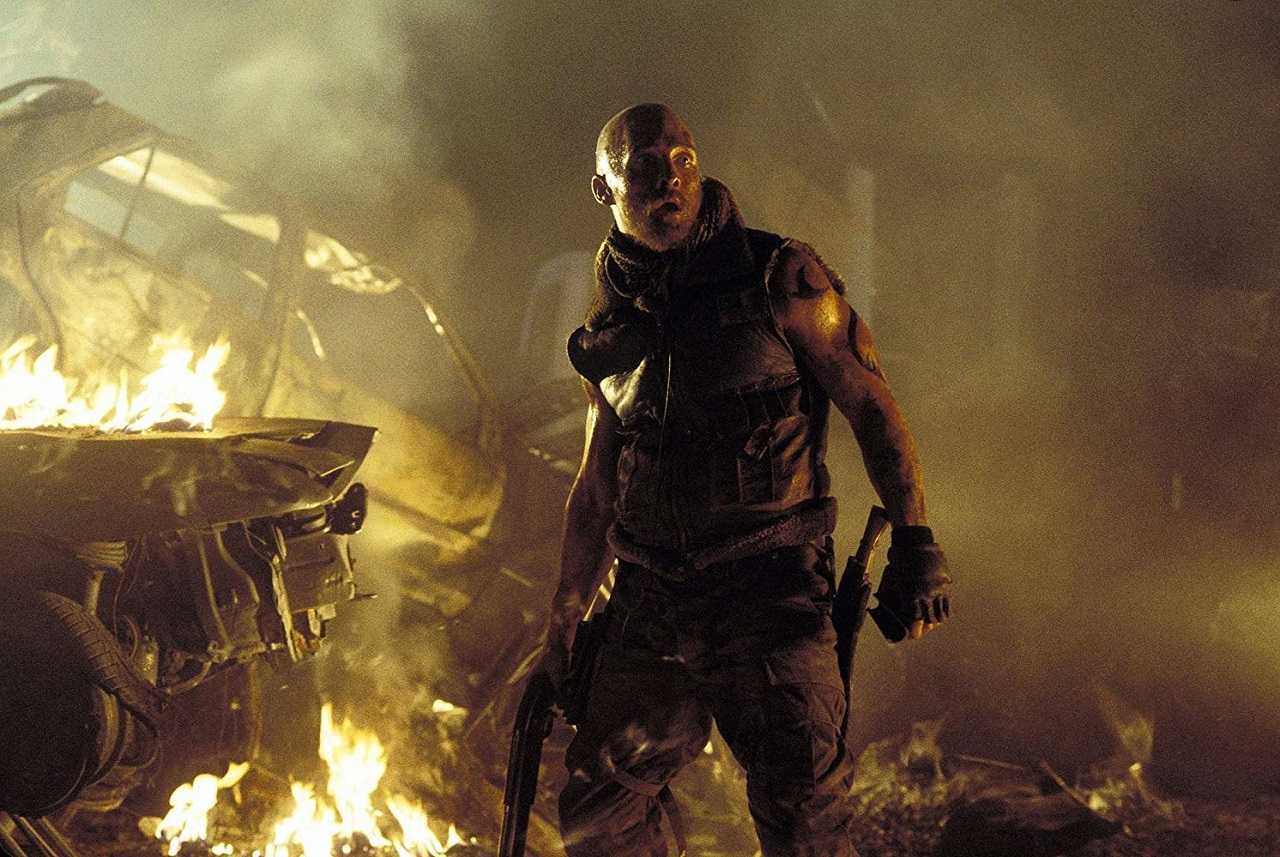 Where the story tends to be more thinly stretched is in drawing the picture of the survivalists. Rob Bowman never accords them enough depth or story for us to care that much. Christian Bale affects a Midlands accent, while Izabella Scorupco serves no purpose other than having a token woman present – she is not even cursory romantic fodder. It is Matthew McConaughey who lights the film up whenever he appears. McConaughey evinces a sense of half-crazed wild man intensity, something vying between madness and a driven brilliance. The scenes of confrontation between he and Christian Bale are wonderfully charged – these are what the film needed more of.
Outside of Matthew McConaughey, Reign of Fire flashes, bangs and roars its way to the expected triumph. You just cannot help but feel that in the merely efficient job it does in getting there, it could have soared. It is not epic enough, and yet not human enough at the other end, instead is caught somewhere halfway between.
(Nominee for Best Actor (Matthew McConaughey) at this site's Best of 2002 Awards).
---
---