---
Crew
Director – Rob Bowman, Screenplay – Raven Metzner, Zak Penn & Stuart Zicherman, Based on the Comic Book Character Created by Frank Miller, Producers – Avi Arad, Gary Foster & Arnon Milchan, Photography – Bill Roe, Music – Christophe Beck, Music Supervisor – Dave Jordan, Visual Effects Supervisor – Dan Deleeuw, Visual Effects – Pixel Magic (Supervisor – Raymond McIntyre Jr), Rainmaker (Supervisor – Jason Dowdeswell) & Rhythm and Hues (Supervisor – Mike O'Neal), Special Effects Supervisor – David Gauthier, Production Design – Graeme Murray. Production Company – 20th Century Fox/Marvel Enterprises/Regency Enterprises/New Regency/Horseshoe Bay Productions.
Cast
Jennifer Garner (Elektra Natchios), Kirsten Prout (Abby Miller), Goran Visnjic (Mark Miller), Will Yun Lee (Kirigi), Terence Stamp (Stick), Colin Cunningham (McCabe), Natassia Malthe (Typhoid), Chris Ackerman (Tattoo), Bob Sapp (Stone), Cary-Hiroyuki Tagawa (Master Roshi), Edson T. Ribeiro (Kinkou), Hiro Kanagawa (Meizumi)
---
Plot
Elektra Natchios has been raised from the dead by the martial arts master Stick and now operates as an assassin, having developed a near-mythical reputation for her lethal efficiency. She is told to go to a rented house on an island and wait for her next assignment. While there, she befriends her neighbour Mark Miller after his thirteen-year-old daughter Abby tries to break into the house. However, when her assignment comes, Elektra discovers that this is to kill Mark and Abby. She refuses to do so and makes the decision to protect the two of them as mystically empowered assassins of the organisation known as The Hand come after them. On the run and forced to defend the lives of the Millers, Elektra realises that The Hand desire a mystical prize known as The Treasure and that they key to this is Abby.
---
The character of Elektra Natchios was originally designed as a love interest for Marvel Comics' Daredevil. Elektra first appeared in Daredevil in 1981, created by legendary comic-book writer Frank Miller. There she was a former girlfriend of Matt Murdock, who, it was revealed, was also a top assassin. Elektra appeared in Daredevil for about a year before being killed off. Subsequently, Elektra was brought back from the dead and has gone onto appear as her own character in various graphic novels and short-run series.
Elektra was present in the big screen version of Daredevil (2003), where she was played by Jennifer Garner. Here, in a parallel with the development of Elektra on the drawn page, she is granted her own movie spinoff. On the other hand, though this film has the connection of the same character being played by Jennifer Garner (as well as Daredevil director Mark Steven Johnson listed as a co-producer), Elektra runs entirely independent of Daredevil – there is no mention made of Matt Murdock, for instance, at most we get references to Elektra's death of non-specified reasons.
In the Daredevil movie, Elektra was a character that existed in a vacuum – she was the daughter of a wealthy businessman who was killed but there was no explanation given of her abilities and no mention made of her being an assassin. Elektra at least provides her with an origin story, although one that only occasionally connects with the comic-book version. In the comic, Elektra's father was a Greek diplomat and she swore vengeance against his killers after he was murdered, which we saw sort of in Daredevil. Here we also get some explanation of her training and encounter her old nemesis of The Hand organisation, although the screenplay treads different paths and does not have her becoming a renegade after killing her sensei, as well as adds the death of her mother to the mix.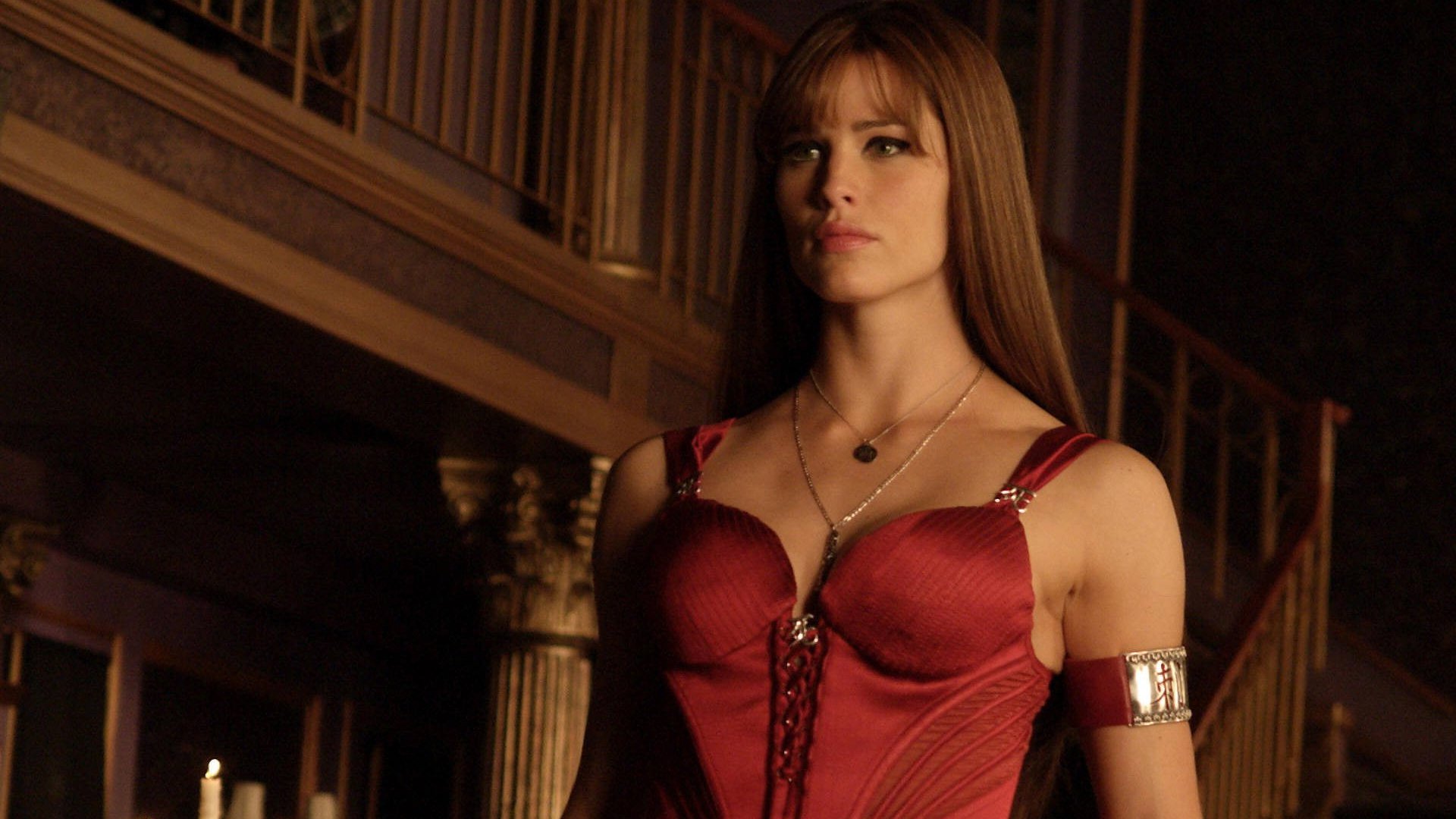 Elektra the film received a bad rap from the critical press when it came out and was, in a surprisingly ill-conceived move, even called terrible by star Jennifer Garner herself after it flopped at the box-office. One is surprised about this as I found Elektra to be a better movie than Daredevil itself was. Daredevil felt like a modern dark and moody comic-book superhero adaptation conducted by the numbers, whereas Elektra at least has an exhilarating originality of its own.
Jennifer Garner is an actress with a future clearly ahead of her. She first caught everybody's attention as the lead in tv's excellent spy thriller Alias (2001-6), where she gave a intelligent, sexy and intently focused performance. Aside from a cameo as a hooker in Steven Spielberg's Catch Me If You Can (2002), Daredevil was the first film following the success of the series to try exploiting her presence, although it largely wasted her in a forgettable role. Garner then tried to expand her range by venturing into comedy in the bland 13 Going on 30 (2004), but Elektra puts her back doing what she does best – playing determined intelligence and lithely acrobatic action scenes. Despite what Garner herself would seem to think, she emerges a good deal better here than she did in Daredevil. The script brings Elektra to centre stage and opens the character her up, while Garner plays with a good deal of natural screen rapport.
The script that supports Jennifer Garner is thinly drawn and falls into overly familiar screen clichés – inscrutable martial arts masters, cryptic clan wars, a child prodigy with surprising abilities. Nevertheless, it does create an essential character tension that is appealing – the coolly controlled assassin who befriends two ordinary people and finds herself conflicted when she discovers that they are her intended targets. We perhaps don't see enough of the anti-heroic Elektra involved in her assassinating activities before she is granted her redemption, as though such activities are too dark for a heroine in a mainstream movie.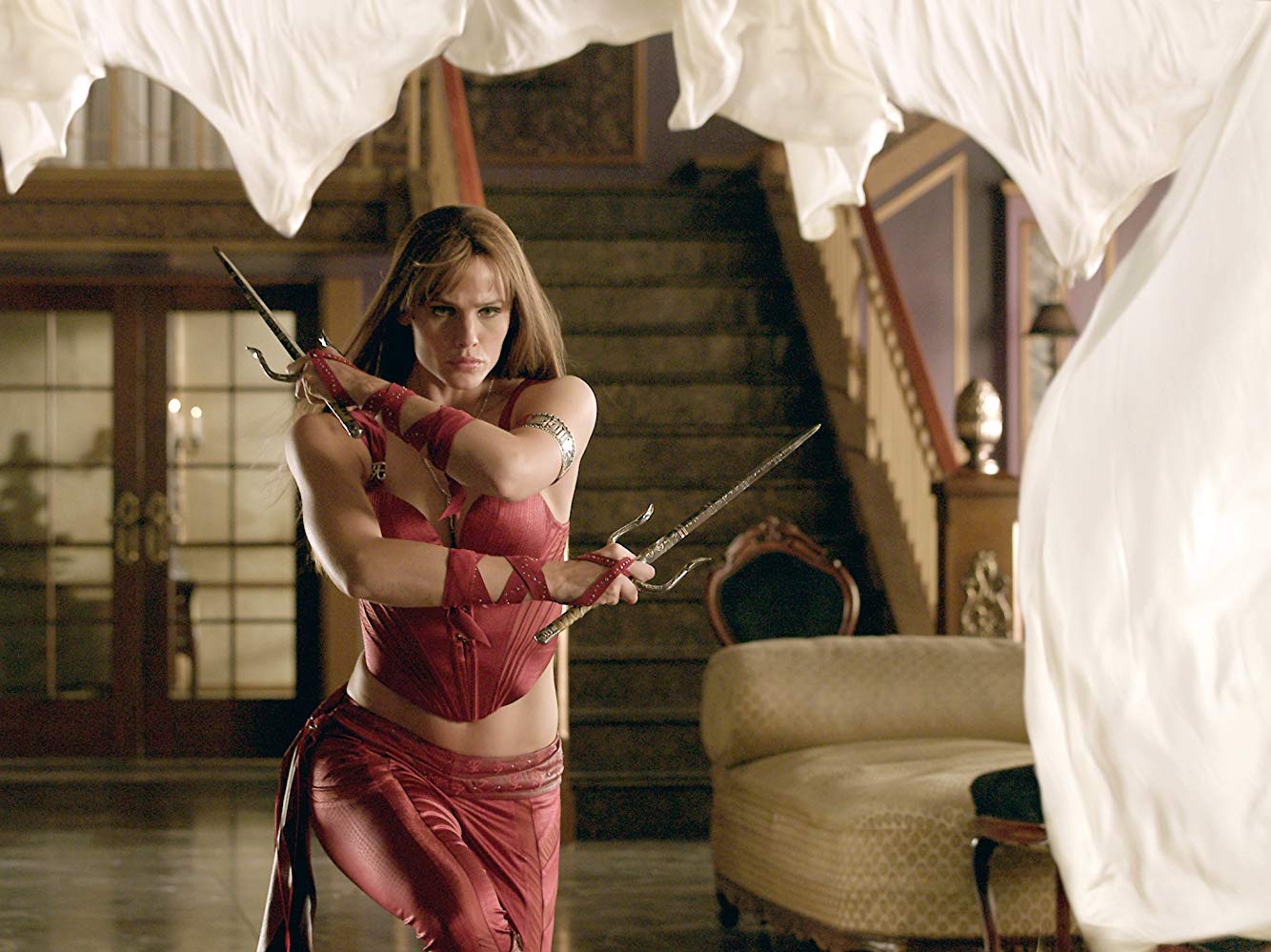 Director Rob Bowman gives the film a kinetic stylism that proves exhilarating on screen. The film opens surprisingly slowly, with Bowman maintaining a subdued quietude – but then when the action scenes do arrive, it opens up in a big way. The battles in the forest and the hedge maze come with a good deal of excitement and imagination. Especially good are the supporting heavies that are arrayed against Elektra – which look for all the world like an evil version of the superheroic team in X-Men (2000) – the lethal lady who steals lifeforce with her kiss and causes foliage to wither around her, and especially the character who can cause his tattoos to come to life and become familiars that he sends out to hunt. It is during these scenes that Elektra works pleasingly.
The role of Elektra was subsequently revived on the second season of the tv series Daredevil (2015-8) played by Elodie Yung. Yung's Elektra subsequently appeared as a villain in The Defenders (2017).
Rob Bowman is a veteran director of numerous tv series, including episodes of Star Trek: The Next Generation (1987-94) and The X Files (1993-2002, 2016-8). Bowman ventured out onto the big screen with Airborne (1993), a teen movie about rollerblading, and then the movie spinoff of The X Files (1998), followed by the dragon film Reign of Fire (2002). Within the genre, he also directed two episodes of the tv mini-series Nightmares & Dreamscapes: From the Stories of Stephen King (2006).
Other Marvel Comics big-screen adaptations include Blade (1998), X-Men (2000), Spider-Man (2002), Hulk (2003), The Punisher (2004), Fantastic Four (2005), Man-Thing (2005), Ghost Rider (2007), Iron Man (2008), Captain America: The First Avenger (2011), Thor (2011), The Avengers (2012), Guardians of the Galaxy (2014), Ant-Man (2015), Deadpool (2016), Doctor Strange (2016), Black Panther (2018), Venom (2018), Captain Marvel (2019), Black Widow (2021), Eternals (2021), Shang-Chi and the Legend of the Ten Rings (2021) and various sequels to most of these, as well as the tv series' Agents of S.H.I.E.L.D. (2013-20), Daredevil (2015-8), Agent Carter (2015-6), Jessica Jones (2015-9), Luke Cage (2016-8), The Defenders (2017), Inhumans (2017), Iron Fist (2017-8), The Punisher (2017-9), Runaways (2017-9), The Falcon and the Winter Soldier (2021- ), Hawkeye (2021- ), Loki (2021- ), WandaVision (2021- ), Moon Knight (2022- ), Ms Marvel (2022- ) and She-Hulk: Attorney at Law (2022- ).
---
---