USA. 2016.
Crew
Director – Steven Shainberg, Screenplay – Brian Nelson, Story – Brian Nelson & Steven Shainberg, Producers – Monika Bacardi, Andrea Iervolino, Andrew Lazar, Christina Weiss Lurie & Steven Shainberg, Photography – Karim Hussain, Music – Nathan Larson, Visual Effects Supervisor – Tom Turnbull, Visual Effects – Science VFX & Spin VFX (Supervisor – Wojciech Zielinski), Special Effects – Area 51 FX (Supervisor – Mark Amee), Prosthetic Makeup Design – Paul Jones, Production Design – Jeremy Reed. Production Company – Tango Pictures.
Cast
Noomi Rapace (Renee Morgan), Michael Chiklis (Bald Man), Kerry Bishé (Dianne), Peter Stormare (Terrence), Lesley Manville (Dr Maxien), Percy Hynes White (Evan), Ari Millen (Dr Raxien), Andrew Moodie (Ian), Sergio di Zio (Van Driver), Paul Popowich (Cliff), Jean Yoon (Colette), Jonathan Potts (Blake), Morgan Kelly (Tommy)
---
Plot
Renee Morgan is a divorcee raising her son Evan in suburbia. She drops Evan at her ex's place and heads off to go skydiving only for her tire to blow out on a country road. Unknown to her, this has been triggered by a group of people who are following her. A driver pulls up and offers to help only for other waiting people to suddenly abduct her. She is taken to a facility and made prisoner where she is probed and injected with drugs. Learning that spiders are her greatest fear, her captors drop them down tubes all over her skin. As Renee slowly discovers, her captors may not even be human and are trying to provoke her to break through her fears into a rare genetic state that they seek.
---
Rupture was the third film for Steven Shainberg who had appeared with the splendidly kinky Secretary (2002) and went on to Fur: An Imaginary Portrait of Diane Arbus (2006). The script was from Brian Nelson, previously a writer on tv series like Lois and Clark: The New Adventures of Superman (1993-7), Earth: Final Conflict (1997-2002) and the Michael Caine tv mini-series version of 20,000 Leagues Under the Sea (1997), before delivering film scripts for the films Hard Candy (2005) and The Night Chronicles 1: Devil (2010), as well as producing tv series such as DaVinci's Demons (2013-5), 11.22.63 (2016), Altered Carbon (2018-20) and Nightflyers (2018).
Despite a high-profile cast, Rupture only played at a few film festivals before being dumped to dvd in most territories. It did receive a theatrical release in the UK where it apparently opened and closed the same week, earning only £995. A large part of the problem with the film is that it is never clear what is going on. Noomi Rapace is an average mom who is abducted by a mysterious cabal of people (who may not even be human) who then subject her to a series of experiments. This seems to be about wanting her to make a rupture (which has something to do with transcending her genetics) and become like they are (which from the end scenes would appear to be simply cold and emotionless). Much more beyond that is not clear at all.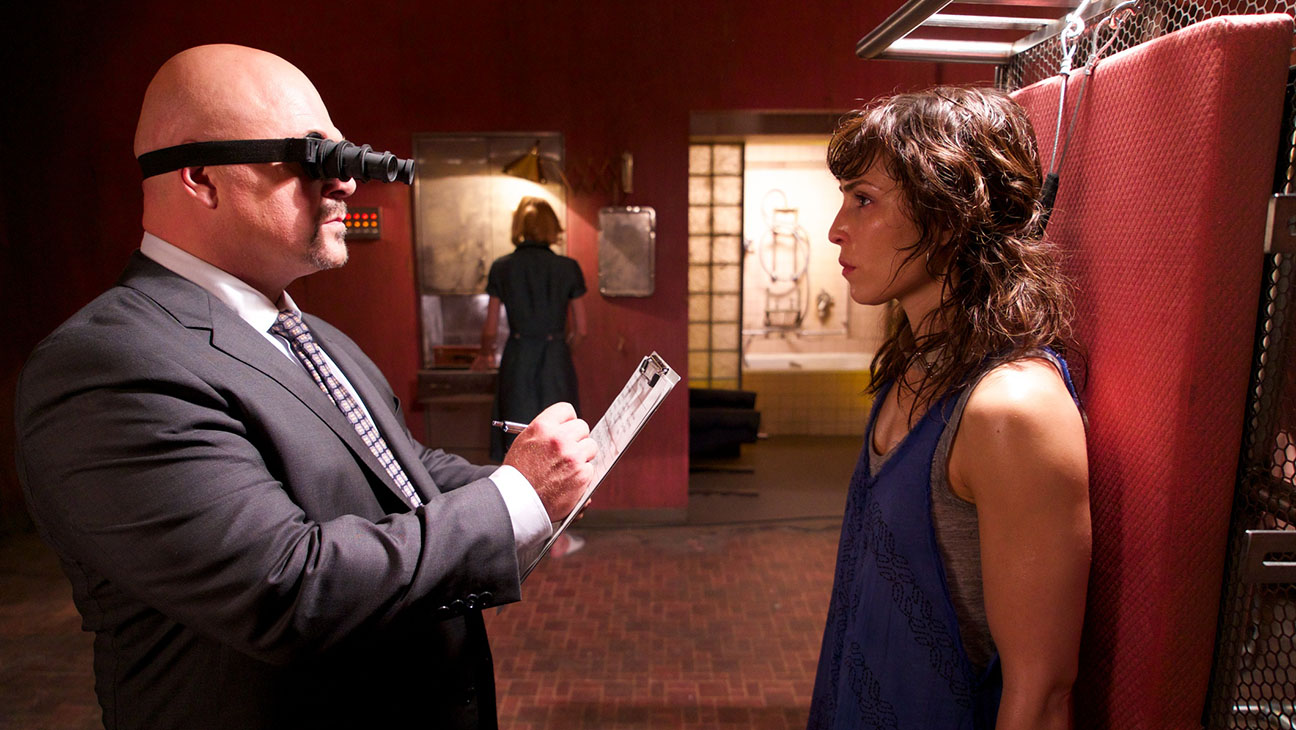 Certainly, Steven Shainberg holds your interest from the initial everyday calmness of seeing Noomi Rapace go about life, drop her son off at her ex's, only to be followed unseen by mystery figures who detonate an explosive to blow her car tire, where a passer-by stops to offer help then abruptly chloroforms her and we are thrown into the midst of a whole planned abduction operation.
The scenes with Noomi imprisoned and trying to make an escape hold interest, even if you feel that Shainberg never does anything with them that we have not seen in other films. The script keeps dropping enigmatic clues about what is happening but the film's refusal to settle on any answers proves frustrating. It is not hard to understand why the film was a financial flop.
---
---