---
Crew
Director/Screenplay – Danny Perez, Producers – David Anselmo, Justin Kelly, Natasha Lyonne, Robert M. Mayer & Cole Payne, Photography – Rudolf Blahacek, Music – Eric Copeland & Jonathan J.K. Kanakis, Visual Effects – Redlab Digital (Supervisor – Ahmad Ismail), Production Design – Peter Mihaichuk. Production Company – Hideaway Pictures/Weathervane Productions/The Green-Light Group/Timshel Pictures.
Cast
Natasha Lyonne (Lou), Chloe Sevigny (Sadie), Meg Tilly (Lorna), Mark Webber (Gabriel), Maxwell McCabe-Lokos (Warren), Emmanuel Kabongo (Luke), Neville Edwards (Isaac), Morgan Bedard (Jade)
---
Plot
Lou lives in an abandoned shack in rural Michigan, working a motel cleaning job and doing lots of drugs. She starts to feel ill and thinks she may be pregnant, even though she has not had sex for more than six months. Surely enough, her belly begins to grow in no time, while her body starts to undergo strange changes. She encounters Lorna, a middle-aged woman who used to work for the government and insists that all of this is due to alien abduction. Lou is certain that something happened at a party a while back but cannot remember. At the same time, Lou's best friend Sadie is conspiring with the drug dealer Gabriel to feed Lou experimental drugs.
---
Antibirth is a film that has midnight hit written all over it. It did a number of the major festivals – Sundance, Toronto After Dark, Fantasia – but ended up with middling reception. The zoned-out stoner characters reminds of something like a Repo Man (1984). The appeal of the film is all to the extent that one enjoys watching the mundane lives of what commonly gets referred to as Trailer Trash America – in particular, a fly on the wall viewpoint of them taking a large amount of drugs. The environs of the film are mini-markets, abandoned trailer homes, motels and the boondocks of dreary nowhere suburban Americana (in actuality, Sudbury, Ontario).
Certainly, you have to say that Natasha Lyonne, a personal favourite who seems to have cornered a certain market in the roles that Christina Ricci used to specialise in, is marvellously cast, drifting through with a sarcastically wide-eyed realism. She, and Chloe Sevigny to a lesser extent, nail their parts well. It is also nice to see Meg Tilly back on screens – her career was on the rise in the 1980s but she drifted away in the 1990s. She's playing a middle-aged fruit loop who gets dragged into proceedings and is perfect in the part.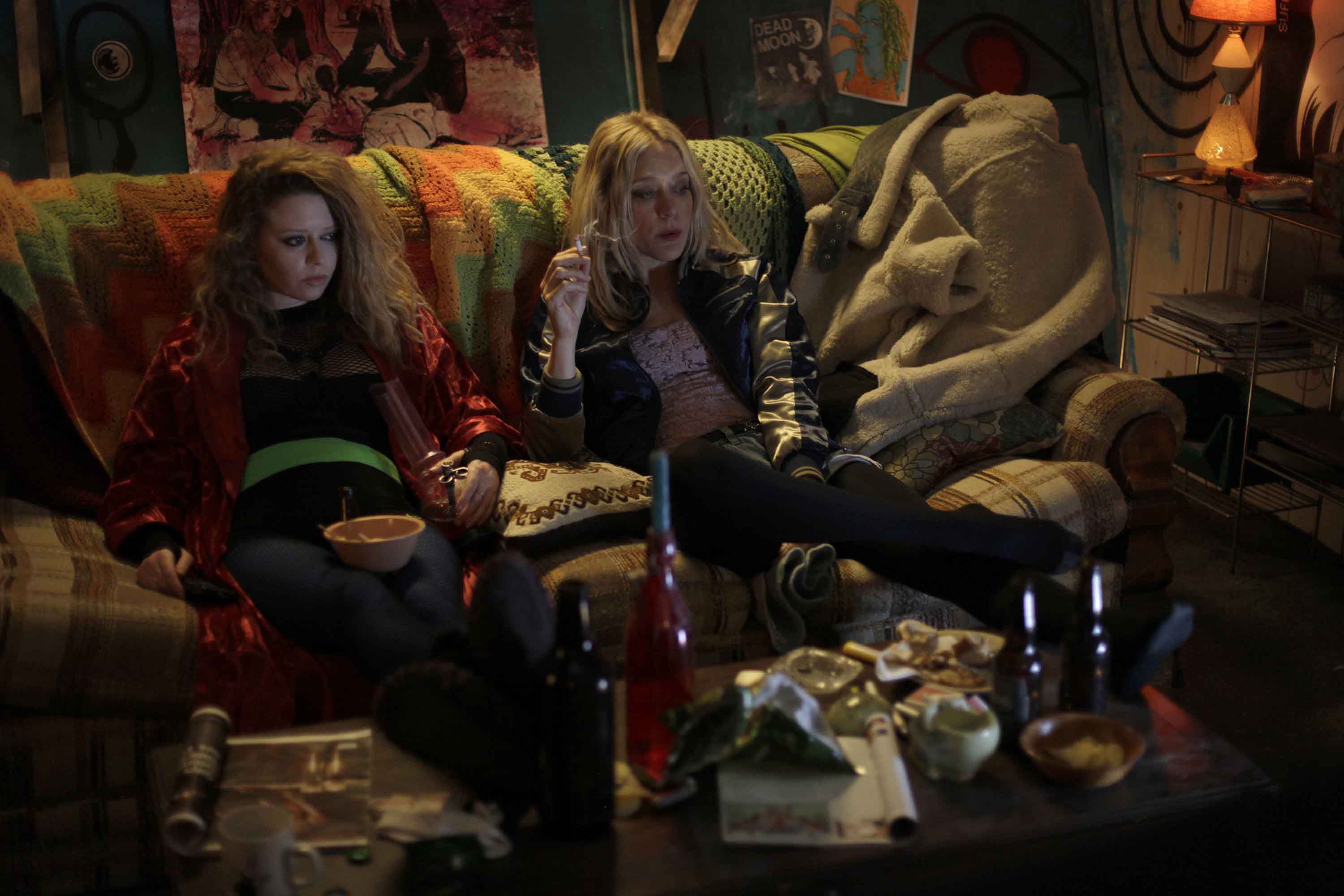 But the film itself? It should be witty and quirky in the same way that Repo Man was. In trying to give us an unblinking look at the world of the white American underclass, the experience is akin to sitting around a trailer park as people hit the bong pipes in the wee hours of the morning – a film that rambles without any coherent idea of where it is going, drifts off into loopy conspiracy theories involving alien impregnations and government agencies, and the rest of the time seems on the verge of falling asleep at the wheel.
If you watch all the way to the end through the 94 interminable-seeming minutes, there is a great last scene where Natasha Lyonne finally gives birth to a mutant alien head, followed by its headless body forcing its way out her womb. It almost makes the rest of the film worth watching.
Antibirth was the second film for Danny Perez who had previously made Oddsac (2010), an experimental film with the band Animal Collective.
---
---