USA. 2018.
Crew
Directors – Bruce Thierry Cheung & James Franco, Screenplay – Jeremy Craig Cheung, Bruce Thierry Cheung & Jay Davis, Producers – Monika Bacardi, Jay Davis, Andrea Iervolino, Vince Jolivette, Scott Reed, Photography – Peter Zietlinger, Music – Toydrum, Visual Effects Supervisor – Peter Nalli, Makeup Effects – Hugo Villasenor, Production Design – Eve McCarney. Production Company – 513 Films/Black Sparrow/The Fyzz Facility.
Cast
Suki Waterhouse (Ash), James Franco (Warlord), Jeffrey Wahlberg (Prince), Margarita Levieva (Lei), Milla Jovovich (Drug Lord), Snoop Dogg (Lord Love), Lucy Liu (Queen), George Lewis Jr. (Ratcatcher), Ben Youcef (Rico), Cliff 'Method Man' Smith (Tattooed Face), Carmen Argenziano (Grandfather), Rumer Willis (Rosie), Scott Haze (Gutter)
---
Plot
Civilisation has collapsed and people eke out a precarious survival in the desert wastelands. A small community is raided by a warlord who leads a motorcycle-riding gang. There the warlord finds and reactivates the android Ash. He calls her his wife and takes great delight in ordering her to follow his commands and kill. Meanwhile, the queen of the peaceful community of The Oasis is dying. Her son Prince decides to set out on a quest to find medicine for her. He comes to the Love Town bar where he is captured by the warlord who orders Ash to seduce and torture him. Learning of The Oasis, the warlord sets forth with his gang to raid it. However, Ash spontaneously defies her controls, frees Prince and makes an escape. Fleeing across the desert together while pursued by the warlord, Ash begins to discover many things about independent thought.
---
James Franco has become a star name since the early 2000s and has appeared in numerous roles. Less recognised is his work as a director. Most of Franco's directorial films has been literary adaptations or biopics – The Broken Tower (2011), a documentary about the poet Hart Crane; Sal (2011), a dramatisation of the life of murdered actor Sal Mineo; adaptations of William Faulkner with As I Lay Dying (2013) and The Sound and the Fury (2014); Bukowski (2013), a biopic of the poet and writer; Tenn (2015) about the young Tennessee Williams; and the John Steinbeck adaptation In Dubious Battle (2016). And then there have been those that are downright eccentric – My Own Private River (2012), which turns outtakes from My Own Pricate Idaho (1991) into a tribute to River Phoenix; Interior. Leather Bar (2013), a reimagining of the missing 40 minutes of hardcore gay scenes that were cut from Cruising (1980); and The Disaster Artist (2017) about the making of the bad movie classic The Room (2003). In genre material, Franco has also directed the Cormac McCarthy adaptation Child of God (2013) about a backwoods serial killer and The Institute (2017) about the sinister happenings at an asylum. With Future World, Franco co-directs with his regular cinematographer Bruce Thierry Cheung who had previously solo directed the Franco-starring drama Don't Come Back from the Moon (2017), which is not a genre film despite sounding as though it should be.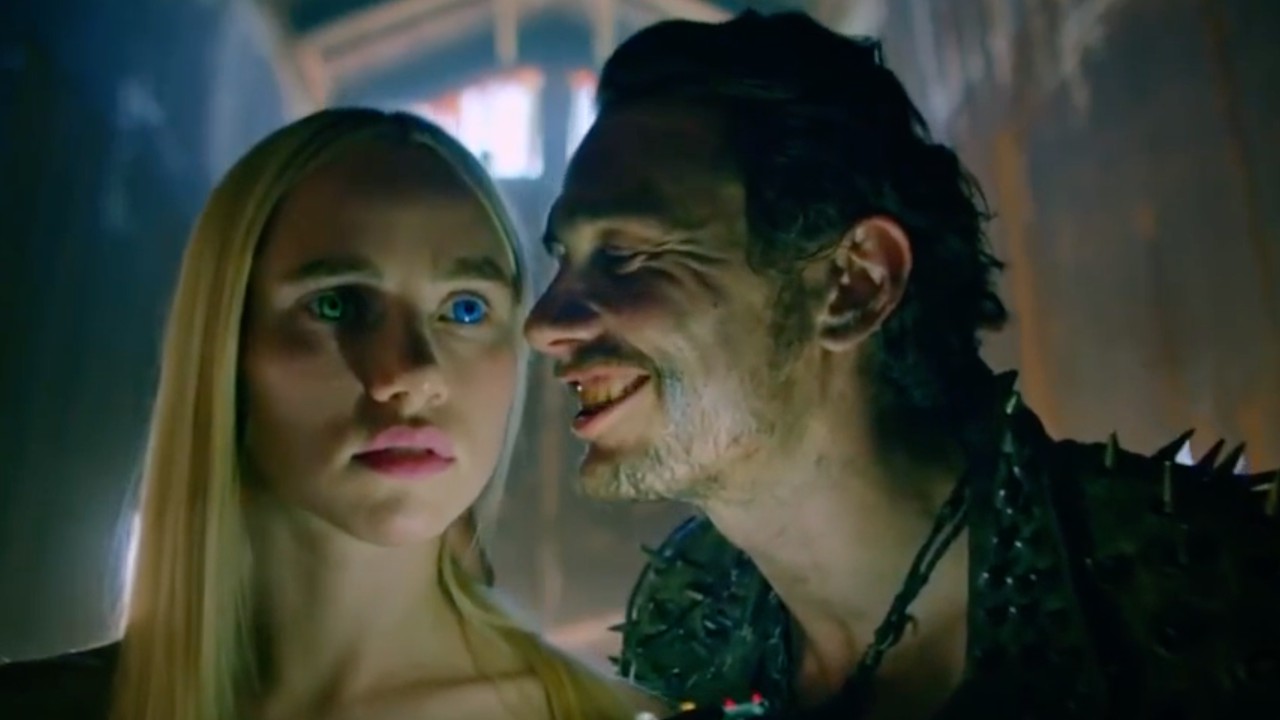 Future World should not be confused with the previous Futureworld (1976), which was a sequel to Westworld (1973). Franco and Cheung's Future World is a post-apocalyptic drama. The film opens with a narrator talking about machines becoming too intelligent and the collapse of civilisation. We are then introduced to a small peaceful desert community as they are raided by a gang of motorcycle-riding crazies. The disappointment that sinks in in these opening moments is that it looks like Franco and Cheung are doing no more than regurgitating cliches of the machine revolution from The Terminator films and especially the post-apocalyptic wasteland action of Mad Max 2 (1981).
Certainly, the opening scene offers promise – a wasteland gang rampage through a small community killing people, only for the leader to remove his helmet and reveal the face of none other than James Franco. You are so used to Franco in leading man roles that to see him playing the bad guy of the show is quite a jolt. This is followed by the scene where he reactivates android Suki Waterhouse who cuts a striking figure in pure blonde hair, pale skin and miscoloured eyes. (This incidentally becomes Suki Waterhouse's second venture into dealing with the crazies of the future wastelands in an indie release within a year, she having also appeared The Bad Batch (2016) as the one-legged heroine).
Along with the introduction of a prince who sets out on what seems to be shaping up as an allegorical equivalent of a fantasy quest, the set-up seems unusual enough to hold interest. On the other hand, Future World quickly falls in unoriginal directions. The scenes involving the wasteland crazies, stripper bars and drug dens (some nice location shooting at California's Salton Sea) all fall into cliche depictions. Everything comes from the Mad Max playbook and without any interesting spins put on it.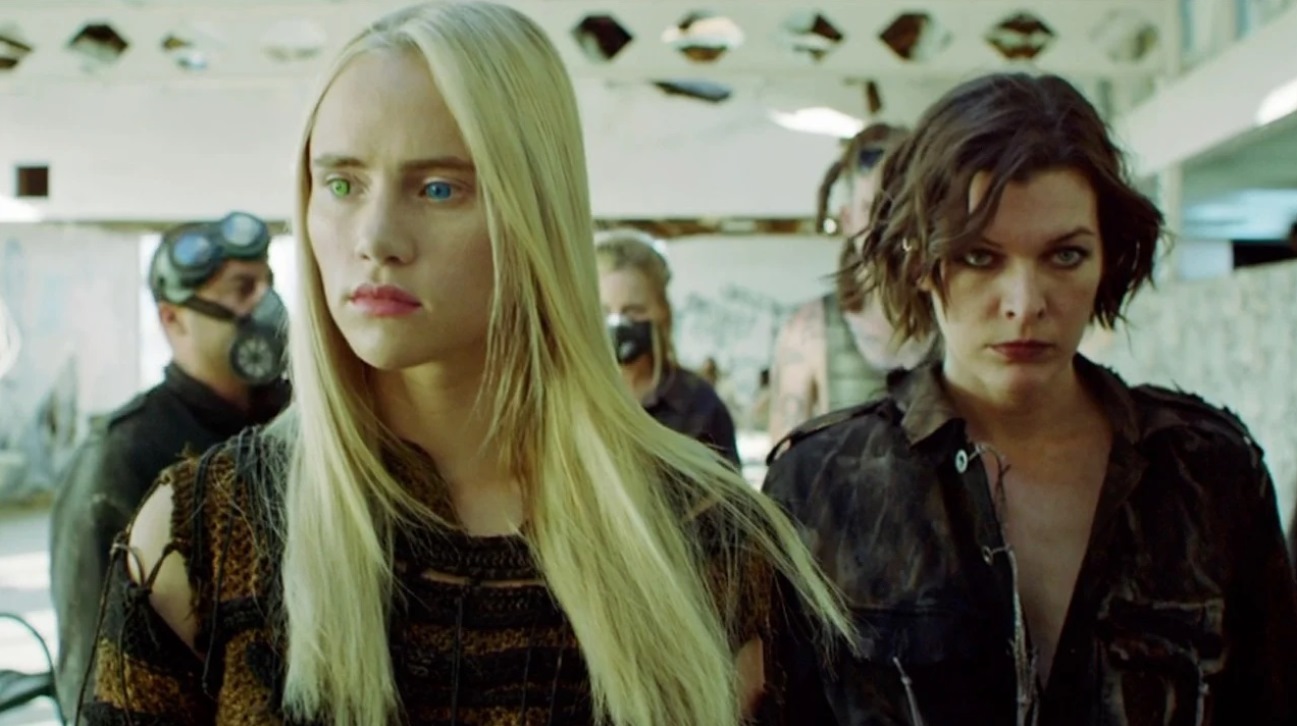 The whole android on a quest for meaning across the post-holocaust wasteland was being done three decades earlier in films like Slipstream (1989) before Albert Pyun claimed it as his own territory in works such as Cyborg (1989), Knights (1993) and Nemesis (1993). There's nothing here that does anything to stand out or give the impression that it is examining artificial intelligence in any interesting way – Suki Waterhouse's independence just comes at random when she abruptly and for no apparent reason decides to free Jeffrey Wahlberg. The film has zero interest in exploring her as a character. Even the ending comes with a bizarre randomness where out of the blue she just decides to settle down with another girl. For all Franco's giving the impression he is making an edgy indie film, all that we have is an Albert Pyun film with pretensions.
You do have to admit that Franco has managed to assemble an impressive cast of names, most of whom in normal circumstances would push the budget of a film up considerably. These include Milla Jovovich, Alice of the Resident Evil films, cast as the queen of the open-air drug den in the desert; rappers Snoop Dogg and Method Man unrecognisable among those at the Love Town stripper bar; Lucy Liu as the dying queen of The Oasis; Margarita Levieva, Franco's co-star on tv's The Deuce (2017– ), as Ash's human love interest; veteran actor Carmen Angenziano as the leader of the peaceful settlement in the opening scenes; and Bruce Willis's daughter Rumer as a waitresses at the stripper bar; while Jeffrey Wahlberg who plays the teenage prince is the nephew of A-list star Mark Wahlberg.
---
---