---
Crew
Director – Luke Scott, Screenplay – Seth W. Owen, Producers – Mark Huffam, Michael Schaefer & Ridley Scott, Photography – Mark Patten, Music – Max Richter, Visual Effects – Bluebolt (Supervisor – Angela Barson), Special Effects Supervisor – Simon Cockren, Production Design – Tom McCullagh. Production Company – Scott Free.
Cast
Kate Mara (Lee Weathers), Anya Taylor-Joy (Morgan), Rose Leslie (Dr Amy Menser), Toby Jones (Dr Simon Ziegler), Paul Giamatti (Dr Alan Shapiro), Michael Yare (Ted Brenner), Boyd Holbrook (Skip Vronsky), Michelle Yeoh (Dr Lui Cheng), Chris Sullivan (Dr Darren Finch), Jennifer Jason Leigh (Dr Kathy Griefff), Vinette Robinson (Dr Brenda Finch), Brian Cox (Jim Bryce)
---
Plot
Lee Weathers, a risk analyst for SynthCorp, is sent to a remote research station to determine whether the synthetic A.I. known as Morgan should be eliminated or preserved after Morgan attacked one of the staff. Lee is introduced to Morgan, who is five years old but has the body of an adolescent girl, and has been synthetically blended from human DNA. All of the group are defensive of Morgan's growing intelligence and emotional strength. When Lee brings in a psychologist to test Morgan and he taunts her with the possibility of being switched off, Morgan responds by killing him. As Lee decides that Morgan should be terminated, Morgan makes an escape from her pen with the aid of several of the staff and begins eliminating everyone in her way to get to freedom.
---
A.I. themes have undergone a considerable renaissance in the 2010s. This was kicked off by Spike Jonze's amazing Her (2013) and followed by the fine and underrated likes of The Machine (2013), Automata (2014) and the sensational Ex Machina (2015) and The Creator (2023). There were also high-profile works on the topic with Transcendence (2014) and Chappie (2015) that turned out to be flops, as well as Zoe (2018), a further venture into the theme of android A.I. from Scott Free. We even had A.I. comedies with Jexi (2019), Superintelligence (2020) and BigBug (2022), as well as Automation (2019), Life Like (2019) and Outside the Wire (2021), which felt like they should have been comedies.
The script for Morgan apparently sat on the Hollywood Blacklist for several years. It was eventually taken up by Luke Scott, the younger son of Ridley Scott. Luke had worked in various capacities on his father's films – as art director and second unit director – before making his directorial debut here. The film is produced through Ridley's Scott Free production company and Ridley takes a producer credit.
I had some anticipation of Morgan. For one, it has managed to bring together a very impressive cast line-up – Rooney Mara, Paul Giamatti, Toby Jones, Jennifer Jason Leigh, Michelle Yeoh and Brian Cox plus the up and coming name of Anya Taylor-Joy – which you feel should say something about the project's worth.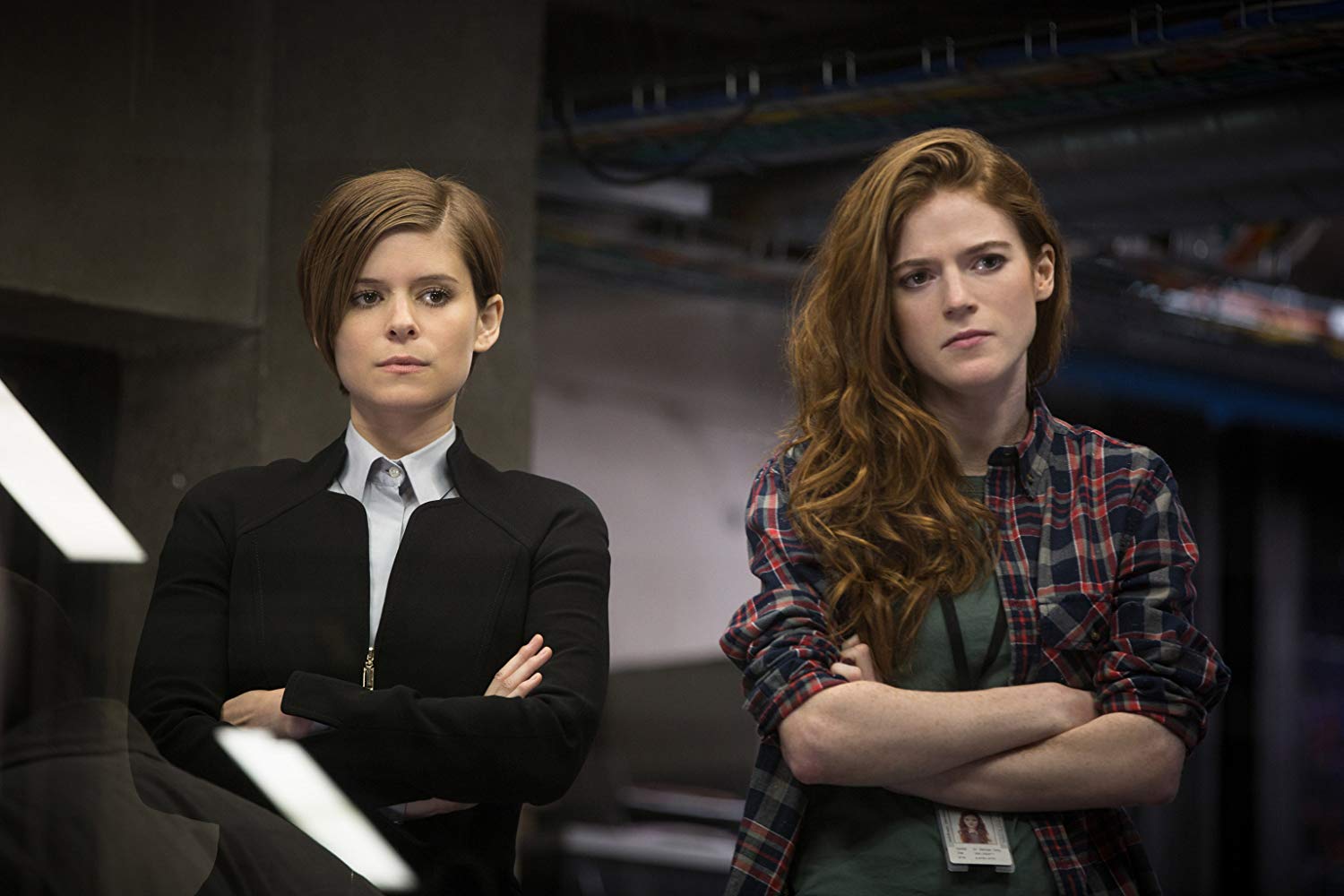 However, as the film settled in, the plot seemed awfully similar to Ex Machina – an individual travelling to a remote wilderness laboratory to assess an android/A.I. that is kept in a class cage, only to find the creation has developed far more than its creators anticipated and is presenting a danger. (For that matter, the same plot is not dissimilar to the one that also served for The Silence of the Lambs (1991), albeit with a genius serial killer instead of a machine).
The film starts well as Luke Scott creates a fascination around Morgan. This builds to the scene where Morgan is placed inside the cage with psychologist Paul Giamatti and he insistently probes her emotional responses. On the other hand, this scene never rings credible as something a psychologist would do – there seems too much undisguised glee in the way Giamatti cruelly twists the knife, suggesting that Morgan could be terminated, which would almost certainly be against ethical guidelines for a psychologist. This is also something that has been designed to paint Giamatti's psychologist as a one-dimensional caricature – his entering with mind already made up and high-handed attitude has the effect of painting a large red target on his forehead.
Alas, Morgan quickly becomes far less interesting than it suggests it is going to be. The script seems to willingly avoid any of the ethical debates and questions about the nature of the machine that Ex Machina engaged in. The arguments in favour of Morgan are all anthrocentric ones – that she has become like a child, is capable of play and emotions – while the deeper and more interesting questions that Paul Giamatti's psychologist probes at about whether she has simply learned a series of responses is left unquestioned.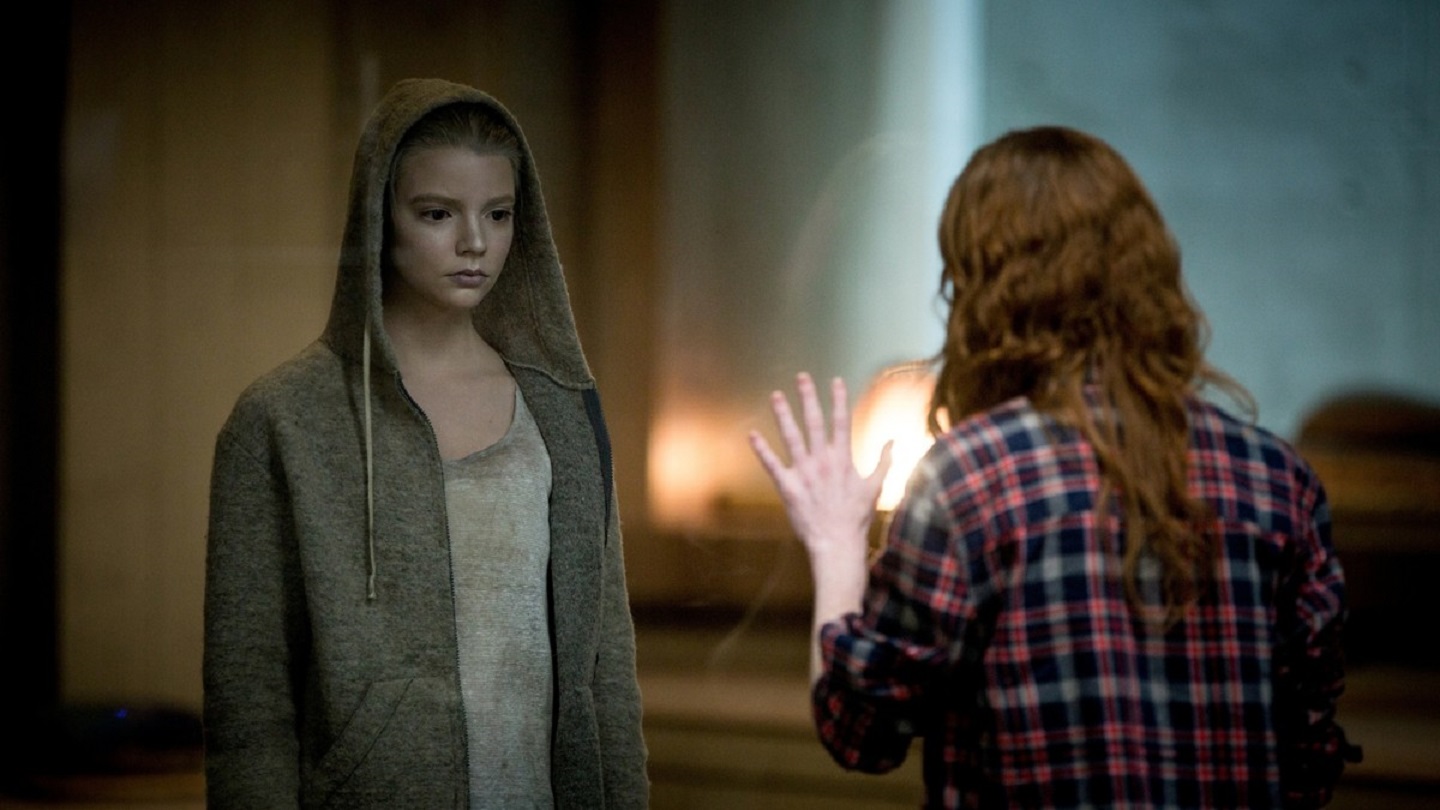 Moreover, while the first half of the film starts off in the direction of an Ex Machina derivative, the second half arrives wholly into the arena of The Terminator (1984) with Morgan being no more than an amok android running about killing people. All of the questions about A.I. disappear and Morgan becomes nothing other than an evil machine that has to be destroyed.
This brings one to the other major issue of the film that finally nails the lid into Morgan's coffin. [PLOT SPOILERS]. Namely, the end revelation that Rooney Mara's corporate assassin has been an android all along. This is a twist that seems wholly implausible. Firstly, the whole thrust of the story is with the question of whether a newly created machine being is stable or should be eliminated. To then suggest that while the corporation is concerning itself with these dilemmas, they already had another machine that is so sophisticated that it is indistinguishable from human and would appear not to be aware of its own nature, seems patently ludicrous.
---
---