---
Crew
Director – Egor Abramenko, Screenplay – Oleg Malovichko & Andrey Zolotarev, Producers – Alexander Andryuschenko, Fyodor Bondarchuk, Pavel Buria, Vyacheslav Murugov, Murad Osmann, Ilia Stuart & Mikhail Vrubel, Photography – Maxim Zhukov, Music – Oleg Karpachov, Visual Effects – Main Road Post, Production Design – Maria Slavina. Production Company – Vodorod Pictures/Art Pictures Studio/Hypefilm/Ministry of Culture – Cinema Fund/NMG Studios/STS.
Cast
Oksana Akinshina (Tatyana Yuryevna Klimova), Fyodor Bondarchuk (Colonel Semiradov), Pyotr Fyodorov (Konstantin Veshnyakov), Anton Vasilev (Dr Yan Leonidovich Rigel), Vitaliya Komienko (Lyoshka Romanov). Anna Nazarova (Nurse), Aleksey Demidov (Kiril Averchenko), Natalya Shvets (Chairwoman of the Commission)
---
Plot
The Soviet Union, 1983. Tatyana Yuryevna Klimova is a neurologist who is brought up before a commission of enquiry over her breaking the rules in the treatment of a patient where she insists that she did the right thing. She is approached by Colonel Semiradov who says he can make the commission go away in return for her consultation on a case. She is flown to a military site in Kazakhstan where she learns that her patient is Konstantin Veshnyakov, a cosmonaut just returned from the Orbita 4 space mission. His fellow astronaut is dead and Konstantin has apparent amnesia about what happened. Tatyana is then asked to observe at night and is startled to see a parasitic alien organism emerge from Konstantin's body while he sleeps. She is asked to find a way to separate the two but also becomes aware that the military are keeping secrets about the alien.
---
Sputnik was a directorial debut for Russian director Egor Abramenko. The film became a huge hit on various Russian streaming sites.
On one level, you could say that Sputnik is simply a variant on the whole school of films descended from Alien (1979) in which a space explorer becomes infected by a parasitic organism that forces its way into their gullet. You might make an even closer comparison to The Quatermass Xperiment/The Creeping Unknown (1955) in which an astronaut returns from a mission with attached alien organism and his fellow crewmembers mysteriously missing.
On one level there are nominal similarities but the difference is all in the approach. Sputnik is set during the heyday of the Soviet Union and the Russian cosmonaut program. Egor Abramenko is particularly good at getting down the dour look and drab clothing of the Soviet era. The film rarely comes out to directly criticise but everywhere is the feel of the invisible hand of an authoritarian regime. Abramenko has opted for a colour desaturated look and rarely has there been a film that makes the dun muddy brown rendering work for it – here it serves to portray the bleak functionalist anonymity of Soviet bureaucracy and installations.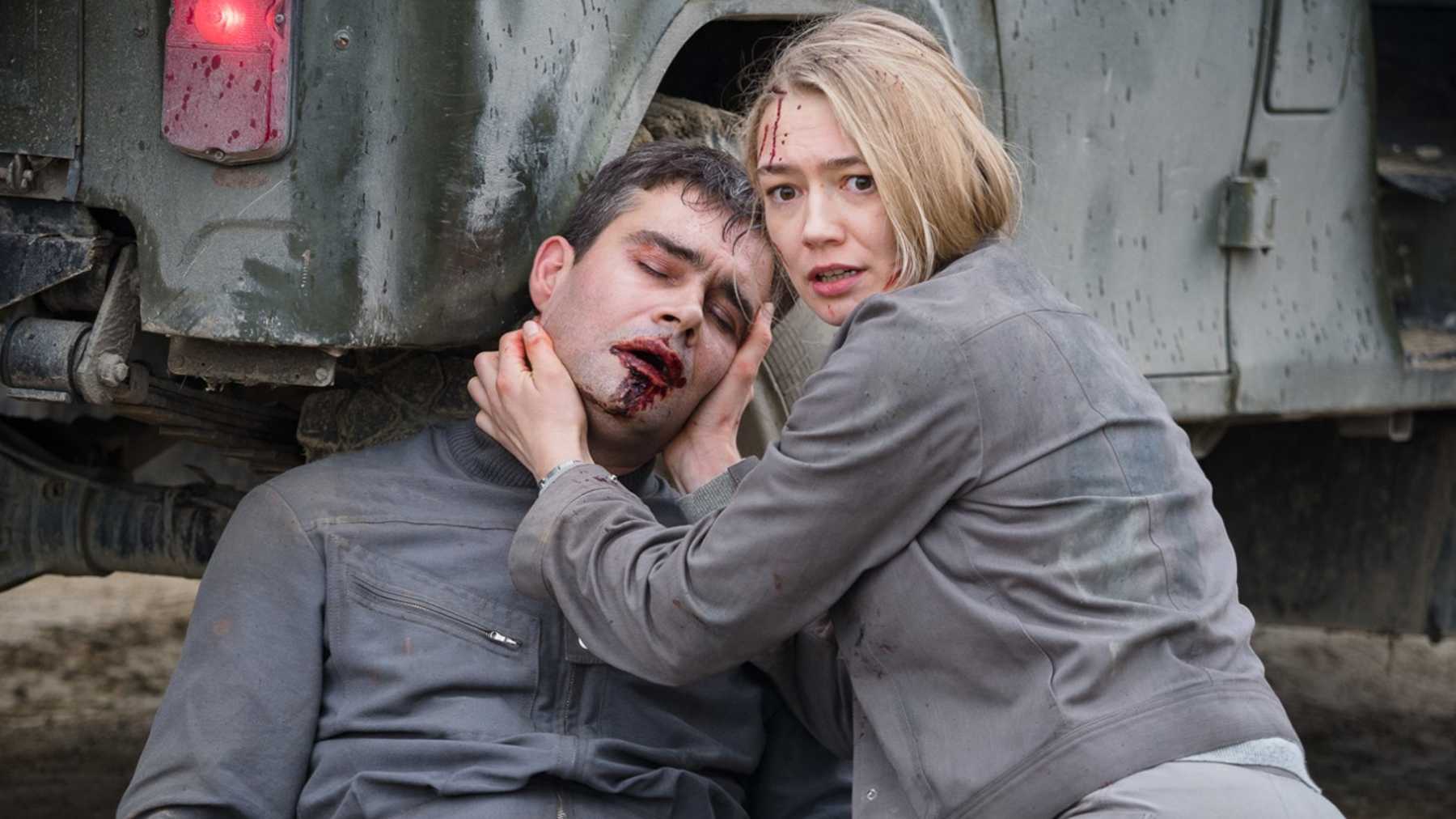 The film takes its time leading in to the introduction of the alien. It is over twenty minutes before we first see it. We are taken through Oksana Akinshina's disciplinary hearing, her meeting with colonel Fyodor Bondarchuk (who also produces the film and is a director in his own right), the flight to Kazakhstan, her interview with cosmonaut Pyotr Fyodorov who appears to have amnesia about what happened to his comrade. All before she is brought in at night to witness as the alien emerges from his body. These scenes, especially amid the dour surroundings, have an eerie fascination. The scenes with Oksana trying to understand the alien and especially when she makes the decision that she wants to go in and see it, have less than the horror-driven feel of Alien and more the awe-filled sense of meeting with and discovery of the alien that we get in Arrival (2016).
The script is structured with a series of strong twists as we slowly become aware of what is going on. This is aided by a particularly intelligent performance from Oksana Akinshina who provides an unexpected emotional. moral core to the film. Things go in more standard and less interesting direction in the latter half where the film takes a standard monster movie route with a dramatic climax built up around an escape. Nevertheless, for a time this becomes a promisingly very good science-fiction film.
---
---