(Vratar Galaktiki)
---
Crew
Director – Dzhanik Fayziev, Screenplay – Dzhanik Fayziev, Twister Murchison, Drew Row & Andrey Rubanov, Based on the TV Series Galactik Football Created by Charles Barrez & Vincent Vandelli, Producers – Dzhanik Fayziev, Sergey Seliyanov & Sergey Shishkarev, Photography (3D) – Maksim Osadchiy, Music – Tony Neiman, Visual Effects Supervisor – Alexander Lipilin, Visual Effects – Agora Studio, Algous Studio (Supervisors – Nikolay Goryaev & Sergey Shtangel), Amalgama VFX, AteamVFX, Carboncore, Deafilm, Film Direction FX (Supervisor – Andrey Bogomolov), Green FX, Green Light (Supervisors – Evgenia Fomina, Elizar Knyazev & Vitaliy Volkov), Kinopost (Supervisor – Evgeniy Zozulya), Mofac (Supervisor – Ohhyung Son), Online VFX, Postmodern Digital (Supervisor – Roman Kladko), Sci-FX Studio (Supervisor – Edouard Kargin), SnowdogFX, Superseed Studios, Synthetic, Studio Cubic, Trehmer Film (Supervisor – Konstantin Listratov, Roman Moisyev & Vyacheslav Ponomarev), Uraldigital & Val Studio, Animation Supervisor – Josh Riley, Pyrotechnic Special Effects – <> (Designer – Andrey Kosnikov), Production Design – Aleksandr Popov. Production Company – Bonanza Studio/CTB Film Company/Delo Group of Companies/Cinema Foundation of Russia.
Cast
Evgeny Romantsov (Anton), Viktoriya Aglakova (Natasha), Evgeniy Mironov (Belo), Mariya Lisovaya (Anya/Valaya), Ivan 'Ipatko' Ivanovich (Pele), Elizaveta Taychenacheva (Fan), Elena Yakovleva (Anton's Mother), Mikhail Efremov (Vasiliy), Mikhail Stenin (Vasiliy's Partner), Svetlana Permyakova (Labour Exchange Lady), Yan Tsapnik (Announcer)
---
Plot
Moscow, 2071 in the aftermath of a battle against the galactic dictator Cherno who was defeated by the forces led by Belo. Cherno's ship crashed into the Moon, splitting it into pieces, which has devastated much of the Earth. Cherno has been chained and imprisoned underground. Belo and the Galactic Council have established a vast stadium over the ruins of Moscow where three selected humans compete against other intergalactic athletes in the game of Cosmoball. Players are chosen for their ability to teleport. In Moscow, Anton has no interest in Cosmoball that everyone else fanatically follows and just tries to survive. He is subject to a series of unusual accidents, which unknown to him are triggered by Cherno's daughter Valaya who has found that he has the rare protogene that allows people to teleport. In human guise, she engineers a break-in to a pharmacy to get the medicine Anton needs for his ailing mother. In the course of the police pursuit, Anton's teleport abilities are triggered. He is immediately recruited by Belo as the fourth member of the Earth Cosmoball team and placed into training. At the same time, Valaya seeks to get Anton to plant a seed that will destroy the stadium, all as part of a scheme to free her father.
---
Cosmoball is a Russian SF film. It comes from Dzhanik Fayziev who has been directing since the late 1980s, having made seven other films before this. Elsewhere, Fayziev is a prolific producer of films and tv series, most of which appear to be war and historical works or crime and detective shows.
The film is based on the French animated tv series Galacktik Football (2006-10). I haven't seen the original but in my reading of the detailed overview to be found at Wikipedia, it would appear that all that the film has retained is the idea of an intergalactic game loosely based on soccer in which players have abilities including being able to teleport. There seems to be no resemblance between any of the characters in the film and the tv series – there is no equivalent of the evil villain Cherno in the series, for instance. The series is set on another planet and focused around a team of nine kids mounting a comeback effort, while the film is set on future Earth and concerns a novice and his discovery of the powers that make him eligible to join a pre-existing team of three.
Cosmoball came out eighteen months after Alita: Battle Angel (2019). If Alita hadn't fizzled at the box-office, you could easily think that Cosmoball had been made as a copycat – both films are set in a not dissimilar future, centre around Future Sports and have a specially empowered protagonist who makes a meteoric rise in the sport after discovering their abilities. Both also are adapted from not dissimilar source material – animation/manga designed for teen audiences.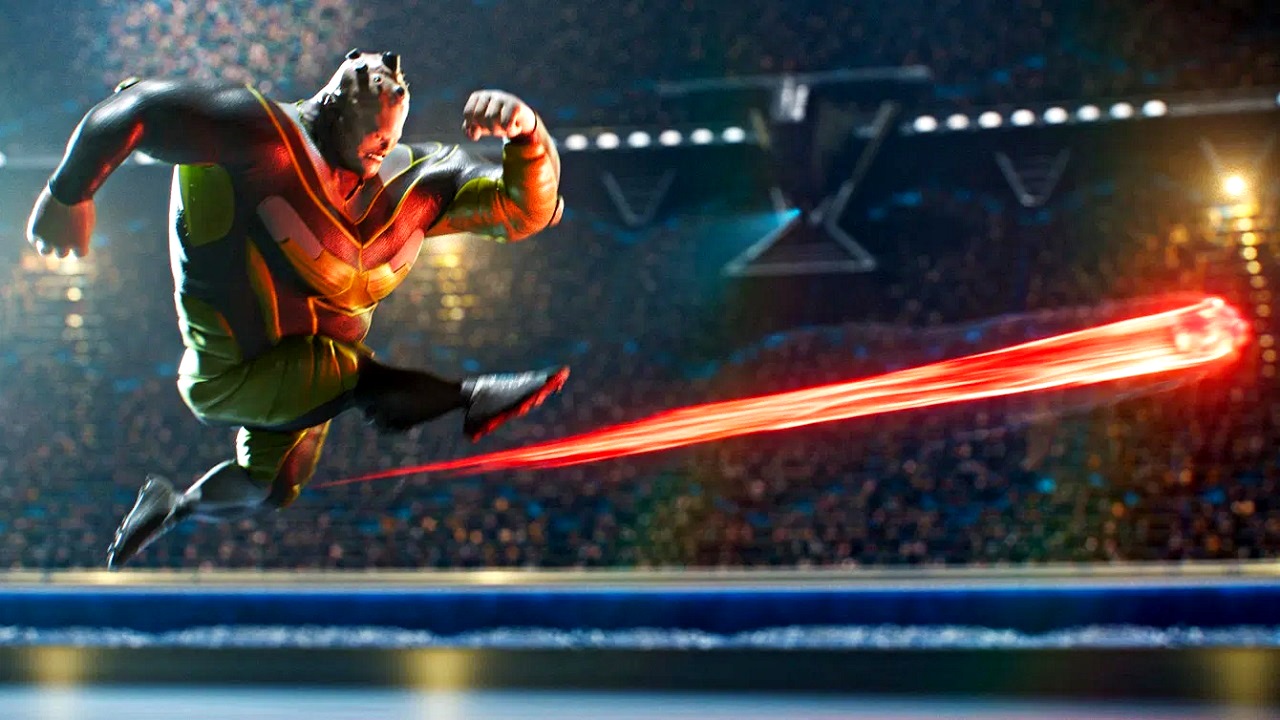 There is also the feeling that Cosmoball has also been made as the anti-Alita. Alita didn't do much to show details of its sport whereas this features some very colourful scenes with teleporting players and explosions. Where Alita felt like a generic future, Cosmoball goes to town on the production design and incidental colour. You are constantly watching the backgrounds for the detail that has gone into the buildings and costumes. Alita had the superior edge in terms of CGI effects but you cannot fault the Russians for making sterling effort in this regard.
The downside of all this is that Cosmoball feels like an SF film that has been made for the intended audience of a 14-year-old anime fan or younger. It is all vibrant colour, characters with super-powers engaged in titanic feats and lots of explosions for their own sake. (There seems to be no real reason for there to have to be vast explosions of colour and energy on the Cosmoball court, for instance, other than the pure flash of it). There is a great deal of coloured light – as the Cosmoball team go off to save the Earth, each leaves a signature trail of light behind, while the climactic space battle takes place using every single colour of the rainbow at once.
The plot supporting all of this is about as generic as you can get. The hero is a Chosen One who has had a great destiny to fulfil ever since he was born; there is a standard Dark Lord; the fate of the Earth hangs in the balance; there is a hot girl temptress who is in the employ of the Dark Lord and a good girl teammate that the hero is also drawn to (and is fawning over him from the moment he joins the team).
(Winner for Best Production Design at this site's Best of 2020 Awards).
---
Trailer here
---