---
Crew
Director – Chris Palmer, Screenplay – Tim Sheridan, Producers – Jim Krieg & Kimberly S. Moreau, Music – Kevin Riepl, Animation – The Answer Studio (Supervising Director – Kazuyoshi Takeuchi, Animation Directors – Seigo Kitazawa & Yuji Watanabe). Production Company – Warner Bros. Animation.
Voices
Darren Criss (Superman/Clark Kent), Alexandra Daddario (Lois Lane), Zachary Quinto (Lex Luthor), Ike Amadi (Martian Manhunter/J'onn J'onzz), Ryan Hurst (Lobo), Brett Dalton (Parasite/Rudy Jones), Neil Flynn (Jonathan Kent), Bellamy Young (Martha Kent), Piotr Michael (Perry White), Eugene Byrd (Ron Troupe)
---
Plot
Clark Kent is newly arrived in Metropolis and has taken a position as an intern at the Daily Planet. Also interning is Lois Lane who is promoted to a full reporter when she breaks a story that has Lex Luthor jailed for cutting corners on a rocket launch. Clark has been using his powers in action, leading to rumours of a flying man that Lois dubs Superman. The alien bounty hunter Lobo appears in the sky and Clark heads off to confront him. In the course of their fight, Lobo reveals that Clark is the last Kryptonian, something he did not know. Clark is aided in the battle by the mysterious J'onn J'onzz, the Martian Manhunter, the last survivor of Mars. During the course of the battle, one of Lobo's weapons infects S.T.A.R. Labs janitor Rudy Jones who transforms into a parasite. The parasite absorbs the lifeforce of everybody around it and grows more powerful after it takes Superman's powers.
---
This was the 39th of the DC Original Animated Movies. The others have included Superman: Doomsday (2007), Batman: Gotham Knight (2008), Justice League: The New Frontier (2008), Green Lantern: First Flight (2009), Superman/Batman: Public Enemies (2009), Wonder Woman (2009), Batman: Under the Red Hood (2010), Justice League: Crisis on Two Earths (2010), Superman & Batman: Apocalypse (2010), All-Star Superman (2011), Batman: Year One (2011), Green Lantern: Emerald Knights (2011), Batman: The Dark Knight Returns Part I (2012), Justice League: Doom (2012), Superman vs. The Elite (2012), Batman: The Dark Knight Returns Part II (2013), Justice League: The Flashpoint Paradox (2013), Superman Unbound (2013), Batman: Assault on Arkham (2014), Justice League: War (2014), Son of Batman (2014), Batman vs. Robin (2015), Justice League: Gods and Monsters (2015), Justice League: Throne of Atlantis (2015), Batman: Bad Blood (2016), Batman: The Killing Joke (2016), Justice League vs Teen Titans (2016), Batman and Harley Quinn (2017), Justice League Dark (2017), Teen Titans: The Judas Contract (2017), Batman: Gotham By Gaslight (2018), Suicide Squad: Hell to Pay (2018), Batman: Hush (2019), Justice League vs The Fatal Five (2019), Reign of the Supermen (2019), Wonder Woman: Bloodlines (2019), Justice League Dark: Apokolips War (2020), Superman: Red Son (2020), Batman: Soul of the Dragon (2021), Batman: The Long Halloween Part One (2021), Batman: The Long Halloween Part Two (2021), Injustice (2021), Justice Society: World War II (2021), Batman and Superman: Battle of the Super Sons (2022), Catwoman: Hunted (2022), Green Lantern: Beware My Power (2022), Batman: The Doom That Came to Gotham (2023), Justice League: Warworld (2023) and Legion of Super-Heroes (2023).
Superman: Man of Tomorrow is one of the few of the DC Original Animated Movies not to be adapted from a specific comic-book story or graphic novel and is an original work written for the screen. It takes place shortly after Clark Kent's arrival in Metropolis and traces his emergence into Superman. It is in essence Superman: Year One. Frank Miller had had huge success with his three-issue storyline Batman: Year One (1986) – later adapted into one of the DC Original Animated Movies with Batman: Year One (2011) – tracing the first tentative year of Batman. Since then there have been various Year One stories offered for most of the Batman Family and other DC superheroes. Indeed, Miller returned to deliver Superman: Year One (2019) just ten months before Man of Tomorrow was released. There have also been various other comic-books like Superman: For All Seasons (1999) and Max Landis's Superman: American Alien (2015), which covers the same period. That said, Man of Tomorrow, Year One, For All Seasons and American Alien are all very different stories with different takes on the same aspect of the mythos.
The script comes from Tim Sheridan who started out writing for the various DC Lego Superhero Girls (2017) and Justice League Action Shorts (2017) short films and episodes of Justice League Action (2016-8) and DC Superhero Girls (2019- ) animated tv series. From there, Sheridan graduated to the scripts for Reign of the Supermen (2019) and the upcoming live-action tv mini-series Masters of the Universe: Revelation (2020), as well as Scooby Doo and the Gourmet Ghost (2018) and Scooby Doo and the Curse of the 13th Ghost (2019).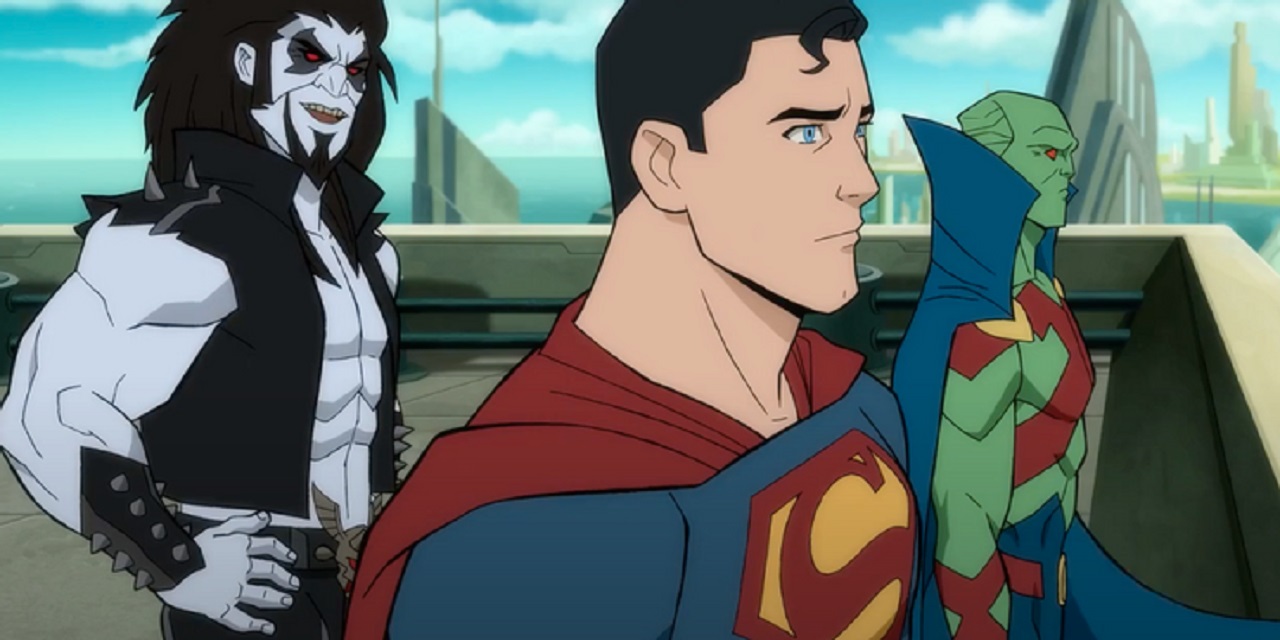 We see all of the familiar pieces of the Superman mythos falling into place – him trying out a cape for the first time; the Kents making the costume for him – while noting they broke sixteen saw blades doing so; the beginnings of the Superman-Lois-Clark triangle; Lois naming the Flying Man as Superman with Clark commenting "it'll never stick"; he discovering his Kryptonian origins for the first time and then unlocking a Kryptonian artifact and viewing the past.
Tim Sheridan delivers a fine script and all of it slots together very nicely. He uses characters that have been given little time in screen incarnations before such as Lobo and Parasite, both of whom get an excellent workout. There is also the surprise use of J'onn J'onzz, the Martian Manhunter, a character that used to be a regular superhero with his own title but these days has been relegated to the Justice League line-up. As opposed to the Martian Manhunter that appears contemporaneously in live-action played by David Harewood in tv's Supergirl (2014-21), I have to say this gives Manhunter a far more substantial workout. I particularly liked the sheer alienness of J'onn's first appearance as a tall tentacular alien.
Darren Criss – who did an exceptional turn as serial killer Andrew Cunanan in the second season of the tv series American Crime Story (2011- ), although before that had been a seasoned voice artist – does a fine job as Superman. Zachary Quinto makes a surprising Lex Luthor. The only voice actor I had an issue with was Alexandra Daddario as Lois Lane. Daddario has spent the better part of two decades playing Girl Next Door types. This seems wrong for the character of Lois who is written as an ambitious go-getter, which is just the way Lois should be, but in Daddario's voicing seems far too wholesome. The best voicing job in the film comes from Ike Amadi who delivers Martian Manhunter with magnificent basso tones.
Director Chris Palmer is a relative newcomer who emerged as a storyboard artist on various animated series and then became a director with episodes of Voltron: Legendary Defenders (2016-8). I really enjoyed what Palmer does. He takes his time and gives the characters life. Throughout the 2010s, the name of Sam Liu has come to dominate the DC Original Animated Movies – he often delivering around two films a year. The original Bruce Timm Superman (1996-2000) animated series, out of which the DC Original Animated Movies grew, had some stunning animated superheroics but since Liu's emergence these aspects feel lacking in inspiration. On the other hand, the scenes here – in particular the battle in the skies with Lobo and the various fights with Parasite, particularly the climactic emergence of it in giant size – are impressive and excitingly staged. One can only welcome Chris Palmer's directorial hand on future entries.
---