---
Crew
Director – Philipp Kadelbach, Teleplay – Neil Purvis & Robert Wade, Based on the Novel by Len Deighton, Producer – Patrick Schweitzer, Photography – Stuart Bentley, Music – Dan Jones, Visual Effects – Nvizible, Production Design – Lisa Marie Hall. Production Company – BBC/Sid Gentle Films Ltd./Lookout Point.
Cast
Sam Riley (Chief Superintendent Douglas Archer), James Cosmo (Sergeant Harry Woods), Kate Bosworth (Barbara Barga), Lars Eidinger (Sturmbahnfuhrer Dr Oskar Huth), Maeve Dermody (Sylvia Manning), Rainer Bock (Gruppenfuhrer Fritz Kellerman), Christina Cole (Mrs Sheenan), Jason Flemyng (Colonel George Mayhew), Ronald Zehrfeld (Captain Hans Hesse), James Northcote (John Spode), Danny Webb (Sydney Garin), Jonathan Cullen (King George), Nicholas Farrell (Sir Robert Benson), Aneurin Barnard (PC Jimmy Dunn), August Zirner (General von Ruff), Louis Ashbourne Serkis (Douggie Archer)
---
Plot
London 1941, following the defeat of the Battle of Britain and the Nazi conquest of England. Chief Superintendent Douglas Archer is considered the top detective at Scotland Yard. He and his partner Sergeant Harry Woods investigate a murdered body found in a flat. Archer's investigation is soon the focus of great interest. SS officer Dr Oskar Huth flies in from Berlin to personally supervise the case, which becomes a power struggle between he and Fritz Kellerman, the army general who heads Scotland Yard. As Archer discovers that the dead man was involved in developing the atomic bomb, he is drawn to the beautiful American reporter Barbara Barga, who may be seeking the secrets of the atomic bomb for the Americans who have so far remained neutral in the War. Harry and Archer's secretary Sylvia Manning are revealed to be members of The Resistance. Archer is approached by a cabal of powerful Resistance figures who see that he is in an influential position to help in their plan to rescue the ailing King George from Nazi custody.
---
The alternate history is a flourishing genre on the printed page, which imagines all manner of scenarios, ranging from those in which The Roman Empire did not fall, the dinosaurs never died out, Kennedy and Lincoln were never assassinated and so on to more fanciful alternate takes on fictional characters and universes. The entire Steampunk genre is alternate history, for instance. A surprising number of American writers are obsessed with alternate histories where the South did not lose the Civil War, although by far the greater number of alternate history scenarios are those where the Nazis won World War II.
The alternate history has not translated well to film. There have been the odd film before like Back to the Future Part II (1989) and occasional episodes of Star Trek (1966-9), Doctor Who (1963-89) and Fringe (2008-13) that have featured alternate history scenarios. Most of these operate more as twists on the familiar aspects of the series – such as Star Trek's Mirror, Mirror (1966) and several later stories of Star Trek: Deep Space Nine (1993-9) set in the same universe where the familiar characters are played as evil opposites – and thus cannot be classified as genuine alternate history stories. They are what one might call personal alternate histories as opposed to historic alternate histories.
The first full-fledged alternate history on screen was It Happened Here (1965), a superb variant on the Hitler Wins scenario. There have been sporadic other alternate history scenarios throughout the years – Quest for Love (1971), featuring an alternate world where JFK was still President and Vietnam had never occurred; White Man's Burden (1995) set in a USA where Blacks had become a racial majority and Whites a minority; tv's Sliders (1995-2000), the less said about the better; and the excellent C.S.A.: The Confederate States of America (2004) set in a world where the North lost the Civil War and the US retained slavery to this day. (For a more detaied overview of the genre see Alternate History Films).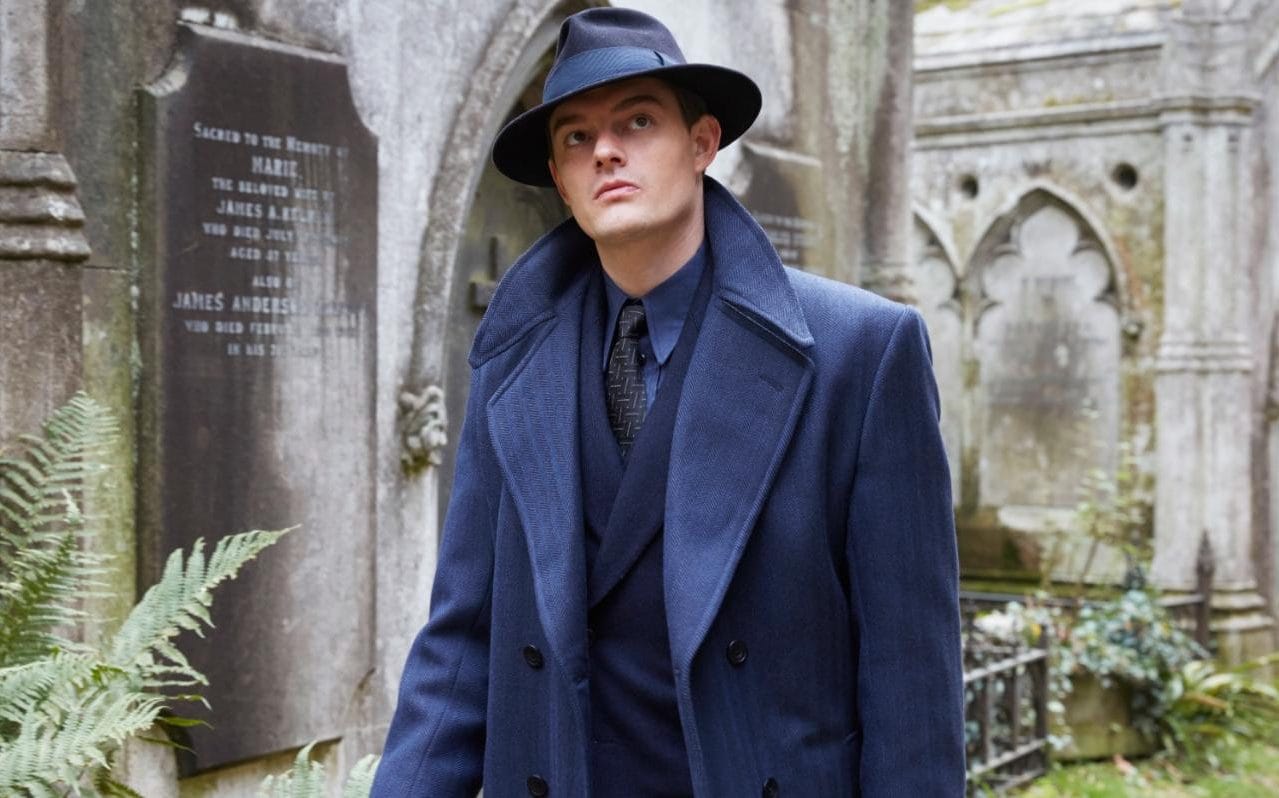 As in printed alternate history fiction, the Hitler Wins World War II scenario has remained the most popular and can be seen in Philadelphia Experiment II (1993), Fatherland (1994), The 25th Reich (2012), the Enterprise episode Storm Front (2004), the tv series The Man in the High Castle (2015-9) – even a puppet film Jackboots on Whitehall (2010). Subsequent to this, there was  a sudden upsurge in interest 2019-20 with For All Mankind (tv series, 2019- ), Yesterday (2019), The Plot Against America (2020) and Noughts + Crosses (tv series, 2020- ). SS-GB, a BBC mini-series that comes in five one-hour episodes, is also an entry in the Hitler Wins scenario and emerges as one of the best entries in the field.
SS-GB comes from Len Deighton, a writer best known for his spy novels (although he also produced history and cook books), The first of these was the spy novel The Ipcress File (1962) concerning an unnamed spy who was later named Harry Palmer following the successful film adaptation The Ipcress File (1965) starring Michael Caine. Deighton wrote six Harry Palmer books, which had a much more realist tone in comparison to the James Bond works. Two other film versions, from Bond film series producer Harry Saltzman, followed with Funeral in Berlin (1966) and Billion Dollar Brain (1967), both starring Caine, as well as the Harry Palmer reboot with the tv mini-series The Ipcress File (2022). Beyond the tv mini-series adaptation of Game, Set, and Match (1988), based on Deighton's Bernard Samson series of spy novels, the only other film work Deighton has been involved with is as producer of the musical satire Oh, What a Lovely War! (1969) but he was so dissatisfied with the process that he had his name removed. Deighton has not produced many works that fall into genre territory – Billion Dollar Brain does feature some science-fiction elements – and the most overt of these was his alternate history novel SS-GB (1978).
I read the Len Deighton novel a few years ago and wasn't that impressed with it as an addition to the Hitler Wins/Alternate History scenarios. It seemed an unexceptional police procedural and Deighton never seemed to conceptually light up the alternate history elements in any significant way. In fact, I ended up being far more impressed with the mini-series telling of the story than the original novel. (It is usually the other way around – especially so in the case of works like Fatherland and The Man in the High Castle, the filmed versions of which prove to be disappointing translations of their source material).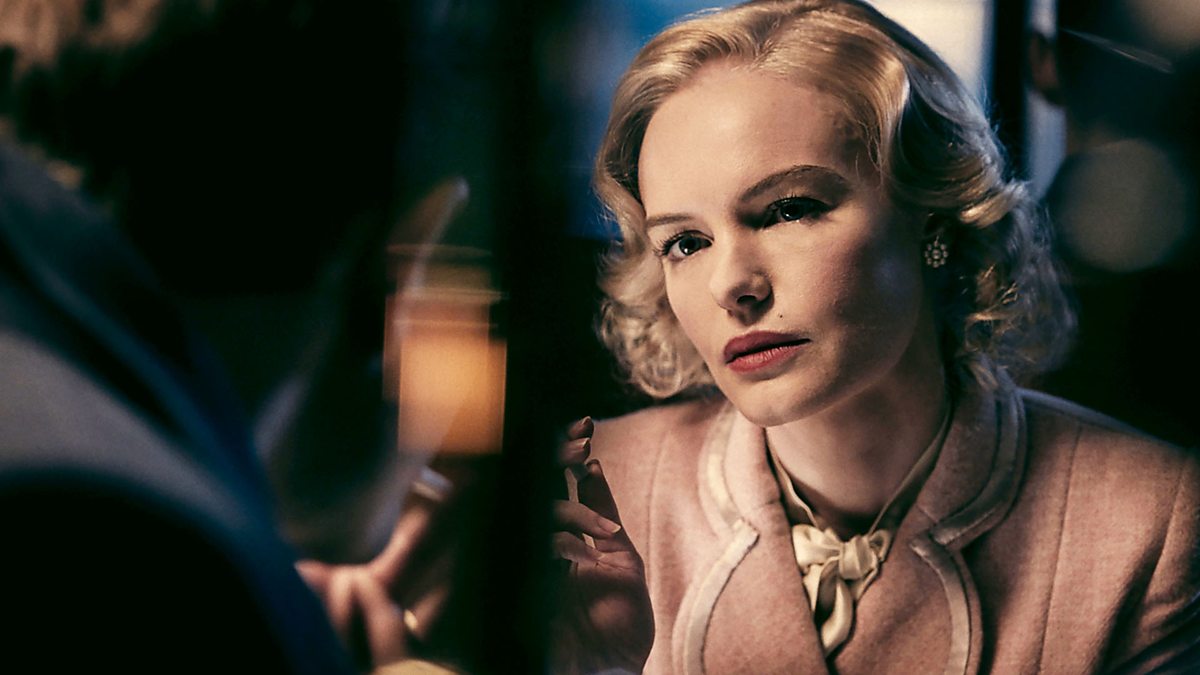 The mini-series – written by the duo of Neil Purvis and Robert Wade who have also written every James Bond film since The World is Not Enough (1999), as well as Johnny English (2003) and sequel – does a particularly good job of getting the pieces of littered alternate history detail right – the opening image of a Messerschmitt landing on The Mal; the constant grind of daily life under Nazi occupation – the shortages, roadblocks, guarded mention of The Resistance; mention of the tatters of the government and Royal Family aboard in neutral British Commonwealth countries like Canada and New Zealand; and a plot to rescue the ailing King George (who people may not realise would have been the father of HRH QEII in our timeline).
The tv version of The Man in the High Castle is a perfect example of how not to do this. After the initial fascination of the set-up faded, it had become (well before it even got into its second season) a series endlessly padding a plot that never seemed to be heading anywhere significant – the pace of each episode feels like a car chugging along at 5mph in the fast lane – or come with an overall grand scheme. By contrast, SS-GB is played as a tight thriller with a plot that builds from a routine murder enquiry into one with vast forces wheeling around the hero at the centre and the fate of a whole country at stake. The playing out moves with considerable complexity and exciting tension and the writing is excellent.
SS-GB can easily be viewed as a modern work of film noir. The mini-series seems to deliberately evoke this in the way that Sam Riley is outfitted as a 1940s detective in trench coat, fedora and ever-present cigarette, while Kate Bosworth seems to play the archetypal morally ambiguous femme fatale. Even more so than that, the mini-series embodies to a far greater extent than many other examples one can think of, noir's evocation of a world of figurative shadows where the world-weary hero is a pawn in vast shadowy conspiracies – The Resistance and different factions with Nazidom – where the moral lines are so blurred it is hard to tell one side or one character's allegiance from the other.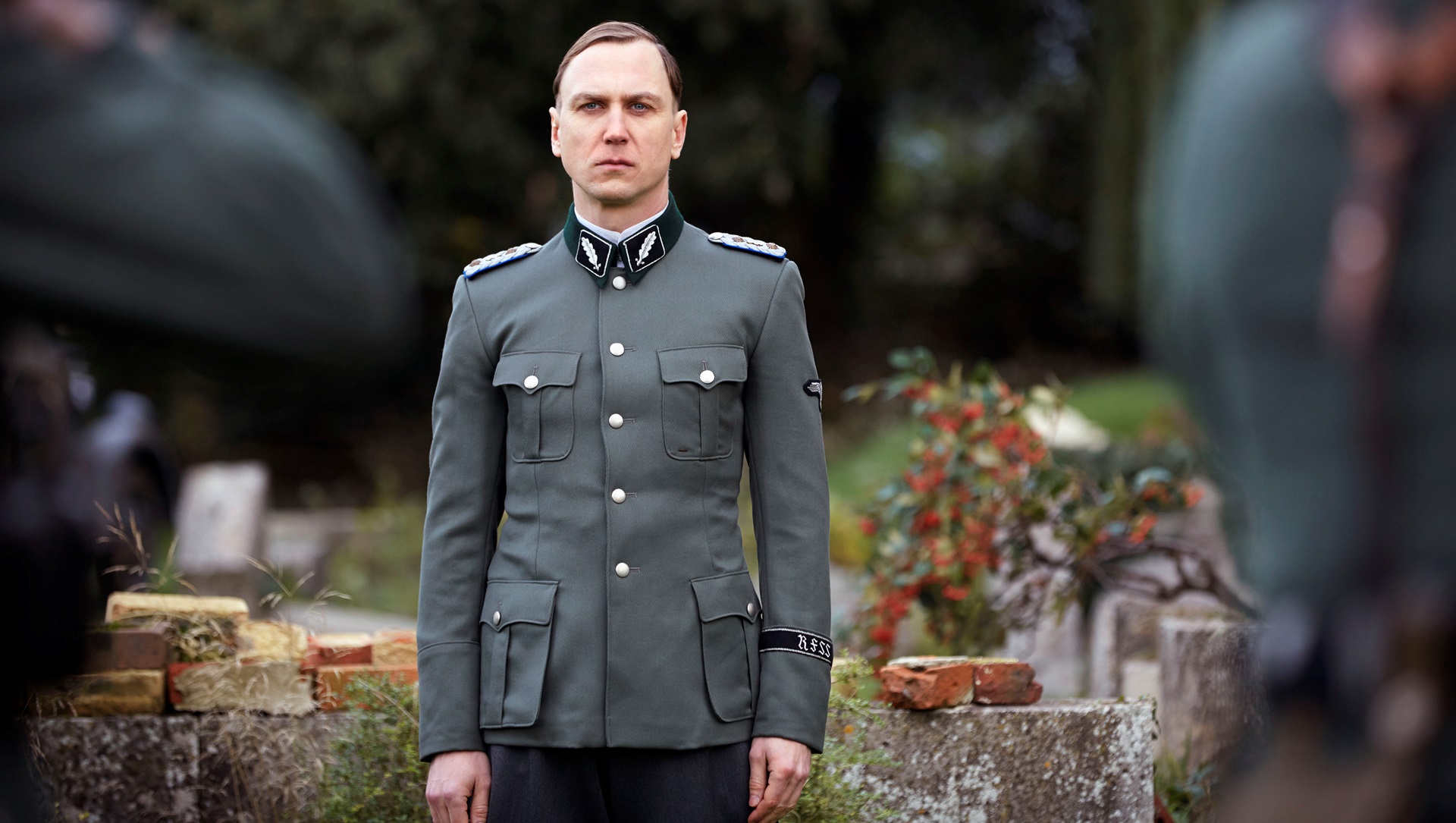 The lead is taken by Sam Riley who made an impressive big screen debut as Ian Curtis in Control (2007) a few years ago and has led an always interesting career path since then. On the other hand, Riley seems miscast as Archer. Riley was aged 37 when he made SS-GB but looks only in his late twenties. There are times that Riley almost seems to disappear inside the trench coat and fedora. It is not that Riley's doesn't give a good performance; it's more that Archer is written as a seasoned detective on the force that you mentally imagine to be someone in their forties, not a fresh-faced ingenue. The other distracting thing about Riley's performance is that he seems to deliver everything through an affectedly hoarse voice.
All of the rest of the cast play well. One of the impressive touches about the film (unlike any other Hitler Wins show on film) is that it has cast all of the German roles with German actors, has them speaking German in subtitles, and has even imported a German director. The most impressive among these is Lars Eidinger who is cast as the SS officer. The cold and unfeeling SS officer has become a cliche in depictions of Nazidom but the show and Eidinger do amazing things with the role. Eidinger plays with cold and serpentine intelligence but also an all-too-relatable humanity. Rather than the cliche of pure evil, he also roughens the edges with a realistic cynicism about people's motivations and an easygoing tolerance of grey lines. There is a fantastic concluding scene at the end of the final episode where Eidinger and Sam Riley sit together in an abandoned great house where both trade wry exchanges, both men for once being entirely honest about their opposing sides in the expectation of looming death.
(Winner in this site's Top 10 Films of 2017 list. Nominee for Best Adapted Screenplay, Best Supporting Actor (Lars Eidinger) at this site's Best of 2017 Awards).
---
---