---
Crew
Director – Toby Haynes, Teleplay – Peter Harness, Based on the Novel by Susanna Clarke, Producers – Greg Dummett & Nick Hirschkorn, Photography – Stephan Pehrsson & Lukas Strebel, Music – Benoit Charest & Benoit Groulx, Visual Effects Supervisor – Jean-Claude Degaura, Visual Effects – Milk Visual Effects, Special Effects Supervisor – Ian Rowley, Makeup Design – Emilie Gauthier, Production Design – David Roger. Production Company – BBC/Cuba Pictures/Far Moor/Attraction Images/Ingenious.
Cast
Bertie Carvel (Jonathan Strange), Eddie Marsan (Gilbert Norrell), Marc Warren (The Gentleman), Alice Englert (Lady Emma Pole), Ariyon Bakare (Stephen Black), Charlotte Riley (Arabella Strange), Enzo Cilenti (John Childermass), Samuel West (Sir Walter Pole), Vincent Franklin (Christopher Drawlight), John Heffernan (Henry Lascelles), Edward Hogg (John Segundus), Brian Pettifer (Honeyfoot), Paul Kaye (Vinculus), Ronan Vibert (Lord Wellington), Lucinda Dryzek (Flora Greysteel), Jamie Parker (Major Grant), Clive Mantle (Dr Greysteel), Edward Petherbridge (King George III), Richard Durden (Lord Liverpool), John Sessions (John Murray), Vernon Dobtcheff (Laurence Strange), Phoebe Nicholls (Mrs Wintertowne), Niall Grieg Fulton (John Uskglass, The Raven King), Flip Webster (Mrs Delgado)
---
Plot
England in the early 19th Century. John Segundus is ridiculed when he asks his fellow members of the York Society of Magicians why magic has not been practiced in England in three hundred years. He is told that all that is left is theoretical magic. He is determined to find books on real magic but discovers that all of these have been brought by Gilbert Norrell. Norrell confirms that he is a practical magician and offers a demonstration to the sceptical Society in which he brings the statues in a cathedral to life. This causes a sensation and is reported up and down the country. Mr Norrell moves to London where he is determined to bring about a restoration of English magic and aid in the war effort against the French. Failing to be taken seriously, he offers aid to Lord Walter Pole, a Member of Parliament, whose fiancee Emma has just died. To raise Emma from the dead, Norrell is forced to make a deal with a fairy that he conjures. In return, the fairy asks that it is entitled to half of Emma's life – what Norrell does not realise is that he has been tricked and the fairy snatches Emma away to his kingdom of Lost Hope by night, leaving her in this world by day. This soon causes Emma to descend into madness. Meanwhile, Jonathan Strange has inherited his father's estate. His love Arabella implores him to find a career so that he can marry her. Jonathan chooses that of a magician and is astonished when he has some effect. He travels to London to become Mr Norrell's pupil. The two strike up a friendship but disagree over Jonathan's certainty that English magic derives from the legendary Raven King and Norrell's dismissal of this as of any importance. Jonathan is recruited to join the war effort and travels to Europe to aid Lord Wellington in the struggle against Napoleon. There, away from the tradition-based spells of Mr Norrell, he begins to discover his own wild magic and has great success. His return to England causes a bitter rift between him and Mr Norrell. Norrell seeks to stop Jonathan's efforts to publish his own book about magic, while Jonathan determines to open the lost King's Roads hidden behind the mirrors and tame a fairy. Meanwhile, Mr Norrell's deal with the fairy comes back to haunt as the fairy sets his sights on stealing Arabella away from Jonathan.
---
Jonathan Strange & Mr Norrell (2004) was a debut novel for Susanna Clarke. Clarke, the daughter of a Methodist minister and previously an editor of cookbooks for Simon & Schuster, spent ten years writing the book. It is a massive-sized work that rivals some of Stephen King's doorstoppers in size. Clarke wrote it for her own amusement until she attended a writer's workshop and coordinator Colin Greenland (later to become her husband) showed some of her material to Neil Gaiman. The book was a huge success upon publication, winning that year's Hugo Award, being shortlisted for the prestigious Man Booker and Whitbread Prizes and winning Time's Best Novel of the Year. She has since published a collection of short stories and is writing other works in the same milieu.
Susanna Clarke writes fantasy that seems less J.K. Rowling than it homages the era and whimsicality of Jane Austen. Jonathan Strange & Mr Norrell is alternate world fantasy – an England where magic works but where real historic events and personalities such as the Duke of Wellington and his war against Napoleon, King George III's madness, Lord Byron and various politicians of the day mingle or are namedropped. The joy that comes in reading the book doesn't entirely translate on the screen – not through any fault of the mini-series in translating it – but you never quite get Clarke's Austen-esque dryness of wit in description, nor any equivalent of the extensive and hilariously straight-face footnotes.
I am happy to go out on a limb and say that Susanna Clarke kicks J.K. Rowling out of the ring. Rowling writes glorified children's books that somehow ended up being acclaimed by adult audiences who thought their contrived writing and increasingly bloated prose was classic literature. Clarke writes everything that Rowling does with finesse and elegance. Rowling has put little thought into her magic – it has a randomness that comes from her making it up as she went along such that you wonder how anything could work in this world when anything is possible; Clarke creates a magic where much may be possible but it is buried in antiquity.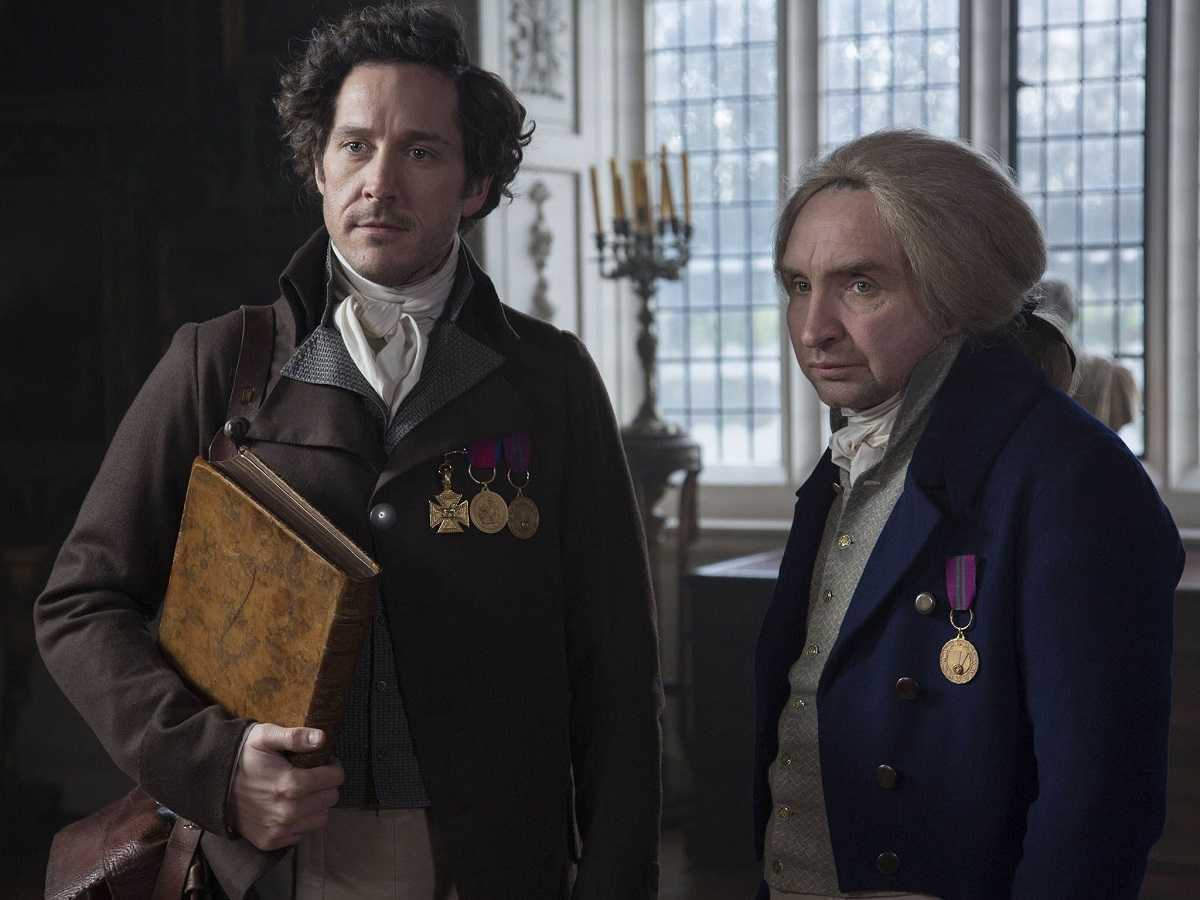 The book's success attracted attention from filmmakers. New Line Cinema acquired the rights in 2004 but, like other massive sized classic works such as War and Peace (1869), The Lord of the Rings, Dune (1965) and Stephen King's The Stand (1977), the sheer size of the story proved a daunting  task to trim down to easy digestibility for the multiplex crowds who are presumed to be in eminent danger of revolting should a film ever exceed two-and-a-half hours in length. Nor does one suspect that the target audience for the book would be the same multiplex crowd that flock to Harry Potter and The Lord of the Rings; what we have is more the fantasy equivalent of a Georgian costume drama. Thus the tv mini-series adaptation it gets here seems the best place for it.
As such, the book gets a fine and well worthwhile adaptation. Even though some parts of the story are trimmed a little, I don't recall any major plot elements that were missing. The BBC has wheeled out the best of their costume drama tradition. The mini-series looks grand, the costumery and dressings have a richness and colour that looks authentic for the period. Budgetary limitations do come in somewhat when it becomes clear that the use of sets has been minimised in some sections – the same two wide-angle shots are used every time someone visits Lost Hope, while all the action there seems to take place in the same ballroom.
What the mini-series gets superbly is the feel and flavour of the story. The dialogue turns with the dry elegance of Clarke's writing, the characters are all given three-dimensional life. The effects team deliver the magic sparingly but there are some great set-pieces – especially the scene with Bertie Carvel conjuring the horses of sand to right the stranded ship, or one throwaway effect where a pistol-wielding John Heffernan is turned to china. The story sweeps across a wide canvas that concerns friendships, prestige and acclaim, a devil's deal, the philosophical debate between tradition-based learning and wild creativity. It's a beautiful and big story and it works extremely well on the small screen.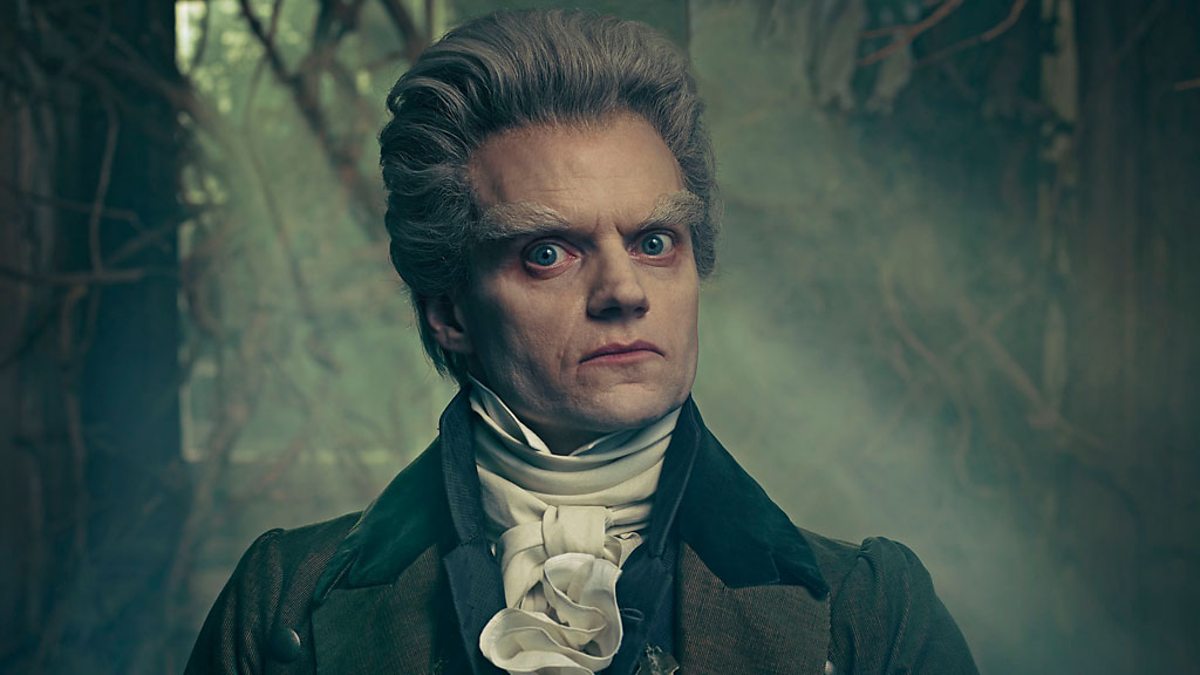 The mini-series comes with an excellent cast. Eddie Marsan is one of those actors who has a recognisable face but is considered too ugly a mug to ever gravitate to leading man status. He has been in a heck of a lot of things – from The New World (2005) to Mission: Impossible III (2006), V for Vendetta (2006) and Hancock (2008) to several Mike Leigh movies and is probably best known of recent as Inspector Lestrade in the Guy Ritchie Sherlock Holmes films. Here he almost disappears inside the powdered wig and rises out of it to give a magnificent performance of repression and pettiness.
Opposite him, relative newcomer Bertie Carvel seems to be channelling something of the boyishly lost puppy dog charm of comedian Alan Davies. His is a character that starts out as seeming almost a comedic foil before winding through some fascinating places to emerge as the real hero of the show. Of the rest of the cast, all are excellent. You would swear that Marc Warren as the mischievous gentleman with thistledown hair is a younger brother of Malcolm McDowell. The best of many great performances in the show would have to be Ronan Vibert who delivers a magnificently pompous Lord Wellington.
(Winner in this site's Top 10 Films of 2015 list. Winner for Best Actor (Eddie Marsan), Nominee for Best Adapted Screenplay at this site's Best of 2015 Awards).
---
---