---
Crew
Directors – (Episode 1&3) Hiro Murai, (Episode 2&9-10) Jeremy Podeswa, (Episode 4,6&8) Helen Shaver & (Episode 5&7) Lucy Tcherniak, Teleplay – (Episode 1-2&10) Patrick Somerville, (Episode 3) Shannon Houston, (Episode 4) Nick Cuse, (Episode 5) Cord Jefferson, (Episode 6) Sarah McCarron, (Episode 7) Kim Steele, (Episode 8) Sarah McCarron & Patrick Somerville & (Episode 9) Patrick Somerville & Will Weggel, Created for Television by Patrick Somerville, Based on the Novel by Emily St. John Mandel, Producers – Emily St. John Mandel & Claire Welland, Photography – (Episode 1&3) Christian Sprenger, (Episode 2,5&9-10) Steve Cosins & (Episode 4&6-8) Daniel Grant, Music – Dan Romer, Visual Effects Supervisors – Marc Kolbe & Michael Shelton, Visual Effects – Pixomondo, Special Effects Supervisor – Bruce Strong, Production Design – Ruth Ammon. Production Company – Paramount Television Studios/Super Frog/Pacesetter/Stone Village Television/Tractor Beam.
Cast
Mackenzie Davis (Kirsten Raymonde), Himesh Patel (Jeevan Chaudhary), Matilda Lawler (Young Kirsten), David Wilmot (Clark Thompson), Daniel Zovatto (The Prophet), Nabhan Rizwan (Frank Chaudhary), Philippine Velge (Alexandra), Lori Petty (Sarah), Gael Garcia Bernal (Arthur Leander), Danielle Deadwyler (Miranda Carroll), Caitlin Fitzgerald (Elizabeth), Julian Obradors (Tyler Leander), David Cross (Gil), Milton Barnes (Miles), Tim Simons (Jim Phelps), Tara Nicodemo (Nancy), Tattiawna Jones (Lara), Prince Amponsah (August), Enrico Colantoni (Brian), Joe Pingue (Dieter), Clark Bakco (Charlie), David MacInnes (Hooded Man)
---
Plot
In Chicago, Jeevan Chaudhary is at a performance of Shakespeare's King Lear starring the film actor Arthur Leander. When Leander starts to falter and then collapses, Jeevan rushes onstage to aid him. As medics come, he is left tending the young child performer Kristen Raymonde and walks her home when nobody comes to pick her up. All around there is news of a pandemic sweeping across the country. With Kirsten having no key, Jeevan takes her to his brother Frank's apartment to hole up. Twenty years later, the now adult Kristen is part of The Travelling Symphony that journeys around the post-apocalyptic communities putting on Shakespearean plays. Arthur once gave Kirsten a copy of Station Eleven, a comic-book written by his ex-wife Miranda Caroll and Kirsten has held onto it over the years, finding philosophical meaning in its story. Kirsten now has to deal with The Prophet, a mysterious stranger who also has knowledge of Station Eleven, and has been wooing away children and members of The Travelling Symphony. As Kirsten discovers, many aspects of what happened have intricate connections that lead back to Arthur.
---
This is a TV Mini-Series adapted from Station Eleven (2014), an award-winning novel by Canadian author Emily St. John Mandel. The series aired on HBO Max in ten episodes of around 45 minutes each between December 2021 and January 2022. St. John Mandel was closely involved in the series and is listed as one of the producers. The tv version is created by Patrick Somerville who has produced/written many episodes of The Leftovers (2014-7) and Maniac (2018), as well as the concurrent sf tv series Mad for Love (2021- ),
I started watching Station Eleven with no awareness of its background. My initial expectation was that it would be no more than a standard post-apocalyptic series exploiting the topicality of the Covid-19 pandemic of 2020-2. This topicality certainly seems pertinent but there is nothing standard or in any way predicable about Station Eleven.
What I liked most among a good many things about Station Eleven was its non-linear story. This is constantly moving back and forward between different characters at various points in time over the space of twenty years. The mini-series is like a mandala in which we see various pieces of story being threaded and coming together. It is a story of invisible connections – how every major character seems to tie back together with Arthur Leander in some way, of people connecting up again at various points and then reappearing at others in surprising ways. The scripts for the series feel less like linear storylines than a vast board of post-it notes with different coloured threads mapping onto characters and places from one point to another. It's a telling that comes with surprises hiding in every corner. And over that there is the mysterious importance of the Station Eleven comic-book and a good many allegories to Shakespearean play, principally Hamlet (1603), that pop up all over the place.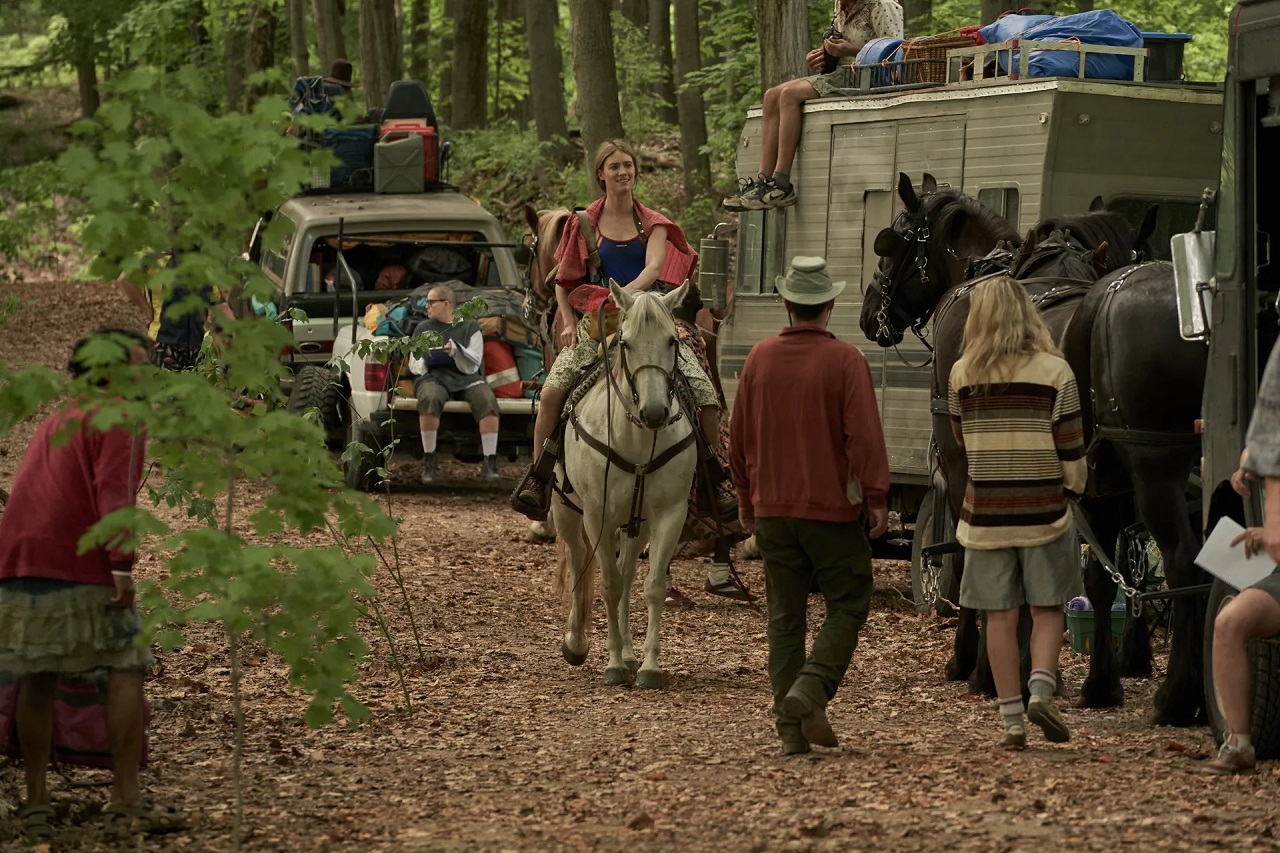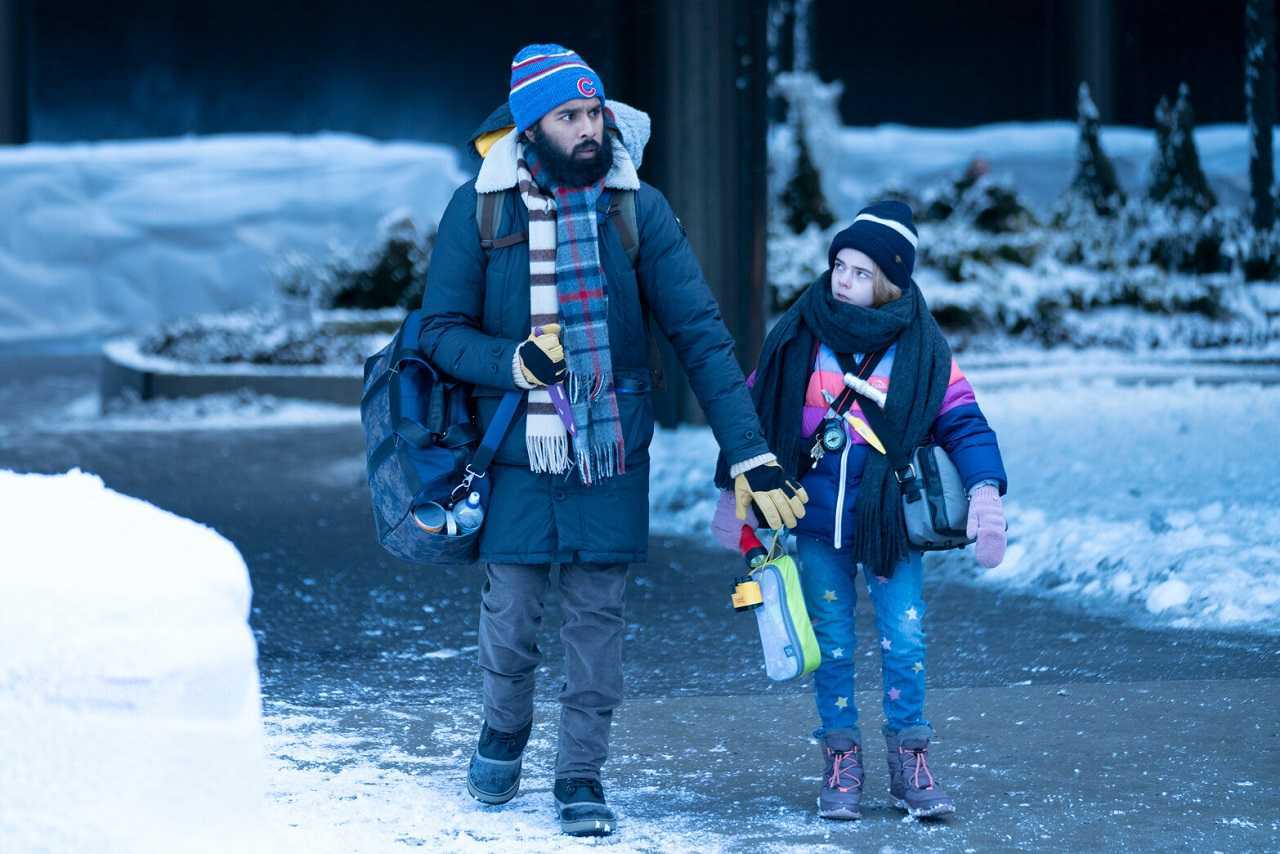 It is also a depiction of the Post-Holocaust venue quite unlike anything you have seen before. There is the appealingly oddball eccentricity of a travelling troupe of players that heads in a large circuit of territory in a caravan of old cars drawn by horses putting on Shakespearean plays in various communities using scavenged clothing as costumes. It is a far more optimistic and eccentric depiction of a post-apocalyptic future than you usually get on screen – the relentless grimness and harsh survivalism of tv's The Walking Dead (2010-22) being a perfect counterpoint.
In its depictions of the post-apocalyptic aftermath, the mini-series is often a study in the ways that spaces not intended for said purposes are transformed into something else altogether – a swanky golf club turned into a children's home with the course littered with mines; a department store become a hospital; a hotel conference venue that becomes a survival shelter/tomb; and especially in the ways we see an airport terminal turned into a home by a group of stranded survivors and returned to years later where it has been entirely transformed. The writing in some of these episodes is among the best of the series – especially the ones featuring Danielle Deadwyler standing up to defy the meaningless of work during her pitch at the conference, or of watching David Wilmot and his marshalling of the people of the airport together as a group. There are so many pieces of great writing and multi-levelled allegory throughout that this is easily a show that lends itself to multiple viewings to take it all in.
These scenes have an overspill of great performances. Mackenzie Davis is all angular weirdness and wide-eyed innocence. Lori Petty is almost unrecognisable as the eccentric leader of the Traveling Symphony, David Cross slightly less so as the leader of the community at the golf course that has been converted into a children's shelter. In the side stories, David Wilmot has an irascible fire as the Leander associate/friend who comes to govern the people at the airport, while Danielle Deadwyler has passionate strength as Leander's ex-wife, the comic-book's author trapped in a hotel in Malaysia.
(Winner in this site's Top 10 Films of 2021 list. Winner for Best Adapted Sceenplay, Nominee for Best Supporting Actress (Danielle Deadwyler) and Best Production Design at this site's Best of 2021 Awards).
---
Trailer here
---