---
Crew
Director – Terry Gilliam, Screenplay – Janet & David Webb Peoples, Based on the 1962 film La Jetee by Chris Marker, Producer – Charles Roven, Photography – Roger Pratt, Music – Paul Buckmaster, Visual Effects – Peerless Camera Co, Special & Mechanical Effects Supervisor – Vincent Montefusco, Production Design – Jeffrey Beecroft. Production Company – Universal/Atlas-Classico.
Cast
Bruce Willis (James Cole), Madeleine Stowe (Dr Kathryn Railly), Brad Pitt (Jeffrey Goines), Christopher Plummer (Dr Leland Goines), Frank Gorshin (Dr Owen Fletcher), David Morse (Dr Peters)
---
Plot
In the year 1997, a virus was released, killing billions and forcing the remnants of humanity to relocate underground. Several years later, convicted criminal James Cole is offered a pardon if he will volunteer for a dangerous experiment – to travel back in time and collect information about how the virus was initially spread. In Baltimore of 1990, psychiatrist Kathryn Railly interviews Cole who has been arrested and placed in a psychiatric institution, believed to be insane because of his claims to come from the future. In 1996, Cole reappears and abducts Railly, forcing her to help him as he seeks to stop Jeffrey Goines, another patient from the institution who leads the revolutionary Army of the Twelve Monkeys and is planning to unleash the virus. As Kathryn starts to believe what Cole is saying is true and they head toward the time of the happening of a recurring vision from Cole's childhood, Cole realizes his attempts to prevent the future may well be what ended up causing it in the first place.
---
Twelve Monkeys comes from Terry Gilliam. Terry Gilliam is a former member of the Monty Python troupe, although is nowadays better known as a director with films such as Jabberwocky (1977), Time Bandits (1981), Brazil (1985), The Adventures of Baron Munchausen (1989), The Fisher King (1991), Fear and Loathing in Las Vegas (1998), The Brothers Grimm (2005), Tideland (2005), The Imaginarium of Doctor Parnassus (2009), The Zero Theorem (2013) and The Man Who Killed Don Quixote (2018).
Terry Gilliam's films are not always easily accessible films – they are bleak and pessimistic and filled with a dark sense of gallows humour. They are often wildly over-scaled and self-indulgent but they also achieve moments of visionary surrealism that few other films do. Gilliam seems to delight in puncturing heroism. This is perhaps the singular connecting theme of all his films. Most of Terry Gilliam's heroes – Michael Palin in Jabberwocky, Jonathan Pryce in Brazil, John Neville's Baron in Baron Munchausen, Jeff Bridges in The Fisher King and Bruce Willis here – seem heroes surrounded by an innately cruel universe that appears involved in some conspiracy to thwart them at every turn. Their journey to heroism seems less one about overcoming insurmountable odds than about overcoming pessimism and failure inside themselves. Yet being thrust into the role of heroism in Terry Gilliam's universe is no guarantee of success either – in three of Gilliam's six films up to this point, the hero does not triumph at the end. [Also worth checking out here is Lost in La Mancha (2002) concerning Terry Gilliam's failed attempts to make a film based on Don Quixote and the eventual film version The Man Who Killed Don Quixote, the mother of all stories about deluded heroes].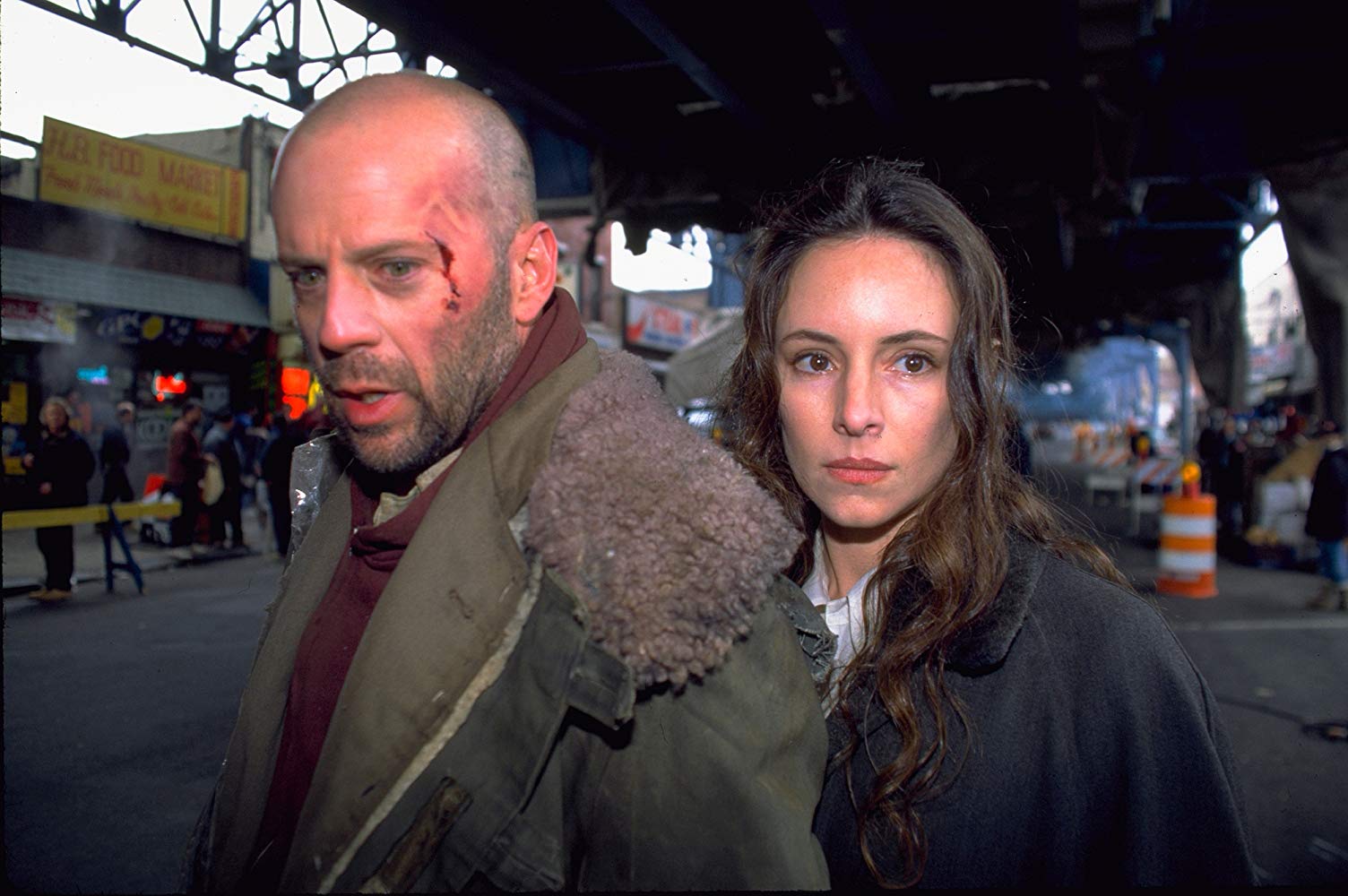 With his previous film The Fisher King, as well as here with Twelve Monkeys, it can be observed that Terry Gilliam usually works better when operating from a script by somebody else rather than one he has had a hand in. Both The Fisher King and Twelve Monkeys are much more focused as scripts, less all over the place and dominated by extravagant set-pieces as earlier Gilliam-scripted efforts such as Time Bandits, Brazil and The Adventures of Baron Munchausen were oft wont to do. Terry Gilliam also has the good luck in these cases to be serviced by exceptional scriptwriters – in the case of The Fisher King, Richard LaGravanese, an Oscar nominee who has crafted works like The Bridges of Madison County (1995), A Little Princess (1995), Beloved (1998), The Horse Whisperer (1998) and, in the case of Twelve Monkeys, David Webb Peoples, who co-wrote Blade Runner (1982) and had then just come from his Oscar-winning work on Clint Eastwood's breathtakingly nihilistic anti-Western Unforgiven (1992).
On the other hand, Twelve Monkeys, also like The Fisher King, is not an easily likeable film. Terry Gilliam seems to film with a wilful emphasis on ugliness – camera angles are often distorted, the lighting schemes unattractive and washed out, and Gilliam has his big name star Bruce Willis made up as a virtual derelict. However, for both films, to bear with Terry Gilliam's vision is ultimately rewarding. First of all in Twelve Monkeys, Gilliam has created here a deeply shocking vision of the end of the 20th Century – an image of a society that has totally fractured at the edges and fallen into a decay that seems beyond any hope.
As a time travel film, Twelve Monkeys is almost the complete antithesis of anything like The Terminator (1984) or Back to the Future (1985). It is like a Terminator film gone to Hell – imagine The Terminator or Terminator 2: Judgment Day (1991)'s long intensive night of struggle without the guarantee of either film's triumph of humanism at the end. Bruce Willis's hero is about as far away from Michael J. Fox's skateboarding, hiply culture-quoting Marty McFly in the Back to the Future films as possible – he is not a hero, he spends most of the time running about naked or locked up as a psychiatric patient and seems to lack even the most elementary skills necessary to survive in the past. Furthermore, the stress of surviving in two temporal eras creates insanity – in one startling turnabout, he decides that he is mentally ill and the future he comes from is a delusion. Unlike the heroes of The Terminator and Back to the Future, he has not come to save the future, for the future is fixed and unchangeable, which leads to a beautifully fatalistic ending. The bleakness of this vision is startling.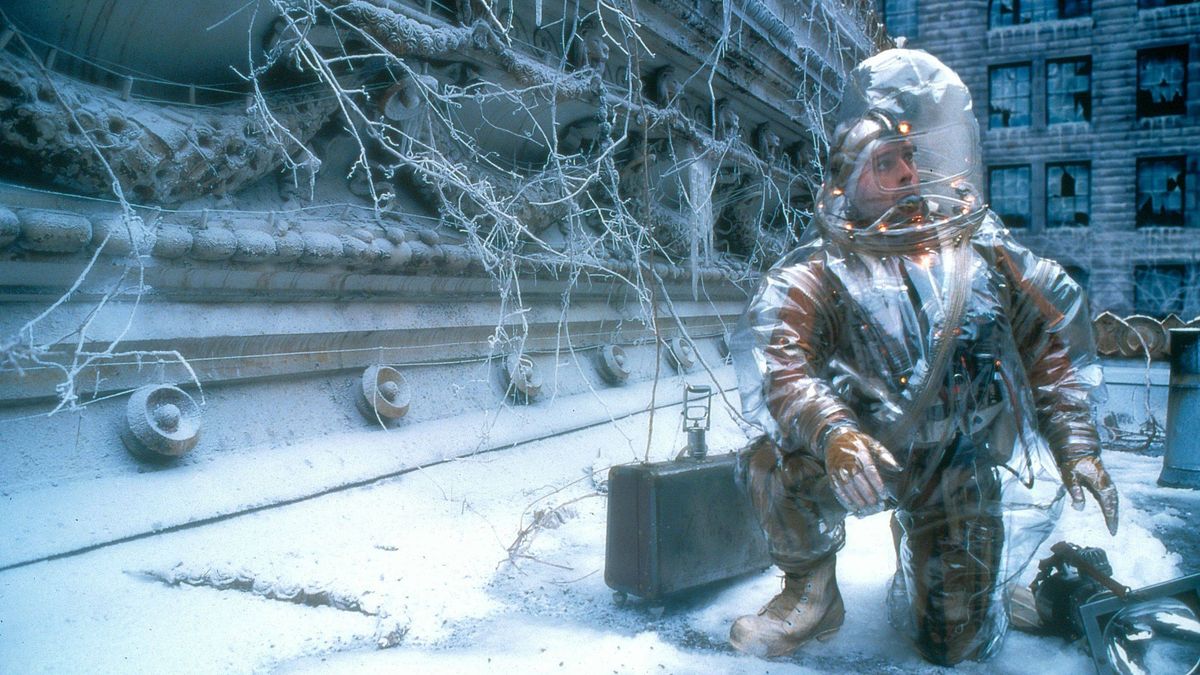 What makes Twelve Monkeys exceptional is not just the bleakness of its vision but the intellectual game that Terry Gilliam and David Peoples play. The time travel story plays like an interlocking jigsaw of teasing clues and tiny puzzles – throwaway pieces like the graffiti on the wall, the cryptic messages on the answer-phone, the list of plague destinations. Each maps over onto a later piece of the film, all culminating in a time-paradox ending that is mesmerizing in its gradually unfolding revelations and surprises.
Twelve Monkeys is a remake of Chris Marker's little seen experimental short La Jetee (1962). That said, Twelve Monkeys is less a remake of La Jetee than it is a variation on a similar plot. Twelve Monkeys keeps essentially the same plot structure but trims some aspects of La Jetee – like the trip into the future – and gives far greater substance in other areas – like the reasons for the trip into the past – plus fills out the romance and the background of the future. It also draws La Jetee's plot out into a more dramatically structured film and extends the twist ending.
Both are equally impressive films, although Twelve Monkeys is far better as a science-fiction film. La Jetee is construed as a languid, dreamy romance, wistful for an unattainable past; Twelve Monkeys adopts more of a thriller structure – its plot centres more around the paradoxes of time travel and the travellers' plight in the past and is not interested in the romance. Despite its short 30-minute length, La Jetee has a slower pace, while Twelve Monkeys feels more tight and concise despite its greater length. Nevertheless, both, while essentially the same story, are equally unique and impressive films.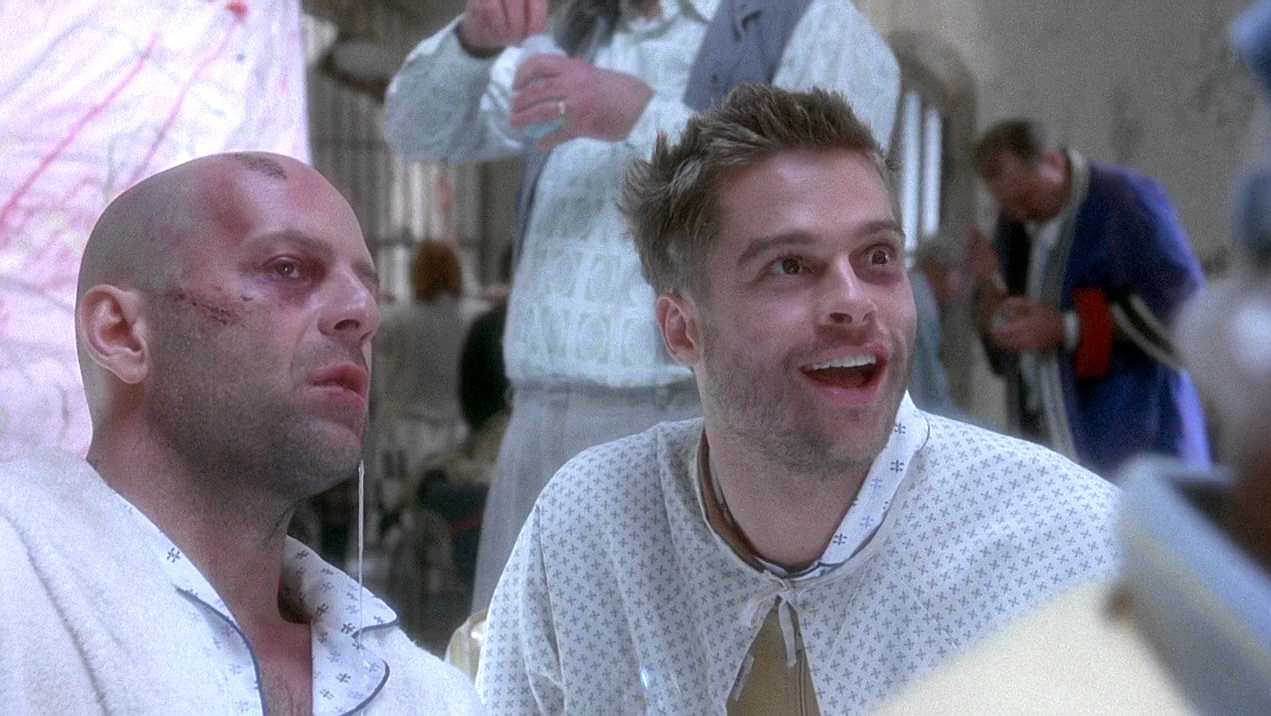 Bruce Willis takes a decidedly non-commercial part here – his humour and he-man persona is completely buried in the dirtiness and confusion of his character and he spends almost the entire film walking about in bewildered fractured confusion. Brad Pitt goes completely over-the-top and plays the twitchy nervous psycho to end all twitchy psychos. The performance has its amusements but Pitt overacts totally – how such a visibly mentally unbalanced character could manage to unite and organize an activist campaign is beyond the film's stretch of credibility. Why the Academy of Motion Pictures ended up nominating Pitt for a Best Supporting Actor Oscar that year in the part is frankly bizarre.
The Syfy Channel remade the film as the tv series 12 Monkeys (2015-8) featuring Aaron Stanford in the Bruce Willis role.
Screenwriter David Peoples would go on to write a number of other genre works including Blade Runner (1982), Leviathan (1989) and Soldier (1998), as well as directing the interesting post-holocaust sports film The Salute of the Jugger/The Blood of Heroes (1990).
---
---