---
Crew
Director – Miguel Sapochnik, Screenplay – Craig Luck & Ivor Powell, Producers – Jacqueline Levine, Kevin Misher, Ivor Powell & Jack Rapke, Photography – Jo Willems, Music – Gustavo Santaolalla, Visual Effects Supervisor – Scott Stokdyk, Visual Effects – Fin Design & Effects Pty Limited (Supervisor – Louis LaFlamme-Fillion), Mill Film (Supervisors – Aymeric Perceval & Anthony Smith), Rising Sun Pictures (Supervisor – Tim Crosbie), Special Effects Supervisor – Burt Dalton, Animatronic Robots – Legacy Effects (Supervisor – Lindsay MacGowan), Prosthetics – Onset FX Creature Shop & FX Studio, Production Design – Tom Meyer. Production Company – Imagemovers/Misher Films.
Cast
Tom Hanks (Finch Weinberg), Caleb Landry Jones (Jeff)
---
Plot
The world has suffered an apocalyptic solar flare that has created holes in the ozone layer that makes exposure to sunlight deadly to human beings. Ion storms ravage the surface and have turned much of the USA into a parched dustbowl. Finch Weinberg is a former robotics engineer who lives in a workshop in St Louis. He has a dog Goodyear and a small robot he calls Dewey. He has built and brings to life a more sophisticated robot and begins uploading dozens of books he has scanned into its brain. The robot starts to speak and tentatively walk. However, a deadly storm is approaching and Finch is forced to abandon the shelter and unplug the robot before all the scans have had time to upload. Finch has a plan to travel to San Francisco and they set out in an RV. Along the way, he teaches the robot, which takes the name Jeff, the basics. Finch is also dying of cancer and has created Jeff with the intention of it being able to take over tending Goodyear when he passes away.
---
Finch joins a big upsurge in films about Artificial Intelligence we have had throughout the 2010s and into the 2020s with the standout likes of Spike Jonze's Her (2013) and Alex Garland's Ex Machina (2015), as well as a host of other offerings that include The Machine (2013), Automata (2014), Chappie (2015), Morgan (2016), tv's Westworld (2016-22), Tau (2018), Zoe (2018), Archive (2020), After Yang (2021) and Outside the Wire (2021), among others.
Finch comes with a script from Ivor Powell who has been around the film industry a long time. He's now 78 years old – old enough to have worked as an assistant director on various Carry On films in the 1960s and have made an uncredited appearance as one of the Russians in 2001: A Space Odyssey (1968). In the 1970s, Powell became an associate of Ridley Scott during his commercials days and worked as a producer on Scott's first three films as director – The Duellists (1977), Alien (1979) and Blade Runner (1982). The script, written with another production assistant Craig Luck, apparently became the result of a bidding war in 2017.
The finished film is produced by Robert Zemeckis's Imagemovers with Zemeckis appearing as an executive producer. ImageMovers had previously done pioneering work with motion capture animation in Zemeckis's The Polar Express (2004), Beowulf (2007), A Christmas Carol (2009), Welcome to Marwen (2018) and Pinocchio (2022) and had also produced the mo-cap animated Mars Needs Moms (2011) and another mo-cap robots film with Real Steel (2011).
The director is British-born Miguel Sapochnik who had previously ventured into SF with Repo Men (2010), a satiric escalation of the US medical insurance industry that I didn't much care for. Sapochnik has spent the decade in between films working in assorted tv shows, including making the Game of Thrones episode Battle of the Bastards (2016) that won him an Emmy as Best Director.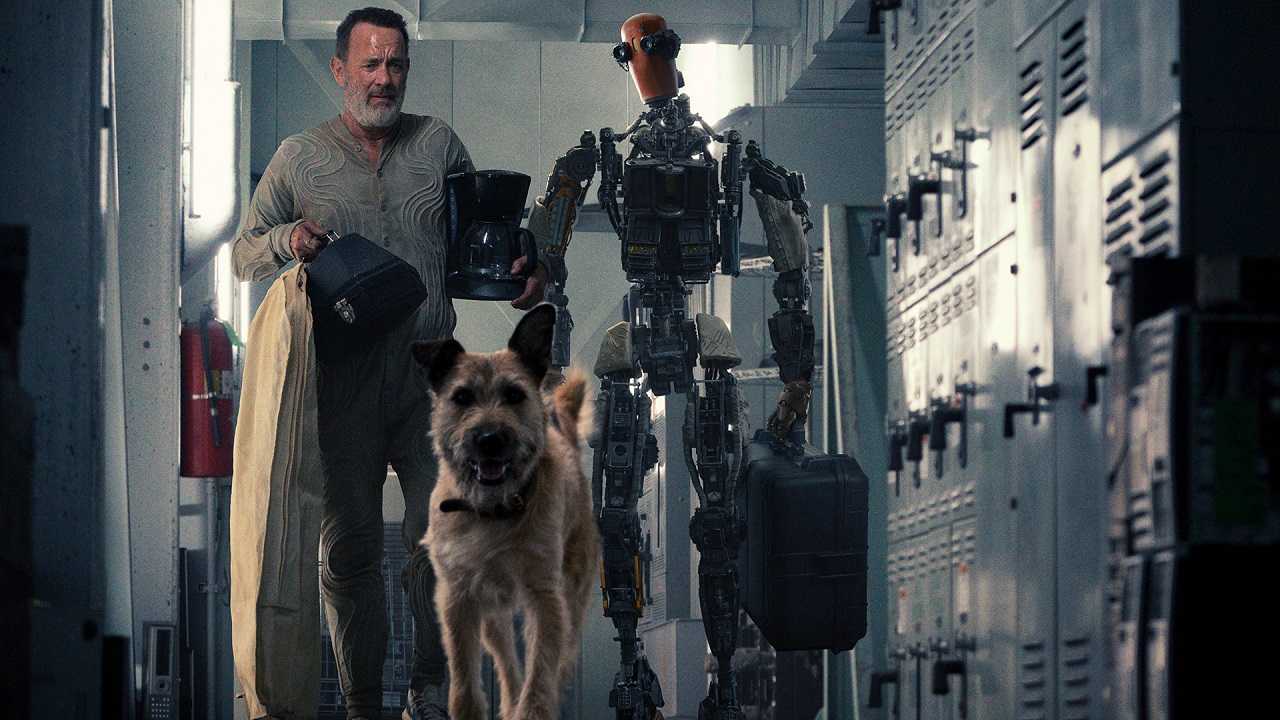 When it comes to heart-warming stories about a man and his relationship with a robot, Finch is in no better hands than coming under the banner of Steven Spielberg's Amblin Partners – indeed, it is a much more traditionally Spielbergian film than Spielberg's own venture into robotics with A.I. (Artificial Intelligence) (2001). Not to mention it has Tom Hanks playing the man with the robot and the dog. Hanks is the only human on screen for the entire film apart from three people seen at a distance during the supermarket flashback. Indeed, with Tom Hanks in the central role and the only human on screen, there is unquestionable resemblances to when Hanks played the title role in Robert Zemeckis's Cast Away (2000). albeit with Wilson the beachball replaced by a gawky robot with undeniably human mannerisms. Indeed, you could easily coin the soundbite phrase to describe Finch as being "Cast Away meets Wall-E (2008)."
Finch also pays undeniable homage to other Films About Robots. The small makeshift robot that Tom Hanks initially has is called Dewey, which draws undeniable connections to Silent Running (1972) – another film about one man alone with robot(s) for company, in that case a trio of stubby units called Huey, Dewey and Louie. Moreover, when Tom Hanks is programming instructions into Jeff, he gives the commands that any SF reader will recognise as Isaac Asimov's Three Laws of Robotics, albeit with a fourth added for the film.
Finch quickly and unexpectedly becomes a film of enormous charms. Tom Hanks gives it his all – he's right at home in the sort of everyman role. Caleb Landry Jones also gives a standout performance, albeit one where he is replaced by an industry of CGI effects artists. There is something enormously endearing to Jeff's awkward movements and his various attempts to learn to drive or play ball with the dog, or just seeing him trying to tenderly nursemaid an ailing Hanks. The last twenty or so minutes of the film are a shameless in the way the Sapochnik, Powell and co play every violin string they can – and the film is all the more rewarding for it.
(Winner in this site's Top 10 Films of 2021 list. Winner for Best Actor (Tom Hanks), Nominee for Best Special Effects at this site's Best of 2021 Awards).
---
Trailer here
---