---
Crew
Director – Andy Serkis, Screenplay – Kelly Marcel, Story – Tom Hardy & Kelly Marcel, Producers – Avi Arad, Tom Hardy, Kelly Marcel, Amy Pascal, Hutch Parker & Matt Tomlach, Photography – Robert Richardson, Music – Marco Beltrami, Visual Effects Supervisor – Sheena Duggal, Visual Effects – Double Negative (Supervisors – Michael Grobe, Francois Lambert & Chris McLaughlin), Framestore Limited (Supervisor – Stuart Penn) & Image Engine (Supervisor – Christian Irles), Special Effects Supervisors – Caimin Bourne, Ronnie Durkin, Jodie Eltham, Dave Eves & David Watson, Production Design – Oliver Scholl. Production Company – Avi Arad-Matt Tomlach/Pascal Pictures/Marvel.
Cast
Tom Hardy (Eddie Brock/Venom), Woody Harrelson (Cletus Kasady/Carnage), Michelle Williams (Anne Weying), Naomie Harris (Frances Barrison/Shriek), Stephen Graham (Detective Mulligan), Reid Scott (Dr Dan Lewis), Peggy Lu (Mrs Chen)
---
Plot
Eddie Brock receives a request from convicted killer Cletus Kasady to come and interview him where he is held in San Quentin. Venom is able to use its abilities to memorise drawings in Cletus's cell and match them to locations that allows Eddie to break a scoop on the whereabouts of the bodies of Cletus's victims. As a result, Cletus is sentenced to be executed. Eddie and Venom meanwhile are arguing because Venom hungry is but Eddie refuses to allow it to devour humans. When Eddie returns to conduct another interview, Venom emerges to attack Cletus during which Cletus bites into Venom's skin. Subsequently, Eddie and Venom have a violent argument with Venom deciding to leave and find other hosts. The skin devoured by Cletus causes him to transform into a symbiote just as the execution is about to occur. Bursting out of the prison, Cletus sets out to rescue his girlfriend Frances Barrison, who is imprisoned because of her ability to create a deadly sonic shriek. As the two rampage through the city, Eddie realises that the only way to stop them is for him to reunite with Venom.
---
Marvel Comics have enjoyed massive success in the late 2010s and become an industry unto themselves. As every other studio scrabbles to find some kind of property that can compete, others have sought to leverage any kind of connection to Marvel. Up until the sale of the studio, 20th Century Fox were doing reasonable business with the X-Men films and to a lesser extent trying to make something out of the Fantastic Four.
The most persistent have been Sony who hold the copyright on Spider-Man and have placed the characters through eight films, including two reboots and one animated film, since Spider-Man (2002), while the most recent Tom Holland incarnation has actually crossed over the make appearances in the MCU. Venom (2018) was another attempt to spin out a shared universe from Sony's hold on the Spider-Man copyright, basing a film on one of the regular villains from Spider-Man comics, as well as a further film based on a Spider-Man villain with Morbius (2022).
Andy Serkis is a British actor whose name has been on the rise ever since he appeared as the CGI Gollum in The Lord of the Rings: The Two Towers (2002). From there he went on to gain a name as the premiere motion-capture performer playing the title role in King Kong (2005), Captain Haddock in The Adventures of Tintin (2011) and Caesar in the revival of the Planet of the Apes films. That is alongside assorted live-action roles, including appearing in the regular Marvel Universe as a villain in Black Panther (2018). Serkis previously made his directorial debut with the motion-capture animated Mowgli (2018).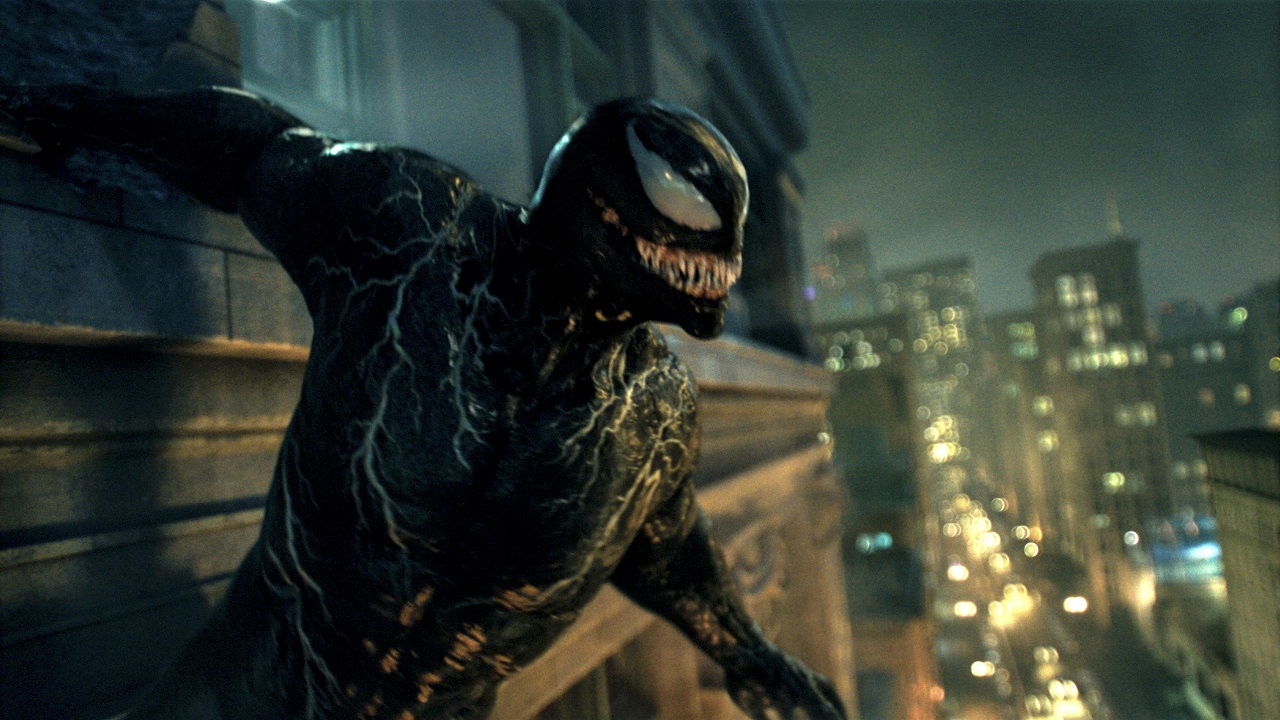 I enjoyed Venom despite it earning some terrible reviews. However, by the time of Let There Be Carnage, it feels like everyone involved (except perhaps the visual effects department) is making no real effort at making a serious movie. It is as though Andy Serkis has taken Venom, which was a lightweight comic-book adaptation that took itself relatively seriously, and turned it into a comedy.
Serkis says he regarded the relationship between Eddie and Venom as an Odd Couple relationship. However, the scenes with Tom Hardy wrestling with Venom in a bathroom stall or the two having a fight that smashes up the apartment turn the film into cartoonish slapstick. In scenes like where Tom Hardy is in an alley facing Venom as it inhabits Michelle Williams and Venom is forcing him to apologise, the film almost becomes a Split Personality comedy – it seems only about two steps away from something like the Jim Carrey vehicle Me Myself & Irene (2000).
The visual effects are extremely accomplished. The scenes where Carnage erupts and smashes his way out of the prison are exhilarating and those with Carnage, along with Naomie Harris's Shriek in a red Mustang, tearing soldiers apart in mid-air have you going "wow wow wow." The effects work on these is fantastic. On the other hand, the regular Venom scenes come with tentacles popping out everywhere so effortlessly that it feels like there is no realistic physics to anything that is happening. By the time of the cathedral climax with Venom and Carnage destroying the entire building as they fight, this has so much happening while the respective symbiotes are so near to invincible and able to do almost anything that is ceases to seem like anything other than a blur of fast-paced CGI kinesis.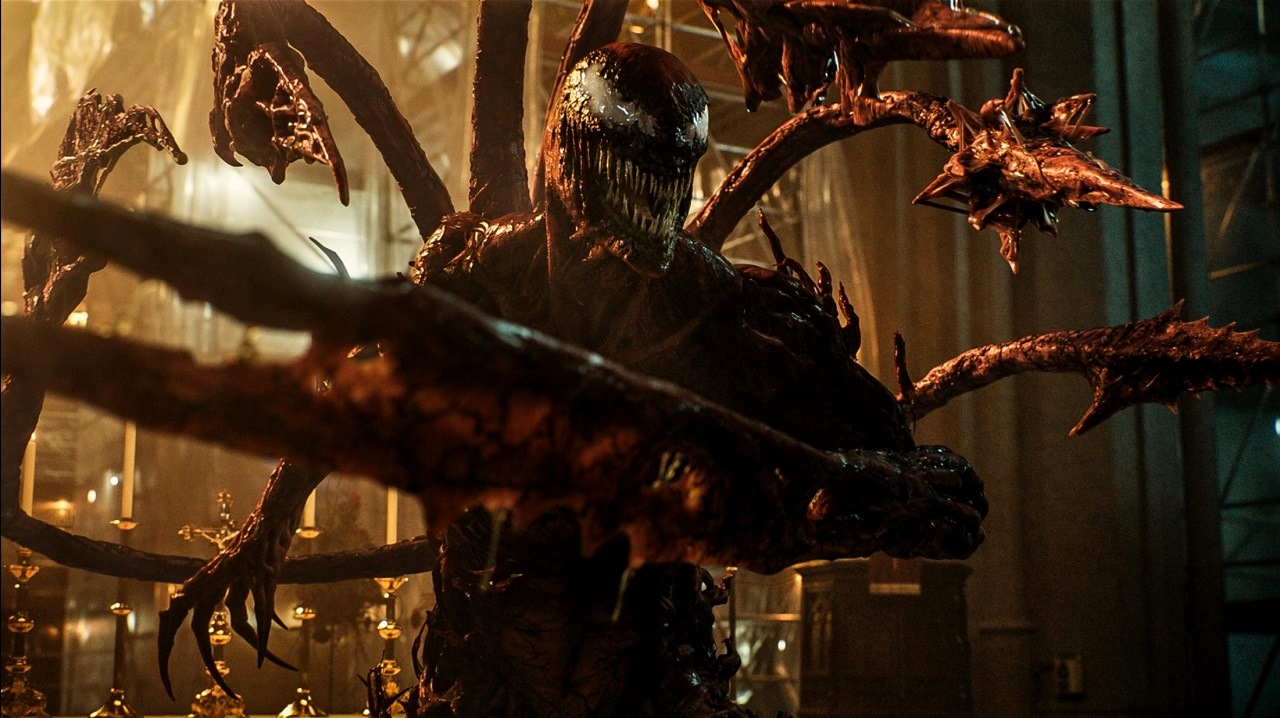 This lack of seriousness extends to Kelly Marcel's script, which throws in a bunch of easy plotting shortcuts that just assume that an audience is too stupid to know the difference. Like the absurd technological feat that can go from Tom Hardy putting a crude outlined sketch into a scanner tot o identifying a shoreline where Cletus has buried his bodies, or Carnage being able to just plug his fingers into a laptop and instantly access secure government files. Not to mention, how in a matter of seeming days, a few weeks at most, we can go from the reinstitution of the Death Penalty in California to Cletus's execution – normally such changes spend months being debated in legislature, while prisoners usually spend years on Death Row as all legal appeals are exhausted.
A few years ago, Tom Hardy was being touted as one of the top actors of his generation. On the other hand, the Venom films feel like he is frittering this away. Here all of Hardy's vaunted acting talent feels as though he is reduced to playing a gawky kid trying to play catch-up with the MCU and create his own superhero franchise that has some relevance.
This 'some relevance' bit gets very stretched too. The series seems to be straining from the efforts to sell itself as part of the MCU – the opening credits come with 'In Association with Marvel' announced before even any of the production companies. There is also a confusing sequence in the middle of the end credits as Eddie and Venom are watching tv and the hotel room they are in abruptly changes and they see footage on tv as Tom Holland's Spider-Man from Spider-Man: Far from Home (2019) has his identity exposed, which presumably leads into the multiverse plot of Spider-Man: No Way Home (2021).
(Nominee for Best Special Effects at this site's Best of 2021 Awards).
---
Trailer here
---