---
Crew
Director – Ruben Fleischer, Screenplay – Kelly Marcel, Jeff Pinkner & Scott Rosenberg, Story – Jeff Pinkner & Scott Rosenberg, Based on the Comic-Book Created by Todd McFarlane and David Michelinie, Producers – Avi Arad, Amy Pascal & Matt Tolmach, Photography (3D) – Matthew Libatique, Music – Ludwig Goransson, Visual Effects Supervisors – Sheena Duggal & Paul Franklin, Visual Effects – DNEG (Supervisor – Andrew Lockley), Special Effects Supervisor – J.D. Schwalm, Production Design – Oliver Scholl. Production Company – Columbia/Marvel/Tencent Pictures/Avi Arad/Matt Tolmach/Pascal Pictures.
Cast
Tom Hardy (Eddie Brock/Venom), Michelle Williams (Anne Weying), Riz Ahmed (Carlton Drake/Riot), Jenny Slate (Dr Dora Skirth), Scott Haze (Security Chief Roland Treece), Reid Lewis (Dr Dan Scott), Melora Walters (Homeless Woman Maria), Woody Harrelson (Cletus Kassady), Peggy Lu (Mrs Chen), Michelle Lee (Malaysia EMT/Riot Host), Malcolm Murray (Lewis Donate), Sope Aluko (Dr Collins), Wayne Pere (Dr Emerson), Emilio Rivera (Lobby Guard Richard)
---
Plot
A spaceship launched by the Life Foundation returns to Earth, crashing in Malaysia. An emergency worker that goes to the scene is taken over by a black parasite from the wreckage, which then passes between host bodies as it heads to the US. In San Francisco, journalist Eddie Brock is granted an interview with Life Foundation CEO Carlton Drake. Beforehand, Eddie sneaks a look in the computer of his girlfriend lawyer Anne Weying and finds court documents that charge that Drake has conducted illegal experiments on humans. He brings these up with Drake who immediately terminates the interview whereupon Eddie returns to find that he has been fired. Drake has another parasite that was taken from the crash and begins testing it on humans, indifferent to the fact that it keeps killing the hosts. Six months later, Eddie is contacted by Drake's assistant Dr Dora Skirth, horrified at the human tests. She agrees to smuggle him into the facility so he can witnesses these for himself but things go wrong and the parasite breaks out of containment and attaches itself to Eddie. He is startled when the parasite, which calls itself Venom, starts talking to him. Fleeing in a massive armed battle across the city as Drake's security teams seek to capture him, Eddie finds that the parasite gives him remarkable abilities, including being able to extend parts of itself and quickly regenerate his body.
---
Marvel Comics adaptations are massive in the 00s. Things began with the huge success of adaptations of Blade (1998), X-Men (2000), Daredevil (2003), Hulk (2003), The Punisher (2004), Elektra (2005), Fantastic Four (2005) and Ghost Rider (2007). Things went stellar when Marvel consolidated its own properties into a shared universe with the likes of Iron Man (2008), Captain America: The First Avenger (2011), Thor (2011), The Avengers (2012), Guardians of the Galaxy (2014), Ant-Man (2015), Doctor Strange (2016), Black Panther (2018), Captain Marvel (2019), Black Widow (2021), Eternals (2021), Shang-Chi and the Legend of the Ten Rings (2021) and various sequels to these. Each of the films has risen to enter the field at the top of the box-office. In addition there have been a host of tv series including Agents of S.H.I.E.L.D. (2013-20), Daredevil (2015-8), Agent Carter (2015-6), Jessica Jones (2015-9), Luke Cage (2016-8), The Defenders (2017), Inhumans (2017), Iron Fist (2017-8), The Punisher (2017–9), Runaways (2017-9), The Falcon and the Winter Soldier (2021- ), Hawkeye (2021- ), Loki (2021- ), WandaVision (2021- ), Moon Knight (2022- ), Ms Marvel (2022- ) and She-Hulk: Attorney at Law (2022- ).
Amid the Marvel Comics adaptations that have overtaken screens in the 2000s/10s, there have been a number of properties that remain outside of Marvel's direct copyright control, most notably the Fantastic Four and the X-Men series over at 20th Century Fox. Sony Pictures also holds the rights to Spider-Man and indeed were responsible for laying the ground that the MCU was built on when they launched their own highly successful franchise with Sam Raimi's Spider-Man (2002) starring Tobey Maguire, duly followed by Spider-Man 2 (2004) and Spider-Man 3 (2007).
After the MCU went massive, Sony struggled to create their own MCU-like franchise out of their hold on the Spider-Man copyright with variable success. This included two separate reboots of the Spider-Man franchise in under a decade after Raimi and Maguire bowed out – The Amazing Spider-Man (2012) and sequel The Amazing Spider-Man 2 (2014) and then Spider-Man Homecoming (2007), Spider-Man: Far from Home (2019) and Spider-Man: No Way Home (2021), as well as the animated Spider-Man: Into the Spider-Verse (2018). There were several attempt to spin ancillary properties off with planned Secret Six and Silver and Black movies that went nowhere. They finally did so with Venom, which emerged to considerable box-office success, along with the subsequent Morbius (2022).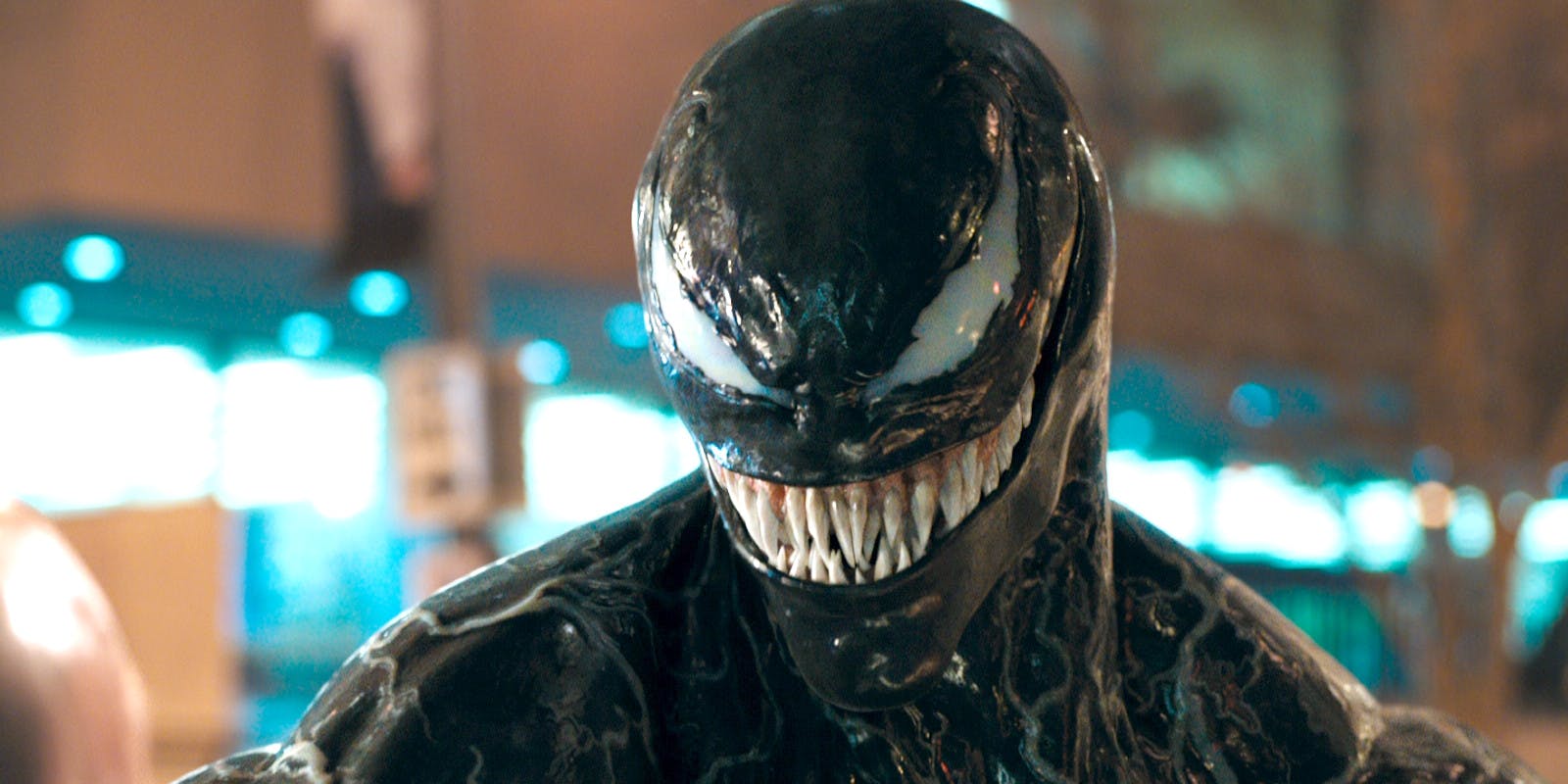 Venom was introduced in Spider-Man comics in 1984, inspired by a fan who contributed the idea of an all-back Spider-Man costume. Venom inhabited Peter Parker's body for several issues and from 1988 took over Eddie Brock, an embittered journalist who hated Spider-Man, and became one of his principal nemeses. (The conception of the character is officially co-credited to Spawn creator Todd McFarlane). There had been an attempt to introduce Venom on film previously in Spider-Man 3 only for the scenes of Tobey Maguire going over to the dark side to be laughed off screen. Venom was then relaunched as its own film here.
Oddly, for a company that seems desperate to create their own MCU-like franchise, the Venom film comes entirely divorced from the Spider-Man mythos – Peter Parker was the original host before the parasite took over Eddie Brock and Venom has remained a constant Spider-Man nemesis ever since. To the contrary, this is an incarnation of Venom that takes Spider-Man completely out of the equation – although it does incorporate many of the supplementary characters from the Venom storyline such as his ex-wife (ex-girlfriend in the film) Anne Weying and the introduction in a mid-end credits scene of Cletus Kasady (Woody Harrelson) who becomes a rival symbiote known as Carnage in comic-book canon.
Venom comes from director Ruben Fleischer who made his directorial debut with Zombieland (2009), a modestly enjoyable zombie comedy that a number of people keep insisting is a classic. Fleischer next went onto make the bank robbing comedy 30 Minutes or Less (2011) and the true crime film Gangster Squad (2013), both of which received mixed reception, and subsequently Zombieland: Double Tap (2019) and the videogame adaptation Uncharted (2022). Venom received some fairly bad reviews in the mainstream press. It's a film I will happily defend for the simple reason that it is clear about what it is setting out to do – be a superhero spectacular – and largely fairly much achieves it.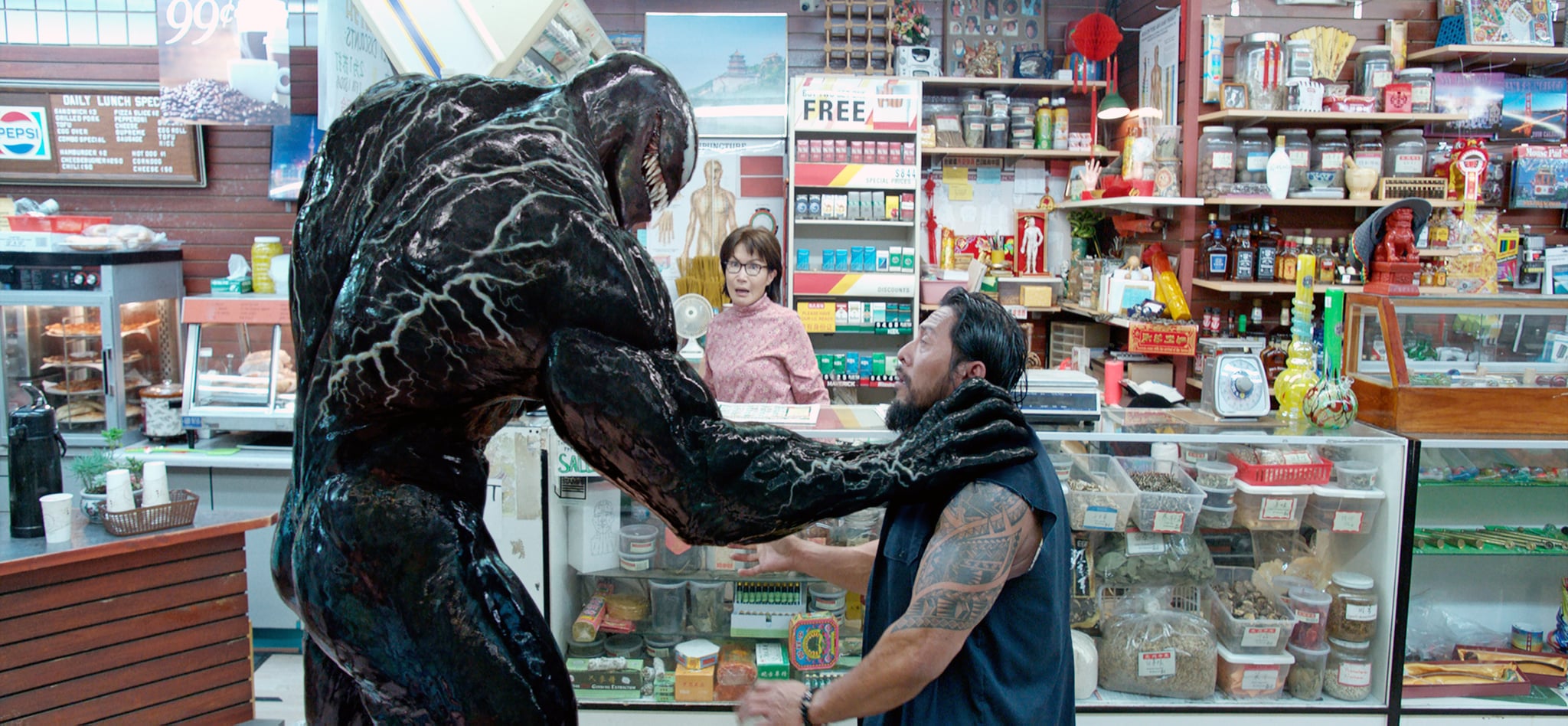 Tom Hardy has emerged as one of the top actors in the world in the last few years and has done sterling work in just about every role he has appeared in. Quite why he decided to take on a superhero role here is anybody's guess, although it should be pointed out that it was a role in another superhero film – that of Bane in The Dark Knight Rises (2012) – that caused his star to meteorically rise.
What occurs as you watch Venom is that it is a film that wastes Hardy. He is cast as just another average guy, the scenes where he appears as himself do not require much of an acting stretch for the most part. The scenes that are fun to watch are those in which he is being torn in two different directions or forced into weird contortions as Venom takes over his body. You keep thinking that in any other setting they are scenes that would be played by a comedian – I kept being reminded of comedians like Jim Carrey and Jerry Lewis who regularly engaged in physically contorted screen antics or Steve Martin's performance in All Of Me (1984). It may be that Hardy signed on so he could indulge in such a strange performance, although even then the CGI team deliver most of the Venom performance sans Hardy.
The greatest fun to be had in the film comes about halfway in. The lead up to this point is all superhero origin stuff delivered to standard and is unexceptional. However, when the effects team do their thing, the show is suddenly propelled into the highly entertaining with the scenes of Venom taking over and abruptly throwing guards about the apartment. The showstopper of the film is the sequence with Tom Hardy racing through the streets of San Francisco on a motorcycle in a massive vehicular chase in which Venom shoves cars in the way aside, whips doors off vehicles to use as a shield against gunfire, stretches out tentacles to grab power poles so that he can brake, flying through mid-air and finally reconstituting Hardy's broken legs. There's another exhilaratingly fun sequence with Venom emerging and demolishing a heavily armed SWAT team in a building lobby. This is the sort of stuff that one watches superhero films for.
Venom: Let There Be Carnage (2021) was a sequel featuring return performances from Tom Hardy and Michelle Williams with Woody Harrelson emerging to the fore as the villain Cletus Kasady/Carnage. Tom Hardy's Venom also makes a post-credits appearance in Spider-Man: No Way Home (2021).
(Nominee for Best Special Effects at this site's Best of 2018 Awards).
---
---