---
Crew
Director – Jon Watts, Screenplay – Chris McKenna & Erik Summers, Producers – Kevin Feige & Amy Pascal, Photography (3D) – Matthew J. Lloyd, Music – Michael Giacchino, Visual Effects Supervisor – Janek Sirrs, Visual Effects/Animation – Industrial Light and Magic (Supervisor – Julian Foddy) & Sony Pictures Imageworks (Supervisor – Theo Bialek), Visual Effects – Crafty Apes LLC (Supervisors – Mark LeDoux & Tim LeDoux), Framestore (Supervisor – Alexis Wajsbrot), Image Engine (Supervisor – John Grosshans), Luma Pictures (Supervisors – Brendan Seals & Kevin Souls), Perception (Supervisor – Doug Appleton), Rising Sun Pictures (Supervisor – Tom Wood) & Scanline VFX (Supervisor – Julius Lechner), Special Effects Supervisor – Andy Williams, Production Design – Claude Paré. Production Company – Marvel Studios/Pascal Pictures.
Cast
Tom Holland (Peter Parker/Spider-Man), Jake Gyllenhaal (Quentin Beck/Mysterio), Samuel L. Jackson (Nick Fury), Zendaya (MJ), Jacob Batalon (Ned Leeds), Jon Favreau (Happy Hogan), Marisa Tomei (May Parker), Angourie Rice (Betty Brant), Remy Hii (Brad Davis), Martin Starr (Mr Harrington), J.B. Smoove (Mr Dell), Tony Revolori (Flash Thompson), Cobie Smulders (Maria Hill), Numan Acar (Dimitri)
---
Plot
Peter Parker joins his classmates on a summer tour of Europe. He is wanting to get away from his responsibilities as Spider-Man and declines to take a call from Nick Fury. He is looking to the trip as an opportunity to tell MJ of his feelings for her. In Venice, a creature of water erupts out of the canals but is fought off by a superhero that the media subsequently dub Mysterio. Peter aids the fight and is then brought in by Nick Fury and introduced to Quentin Beck, the person behind Mysterio, who tells how comes from another dimension in the multiverse and is in pursuit of The Elementals, powerful creatures that destroyed his world. Fury also gives Peter a pair of glasses left to him by Tony Stark. Peter activates these to find they give access to an A.I. named E.D.I.T.H. and Tony's defence network. After he accidentally fires a missile strike on classmate Brad Davis for taking an embarrassing photo, Peter decides that Quentin is the more deserving benefactor of the glasses than he. However, Quentin is not an other-dimensional being as he claims but an embittered former employee of Stark Industries. He now uses the glasses and the powerful illusion-projecting technology he has created in a determination to make himself appear to be the greatest superhero on Earth.
---
Spider-Man: Far from Home was the second in the Sony Pictures Spider-Man films starring Tom Holland, following Spider-Man: Homecoming (2017). Spider-Man has been both Sony's blessing and their curse. Their original series under Sam Raimi starring Tobey Maguire – consisting of Spider-Man (2002), Spider-Man 2 (2004) and Spider-Man 3 (2007) – was a huge success. It was something that Marvel were then able to build onto in launching the Marvel Cinematic Universe. After Raimi and Maguire left, Sony were left in an uncertain situation. They responded by rebooting Spider-Man in an attempt to copy what the MCU was doing with The Amazing Spider-Man (2012) and The Amazing Spider-Man 2 (2014) starring Andrew Garfield, although these met with mixed success even though they are perfectly enjoyable films.
Subsequent to this, Sony's solution was to stop competing with the MCU and join them and the series was then rebooted again with Tom Holland who made his debut as Spider-Man in the MCU's Captain America: Civil War (2016) before going on to his standalone film Homecoming to great success. Holland then switched back over to appear in the MCU's Avengers: Infinity War (2018) and Avengers: Endgame (2019). In between, Sony launched a couple of other Spider-Man spinoffs with Venom (2018), Venom: Let There Be Carnage (2021) and Morbius (2022) featuring the Spider-Man villains and the highly praised animated Spider-Man: Into the Spider-Verse (2018), all to great box-office success.
However, a month after Far from Home was released, Sony received a slap in the face of MCU producer Kevin Feige announcing he would not oversee any further Spider-Man films (meaning that the integration with the MCU is at an end), although this was later rescinded. Despite that, there are several other Spider-Man and related projects in development with Tom Holland signed up for more films, plus projected Spider-Verse and Venom sequels.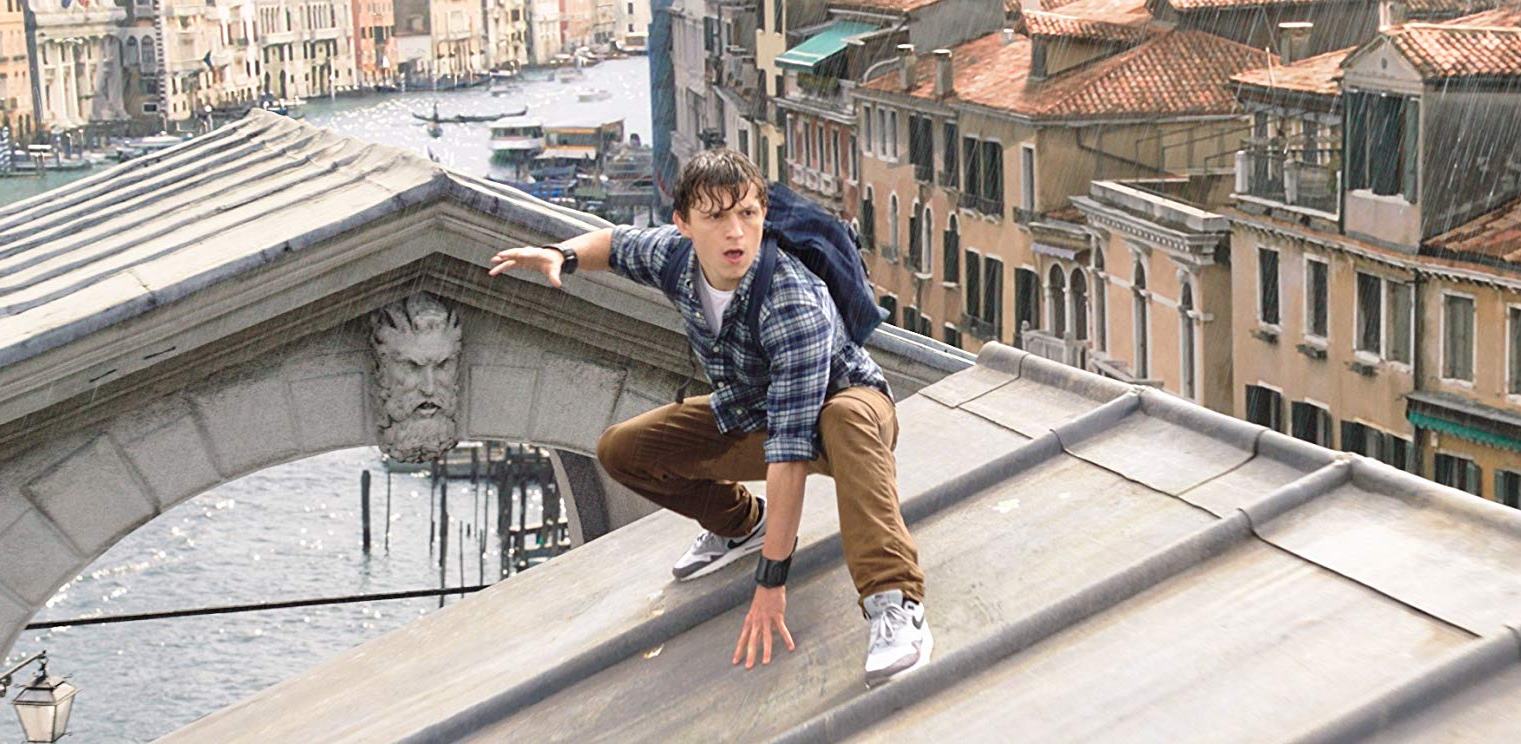 I hugely enjoyed Spider-Man: Homecoming. It had a naturally fresh energy, Tom Holland's politely eager nervousness made for a fantastic Spider-Man and Jon Watts did great things with the superheroic action. Much the same mix of elements is present in Far from Home but I have to say I didn't enjoy it quite as much. Maybe it is the relocating of Spider-Man in a location-hopping picaresque across Europe rather than on his homeground. Or maybe it is just a villain that seems inserted to cater to much larger superheroic battles.
The script is okay. It has its strengths – Peter trying to come to terms with the death of his mentor and awkwardly trying to connect with MJ – but it also feels arranged around the various locales and set-pieces and awkward pieces of development. The greatest amusement comes in the interplay between the business of superherodom and the mundanity of Peter Parker's life – Nick Fury trying to impart serious information as people keep knocking at Peter's hotel room door; Brad taking embarrassing photos as Peter is trying on a new costume; Peter's constant attempts to sneak away from the school party. In these scenes, the film is in its element, juggling with an engaging balance of humour the awkward intrusion of Peter's mundane day-to-day life into the superheroics that is always present the Spider-Man comic.
On the other hand, there are definitely moments in the script that stretch plausibility – like how with access to the vast defence apparatus he has Nick Fury would not have bothered to conduct a background check on Quentin Beck to see he was a Stark Industries employee (if Stark Industries is a defence contractor, I find it hard to believe Beck's biometric data would not be registered in the national security databases). Or for that matter the question of why exactly Beck has set up his entire scheme – that he staged a whole series of attacks around the world in order to fool Peter into surrendering the glasses or whether it was part of his plan to play a superhero and he merely chanced onto Peter (who by a whopping coincidence just happened to be bequeathed the glasses of Beck's former employer while passing through the same area Beck decided to stage one of his illusions). Not to mention you might question the sanity of a billionaire weapons designer leaving control of an entire defence system in the hands of a sixteen-year-old.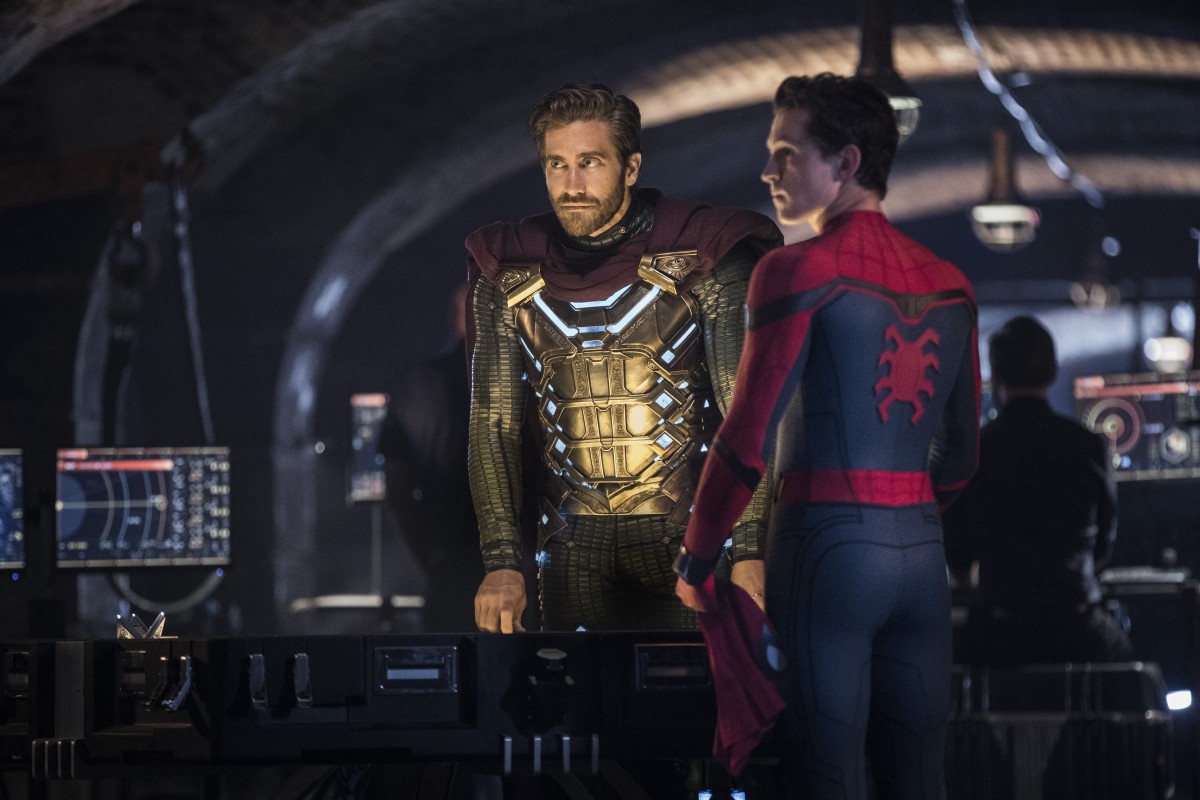 The superheroic scenes are fairly solid, although Jon Watts never quite creates something as awesome as the Staten Island Ferry scene in Homecoming. Nevertheless, in the scenes with Spider-Man zipping around Venice trying to hold up collapsing towers and the massive battle in London, Far from Home gives us some of the exhilaration that superheroics should hold. These seemed strangely routine in the last two Avengers film – or more to the point the Russo Brothers blended everything together into one massive superheroic battle that became a single numbing blur of eye candy. It is nice to see a film bringing back something that the series should have – MCU should hire Jon Watts for one of their next entries.
Mysterio was one of the original Spider-Man super-villains, appearing as early as The Amazing Spider-Man #13 way back in 1964. There Quentin Beck was a Hollywood special effects artist with failed ambitions who turned his illusion-creating abilities towards villainy. In the original story, he framed Spider-Man for a museum robbery. From there he went on to become a major Spider-Man villain and one of the Sinister Six. Several others have inherited the costume in recent years. The film ditches the special effects artist origin story and now makes Beck into a holographic designer for Stark Industries, although still retains Mysterio's distinctive look with cape and opaque fishbowl helmet.
As a villain, Mysterio is kind of meh. There is a cool sequence where he whips Spider-Man through a blurring series of reality illusion but the computer geek in me kept wondering how he would manage to get the astronomical programming power to pull all of such off in only a few days – a high-end videogame has a deployment staff of around 50-200 and will spend a year or more in development; Mysterio is creating something much more sophisticated and lifelike with considerably less people and in only a matter of days. Jake Gyllenhaal is okay as Mysterio but it feels an oddly routine role for the fine actor that Gyllenhaal has been proving himself to be in the last few years.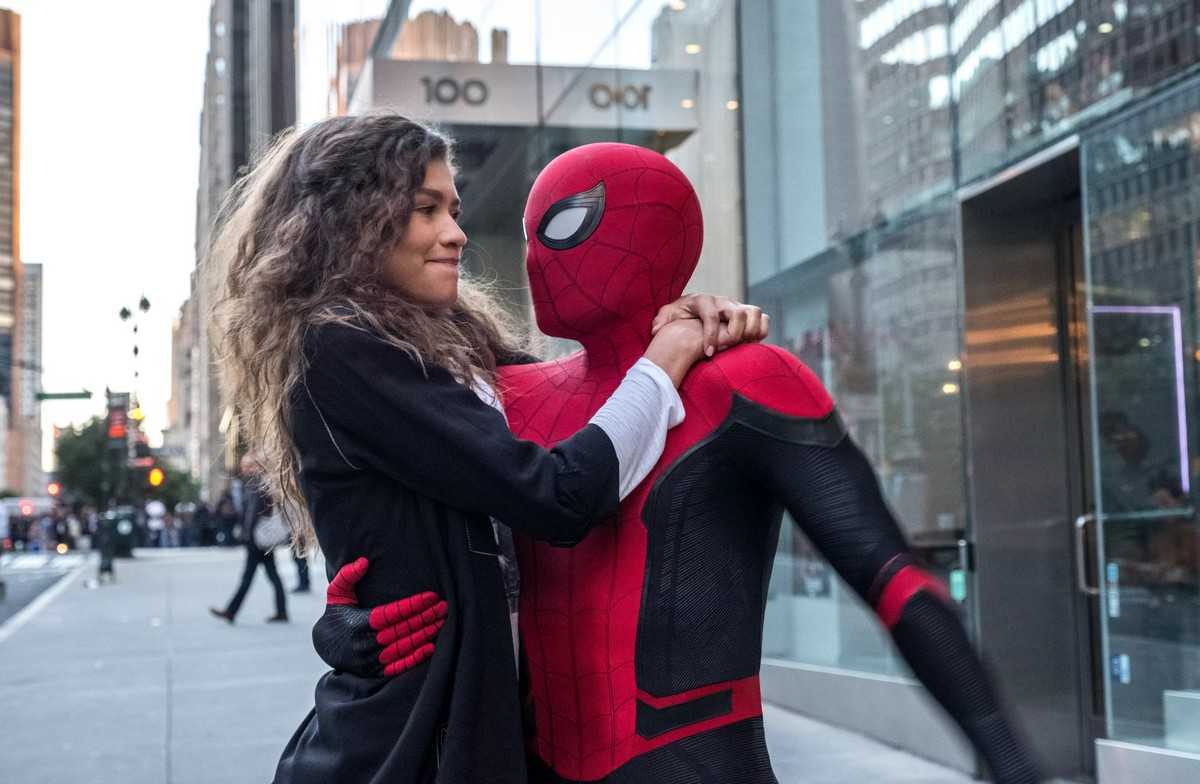 I really like Tom Holland as Spider-Man – in fact, I would go so far as to say I think he is the best of the screen Spider-Men so far. I have far less enthusiasm about Zendaya as MJ. In the other films, the role of Mary Jane or Peter's love interest has been filled by some fine actresses – Kirsten Dunst in the Sam Raimi series, Emma Stone as Gwen Stacey in the Andrew Garfield series – but here all we get is a Mary Jane who is an occasionally self-assured, other times nerdy or aloof teenager who mostly seems to shrug her indifference. Is this really the girl that is going to be the love of Peter Parker's life, you keep wondering?
The other amusing thing about the Tom Holland Spider-Man films is how much they bow at the feet of the MCU and bend over backwards to accommodate. This continues here with a substantial section of the plot involving Tony Stark's bequeathment of his technology to Peter. There is also plot reference wound in about The Blip (as the events of Thanos's wiping out most of the population of the universe is now called) where we learn that people returned but five years older (you wonder to what extent this will become canon over in the MCU). Even aside from that, we have the importation of Samuel L. Jackson's Nick Fury, Cobie Smulders' Maria Hill and Jon Favreau's Happy Hapgood who gets to romance Aunt May. In all of this – Tony Stark's gift of his legacy to Peter, Nick Fury remonstrating Peter about doing his duty, Happy turning up to save the day and woo Aunt May – you cannot help but read an analogy for Sony's relationship with Marvel and the MCU which went from being dependent on their technology and designs in the first film to overflowing with largesse at their aid and support this time around.
This was followed by Spider-Man: No Way Home (2021).
---
---