---
Crew
Director – Jon Favreau, Screenplay – Mark Fergus, Matt Holloway, Art Marcum & Hawk Ostby, Based on the Marvel Comic-Book Created by Don Heck, Jack Kirby, Stan Lee & Larry Lieber, Producers – Avi Arad & Kevin Feige, Photography – Matthew Libatique, Music – Ramin Djawadi, Music Supervisor – Dave Jordan, Visual Effects – CafeFX, The Embassy, Industrial Light and Magic (Supervisor – Ben Snow), New Deal Studios, The Orphanage Inc (Supervisor – Jonathan Rothbart), Pixel Liberation Front & Prologue Films (Supervisor – Anthony Mabin), Special Effects Supervisor – Dan Sudick, Costume Effects – The Stan Winston Studio (Supervisor – Shane Patrick Mahan), Production Design – J. Michael Riva. Production Company – Marvel Enterprises/Fairview Entertainment.
Cast
Robert Downey Jr (Tony Stark), Gwyneth Paltrow (Pepper Potts), Jeff Bridges (Obadiah Stane), Terrence Howard (Lieutenant-Colonel James Rhodes), Shaun Toub (Yinsen), Faran Tahir (Raza), Leslie Bibb (Christine Everhart), Clark Gregg (Agent Phil Coulson), Sayed Badreya (Abu Bakaar), Jon Favreau (Hogan)
---
Plot
Tony Stark runs Stark Industries, which he inherited from his father and has made it into the top armaments producing company in the world. An engineering genius, Tony otherwise leads the life of a carefree playboy. He travels to Afghanistan to demonstrate a new type of missile to the military, however the Humvee he is travelling in is blown up by landmines. Tony survives badly injured and is taken prisoner by terrorists. A fellow prisoner Yinsen improvises a battery-powered electromagnet that prevents the slivers of shrapnel in Tony's body from travelling towards his heart. Tony's captors want him to build them a super-missile but instead Tony uses their crude technical facilities to fashion an arc generator to power his heart and a massive iron suit to batter his way out of the caves to freedom. Back in the US, Tony announces to the world that he is giving up arms manufacture, having seen what use his weaponry is being put to. Everybody believes he has gone crazy and his second-in-command Obadiah Stane heads an attempt to take control of Stark Industries away from him. Tony spends his time building a modified version of the iron suit that can fly on rocket jets. This attracts the attention of the military who try to shoot Tony down. Meanwhile, Obadiah Stane has recovered the original iron suit and sets out to rebuild it into an even more powerful weapon.
---
Iron Man is the latest is the spate of phenomenally popular big screen Marvel Comics adaptations. These have so far included Blade (1998), X-Men (2000), Spider-Man (2002), Daredevil (2003), Hulk (2003), The Punisher (2004), Elektra (2005), Fantastic Four (2005), Man-Thing (2005), Ghost Rider (2007), Captain America: The First Avenger (2011), Thor (2011), The Avengers (2012), Guardians of the Galaxy (2014), Ant-Man (2015), Deadpool (2016), Doctor Strange (2016), Black Panther (2018), Venom (2018), Captain Marvel (2019), Black Widow (2021), Eternals (2021), Shang-Chi and the Legend of the Ten Rings (2021) and various sequels to most of these, as well as the tv series' Agents of S.H.I.E.L.D. (2013-20), Daredevil (2015-8), Agent Carter (2015-6), Jessica Jones (2015-9), Luke Cage (2016-8), The Defenders (2017), Inhumans (2017), Iron Fist (2017-8), The Punisher (2017-9), Runaways (2017-9), The Falcon and the Winter Soldier (2021- ), Hawkeye (2021- ), Loki (2021- ), WandaVision (2021- ), Moon Knight (2022- ), Ms Marvel (2022- ), She-Hulk: Attorney at Law (2022- ) and Secret Invsion (2023).
Iron Man first appeared Marvel's Tales of Suspense #39 (1963). Marvel Comics guru Stan Lee's original conception had been to create a superhero based on Howard Hughes – but a Howard Hughes who had turned his lifestyle towards the good of humanity. The character originally appeared with a bulky suit literally made of iron (the same one that we see during Iron Man's initial appearances here). About a year later, this was redesigned to the familiar red and gold suit that we see in the comic-book today. In the original version, Iron Man fought against the North Vietnamese but this was later retconned out due to the subsequent unpopularity of the Vietnam War – although one of the holdovers from the original conception has always been the co-creator of the Iron Man suit, the Chinese prisoner Yin Sen (who becomes an Afghan prisoner in the film). Later versions of the comic-book have Iron Man fighting in the first Gulf War or undertaking missions for S.H.I.E.L.D.
Iron Man has appeared on screen a handful of times previously. He was in several episodes of The Marvel Superheroes (1966), an animated series that featured a different Marvel superhero each episode. He made guest appearances in other Marvel-adapted animated tv series such as Spider-Man and His Amazing Friends (1981-6), before gaining his own series Iron Man (1994-6) where the role was voiced by Robert Hays. (Hays also guested the role of Tony Stark/Iron Man in several of the other Marvel animated series made around the same time). Iron Man also appears in a variety of Marvel animated films released direct to dvd – as one of the line-up of superheroes in Ultimate Avengers (2006) and Ultimate Avengers II (2006), as well as an aging version of him in Next Avengers: Heroes of Tomorrow (2008), before gaining his own film in The Invincible Iron Man (2007), being voiced by Marc Worden in all of these. There was also an Iron Man animated tv series Iron Man: Armored Adventures (2008-12) and the subsequent anime-styled film Iron Man: Rise of Technovore (2013).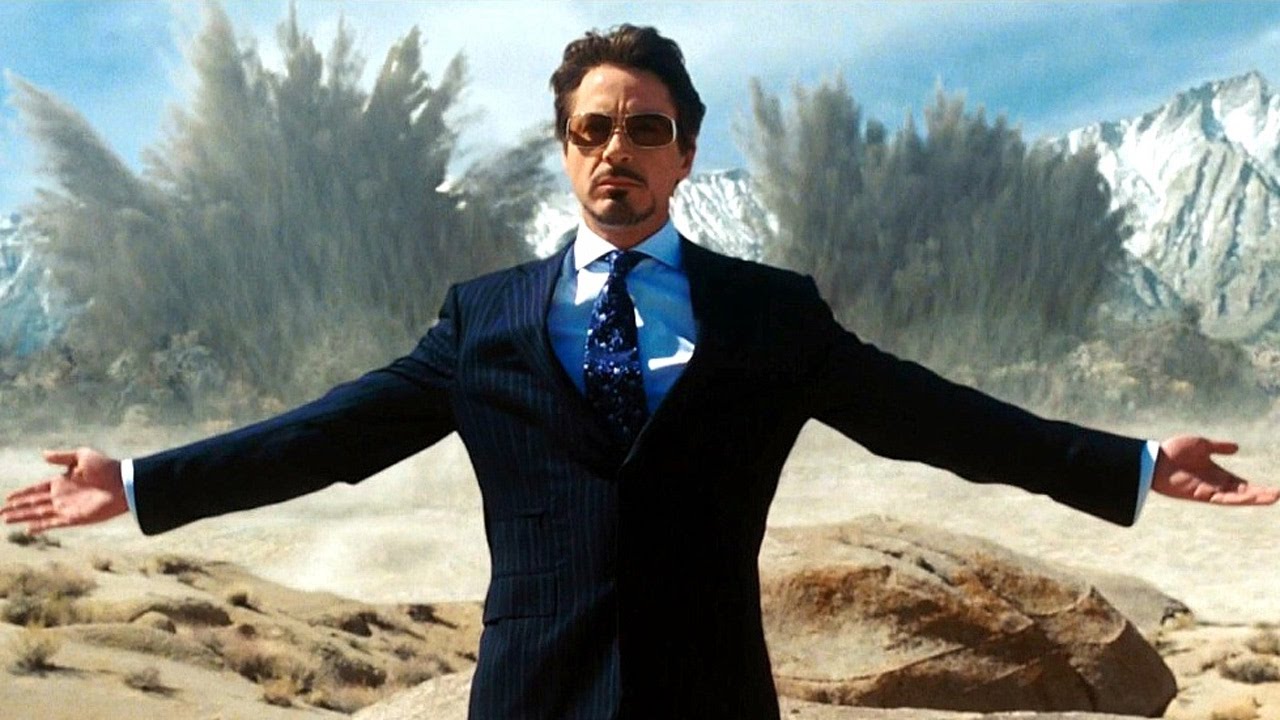 This live-action version of Iron Man went through several developments and different scripts that pitted Iron Man against various other regular villains before the project ended up in the directorial hands of Jon Favreau. Jon Favreau first gained attention in Doug Liman's Swingers (1996), which he also wrote. Favreau's career as an actor took off after this – he has previously appeared in the big screen adaptation of Marvel Comics' Daredevil where he played Matt Murdock's best friend Franklin 'Foggy' Nelson. Clearly, Jon Favreau's interest was more behind the camera than in front of it and made his feature film directorial debut with the mob comedy Made (2001). His big breakthrough came with the sleeper success of Elf (2003), which also made the name of Will Ferrell. Elf was an annoying and ungainly comedy, but Jon Favreau subsequently showed his promise with the underrated children's film Zathura: A Space Adventure (2005).
Jon Favreau and his scriptwriters keep good continuity to the Marvel comic-book. The scenario has been updated to have a contemporary relevance – thus Tony Stark is not wounded and imprisoned in Vietnam but by a roadside IED in modern Afghanistan. The scriptwriters swing his subsequent stance against munitions manufacture with a degree of contemporary political relevance. All the regular characters from the comic-book – Virginia 'Pepper' Potts, Happy Hogan, James Rhodes (who later donned his own battle suit as War Machine and eventually obtained his own comic-book) – are present. There have been one or two changes made – notably Tony Stark's loyal butler Edwin Jarvis is turned into an AI in the film; Yin Sen becomes an Afghan rather than Chinese prisoner and his name concatenated; while James Rhodes goes from a simple helicopter pilot to someone higher up the military command chain. One of the cutest pieces comes if one waits all the way until after the end of the credits where you get the appearance of Samuel L. Jackson as Nick Fury, Agent of Shield, another Marvel comic-book character (albeit a super-spy rather than a superhero). There is also the inevitable cameo from Stan Lee (who gets mistaken for Hugh Hefner at the Stark charity ball).
Obadiah Stane is the villain of the film, although the character's history has been changed on screen. On the printed page, Stane was the head of a rival armaments company, not Tony Stark's VP. The film follows somewhat Stane's scheme of acquiring Stark Industries in a hostile takeover and then building his own version of the Iron Man suit alias the Iron Monger, although missing is the much longer story arc where Stane sets Stark up with a mistress, steals Stark Industries away from him and reduces Stark to a wino living homeless on the streets.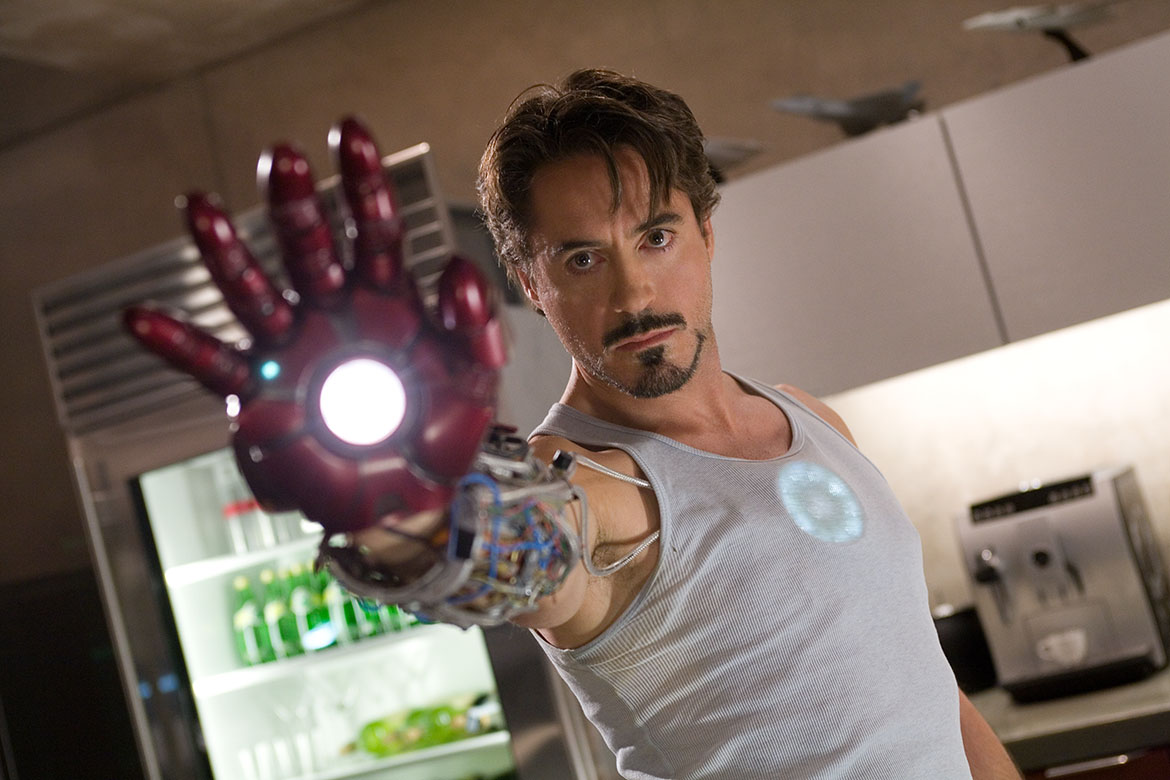 Jon Favreau does a decent job of bringing Iron Man to the screen. Indeed, Iron Man received some of the best notices of all the abovementioned big screen Marvel Comics adaptations. Favreau takes his time building up to the appearance of Iron Man on screen – it is some 45 minutes before we see the emergence of the initial iron suit; at least another half-hour before we get to the red and gold version. Favreau keeps the suit carefully hidden and when it suddenly explodes out of the cave, knocking freedom fighters right and left, the effect holds a considerable dramatic charge.
Jon Favreau leavens the film with a considerable sense of humour. He and Robert Downey Jr are constantly undercutting the scenes of Stark building the suit and it in action with wry humour – there is an ongoing joke about Jarvis's automated arm appearing with a fire extinguisher every time Robert Downey Jr blasts himself across the lab. There is a particularly priceless scene where Robert Downey Jr calls Gwyneth Paltrow to help him change his heart power unit. Favreau also proves adept when it comes to the special effects sequences – there is a dazzling sequence with Iron Man being pursued by two Raptor fighter planes and, of course, the climactic showdown with Iron Monger, which Favreau apparently based on the climactic battle in RoboCop 2 (1990).
Robert Downey Jr has a ball with the role, having clearly tuned many of the lines for his characteristic dry sarcasm. The part of the boozy, indifferent playboy Stark that we see at the start is not too different from the Downey public persona that earned a number of tabloid headlines and Downey relishes the opportunity to play to the gallery. Gwyneth Paltrow, a fine actress who has been far too absent from screens in recent years, shines in a role that might in anybody else's hands end up as a dated wallflower, while a near unrecognisable Jeff Bridges clearly has enormous fun chewing the scenery. (Part of the reason for this is that the film was often shot without a script, often leaving the actors to have to improvise their own lines).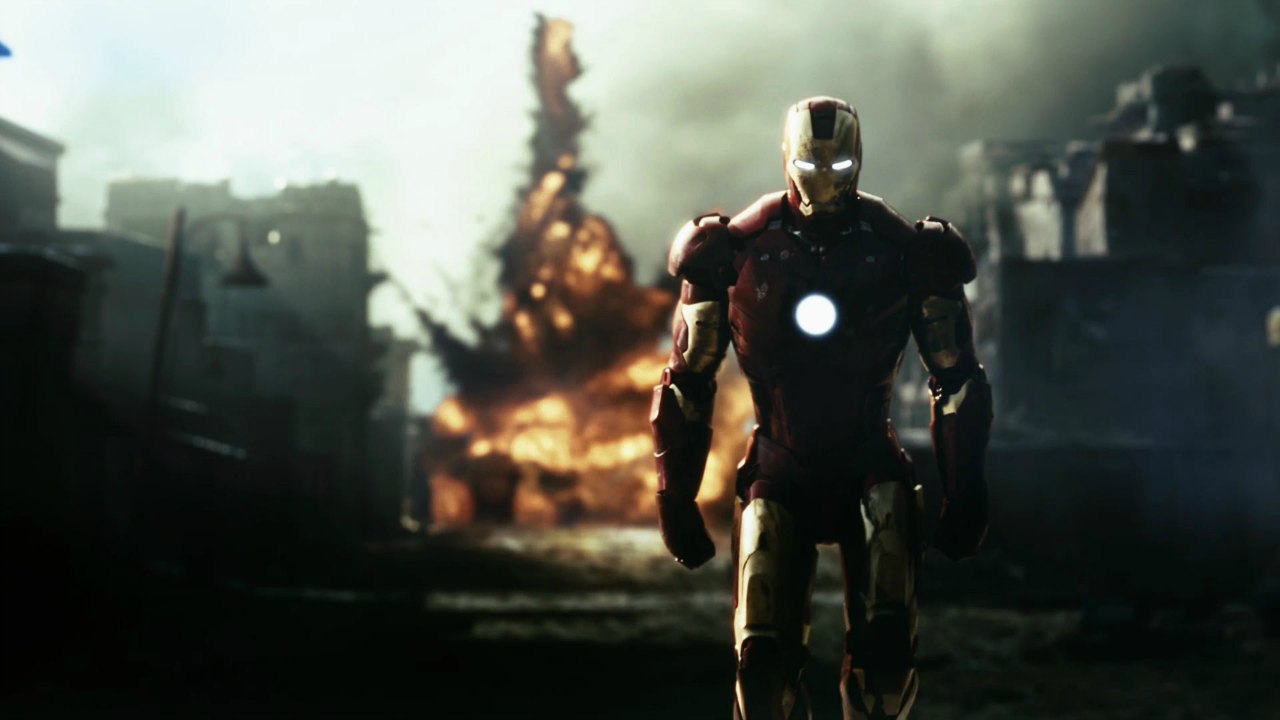 You could compare Iron Man to Michael Bay's recent Transformers (2007) – the two films have very similar climaxes. The special effects in Transformers are probably superior to the ones in Iron Man, yet Iron Man emerges as far the better film of the two simply because it has warmth and heart. Iron Man is not a comic-book adaptation that glistens with the dark beauty of Tim Burton and Christopher Nolan's Batman films, the mythic stature of the Christopher Reeve Superman (1978), or even the epic superheroic battles of Superman II (1980) or X-Men. What it is is a capably made effort that works well within what it sets out to do as an enjoyable comic-book adaptation/summer popcorn movie. It is a film that never insults its audience or tries to gratuitously dazzle us with action or special effects. It is modest in its unassuming dependence on good old-fashioned standards like warmth of humour and characters. It shows Jon Favreau starting to come into and find his strengths as a director.
Iron Man was a considerable box-office hit and within days of its opening, plans for a sequel were announced. This emerged with Iron Man 2 (2010). Robert Downey Jr and Gwyneth Paltrow subsequently returned in Iron Man Three (2013), although Jon Favreau bowed out of the director's chair. Five weeks after Iron Man opened, Robert Downey Jr made a surprise guest appearance as Tony Stark in the also Marvel Comics-adapted The Incredible Hulk (2008) and then as one of the key members of The Avengers in The Avengers (2012), Avengers: Age of Ultron (2015), Captain America: Civil War (2016), Avengers: Infinity War (2018) and Avengers: Endgame (2019), as well as appears in Spider-Man: Homecoming (2017).
Jon Favreau subsequently went onto make Cowboys & Aliens (2011), the live-action versions of The Jungle Book (2016) and The Lion King (2019). He also acts as executive producer on the post-catastrophic tv series Revolution (2012-4), Avengers: Age of Ultron (2015), Avengers: Infinity War and Avengers: Endgame.
(Winner for Best Actor (Robert Downey Jr), Best Supporting Actress (Gwyneth Paltrow) and Best Special Effects at this site's Best of 2008 Awards).
---
---